The Laurel Highlands is a beautiful four-season destination in southwestern Pennsylvania. Spring and summer offer white water rafting, camping, golfing and just about any other outdoor adventure you can think of. Fall brings a backdrop of stunning color for hiking, biking, or touring a Frank Lloyd Wright property. Winter ushers in ski season and quaint, snow-covered towns covered in twinkling lights.
Just an hour's drive southeast of Pittsburgh, the 3,000-square-mile mountainous region is chock-full of spectacular scenery, recreation, history, shopping, food, and drink year-round. Here are six of my favorite things to do in Laurel Highlands!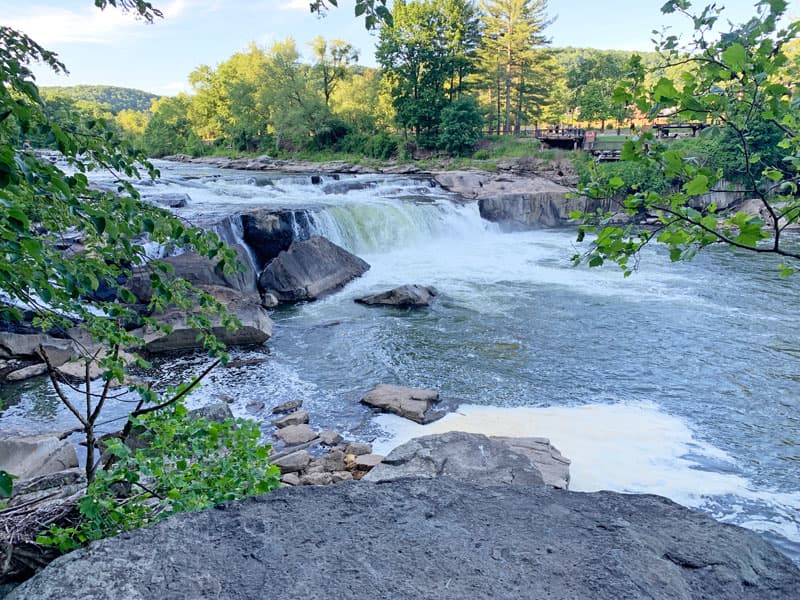 My visit to the Laurel Highlands was facilitated by GoLaurelHighlands.com. This post contains affiliate links. All opinions are my own.
Ohiopyle State Park
I stayed in Ohiopyle for a Laurel Highlands girlfriends' getaway in early summer and was positively charmed by this small town. A haven for whitewater enthusiasts, hikers, and bikers, Ohiopyle has everything you need for an adventurous vacation.
The town consists of a few restaurants, general stores, and adventure outfitters – which are all right along the Youghiogheny (pronounced yok-a-GAY-nee) River. If your lodging is in town, you can walk to tons of fantastic hiking trails, go whitewater rafting or kayaking, rent a bike, or just enjoy a picnic by the Ohiopyle Falls.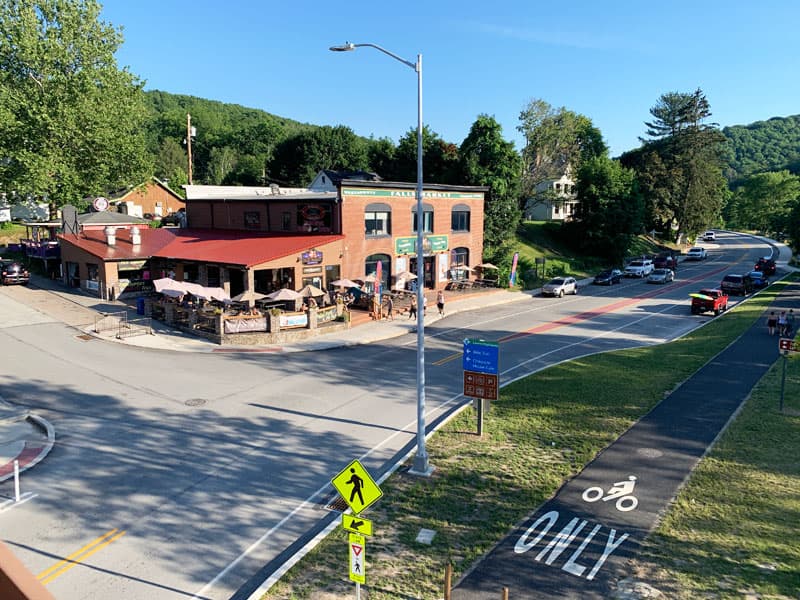 If you are camping or staying elsewhere in the Laurel Highlands area, you'll definitely want to plan at least one day exploring in Ohiopyle.
Ohiopyle Rafting
Lindsay, Fadra and I went on a guided whitewater rafting trip with White Water Adventurers. None of us were experienced in rafting, and our guide, Ryan, quickly put any concerns to rest. He was a complete pro. We paddled a few times, but he navigated us expertly through the Class III and IV rapids pretty much on his own.

We had a blast and we all agreed we couldn't wait to go again.
Waterfalls and Waterslides
In addition to whitewater rafting in Ohiopyle, we had to check out the natural waterslides. I was pretty amazed at the daredevils (mostly young boys – though we did see a few older folks getting in on the action) flipping and flopping in the rocks and rushing water. If you're looking for a dose of adrenaline, this is it!

Even if you aren't interested in actually sliding, this is a must-see spot. It's easy to access via a short trail – really just a few steps – from the parking lot at the intersection of Route 381 and Ohiopyle Road. Sit on the rocks, watch the fun, and enjoy the beautiful scenery and relaxing sound of the rushing water.
Just up the road from the natural water slides is the trailhead for Cucumber Falls. This is another must-see and just a short hike in to the falls.

If you want a longer hike, as we did, continue walking along the river on the Great Gorge Trail. This trail also connects to the water slides area, but be sure to get a map at the visitor's center in town. There are lots more trails and areas to explore in Ohiopyle State Park.

Pride of Laurel Highlands: Fallingwater and Kentuck Knob
Any fan of architecture knows of Frank Lloyd Wright. The Laurel Highlands is home to Fallingwater and Kentuck Knob, two of Wright's more famous homes.
Wright believed in designing in harmony with humanity and the environment, a philosophy he called organic architecture. It's positively amazing the way he designed these homes to be a natural extension of their beautiful Laurel Highlands surroundings.
Fallingwater
Fallingwater was designed in 1935 for the Kaufmann family, owners of Pittsburgh's largest department store. It was named a UNESCO World Heritage Site in 2019.

The home was built over a waterfall, which serves as natural air-conditioning. And that's just one of the many amazing features. If you can't snag a ticket for an interior tour, definitely take the self-guided exterior tour. The grounds are extensive and beautiful, and you'll be able to walk right up to the house, onto the patio, and look in the windows.
Kentuck Knob
Kentuck Knob, just four miles from Fallingwater, was completed in 1956 for I.N Hagan and his wife, owners of Hagan Ice Cream and friends of the Kaufmanns. The home is called "Usonian," meaning affordable for the average American.
This home is literally built into the side of the mountain. But it's probably most well-known for its hexagonal design – the house has only two right angles, located in the bathrooms around the showers.

The grounds at Kentuck Knob include a sculpture walk (I was fascinated by the piece of the actual Berlin Wall) and a stunning view of the Youghiogheny River Gorge and the Laurel Highlands mountains that surround it.
Both properties offer guided tours. Fallingwater also offers self-guided experiences and special brunch and dinner tours. Tours run from early March to the end of December. These are popular spots, so you definitely need to book ahead.
The Laurel Highlands Pour Tour
Whether you enjoy beer, wine, cider, mead, or spirits, you'll find an adult beverage to love in the Laurel Highlands. Get your Laurel Highlands Pour Tour Passport, collect stickers as you visit locations, then cash in your sticker collection for Pour Tour collectible merch. There's also an app you can use to check in instead of collecting stickers.
Greendance Winery at Sand Hill Berry Farm
My friends and I checked off a few spots on the Pour Tour. We started at Greendance Winery at Sand Hill Berry Farm. Their wines are made from grapes and berries grown right on site. We tasted several wines, then bought a few bottles and enjoyed one on their patio with lunch.

The Cabin Cafe serves sandwiches, fresh salads, and more. Next to the Cabin is Cafe Persimmon where you can savor their pies, cheesecakes, shortcakes, and sundaes – all made with their scrumptious fresh berries. Everything was delicious and the seating in their Nectar Garden space is simply magical.

My pick: The Red Raspberry wine was just the right amount of sweet.
Helltown Brewing
Next we hit up Helltown Brewing in Mount Pleasant. This brewery has a big, gorgeous, open-air barn feel with plenty of seating indoors and out. It was quiet when we visited (in the middle of the day on a Wednesday), but we hear it gets pretty rowdy on the weekend with live music and food trucks.

Fun fact: the brewery was named "Helltown" after the town's nickname during the late 1700's Whiskey Rebellion. The town also has a zip code of 15666.
My pick: I'm not usually an IPA fan, but I loved the citrus notes in their Purgatory IPA.
Stone Villa Wine Cellars
Our final stop on our mini Pour Tour was Stone Villa Wine Cellars. We tried a few more wines, then enjoyed some time on their magnificent property. It actually is a "stone villa" with a huge patio overlooking a small lake. Picturesque doesn't begin to describe it – perfect for any event.

My pick: The crisp, fruity Stonegria was my favorite at this winery.
Downtown Ligonier
If you've seen the TV series Gilmore Girls, you'll look at Ligonier's town square and say, "It's Stars Hollow!" Ligonier was not the filming location for Gilmore Girls, but it absolutely looks like it.

What was filmed in Ligonier? Their Diamond Park and bandstand were used for scenes in "Love the Coopers" (2015) and "Slapshot" (1977).
The charming downtown area of historic Ligonier (don't miss Fort Ligonier if you're a history buff!) is positively perfect for your all your shopping and eating desires. We started with a pick-me-up at Abigail's Coffeehouse, then set out to shop.
My favorite store was probably My Honey Bee. I bought myself an adorable purse and got gifts for a few people checked off my list.

I also indulged at O'Shea's Candies and Ligonier Creamery. What can I say… I like my sweets.
Ligonier is especially amazing when it's all decked out for the winter holidays!

Seven Springs Mountain Resort
I'm a big fan of skiing with my family. I love getting outside and being active in the colder weather. I also love the conveniences and amenities of a resort like Seven Springs.
Seven Springs offers skiing and riding and rentals and lessons, as well as snow tubing, sleigh rides, snowshoe and snowmobile tours. You can stay right at the resort in a slopeside hotel, townhome or private cottage or chalet. They have dining and nightlife on-site – I want to check out the Foggy Goggle Axe House!
Seven Springs is a year-round resort. In addition to its winter activities, they have golfing, mountain biking, hiking, a zipline, an alpine slide, an alpine tower, paddleboats, disc golf, a rock wall and more for summer fun.
I haven't visited Seven Springs Resort yet, but I'm hoping to get there soon. You can also go skiing or snowboarding in the Laurel Highlands at Hidden Valley Resort and Laurel Mountain, which boasts the highest vertical drop on the Laurel Ridge (761 feet) and the steepest slope in Pennsylvania (double diamond Lower Wildcat averages near 60% slope).
Unique Places to Stay in Laurel Highlands
My girlfriends and I stayed at the Falls Overlook Lodge, a wonderful vacation rental in Ohiopyle right above the White Water Adventurers rental shop. This was super convenient for our whitewater rafting trip – we just walked downstairs to get our gear, then across the street to put-in on the Yough.

Our rental had 6 bedrooms, one bathroom, a beautiful, open living area with a large kitchen and even a foosball table. A large deck with tables and a grill was the perfect place to hang out with a glass of wine and look out over the river – the view was fantastic! The home was clean, comfortable, roomy, and in the perfect location.

The lodging was also within walking distance to restaurants, bakeries, general stores, Ohiopyle Falls, and several hiking trails in Ohiopyle State Park. I highly recommend a stay at Falls Overlook Lodge.
Buffalo Bill's House
If you're a horror movie fan, you've seen "The Silence of the Lambs." And you can stay in Buffalo Bill's House! Located in Perryopolis, the home is now open to the public as a boutique accommodation and cinematic destination.
Your reservation in the 111-year-old Queen Anne Victorian house gives you exclusive access to the entire property, making it a private, immersive experience.
Owner Chris Rowan, a horror fan and art director by trade, recently purchased and renovated the home. When he saw the house was for sale, he knew he had the passion, knowledge, and experience to turn it into a filming location like no other.
The property has 4 bedrooms, a full kitchen, a game room, extensive Silence of the Lambs décor, and even a "Workshop of Horrors" in the basement!
Ohiopyle Treehouse
You might have seen this unique property on Instagram or TikTok! This one-of-a-kind treehouse in Ohiopyle has two bedrooms, one bath, a full kitchen, a deck/balcony, and a hot tub. It's within 20 minutes of many attractions I've mentioned in this post – Ohiopyle State Park, Fallingwater, Kentuck Knob and more.
The property includes a private mile-long private hiking trail that will take you across a clear mountain stream, into the canopies of the mountain laurels and through a rock garden boulder field. I haven't stayed there but it looks like an amazing getaway!
Ready to book your vacation? Here are some more ideas for where to stay in the Laurel Highlands!
The magnificent, mountainous Laurel Highlands area has so many treasures to offer. I've only covered the tip of the iceberg, so be sure to check out GoLaurelHighlands.com to plan your visit now!