I'd never skied until the age of 22. But when I met my future husband, I knew I had better give it a try or possibly face years of compromised vacation planning. Fortunately, I fell in love with skiing almost as deeply as I fell in love with him.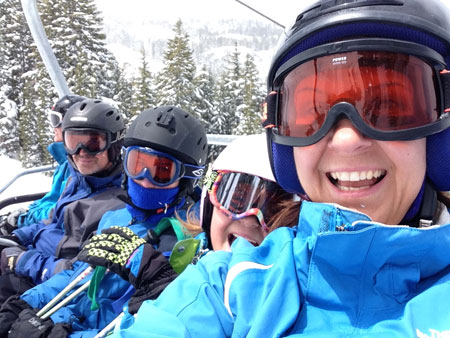 Fast forward 20 years, a wedding, and two children, and we're now a family of 3 1/2 skiers (the half refers to my eight-year old daughter who is not yet fully in love with the sport – we're working on that).  And while it seems hard to think of snow when we're swimming in the pool, we always start our ski vacation planning in the summer. The first step? Deciding where to go. Here are five considerations to get your skis pointed in the right direction.
1. Can you get to the ski resort on a non-stop flight or can you drive? This is my first criteria when planning a ski vacation with kids. You definitely want to minimize travel time and avoid potential problems such as flight delays and lost luggage with your carefully fitted ski boots inside!
2. Is the terrain varied? Does the ski area have enough of each type of terrain to keep everyone in your family happy for the week? Are they mogul monsters or do they head for groomed corduroy? Can you access the different terrain off the same lift? Even if you're not skiing all your runs together, it's helpful to have a few lifts that can keep the whole family happy where you can choose from black, blue and green runs, meet at the bottom, count your kids and ride up for another run. It's also easier to meet up for lunch or to gather everyone together at the end of the day.
3. Do you need non-ski activities? My husband can ski all day, every day. I like a day off here and there to stroll around the village, shop, or take a sleigh ride. Consider what your family's needs are and what the resort has to offer. Some ski areas are set in bustling tourist towns with lots to do from roller coasters to movies while others are set miles away from anything but skiing and snowshoeing.
4. Location, location, location.  Do you want a resort town that offers a great apres-ski environment, restaurants, nightlife and shopping? Or is your family more likely to cook up some pasta and curl up in front of the fire? Do you want the option of skiing at different resorts nearby or is one resort enough to keep everyone interested?
 5. How convenient is the lodging? Finally, consider if you want a house on the slopes, a condo, or a hotel. Do your kids need the ski school? If so, choosing lodging with easy access to the ski school will make your life a whole lot easier in the mornings when you need to dress your kids, gather their gear, and get them there on time. Or maybe your children are older and more than able to carry their own equipment and hop on a free shuttle. If so, you'll save a lot just by staying across the street, though a luxury home with convenient ski-in, ski-out access may be worth the splurge. Some ski areas simply offer a larger number of ski-in, ski-out accommodations than others.
Right now, my husband and I are deep in research, looking for the perfect place to make our newest ski memories. Even though it's 90 degrees outside, my thoughts are buried deep in powder.