Do you want to see the real-life filming locations where Spider-Man, the Avengers, Superman, and Jessica Jones saved the day? The Super Tour of New York City with OnLocation Tours takes you to Marvel filming locations, as well as many other superhero movie and TV filming locations!
When my Stinger Podcast co-host Fadra and I planned a day in the city with our kids, we knew the Super Tour had to be on our agenda!
Disclosure: To facilitate this review, OnLocation Tours provided me with complimentary tickets for my tour. All opinions are my own!
The tour begins at Midtown Comics, a haven for any comic or superhero fan. We arrived about a half hour early and browsed the two-story store. Bonus: Tour participants get 20% off everything in the store!
After a quick introduction from our guide, Jason, the tour began with a short walk to Times Square. Thor's hammer led the way.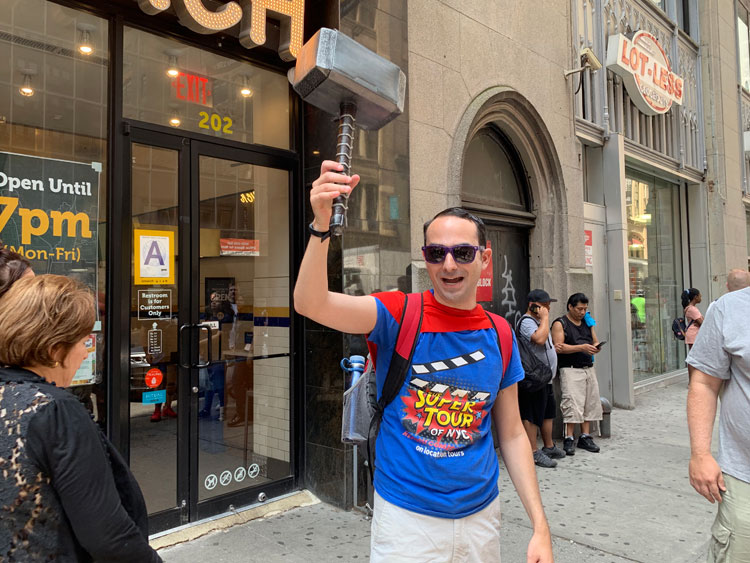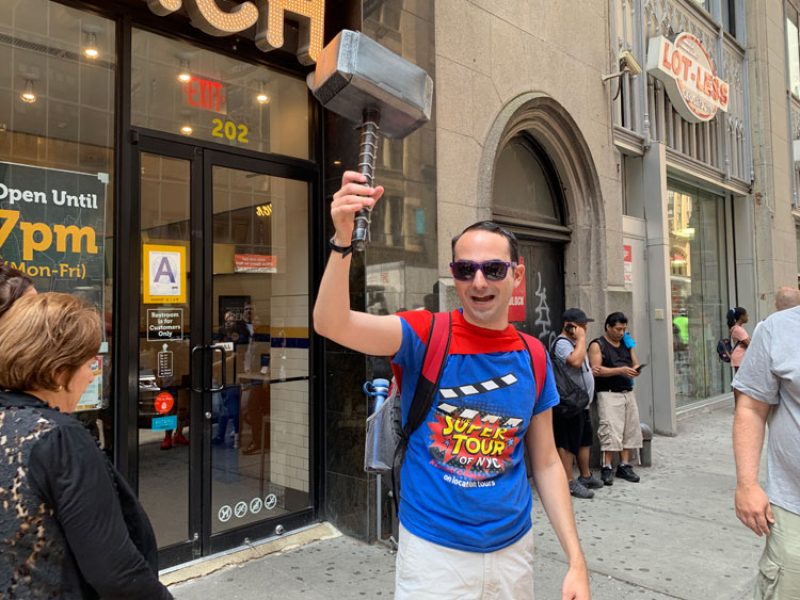 Marvel Filming Locations in New York City
In Times Square, Jason pointed out where scenes from Spider-Man, Captain America, and The Incredible Hulk TV show were filmed.
But it can be hard to picture those scenes in your mind when you're walking through New York City. This problem was solved when we boarded the tour bus and saw several mounted screens above the seats. As we rode to our next destination, Jason played the actual movie and TV scenes that he had just talked about.
Jason was obviously a big superhero fan and he knew his stuff. I loved the "behind the scenes" bits of info he provided during the tour.
For example, in one episode of The Incredible Hulk TV show, the Hulk is seen running around Times Square. But during filming, Lou Ferrigno understandably didn't want to run through the streets of New York in bare feet. So they spray-painted some slippers green to match his skin.
It's something you might not notice during the episode. But after Jason played the clip and told me to watch for it, I can't unsee it. And it looks pretty cheesy by today's CGI-capable standards!
Speaking of CGI, we also learned about the "movie magic" that created all those destructive scenes – without actually destroying Times Square.
The bus took us past several filming locations from the Marvel Netflix shows: Daredevil, Jessica Jones, and Iron Fist. And of course we saw a lot of Marvel filming locations from various Spider-Man and Avengers movies, in addition to some X-Men, Fantastic Four, Superman, and Batman filming locations.
Related: Correct Order to Watch the Marvel Movies Through 2019.
While much of the tour is on the bus, we did make several stops to get up close to some great filming locations.
My Favorite Superhero Filming Locations in NYC
While I enjoyed all of the Super Tour of NYC, there were a few highlights. As a fan of the original Superman movies with Christopher Reeve, I was really excited to go inside the lobby of the Daily Planet!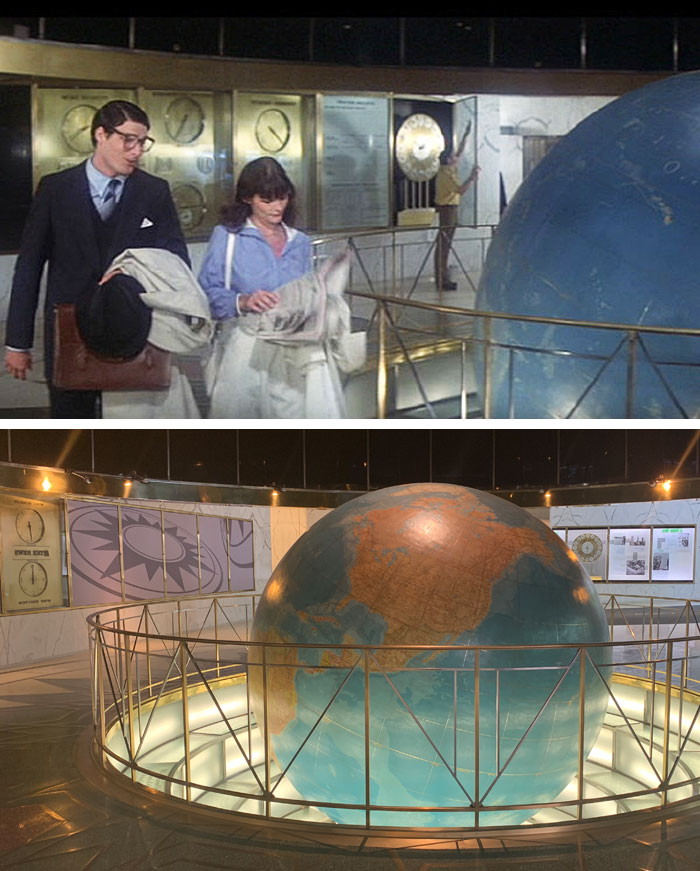 The New York Daily News building at 220 East 42nd Street was the filming location for Superman's Daily Planet. You can go into the lobby and see the big globe, as well as the revolving door Clark Kent got stuck in while trying to talk to Lois Lane.
I also got a little thrill driving by the NY State Supreme Court building with all those steps in front. I could picture Jeri Hogarth (Jessica Jones), as well as Matt Murdock, Foggy and Karen (Daredevil), walking up those steps to court!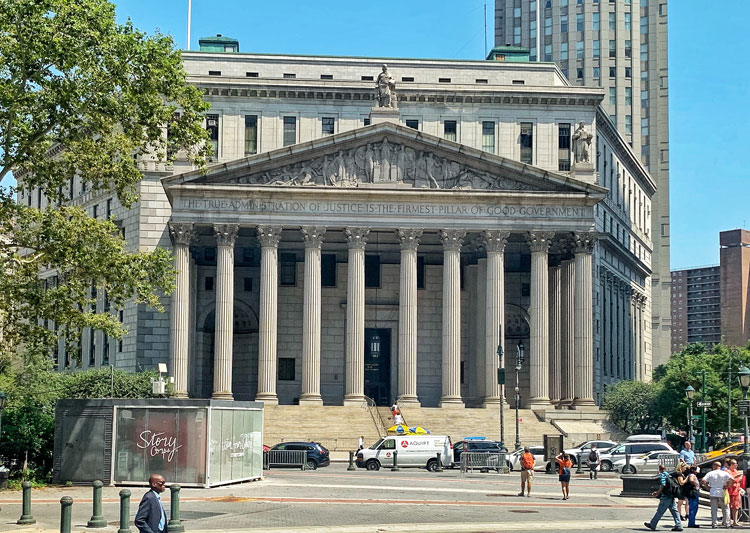 Washington Square Park was another fun stop. This is where Bruce Banner was trying to convince the Hulk to come out during Avengers: Infinity War. So many other scenes have been filmed there, too (not just superhero shows), and it's just a really nice spot to hang out for a bit.
The Super Tour is a Fantastic Way to See NYC
One of my favorite things about this tour is that you cover so much of New York City.
I've been to the city multiple times, but this tour took me to some places I hadn't seen before. Typically, I go to NYC to see a show or a museum. I park nearby, do what I came to do, then go home. If you live locally and take day trips into the city, you know what I mean.
On the Super Tour, I was able to see so many new places! The tour offers a drive-by of iconic locations like Grand Central Station, the Brooklyn Bridge, the Empire State Building, the Freedom Tower, the Flatiron Building, and Bryant Park. Off the bus, we got to enjoy Washington Square Park and Battery Park. We even walked down Wall Street and stood in front of the New York Stock Exchange.
Planning Your NYC Visit Around the Super Tour
The Super Tour can be easily incorporated into an amazing day of sightseeing.
I recommend exploring Times Square in the morning (it's not as crowded) and grabbing a hearty breakfast at Junior's. Then head over the Midtown Comics to shop and pick up the Super Tour.
At the conclusion of the tour, you'll be at Battery Park. You'll have the Statue of Liberty to your left and the Freedom Tower to your right. You can hop on the ferry or take a cruise/tour to Ellis Island or Liberty Island. The Freedom Tower is about a 15-minute walk from Battery Park.
Another option – and another filming location! – is a ride on the Staten Island Ferry. The ferry had a prominent scene in Spider-Man: Homecoming. You can pick up the ferry at Whitehall Terminal – a short walk from Battery Park. The Staten Island Ferry runs 24-hours a day, is free to ride, and offers a great view of the Statue of Liberty. There are tons of food options at the Terminal, too.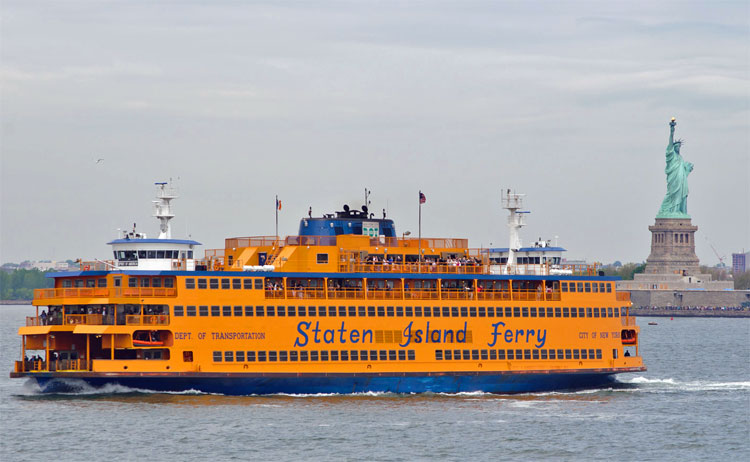 You can also just spend some time in Battery Park. It's a lovely park with lots of monuments and memorials. There's also the SeaGlass Carousel – a beautiful ride that makes you feel like you're floating in an enchanted sea.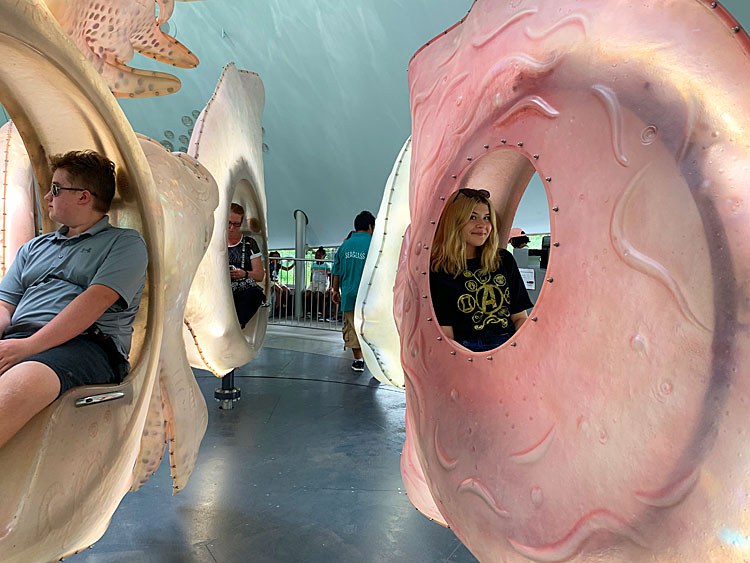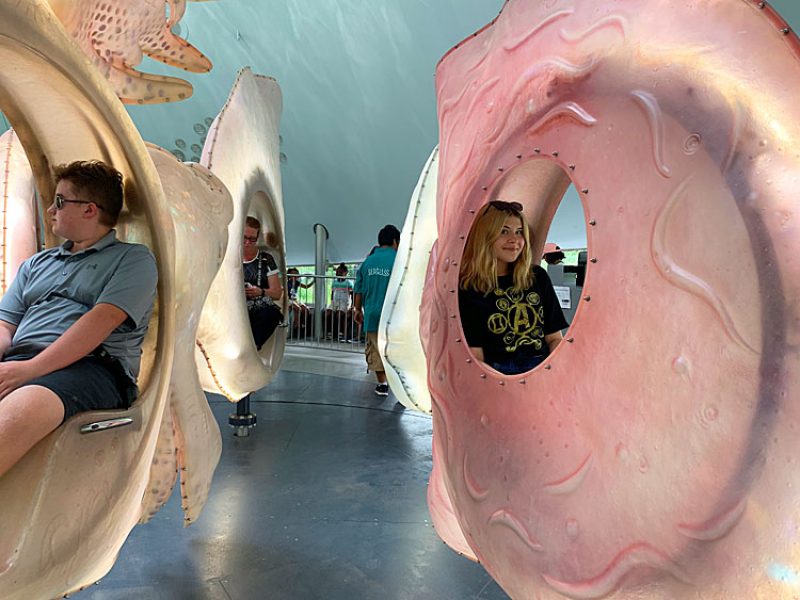 When you're ready to go back to Times Square, you can get an Uber or taxi for $20-$40, or take the subway Line 1 from the Rector St. station for just $3. It's an easy ride with no transfers. I'm nervous and inexperienced when it comes to the subway, but Fadra convinced me to give it a try and I'm glad I did!
Important Information For the Super Tour of NYC
Current (2019) tour prices are $56 for adults, $40 for children ages 6-9. Ages 5 and under are free, but must sit on an adult's lap. Tours take place Fridays, Saturdays and Mondays at Noon.
The tour starts in midtown Manhattan, but ends in Battery Park. Be prepared to take the subway or get an Uber/cab if you need to get back to where your car is parked.
Pack a water bottle and a small snack. There are a couple stops where food and drink is available for purchase, but it's NYC and it's pricey.
Much of the tour is on an air-conditioned (or heated) bus, but you will be getting on and off and walking a few blocks here and there. I preferred the walking parts because you could get better photos.
Our tour guide had props, like Mjolnir (Thor's hammer) and was happy to pose with you or take photos for you.
There is a bathroom on the bus, but it's tiny – think porta-potty, but half the size and no sink to wash hands. But they did provide hand sanitizer.
The bus is wheelchair and stroller accessible.
Tour guide accepts tips.
More Filming Location Tours Offered by OnLocation Tours
So many TV shows and movies have been filmed in New York City. Whatever fandom you are a part of, OnLocation Tours probably has a tour for you. To book tickets to any of these tours, visit the OnLocation Tours web site (affiliate link).
Super Tour of NYC: Heroes, comics and more!
NYC TV & Movie Tour: Famous sites from the big and small screens.
Sex and the City Hotspots: Follow in the footsteps of Carrie Bradshaw.
Gossip Girl Sites: Enter the playground of your favorite Upper East Side prep school teens.
Sopranos Sites: Join the mob on a trip through Sopranoland.
When Harry Met Seinfeld Tour: TV and movie locations around Times Square.
The Real Housewives of NYC Tour: The ultimate "housewives" experience.
TCM Classic Film Tour: An insider's look at classic movie locations and history.
Central Park TV & Movie Sites: Iconic films shot in NYC's most famous backdrop.