RevQuest: Save the Revolution! kicked our Colonial Williamsburg experience up several notches. The modern treasure hunt immerses you in the history of the American Revolution and puts you in the center of the action as a spy.
Note: Sadly, Colonial Williamsburg discontinued the RevQuest games in 2015. I hope they bring it back some day!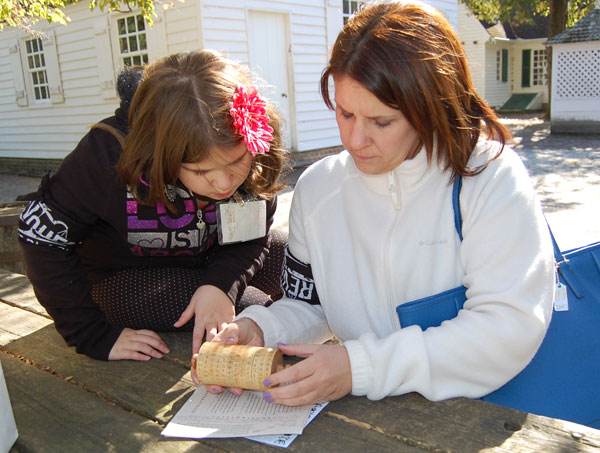 A challenging sequence of finding clues and decoding them, the RevQuest game takes you down side streets and into areas of Colonial Williamsburg you might otherwise bypass. To progress through the game, we were instructed to use some of the "newest" ciphering techniques of the day: book, wheel, and numeric. Using the ciphers taught us about the different ways sensitive information was exchanged in colonial times in an exciting and educational way that was fun for the whole family!
How To Play RevQuest
To participate in RevQuest, you need a phone with texting ability. Pick up your "orders" at any ticketing location – the game is included with your paid admission to Colonial Williamsburg – and wrap the black kerchief around your arm. Text SPY to the number given in your orders and you are instantly connected to the Screenmaster who will be your guide throughout your mission.
Here is a quote from our orders: "Our Friends have risked their Lives to obtain intelligence of the location and nature of the gathering Threat to America. Your plan of operation will commence when you depart from the Sentinel, carrying with you a captured map that includes notations pointing the way to the Threat. The meanings of the notations can only be understood by breaking the ciphers in a Dispatch intercepted from our enemies."
This was no joke. I was swept up in Revolutionary spy fever. And there are some unexpected twists during the game that will truly make you feel like a spy!
We were told the mission would take about two hours. We did take a break from the mission to watch a brief reenactment and have lunch, but it took us nearly four hours, so be sure to start early in the day and stay focused on your task.
We finished the mission and received a special RevQuest medallion, along with a password to access the Screenmaster online for additional tasks after leaving Williamsburg. A new mission is created each year – we are already looking forward to our return trip.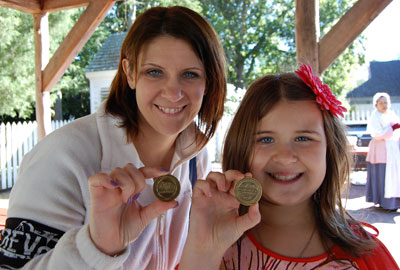 RevQuest brings the whole family together. Whether it's reading maps, decoding clues, or finding hidden dispatches, it often took the four of us in my family putting our heads together to discover an answer. Don't miss out on the challenge and intrigue of the game when you visit Colonial Williamsburg.