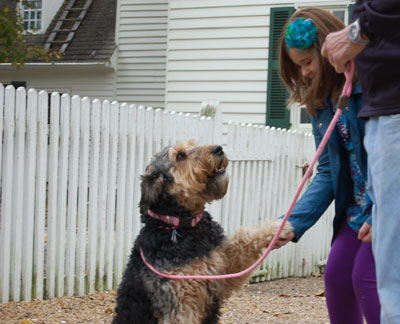 "There's another one, Mom! Can I go?" My daughter was already running away from me as she posed her question. She had been chasing down dogs all day long.
Colonial Williamsburg in Virginia, with tourists milling about and living history surrounding you, is certainly an excellent place to walk your dog. For my nine-year-old daughter, it was a chance to befriend and play with many breeds of her number one choice of pet.
Also known as The Revolutionary City, Colonial Williamsburg is approximately 4 blocks by 8 blocks of shops, restaurants, museums, living history exhibits, and historical buildings. Walking the city is free, access to most of the buildings requires a ticket.
Our day started by meeting with the Sentinel to get our secret orders for RevQuest: Save the Revolution! This modern treasure hunt immerses you in the history of the American Revolution and puts you in the center of the action as a spy. (Read my full review here.) Soon after that, my daughter spotted her first canine target.
We went on to watch a carpenter and his wife argue over his enlisting in America's new army. We listened to citizens' reactions as the Declaration of Independence was read for the first time. We watched the Williamsburg Independent Company storm the Governor's Palace to demand the return of the colony's stolen gunpowder.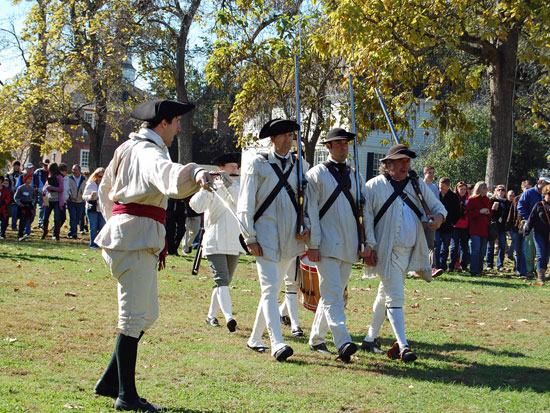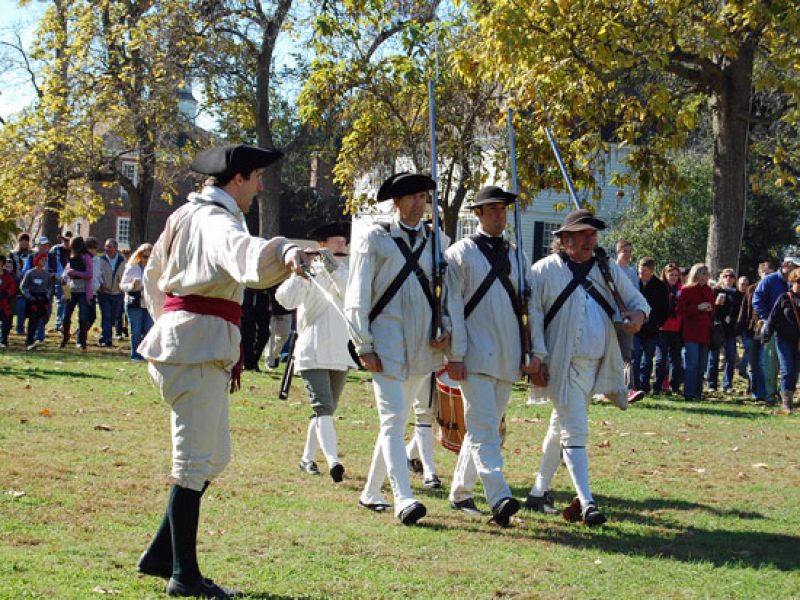 And we met more dogs.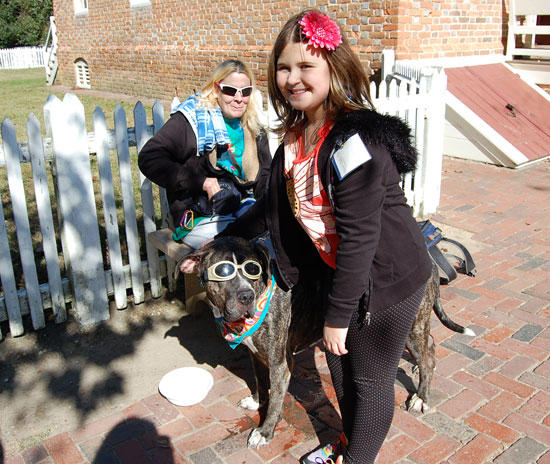 Nigel is apparently a frequent visitor to Williamsburg – he even has his own Facebook page! His human gave Cassie his "card" so she could follow his adventures.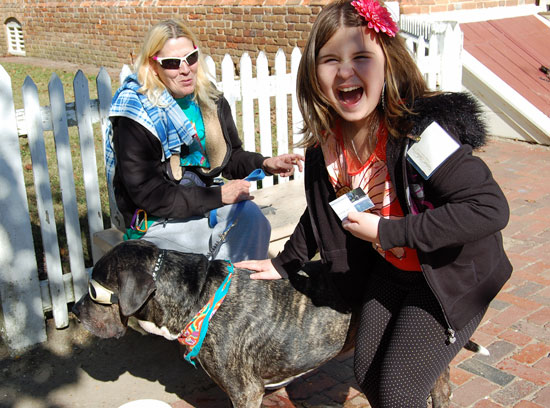 We took a delightful break at R. Charlton's Coffeehouse, where we sampled coffee, tea, and hot chocolate inspired by recipes of the past. One of my favorite stops of the day was the tour of the Capitol Building. Listening to our docent discuss the founding principles of our government, the ways our freedoms were being taken away, and our rights and responsibilities as citizens, I found his words to be eerily still relevant.
When darkness fell, it was time to learn about the ghosts of Williamsburg! And yes, there were more dogs.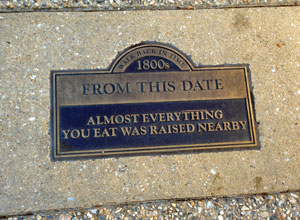 My family stayed at the Williamsburg Woodlands Hotel & Suites. Offering continental breakfast, a pool and new splash park, and an outdoor playground that includes shuffleboard, tetherball, tabletennis, miniature golf, magic shows and storytelling, the hotel is perfect for families. The Woodlands is adjacent to the Colonial Williamsburg Visitor Center and just a short (and absolutely lovely) walk to The Revolutionary City. I loved these plaques that lined the walkway and took me back in time with facts as I walked toward the City. Free shuttle service is also available.
For my family, Colonial Williamsburg ended up being more than a place to learn about American history. We made friends. We shared information and clues with others while playing RevQuest, we talked with the tradespeople and shopkeepers, and, of course, we chatted with dog owners from all walks of life.