Having spent a couple months in the Lake Tahoe area, I can attest to the community spirit of this little piece of paradise. Whether you need to rent skis in north or south Lake Tahoe, there's an experienced, friendly retailer ready to help you get into the best ski gear for you and your family.
Here are two places to rent skis in Lake Tahoe that I highly recommend.
Where to Rent Skis in North Lake Tahoe: Tahoe Dave's Skis and Boards
Stepping into Tahoe Dave's Skis and Boards in Tahoe City to rent ski equipment with my family, I first noticed the relaxed and comfortable atmosphere.
Other shops cram so much stuff into a small space that you can't find anything, but Tahoe Dave's had an intuitive layout and flow that streamlined the rental process – even with kids it was easy!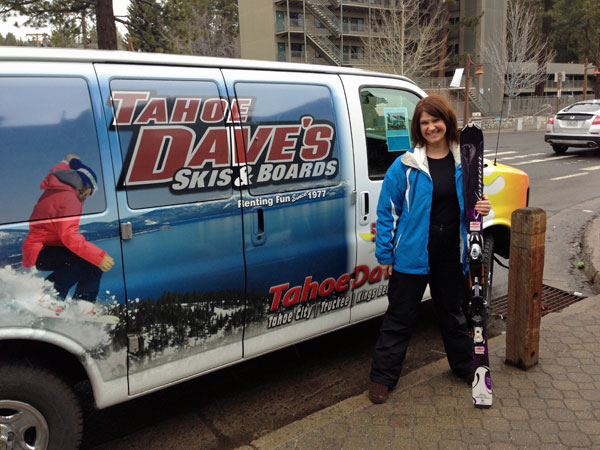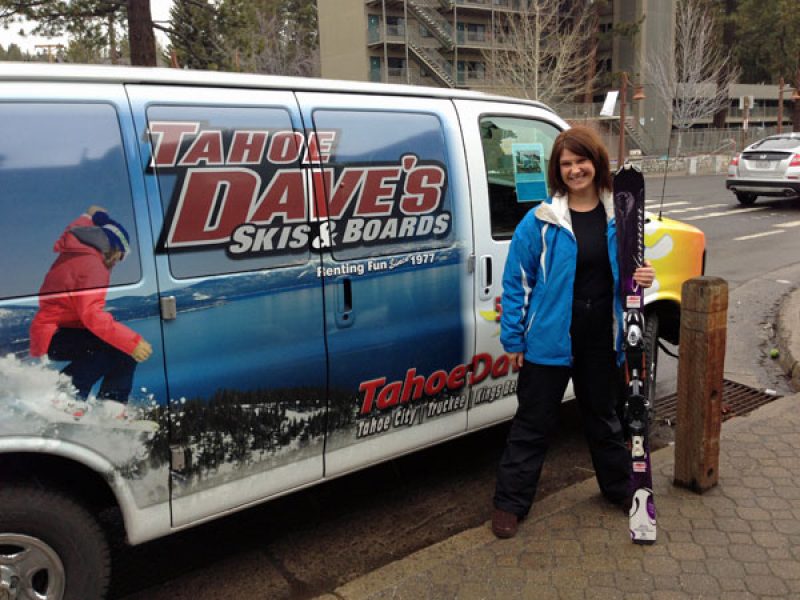 We were immediately greeted by friendly staff who showed us exactly what to do. I quickly entered our personal info into the computer and, after answering a few questions about our skiing styles, we were efficiently outfitted with just the right skis, boots and poles.
I love that my Salomon Topaz skis allow me to get just a bit more speed than I'm used to and still feel in control. I don't like to go too fast, but when I do occasionally get my courage up, having the right skis gives me more confidence to let it fly. The professionals at Tahoe Dave's knew the right questions to ask.
I questioned myself last week when I missed a turn at Squaw Valley and had no choice but to ski what I'd thought was far beyond my ability. I also questioned my husband – loudly – but it never occurred to me to question whether I was on the right skis or if I'd pop out of my bindings for no reason.
Rental equipment doesn't always instill confidence. But on that day, it did, and I had quite a success story to tell my kids on the funitel.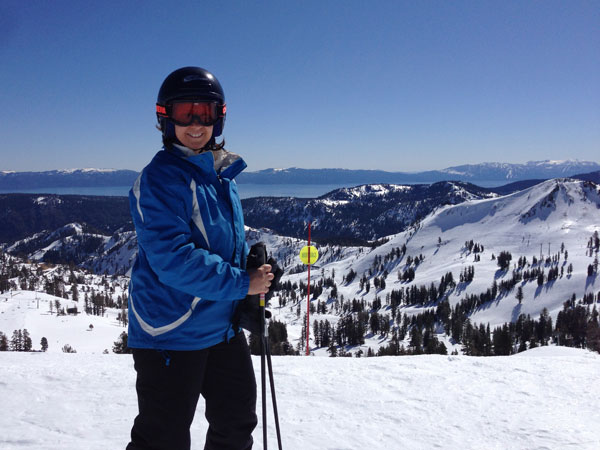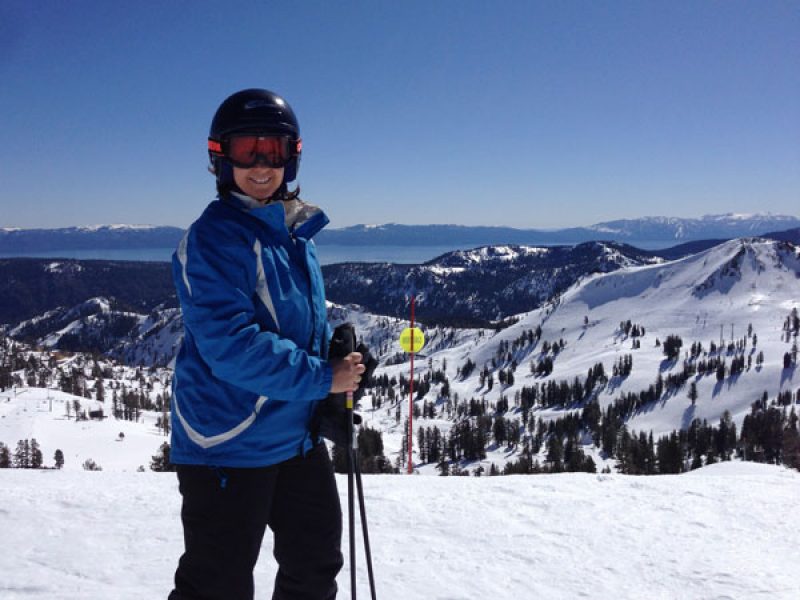 And when it comes to success stories, there's nothing I appreciate more than the good, old-fashioned, entrepreneurial type. Dave Wilderotter opened his first ski shop in Tahoe City in 1977 with 15 pairs of skis. He set up a makeshift bedroom above the ski shop to save money on rent and became known for his knowledge of equipment and commitment to personal service.
As business grew, his reputation helped him expand to the five stores he owns and operates today. You can find Tahoe Dave's ski and board shops in Tahoe City, along with his locations in Truckee, Kings Beach, and Olympic Valley. And he has a lot more than 15 pairs of skis!
What do I appreciate most about Tahoe Dave's? After several weeks, everyone in the family wants to ski, the kids get their boots on and off without complaining and I haven't had to call or stop in to swap out any of our equipment. The most welcome convenience is getting everything right the first time.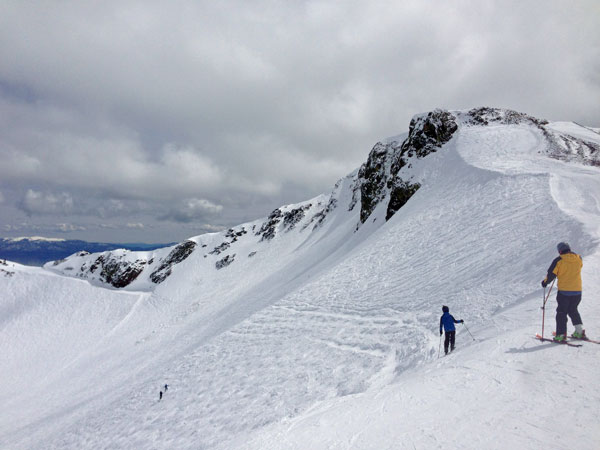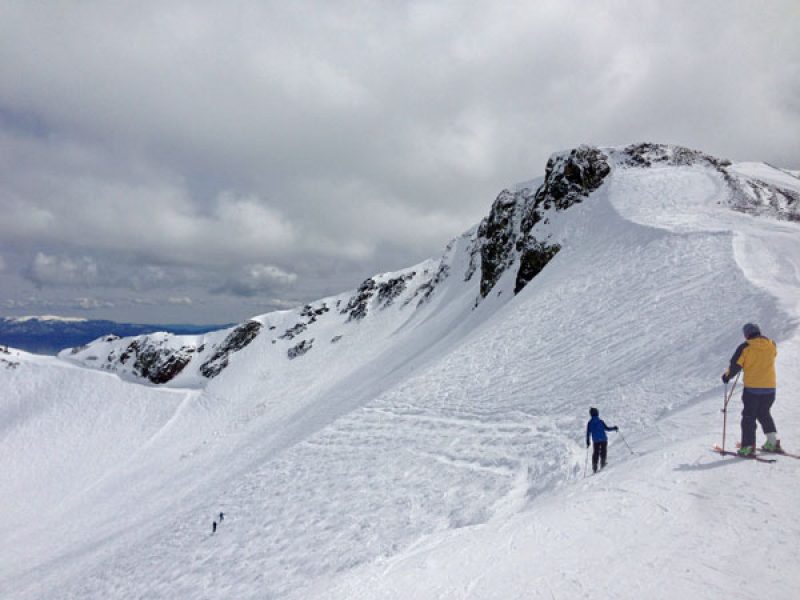 Where to Rent Skis in South Lake Tahoe: The Ski Renter
Getting skis for my family was higher on the priority list than getting food, and the experts at The Ski Renter (formerly South Tahoe Ski & Board Rentals) on Ski Run Boulevard in South Lake Tahoe set us up quickly and efficiently with absolute knowledge of their product.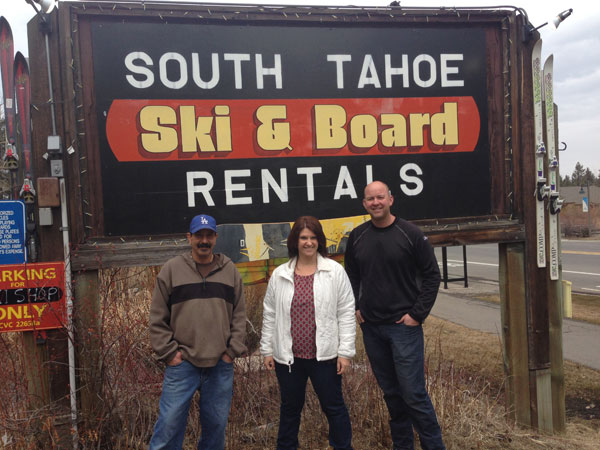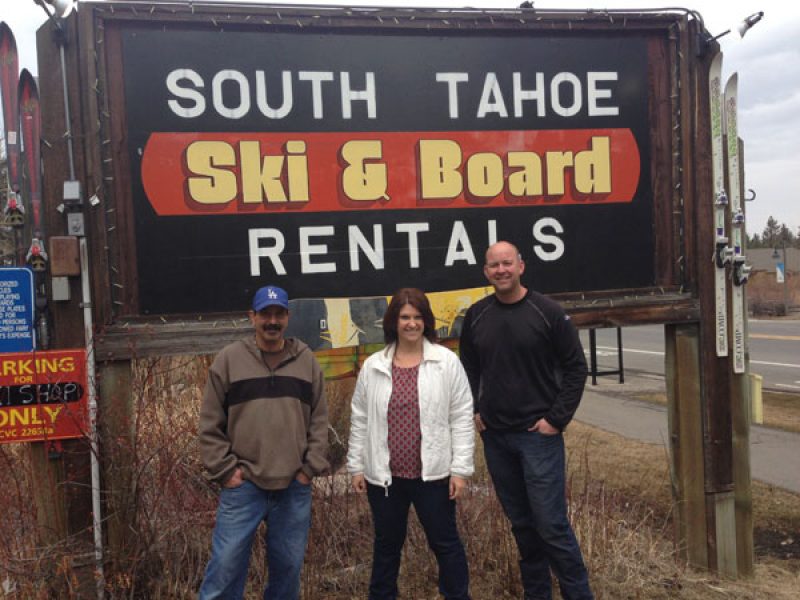 But the story behind their business is just as impressive as their service.
George Perkins opened the first independently owned ski shop in Tahoe in 1969. After a successful 10 years, he built a new shop across the street – the current location of The Ski Renter, right on Ski Run Boulevard.
George has run more than 10 rental shops over his long career of serving skiers. Now age 84, George just turned in his ski pass. Today The Ski Renter is owned by partners Ray & Phil, who have worked with George getting people geared up for more than 30 years.
Ray & Phil are artisans. They aren't just owners – they are the guys putting you in your skis. While some shops have a 19 year old fitting and tuning your skis – processing customers like cattle – Ray & Phil take the time to make sure you have gear that will provide a stellar mountain experience.
When I told Ray that my 9 year old daughter needed boots that were easy to handle, he immediately put her in single latch boots (and I thought they only had those for little kids!) and taught her how to get in and out of them. She looked at me and said, "Mommy these boots are so soft and I can do them myself!"
Their basic tune service is what most shops call a full tune. You can take your skis or board in anytime for a free hot wax. If you're a local and you bring in a friend, they'll tune your skis for free while your friend gets outfitted. And if you bring in more than 5 friends in a season who rent gear, they'll hook you up with a free demo. That's the community spirit of Lake Tahoe.