If you're considering a visit to Stranger Things: The Experience you're probaby wondering what exactly happens and if it's worth the cost. I went to the experience in NYC and this Stranger Things Experience review will tell you what to expect and if it's worth it to get tickets (spoiler alert: it is!).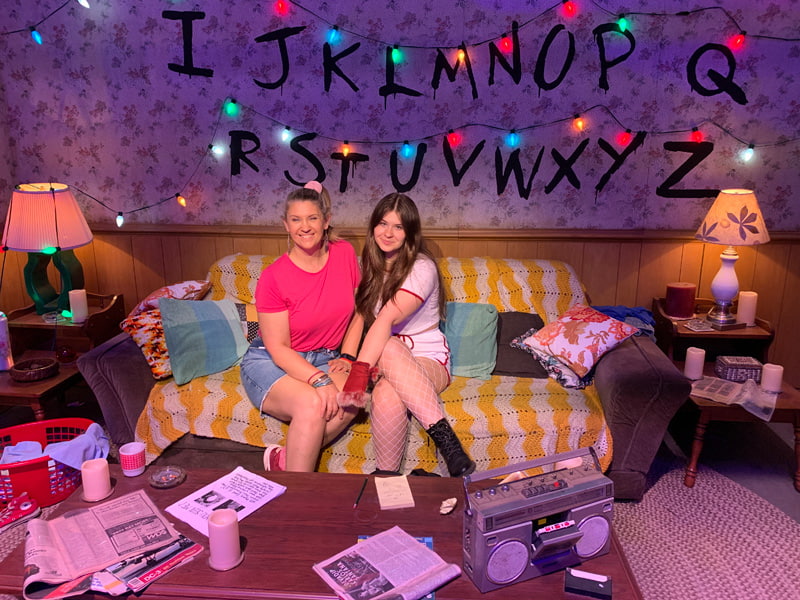 What Is Stranger Things: The Experience?
Stranger Things: The Experience is an immersive, walk-through adventure where you get to participate in a "sleep study" at Hawkins Lab. But when things go sideways, you and your fellow participants have to escape from this experiment gone wrong.
Along the way, you'll meet up with Dustin, Mike, Lucas, Will, Max, Erica, and Eleven who guide you through an original "Stranger Things" storyline developed by the show's creators.
We entered Hawkins Lab and were divided into three groups: Red, Yellow and Blue. There were probably 10 people per group in our experience.
Through a series of tasks (like solving a puzzle), researches in white lab coats asked us to demonstrate our own psychic powers and each group was assigned a leader and a "pose" – ours was holding out our hand in front of us, a la Eleven.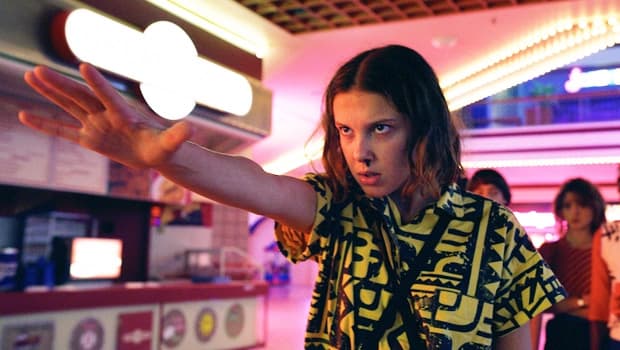 Now I'm not about to spoil the experience for anyone, but I'll tell you that there were tasks we had to complete, malfunctioning lights and doors, spiders (not real, thankfully!) crawling down the walls, and attacking demodogs.
The Stranger Things kids were right there with us – via computer monitors – to help us escape and save Eleven.
And then we walked through a creepy hole in the wall to enter the Upside Down.
After donning our 3D glasses we were treated to an incredible scene where I actually jumped and recoiled in fear at one point.
It was a little bit escape room, and a little bit 3D movie. And it was very well done.
The experience took about 45 minutes total.

After-Party at the Mix-Tape
Like any good ride or experience, you exit through the gift shop. The "Mix-Tape" area is set up like a mini mall with all your favorite Stranger Things locations:
Family Video: They have actual 80s VHS tapes for sale as well as other merch.
Surfer Boy Pizza: Selling pizza and corn dogs.
The Arcade: Play 80s arcade games like DigDug and Centipede.
Hellfire Club: Get your Hellfire merch!
Scoops Ahoy: Enjoy an ice cream sundae with Eggo waffles on top, or choose the chicken and waffles if you're looking for a meal.

Rink-o-Mania: Not really a rollerskating rink, but more of photo op.
The Upside: A bar selling themed "Hawtails."
The Byers' living room: Great photo op with Joyce's iconic alphabet of lights.
The Demogorgon: Another fun photo op location. My teen daughter remarked how perfect the lighting was for the photo op locations – absolutely Insta-worthy. (They clearly know their audience!)

You can spend as much time as you want in the Mix-Tape. In-character actors roam around interacting with guests and offering photo ops. We were interviewed by a reporter for the Hawkins Post, chatted with a girl from the roller rink, and took photos with Scoops Ahoy employees.

I dressed in my best 80's mom attire and even got a couple compliments on my scrunchy.
Want more Stranger Things experiences? Take my Stranger Things filming locations road trip!
Stranger Things Experience Locations and Pricing
The Stranger Things Experience is currently open in three cities:
New York City, at the Duggal Greenhouse in Brooklyn
San Francisco, at the San Francisco Armory
London, at Troubadour Brent Cross Studios
Ticket prices are steep: $70 for adults and $53 for ages 5-17. But if you're a Stranger Things fan, it's worth it. The experience itself is really fun and even a little bit scary. And the Mix Tape hangout is like spending an afternoon at Starcourt Mall.
It's totally bitchin'.

VIP admission is not worth it, so don't bother spending the extra $48 (!!). All you get is a free drink, a special Stranger Things gift (though I have no idea the value of said gift), and front-of-the-line treatment – which is totally unnecessary for the size and scope of the event.
It's not clear how long Stranger Things: The Experience will be open in these cities, or if more cities will be added. At this time of this writing, it looks like you can book tickets through August 2022 in NYC and San Fran, and through October 2022 in London.
For the latest information and ticket availability, check out the Stranger Things: The Experience web site.