The roller coasters are undeniably the best rides at Universal Orlando Resort in Florida. Let's compare two of the most extreme Universal roller coasters – The Incredible Hulk and Hollywood Rip Ride Rockit.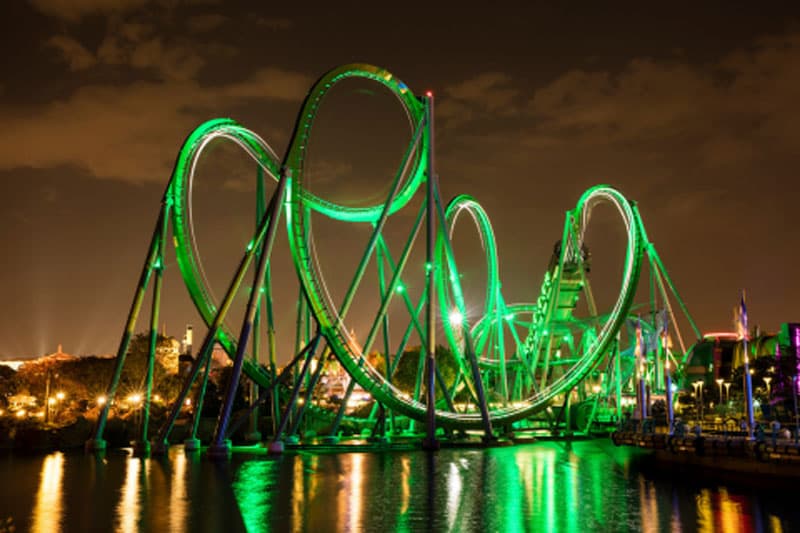 There's no reason you wouldn't ride both of these amazing roller coasters. But maybe you are like my wife and tend to get a bit nauseous riding a coaster. She loves the extreme rides, but she knows that she might not feel amazing after, so she picks one and saves it for the end of the day.
If you could only choose one, would you rather ride the Incredible Hulk roller coaster or Hollywood Rip Ride Rockit? Read on for some tips to help you decide.
Hollywood Rip Ride Rockit Roller Coaster
My son and I intended to ride the Incredible Hulk rollercoaster at Islands of Adventure a few years ago but it was shut down for Halloween Horror Nights. Instead, we took ride after ride on Hollywood Rip Ride Rockit.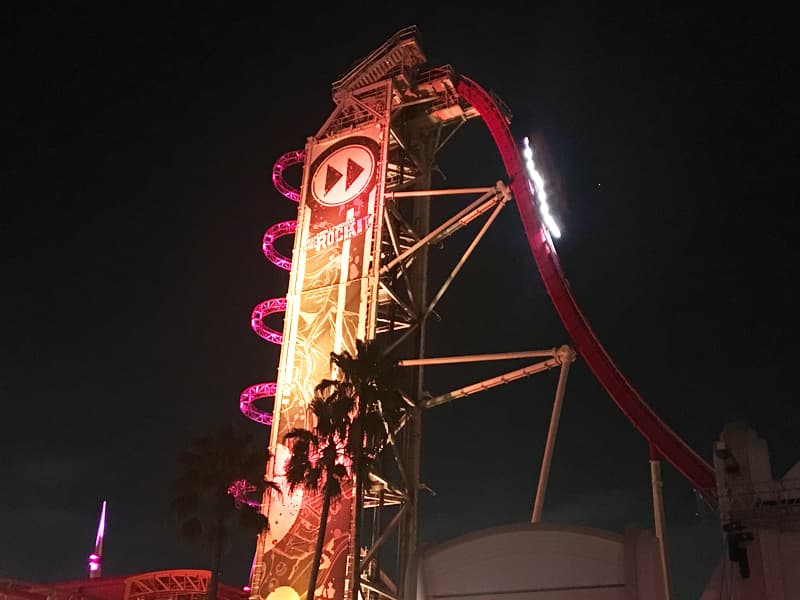 The line for The Shining horror attraction wound its way underneath this impressively intimidating, record-breaking rollercoaster. We craned our necks looking up, up, up to the top of the 17-story first drop and were astounded at the 90-degree angle of the tower.
On the way up, riders sit perpendicular to the ground with feet pointing up to the sky as the train climbs a vertical tower and then drops at a steeper pitch than we'd ever witnessed or experienced.
Anything in a pocket not zipped will most definitely fall out. Use the Velcro pocket on the ride and remember to check your seat when exiting just in case.
Rip Ride Rockit features a truly dramatic first drop that's sure to make even the most diehard rollercoaster fan think twice before getting on line. Be sure to try the first row of the first car for the visual and the last row of the last car for the speed.
Then, it powers through a series of loops, twists, corkscrews and high-speed turns reaching 65 miles per hour before decelerating en route to the station.
Built at a cost of $45 million, this thrill ride has paid back Universal many times over and provided its guests with a fast, super-fun ride that ranks among the best rollercoasters in America. If there's a flaw, it's that it can feel bumpy and loud in the way that a traditional, wooden coaster feels as the vibrations jostle the train when going around a tight turn.
Though engineers may admire its claim to fame as the first steel coaster with a non-inverted loop (where the track rotates around the outer edge of the loop), what makes Rip Ride Rocket great is riders get to enjoy their own selections of rock and pop music during the ride played through a personal speaker system set within each, individual seat.

Rip Ride Rockit Secret Songs
After strapping in, a menu-driven, digital audio system invites riders to scroll through a list of famous artists from Allman Brothers to ZZ Top, then choose from a group of songs.
But you must move fast! Riders get about 30 seconds from line to discharge to choose a song.
On my first ride, the rollercoaster took off while I was still scrolling the choices and it automatically defaulted to the Midnight Rider – not bad, but not my first choice.
Later, I learned of a secret code that accesses a hidden menu of additional songs. It worked on the first try and I listened to Rush 2112 Overture – Temples of Syrinx three rides in a row.
This personal feature gives Rip Ride Rockit the edge, making it better than the Incredible Hulk and other top rollercoasters, in this music-lover's opinion.
The Incredible Hulk Roller Coaster
The Incredible Hulk roller coaster at Universal Islands of Adventure offers a very different experience, though it, too, stands out as a sleek, modern, steel rollercoaster.
Originally unveiled in 1999, it was given a major overhaul in 2015 with changes to the track design, green theming, and the addition of on-board audio. Riders do not get to pick the soundtrack – it's all original music written by Fallout Boy's Patrick Stump.
The Hulk has no drops and no 17-story tower to strike fear in guests at the park, though it still makes would-be riders of all ages wary. This ride features non-stop loops, twists, turns, and corkscrews at high speeds, twice braking to slow down and restart.

But whereas Rip Ride Rockit can be jarring inside the seat, the Hulk offers a smooth, clean and simply exhilarating rollercoaster ride, even at its top speed of 67 miles per hour. But it wasn't always this smooth. The 2015 upgrade replaced several sections of track with new track that helped the trains keep rolling minus the vibration.
The Hulk at Universal Orlando starts in a dark tunnel with some special effects lighting and moves gradually up an incline. It then thrusts upwards in a surprise move, accelerating to 40 miles per hour in two seconds, similar in feel to the launch of the Aerosmith Rock n Roller Coaster at Disney World's Hollywood Studios.
Engineers will appreciate the complexity of this drive tire launch system, which required an innovative, custom design to deliver the power needed to achieve a ridership rate of 1,920 per hour without triggering a power outage elsewhere in the theme park.
Called a gamma ray launch tunnel with a gamma ray accelerator, these features expose riders to gamma rays and confer super strength, a la Dr. Bruce Banner.
After the exhilarating ride that clocks in at a quick 1 minute, 45 seconds, riders exit feeling supercharged and clamoring for another shot of gamma rays on one of the best rollercoasters in Orlando, Florida.
Related: Review of Cabana Bay Resort, Universal Florida.
More Universal roller coasters
What about the rest of the Universal Orlando roller coasters, you ask? I haven't had the chance to ride the two newest Universal Islands of Adventure roller coasters – Jurassic World VeliciCoaster and Hagrid's Magical Creatures Motorbike Adventure – but I hear they rank among the best.
I also love Escape From Gringott's and The Mummy (some say The Hulk roller coaster is comparable to the Mummy). These are both thrilling Universal Studios roller coasters, and are less extreme than the others at the park.
Which Universal roller coasters are your favorites?