If you have been staying home more than traveling lately, I've found a great way to scratch that travel bug itch with virtual walking tours!
Virtual tours come in different forms. Some are recorded for you to enjoy any time. Others are livestreamed and can include interaction with a tour guide.
One community I've found that is offering some amazing, interactive virtual walking tours is Viewpal.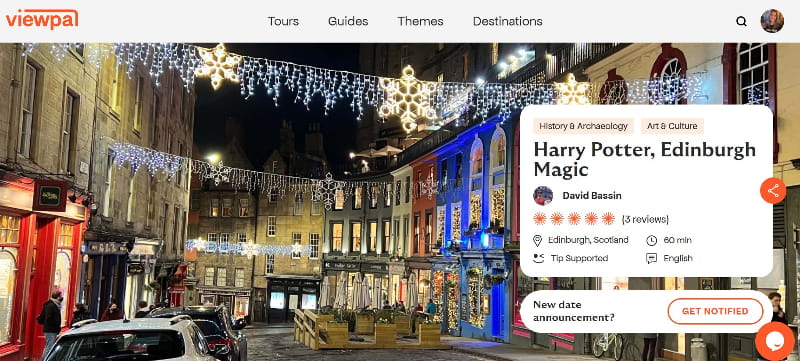 You know how much I love TV and film-related travel, so of course I opted for the "Harry Potter, Edinburgh Magic" tour!
On this virtual walking tour, our guide David Bassin took us to the places where JK Rowling drew her inspiration, such as the school believed to be the inspiration for Hogwarts, the shops that found their way into Diagon Ally, the graveyard where she got her characters' names and more.
Check out some screen shots from the tour. We saw JK Rowling's handprints…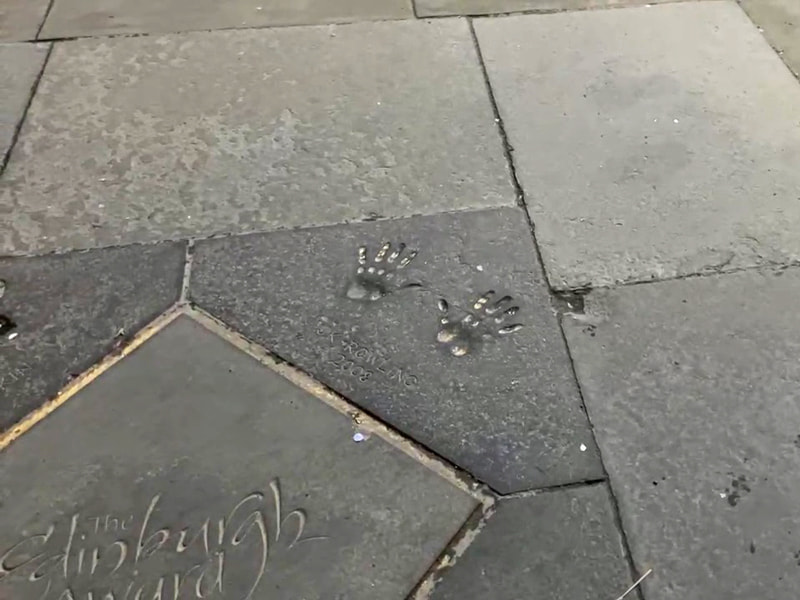 We "walked" along the street in Edinburgh that was Rowling's inspiration for Diagon Alley…

David also took us to a cemetery to show us where Rowling got some of the names for her characters. Like this one-who-shall-not-be-named…

David was entertaining and engaging, asking the participants what house they belonged in and running a friendly "House Cup" competition with trivia questions. The interaction is done via a chat window – so don't worry, you aren't "on camera" at all.
I absolutely loved feeling like I was strolling the streets of Edinburgh with David and several other Potterheads! I came in second in the House Cup competition, btw. And I'm a Hufflepuff, in case you are wondering.
Our guide David is a Slytherin.

How Do Viewpal Virtual Walking Tours Work?
All you need to do is visit the Viewpal web site and sign up (free), then you'll be able to browse through all the tours they are currently offering.
Viewpal tours are free, though you have the option to tip your guide. (Please tip your tour guide!)
They offer tons of tour options. I've seen tours of UNESCO World Heritage Sites, a rice paddy walk, and Egypt's Luxor Temple at sunset. How about experiencing a Sunrise Wholesale Fishing Market in Vietnam or a sunset stroll in Santorini?
When you find a tour you want to attend, just click the "book" button and you're all set. You'll get friendly email reminders with a link to the livestream tour. You do need to be available at the time of the tour – it's a "live" experience!

As for more TV travel, David will be doing an Outlander tour soon that I'm SO excited about!
There have also been tours with direct mentions to the cinema world, such as "Zadar's Sunset Tour." Alfred Hitchcok claimed during his visit to Zadar that the sunset there is the most beautiful in the world. Or "Portobello: Edinburgh's Seaside" where Sean Connery was once employed as a lifeguard.
So go check out Viewpal. Book one of their free virtual walking tours and relax as you experience some beautiful parts of the world.
Looking for more virtual travel? Check out how to Visit All 50 States with these Virtual Tours.