Visiting Clearfield County needs to be near the top of your to-do list for beautiful scenery and outdoor activities in Pennsylvania. Its backwoods, backroads, and backwaters are ideally located for a central PA road trip or weekend getaway and the area offers several unique adventures you don't want to miss.
My husband and I spent three days in Clearfield County hiking, climbing through caves and rocks, exploring a fantastic railroad museum (that is so much more!), and enjoying lots of food and drink. We can't wait to go back, but in the meantime, I want to share our experiences and tell you why it's time to make plans to visit Clearfield County.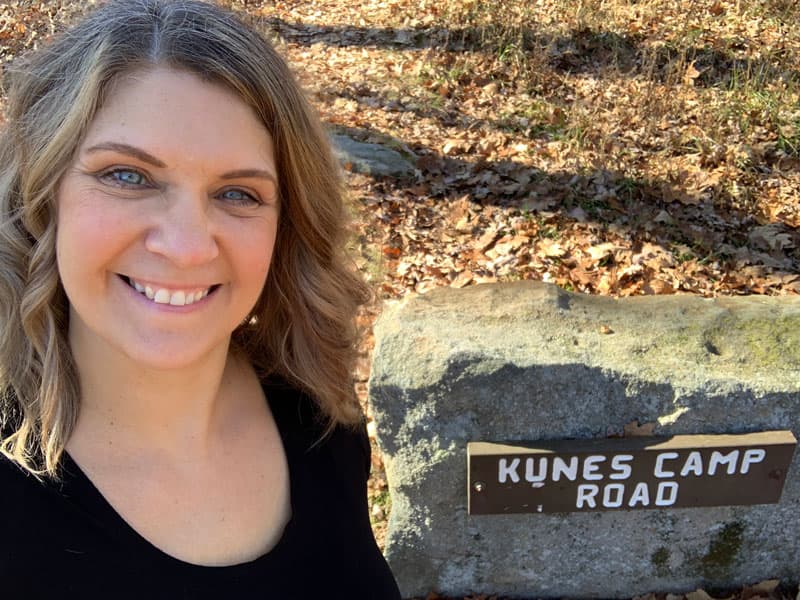 Visit Clearfield County sponsored my visit to facilitate this review. All opinions are my own.
Where is Clearfield County PA?
Located in the Pennsylvania Wilds area, Clearfield County is just west of smack-dab-in-the-middle of the state. It's north of Altoona and less than an hour from State College. I-80 runs directly through it, so it's only a few hours from most places in the northeast, earning its tagline of "Halfway to Everywhere."
Clearfield County is easily accessible from New York, New Jersey, and Ohio. Even western Massachusetts, Connecticut, and the Baltimore-DC area are only a four- to six-hour drive. If you are planning an RV or road trip in the northeast this summer, this area should be on your radar as a place to spend a few days.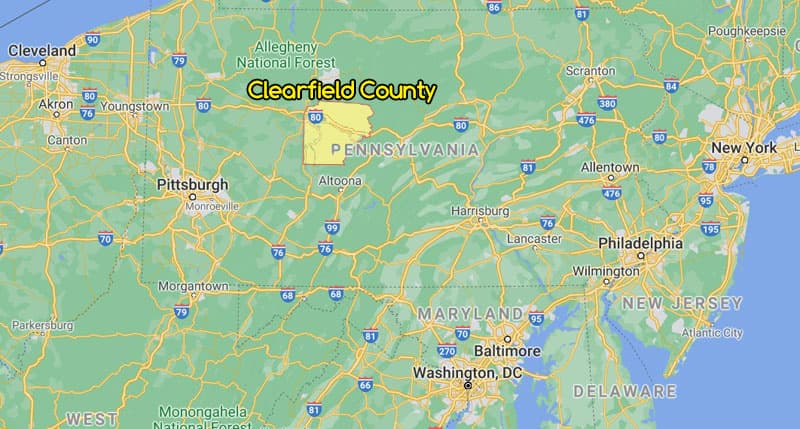 The Pennsylvania Wilds area is a haven for outdoor enthusiasts. Whether you want to hike, bike, hunt, fish, or boat, there are tons of options that offer everything from a peaceful morning watching wildlife to an active day on the trails or on the water.
5 Awesome Things to Do When Visiting Clearfield County
When visiting Clearfield County, you'll find a peaceful, small-town atmosphere with people who are passionate about outdoor adventure. Everywhere we went, we found people willing to give us suggestions and advice on the best places to go, even offering up the secret hideaways only the locals know.
We loved the area and the people so much that we got to thinking about those articles that list the "best small towns in America." You'll often see towns like St. Augustine, Telluride, and Sedona listed. While those are wonderful places to visit, they aren't small towns. Clearfield, Curwensville, DuBois… these are small towns where you'll find hidden gems without an overly touristy vibe.
Here are five awesome things to do when visiting Clearfield County:
Bilger's Rocks
Curwensville Lake
Quehanna Wilds
Doolittle Station
Grice Clearfield Community Museum
Don't miss where to eat in Clearfield County!
Bilger's Rocks
Bilger's Rocks is a scenic wonder of caves, cliffs, passageways, and rocks that tower 30 to 50 feet high. Visitors can wander freely through the 300 million year old rock formations and enjoy the park's 260+ acres of hiking and biking trails plus geocaching, camping, and picnicking.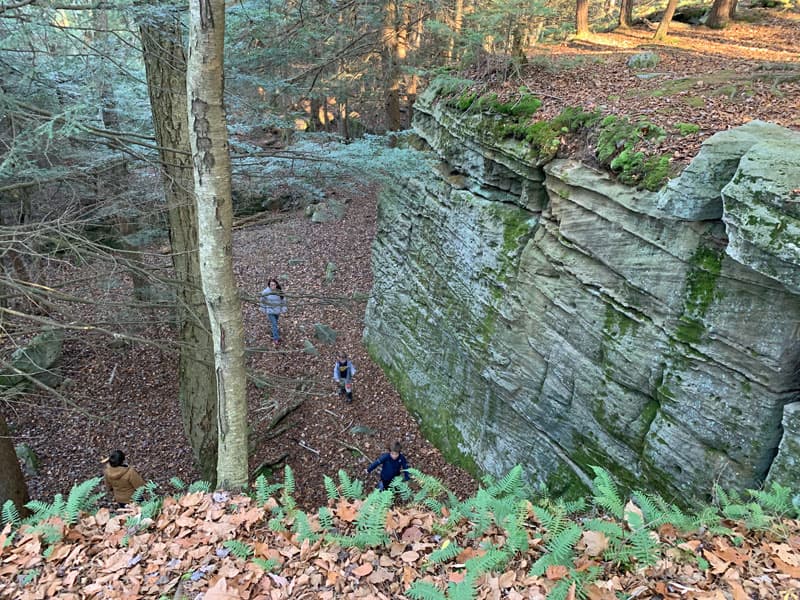 Bilger's Rocks has a fascinating history and I highly recommend a guided tour (available with advanced notice). The area was part of an east-west trail traveled by the Native Americans who used the massive rocks for shelter. And anyone even slightly interested in geology will be fascinated to learn about the continual evolution of the incredible sandstone formations.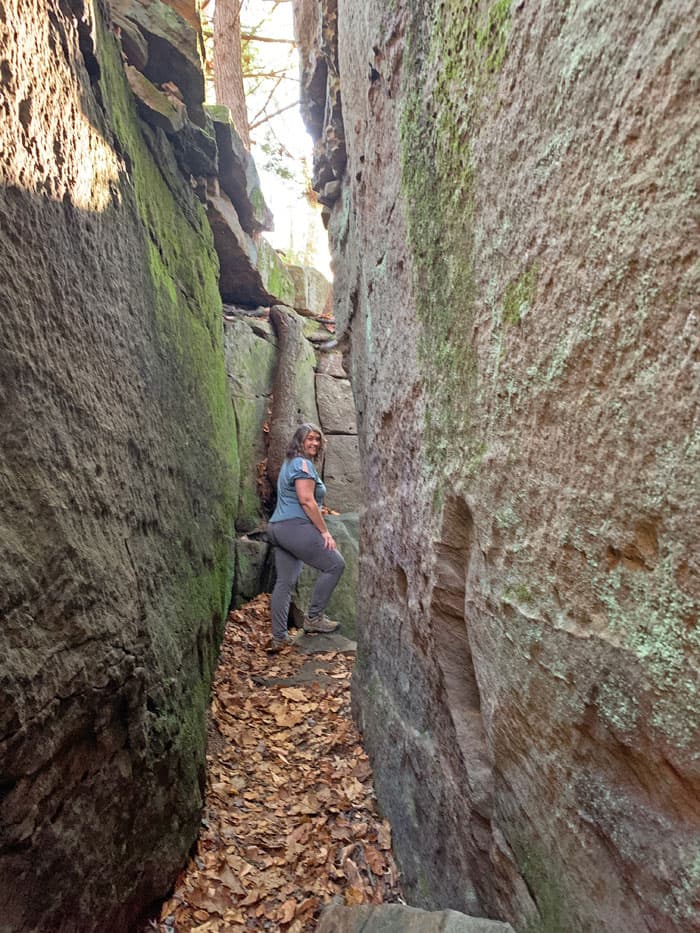 What I loved most about Bilger's Rocks is its openness. You don't have to follow a specific trail (though you can). You can scramble up, over, under, and around the rock "rooms," caves, and passages in any way you like. There are a few short-distance caves that even timid explorers can enjoy – just be sure to bring a flashlight and wear sturdy shoes.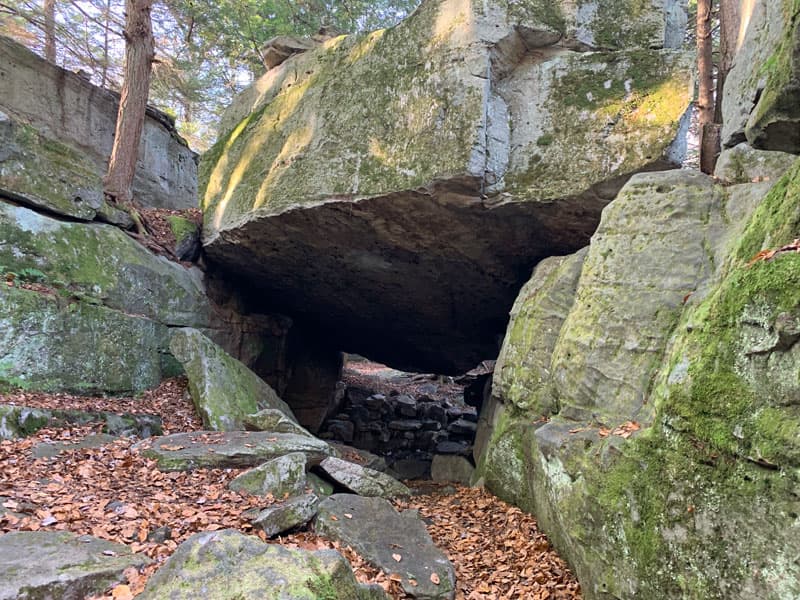 Visiting Bilger's Rocks is free, but please leave a donation to help them continue to provide an amazing experience for their guests!
Curwensville Lake
Curwensville Lake offers a fantastic place to do some hiking. It has more than 20 trails ranging from flat and easy to steep and difficult. We followed the moderate, one-mile River Trail and enjoyed some beautiful views of the lake since the leaves were mostly off the trees. Then we hooked up with the Eagles Nest trail for a ¾ mile steep climb that brought us back to the main road. It was a perfect morning hike.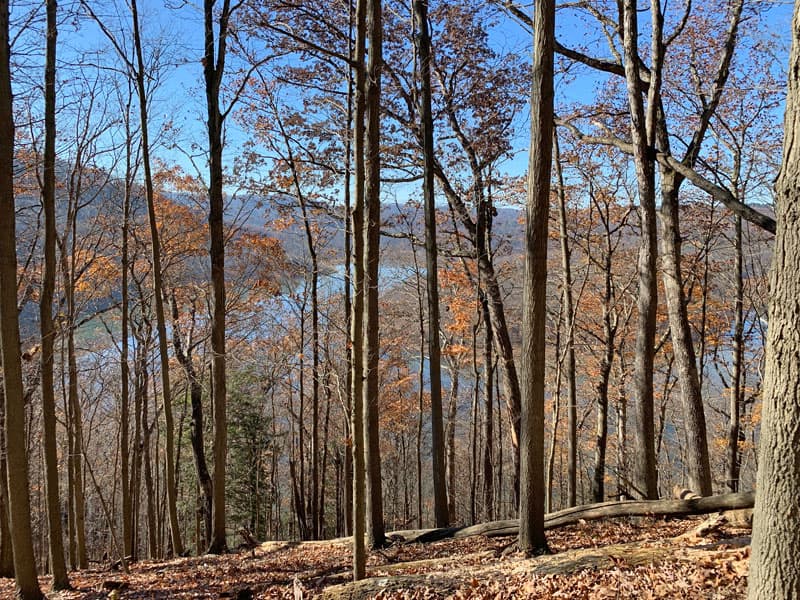 Curwensville Lake is a gorgeous spot for the nature lover and outdoor enthusiast to set up camp for a few days. It offers hiking, fishing, water-skiing, boating, tubing, swimming, bird watching, kayaking, and paddle boarding, as well as a dog park, soccer fields, disc golf, volleyball courts, picnic areas, primitive and electric campsites, and a few cabins. And boating enthusiasts will appreciate that Curwensville is an unlimited horsepower lake.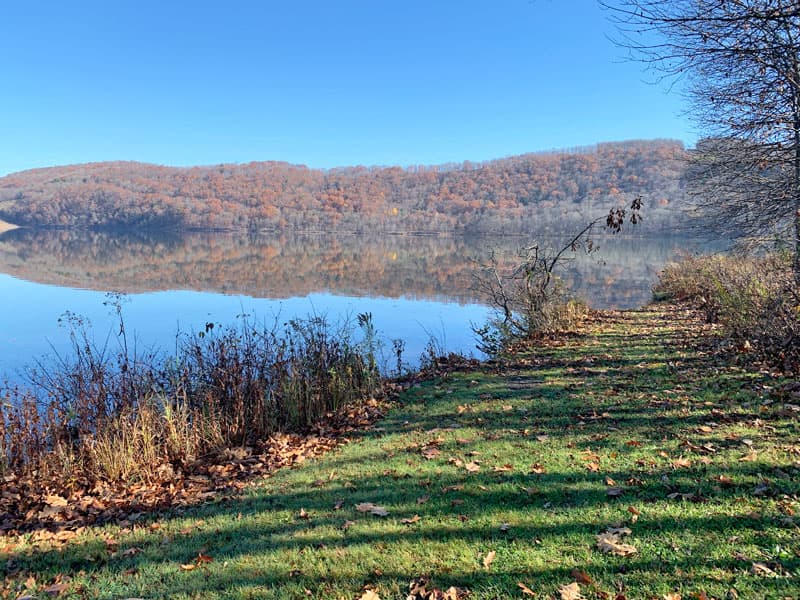 They always have something fun going on such as craft classes, playground scavenger hunts, nature walks, fishing competitions, themed beach parties, boat parades, 5K runs, live music concerts, bingo, fireworks, sip and paint, fall festivals and Halloween events.
Quehanna Wilds
If you're looking for wildlife and a peaceful, serene outdoor experience, head to the Quehanna Wilds area.
Did you know Pennsylvania is home to the largest free-roaming elk herd in northeastern United States? The Elk Country Visitor Center has interactive, hands-on exhibits to help you learn about the world of elk, along with viewing scopes, trails and viewing areas, tours and more. There's also an Elk Scenic Drive north of Clearfield County.
We got up early in the morning to head to Karthaus where there's an elk viewing area overlooking the West Branch of the Susquehanna River. Unfortunately, it was a very foggy morning and we weren't able to catch a glimpse of any elk. Instead, we got a head start on a fantastic morning of hiking!
In the 1950s and 60s, the State of Pennsylvania evicted hundreds of camp owners from the Quehanna Wilds area to allow the Curtiss-Wright Corporation to use the land for nuclear research. We were intrigued by the former nuclear reactor and jet engine test sites. These are both short (½ to 1 mile), in and out hikes.
The hike to the site of the 1956 nuclear reactor was mostly paved and there wasn't much to see when we got there. The reactor was demolished in 2009 and there's just a sign and open space now. But a local told us "if you have a Timex watch, it'll stop down there." I'm looking forward to testing that statement next time!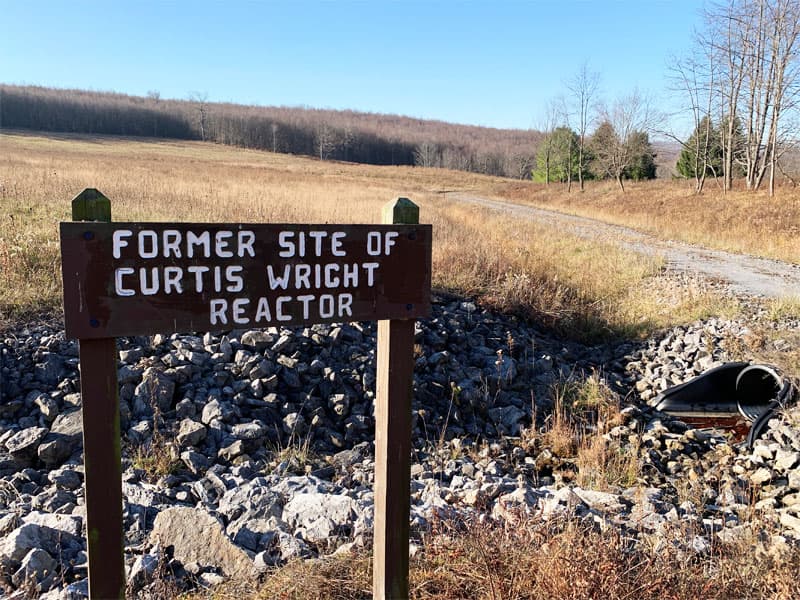 The abandoned nuclear jet engine testing site was even more interesting and also a prettier hike through a wooded area. We found the ruins of a building and mounds over a bunker, as well as a small retaining pond with debris and various discarded items.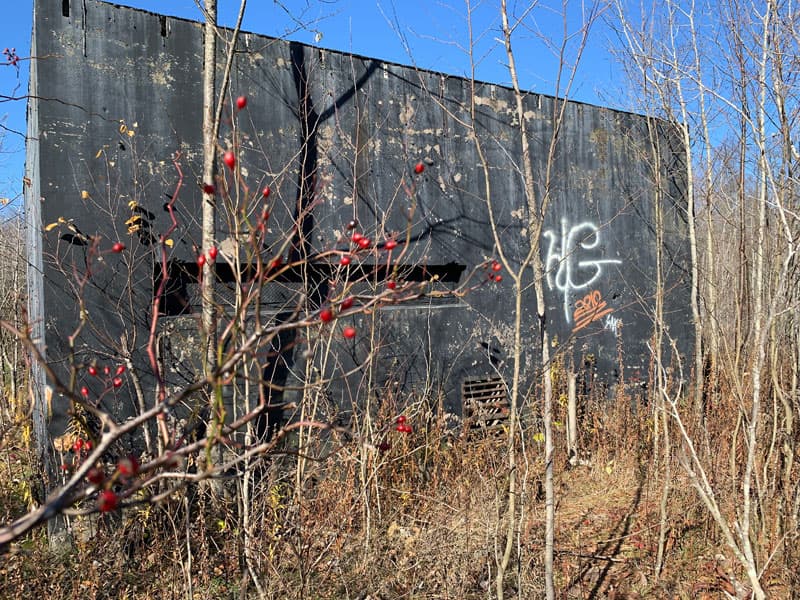 Our third hike was the 2-mile Kunes Camp Trail. This is a beautiful hike that features the ruins of Kunes Camp – one of the hunting camps that had to be abandoned in the name of Cold War research.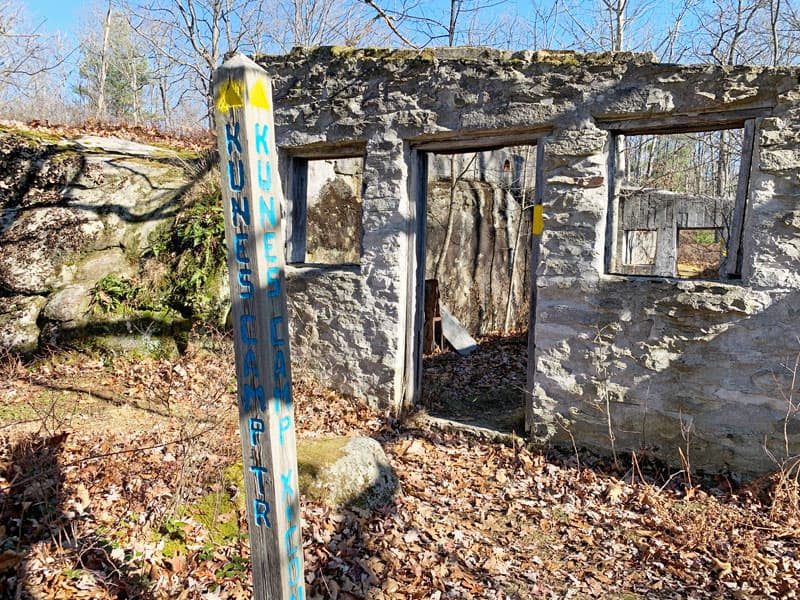 While we didn't see any elk while visiting Clearfield County, we did get to see some wonderful photos. We struck up a conversation with a local gentleman while eating lunch at the Quehanna Motor Lodge (highly recommend!). He showed us some amazing photos he took of elk through a hunting scope. He also suggested we visit the Marion Brooks Natural Area for one of the most beautiful and accessible white birch tree groves in the state. We didn't make it there this trip, but it's on our list for next time.
Doolittle Station
How to explain Doolittle Station? This entertainment complex in DuBois is part train museum, part dinosaur exhibit, part brewery and part B&B. There's something for everyone and plenty to do for a day visit or an overnight stay.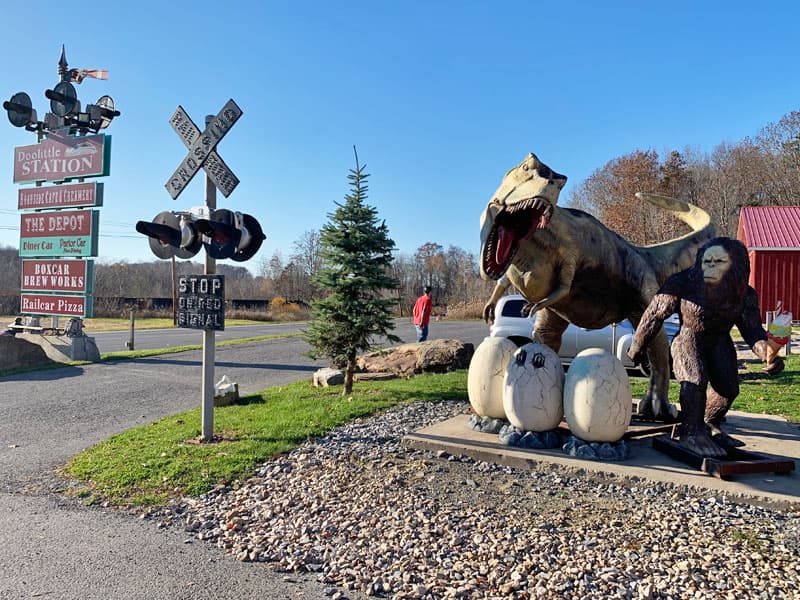 My husband and I enjoyed a personal tour of Doolittle Station by owner Dr. Jeff Rice. A collector at heart, Dr. Rice created Doolittle Station to preserve the area's rail history. He also works hard to provide economical family fun and promote tourism to the area.
We first toured the historic Pullman Presidential car where Teddy Roosevelt once slept. This car was used by Roosevelt in 1901 for his campaign tour and is now fully restored as a bed and breakfast. You'll love the gorgeous woodwork and original furnishings as you step back in time. There's a full bathroom attached – yes you can stay over in this railcar and continental breakfast is included.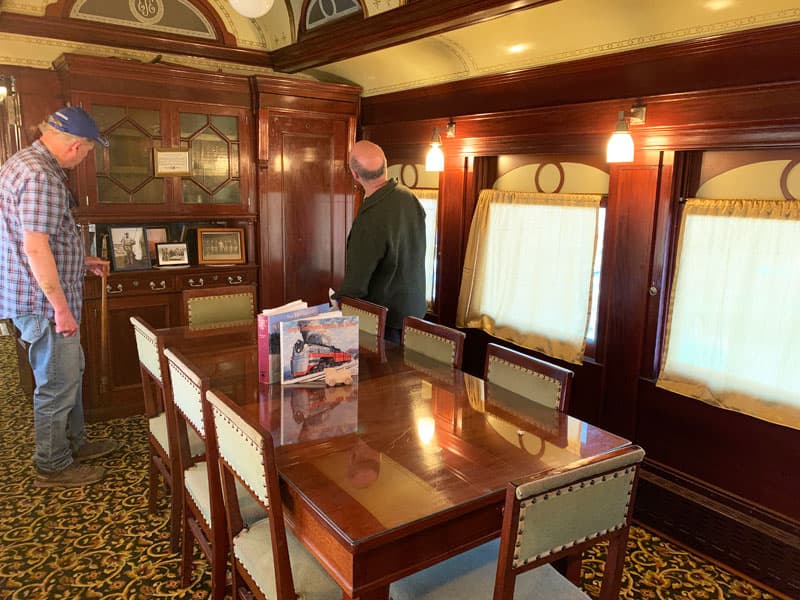 Next we explored the many dining options housed in the train cars at Doolittle Station. There's the Parlor Car, a luxurious experience offering a farm-to-table menu. There's also a Diner Car set up to look just like a 1950s diner, though it wasn't open at the time of our visit. At Railcar Pizza they serve up 9" single-serve, wood-fired pies with your choice of toppings and crusts. And the Roadside Cafe offers burgers, hot dogs, sandwiches, milkshakes and ice cream.
Boxcar Brew Works is a fantastic spot to enjoy pub fare and a pint of small-batch beer. This nano-brewery works with local home brewers to bring their visions to the masses, so you'll always find something new and exciting on their rotating menu.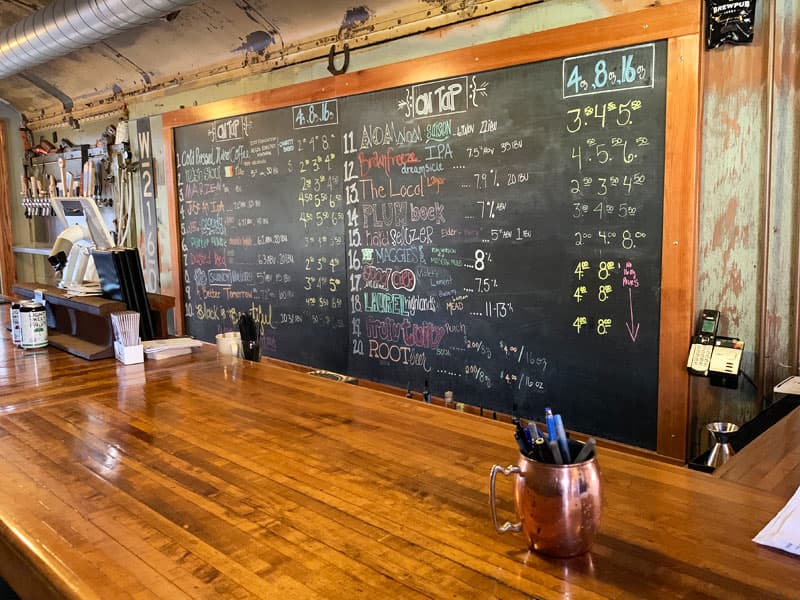 Doolittle Station also has a wonderful option for special needs families. The Little Caring Caboose offers a private, personalized dining experience in an authentic railroad atmosphere.
We even toured the very last Barnum & Bailey circus train, which is available for overnight lodging, a caboose-turned-B&B, and a model railroad museum. Then we stepped back even further in time to the age of the dinosaurs!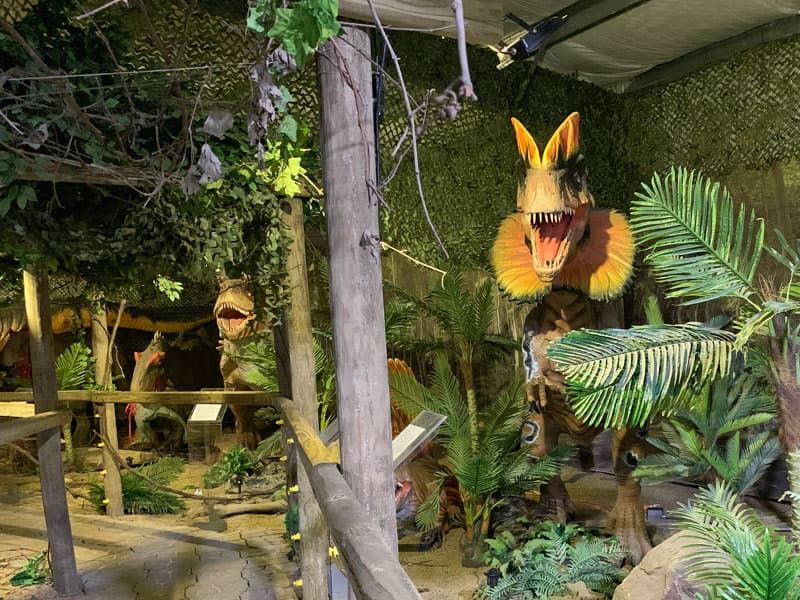 Doolittle's Dinosaurs is a walk-through display of animatronic dinosaurs. You can even ride one of these prehistoric creatures! Your little dinosaur-lover will be amazed and the price is right at just $5 per person.
Doolittle Station has a mini golf course, laser tag, and a game room. They are ever evolving and currently working on a BBQ restaurant and an axe throwing venue!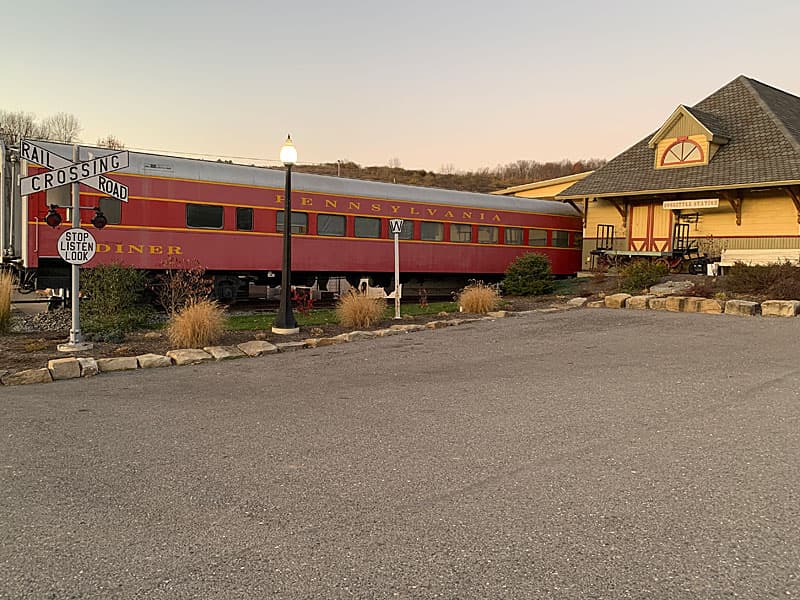 Grice Clearfield Community Museum
Any car buff or avid sportsman will love the impressive collection at the Grice Clearfield Community Museum. The museum was founded by Scoot Grice and his family, who have been in business in the Clearfield area since the 1940s and wanted to give back to the community.
Stroll through and check out more than 75 antique and classic cars and the stories that go along with them while looking up at a collection of model airplanes hanging from the ceiling. More than 1,700 1/18-scale diecast cars are also on display.

Set amid the antique autos are over 800 trophy game and fish mounts that include animals from all over the world. One of its prized displays is a selection of African game mounts that is appraised at over $250,000.
Clearly, there's a lot to do, see, and enjoy in Clearfield County. I think it's the perfect spot for a road trip stop, weekend getaway, or a full vacation in the beautiful outdoors.