Here's some advice if you're wondering about where to eat in Clearfield County, Pennsylvania: come hungry and thirsty!
Known for its backwoods, backroads, and backwaters, this central PA playground is a perfect destination for a road trip or weekend getaway. And when all that outdoor adventure makes you hungry, you can rely on their Lumberjack Burger Trail and Lumberjack Tasting Trail to satisfy you.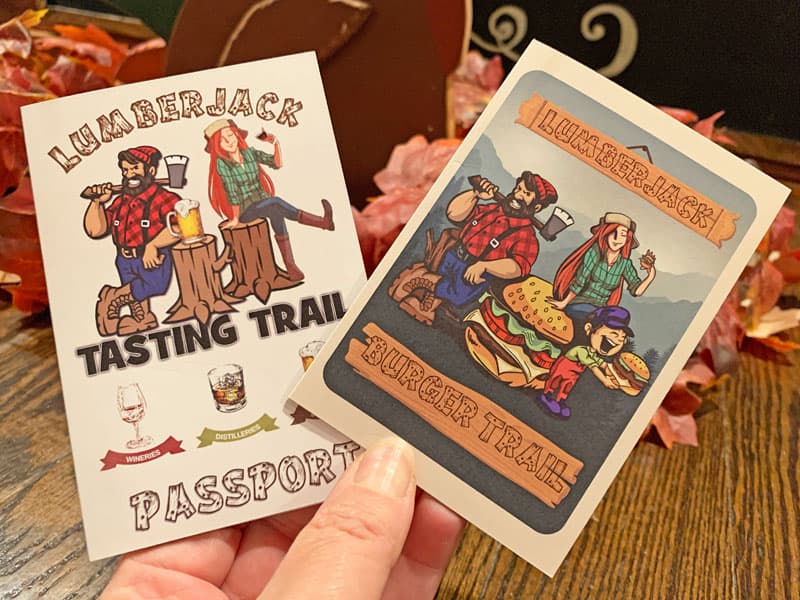 Lumber was Clearfield County's dominate industry from 1840 to 1890 and their Lumberjack Trails were created in honor of that heritage. Passports detail all the locations and allow you to collect stamps at each restaurant, brewery, winery, and distillery. You can pick up your passports at any participating location or print them from the Visit Clearfield County web site.
Read more about my experience visiting Clearfield County.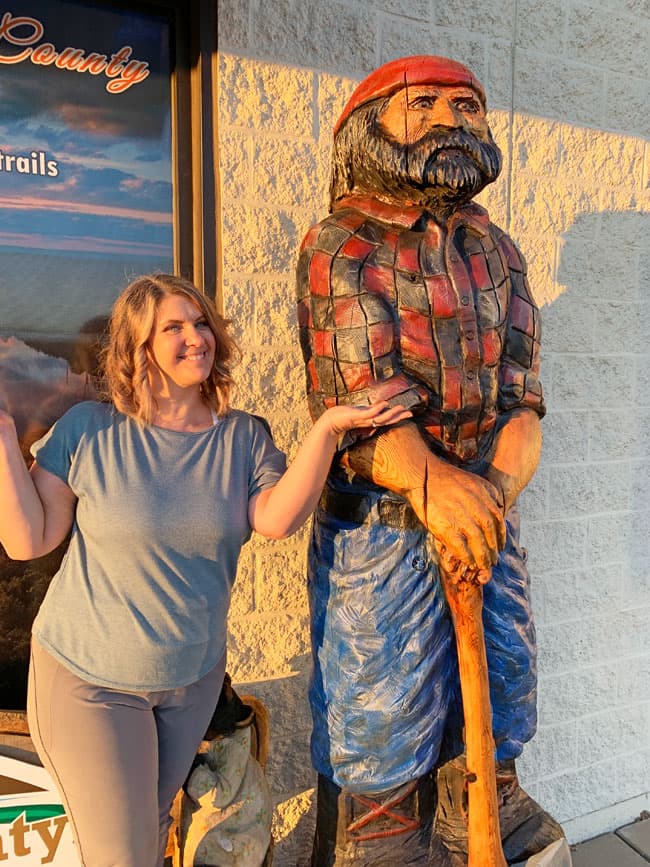 Visit Clearfield County sponsored my visit to facilitate this review. All opinions are my own.
Lumberjack Burger Trail
The Lumberjack Burger Trail suggests 13 places to try an amazing burger. If you get your passport stamped at 11 out of 13, you'll earn a free T-shirt from Visit Clearfield County.
My first stop on the Trail was Denny's Beer Barrel Pub, home to the World's Largest Hamburger Challenge! The Ye Olde 96er is a 6-pound burger with 3 hour time limit. It's been featured on The Food Network, Good Morning America, Travel Channel and more.

Visit Clearfield County arranged for my husband and I to try this challenge and, as you could probably guess, we didn't even make a dent in it. But it was so fun to experience and the burger was delicious.
If you're not up for six pounds of beef, they have several different challenges with burgers up to 100 pounds – if you can even imagine that!
Denny's is a lively spot offering craft beer, 40 burger styles, wraps, subs, salads and more than 54 flavors of wings.
My next burger was at the DuBois Diner and thankfully it was normal size! I loved the vibe at this classic diner and appreciated the large-screen TVs showing the Sunday football games. My burger was juicy and yummy and their peanut butter pie was outstanding. Sadly, this restaurant recently closed due to lack of employees.
More Places to Eat in Clearfield County
These two stops are not on the Lumberjack Burger Trail, but they should definitely be on your list of where to eat in Clearfield County.
Sid's Super Submarines is a classic sandwich shop with terrific subs. And when I ordered fries on the side, I was astounded at the options offered to me. The friendly woman behind the counter offered up fresh cut thick, shoestring, batter dipped, curly, waffle, seashore (with sea salt and garlic), pickle, sweet potato, or funnel cake fries.
Hmmm… all of the above? I love me some fries.
I went with the curly fries and they did not disappoint.

Next on my "where to eat in Clearfield County" list is the most excellent Quehanna Motor Lodge. It's unassuming and feels like a true locals' place. You might not even realize it's a bar/restaurant if you didn't have someone (like me!) tell you about it. But trust me when I tell you – go.
There were just two other customers in the bar area the afternoon I visited, and we quickly struck up a conversation. After sharing my story of not seeing any elk that foggy morning, one man brought his phone over to show me some incredible, close-up photos of elk he had seen.
I tried a butterscotch pudding shot and a pickle shot – both delightful! I then enjoyed an excellent cheesesteak sandwich and fries (with gravy!) that were just the right balance between crispy outside and soft potato inside. Quehanna Motor Lodge is a great place to eat, drink, relax, and enjoy the local vibe. It's the kind of place I know I'd frequent if I lived nearby.

Lumberjack Tasting Trail
The Lumberjack Tasting Trail includes 16 wineries, breweries and distilleries in Clearfield County. Get your passport stamped at all of them and you can earn free merch from Visit Clearfield County.
My favorite stop on the Trail was Starr Hill Winery. We got a tour from owner Ken Starr, who learned the art of making wine as a young boy by his father's side. The winery is located atop a hill in Curwensville, PA and the view is serene. They've even had some TV shows and movies filmed on location at the winery.

I enjoyed several of their wines, especially the DuBois Double Play and Margarita Madness. But my favorite was their Bumbershoot!
Bumbershoot is fermented fruit in a can. It's like a richer, fuller, more flavorful version of a wine cooler – sweet, sparkling, and so delicious. I could drink these every day and I can't wait to go back to stock up on more.

Another stop on the Lumberjack Tasting Trail is Boxcar Brew Works at Doolittle Station. I did not have the chance to try their beer and brick oven pizza, but I loved that this nano-brewery works with local home brewers to bring their visions to the masses. You're sure to find something new and exciting on their rotating craft beer menu.

Denny's Beer Barrel Pub is also on the Tasting Trail and I enjoyed a beer there with my 6-pound burger!
As for distilleries on the Tasting Trail, I've heard good things about Triple Nickel Distillery. I haven't been there yet, but I'm planning on it. They offer moonshine infused with 100% natural fruit juices, as well as many unique flavors. I need to try the Salted Caramel, Apple Pie, Peanut Butter, Tropical Dream, and Pickled (I love pickles).
I truly loved my visit to Clearfield County and encourage anyone traveling through central Pennsylvania to stop, eat and taste all they have to offer.