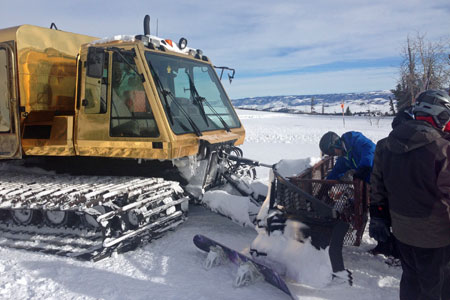 Yesterday was the first day in several years that Powder Mountain in Eden, Utah, opened up the Rain Tree Snowcat in Cobabe Canyon. You purchase a ticket and get one ride up in a snowcat to ski down an area that is otherwise inaccessible.
My husband was beside himself with excitement, imagining all the untracked powder we were about to experience. We had planned to take the Lightning Ridge snowcat on the opposite side of the mountain and had watched YouTube videos of the terrain. I was mentally prepared for that, and the uncertainty of what I would encounter instead in Cobabe made me a little nervous. But I knew I'd be able to handle the terrain, even if it wasn't a graceful run.
And it definitely was not.
While waiting for the snowcat, I chatted with a couple of ski patrollers who were doing an "educational" run. Rod, an experienced patroller was taking Maddie, a younger patroller, up for her first run in the area. It was the perfect chance for me to get some insight.
"What's the best way down for a first-timer?" I asked. Instead of taking a straight line down the mountain, Rod advised taking a wind-around trail to an area where the trees weren't as tight and that ended in an open field of powder. Sounded good to me.
We followed Rod and Maddie, and a few other skiers, and came to the Par 5 trail. Not really a trail, mind you. This is almost backcountry skiing so it's just a wooded area and you ski wherever you want until you get to the bottom. Most of the terrain at Powder Mountain is just like this so I was already familiar and not worried about that aspect. The trail didn't look too difficult, it wasn't very steep, and I was excited to give it my all. Here's what happened:
Obviously, I had some trouble in the powder. I'm still a powder newbie, and this area had some deeps. Normally, falling wouldn't be a big deal, but since we were skiing with other people, I was feeling embarrassed about holding everyone back. And let me tell you – snow is heavy. It is really difficult to get up when you fall in that much powder. Trying to push yourself up with your poles is futile because the poles sink. I had to unbury one ski (an effort in itself when your ski is covered in several inches of snow), release my boot from the binding, and try to get up on my knee. I sunk again into the snow. A few curse words later and I was up and had my ski back on. My husband stayed with me, of course, but the others had moved on.
I took a deep breath and pointed my skis down the hill. A few unbalanced turns and I fell again. And a third time. The effort required to get up from these falls was exhausting and my spirit was crushed. That's when the toe binding broke off my ski and I had quite a meltdown. I had visions of having to walk a LONG way down to the bottom and wondered if I'd even get there before the lifts closed. Thoughts of Survivorman and building a snow shelter tickled the edges of my mind.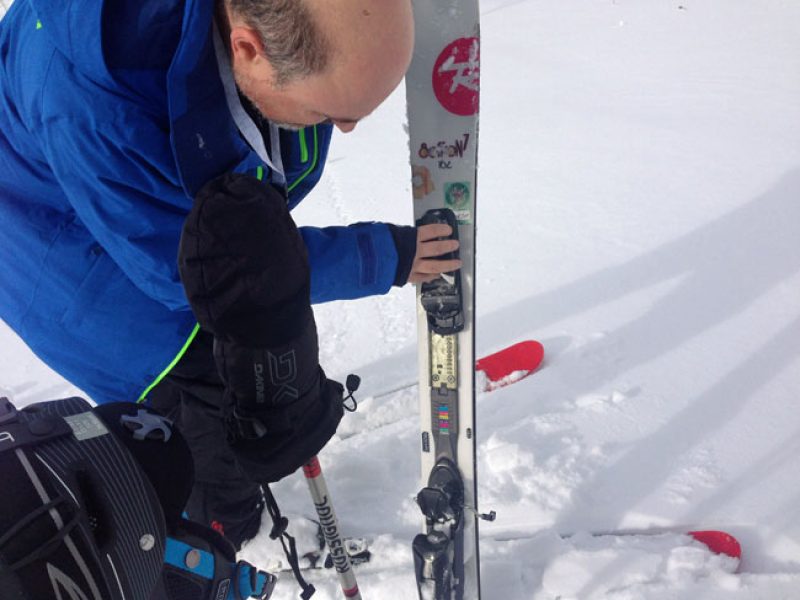 Thankfully, my husband fixed the binding – it wasn't really broken, but had just unclipped and slid off. At that point, I was frustrated, hysterical, and exhausted. And really, really pissed off. I wanted so much for this to be an adventure and I was disappointed in myself for ruining it.
We made it back to the lodge and I grabbed my usual warm-up drink of half coffee and half cocoa. I sat by the window with my head in my hands, feeling defeated. My husband and I talked through the run and decided we needed to do something else adventurous to salvage the day. I wasn't up for another snowcat expedition, so we decided to hike to the top of Cobabe Canyon and try again.
If you're not an avid skier, you might not be aware that some ski resorts have areas where you can ski, but are not accessible by a lift. So you simply take off your skis and walk up. The walk took us about 15 minutes and wasn't too difficult. As we headed down, I was already feeling better. The snow was a little lighter. My tenacity was rewarded by a glistening field of virtually untracked powder. I glided over it, albeit in my bent, shaky, ungraceful way. And then I felt it. For about two turns I nailed whatever technique is needed to successfully ski powder. I felt like I was floating on air and it was magical.
I'm determined to take another snowcat ride to the lesser-skied areas of Powder Mountain. In fact, the tickets are already purchased.