Sandusky, Ohio, is celebrating its bicentennial in 2018 with exciting events, festivals, and community activities. Whether you're visiting for an event, Cedar Point, or one of the many other fun things to do in Sandusky, you'll need to eat. And there are so many delicious options! Here are my recommendations for where to eat in Sandusky.
Breakfast in Sandusky
Bates Farm Kitchen
One of Sandusky's newest restaurants, Bates Farm Kitchen feels like home. The casual, farmhouse seating is enhanced by the open-kitchen format where you can see chefs cutting up fresh veggies grown right in their own garden. Everything is always fresh and made from scratch.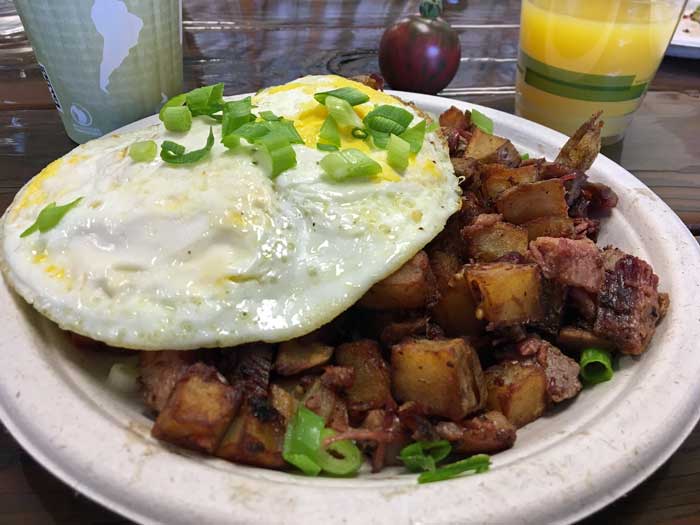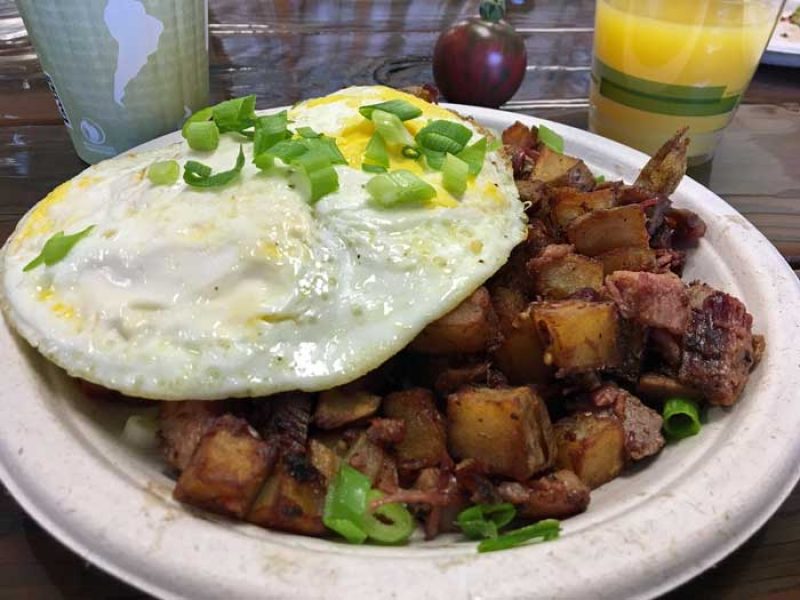 I enjoyed their house-made hash – corned beef brisket with home fries, scallions and an egg. The flavorful chunks of brisket and the crispy potatoes were incredible. Some other favorites on the menu include chicken & waffles, biscuits & gravy, and shrimp & grits, but they also offer amazing sandwiches. Try the sirloin sandwich with Swiss cheese, shishito peppers, and garlic & onion cream sauce, or an heirloom tomato flatbread with arugula, fresh mozzarella and parmesan cheese.
Boom Town Coffee
For your morning coffee, grab-n-go breakfast, or lunch items, check out Boom Town Coffee. I was thrilled to find they had Nitro Cold Brew on tap – an extra-caffeinated, cold-brewed coffee infused with nitrogen that gives it a bit of a bubbly kick! They also offer delicious smoothies and baked goods.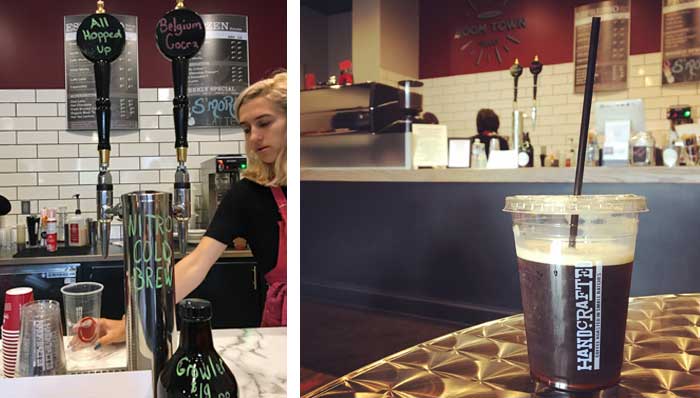 Where to Eat in Sandusky for a Sit-Down Meal
Small City Taphouse
This casual restaurant bar offers 60 beers on tap to complement your sushi, Asian, and Vietnamese cuisine. I'm not a sushi fan, but if you are, they offer everything from the classic California Roll to Spider, Hamachi, and Eel Rolls. Then there are house specials such as Dragon Roll, Rainbow Roll, and Super Spicy Dynamite Roll. You'll also find plenty of pho and noodle dishes. Small City Taphouse has live music and events year-round.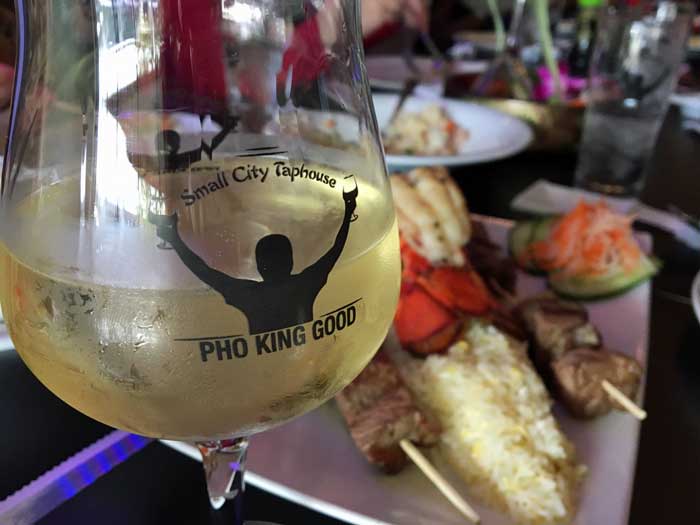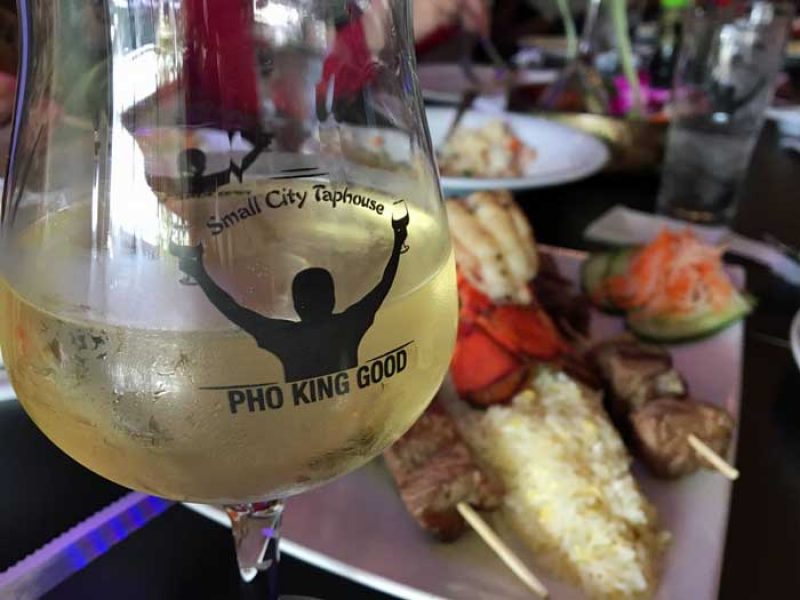 J. Bistro
For fine dining, J. Bistro Downtown is the place to go. The warm, inviting interior is accented by a beautifully-lit "tree" made out of wine bottles. There's also an outdoor patio and a bar/lounge area.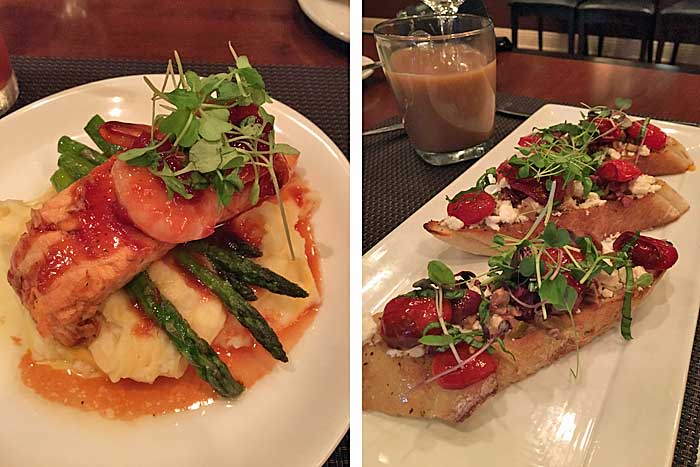 They specialize in American cuisine: steak, seafood and pasta. I loved their selection of specialty cocktails and the crispy, savory bruschetta appetizer. Then dinner was even better – salmon and shrimp with cherry BBQ sauce on top of creamy garlic cheddar mashed potatoes and asparagus. I thought I couldn't find space to taste dessert, but since their desserts are all homemade, I managed a few bites of scrumptious cheesecake.
Osteria Gusto at Firelands Winery
My favorite meal in Sandusky was at Osteria Gusto, located at Firelands Winery. Producing fine Ohio wine since 1880, Firelands offers tastings, light snacks, tours and gifts. But for special events or a meal for a larger group – be sure to check out their demo kitchen, Osteria Gusto. You'll be seated around the kitchen where you can witness your entire meal being prepared. There are also TVs on the walls for a close-up view.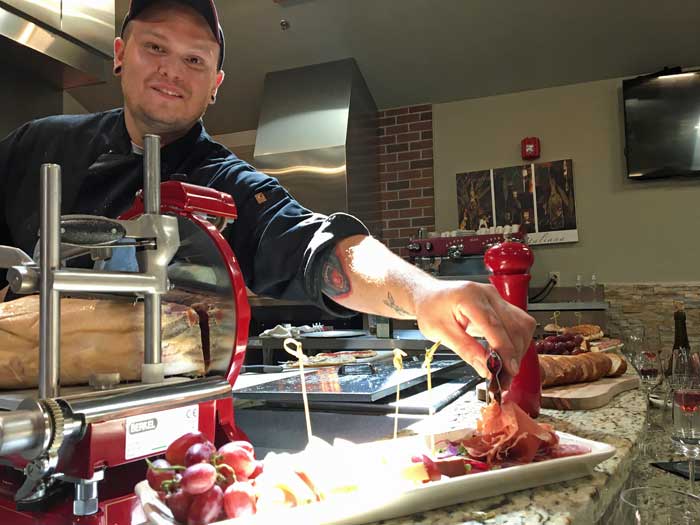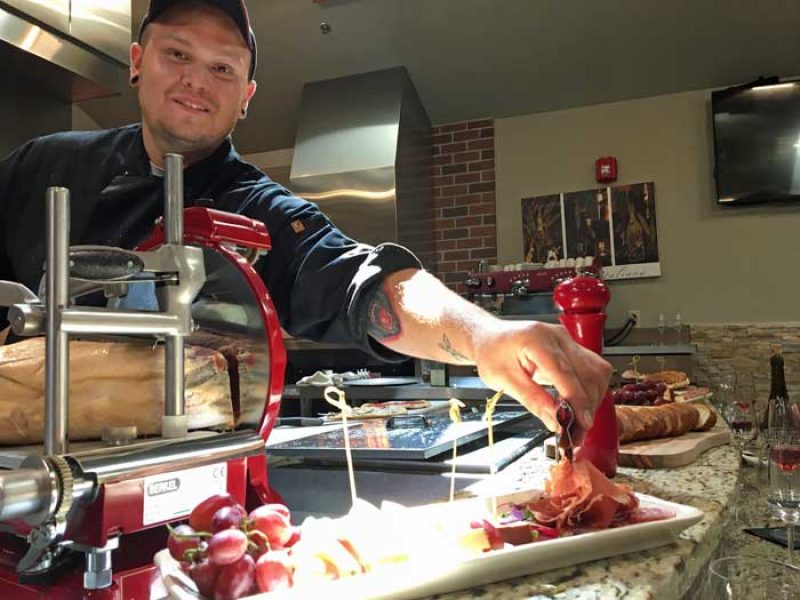 Our group enjoyed fresh-sliced prosciutto, cheese and fruit, flatbread pizzas, and rich pasta alfredo, along with an outstanding selection of wines to complement. It's quite an experience!
Happy Hour in Sandusky
Moseley's Public House
This rooftop bar is located in the Hotel Kilbourne – Sandusky's first boutique hotel – and is accessible from the lake or the hotel lobby. This will definitely be a hot spot for views during the city's Festival of Sail in July!
Thirsty Pony
For drinks, apps, or meals, this casual eatery is within walking distance of the new Holiday Inn Express on Cedar Point Drive. Try their famous Frickin' Chicken Wings, which come with a huge variety of unique sauces including Sweet Teriyaki, BBQ, Candied Chili Pepper, Garlic Parmesan, Lonely Pony Honey Garlic, Spicy Chipotle, Little Kicker, and Frickin' X-Scream!
Snacks and Quick Eats in Sandusky
Dockside Cafe
Serving up a seasonal menu with a full bar at the Paper District Marina, Dockside Cafe offers outdoor seating with a snack bar feel. Here you can enjoy a burger, fries, and beer while "sitting by the dock of the bay." The sweeping views of Sandusky Bay and Lake Erie are even better at sunset.
Toft's Ice Cream
From a small family dairy farm in the early 1900s to a state-of-the-art, 76,000-square-foot facility, the legacy of Toft's Dairy is a story of commitment to quality and forward thinking principles. It all started back in the year 1900 when Chris and Matilda Toft began selling raw milk by a horse-drawn wagon to citizens of Sandusky. The famous Toft's Ice Cream Parlor has become a landmark for locals and tourists. It showcases more than 70 flavors of ice cream and frozen yogurt, including the locally-inspired (and totally delicious!) "Lake Erie Cookie Island Monster" flavor shown below: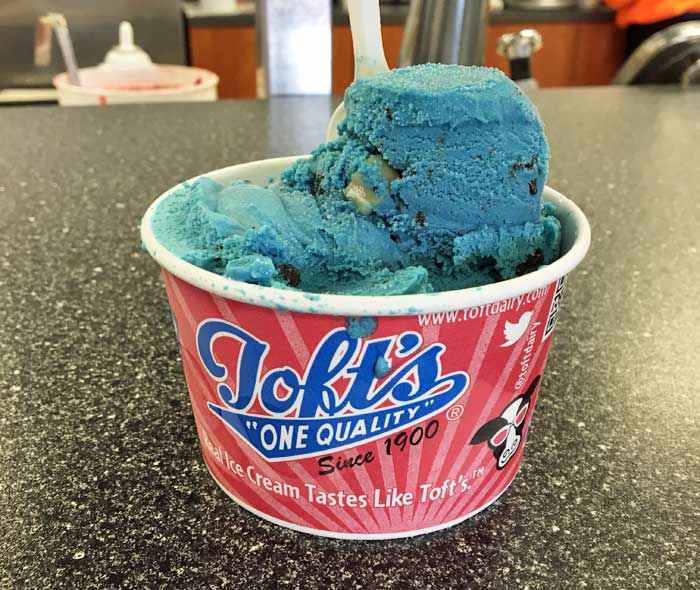 2018 is an exciting year for Sandusky as they celebrate their bicentennial. Featured events include:
April 28, 2018 Bicentennial Ball at Cedar Point Ballroom
July 12-15, 2018 Sandusky Festival of Sail & Downtown Street Festival
August 18, 2018 Founders' Day parade, concert and fireworks
November 23-25, 2018 Winter Festival
For more ideas, check out my post on Things to Do in Sandusky!
Disclosure: My visit and foodie adventures in Sandusky were hosted by Lake Erie Shores & Islands. As always, all opinions are my own.