Ice Castles is a giant installation of mountains, caves, and slides made of ice. It's not only stunning to look at, but it's a magical way for families to get outside and enjoy winter. (This post was updated December 2020.)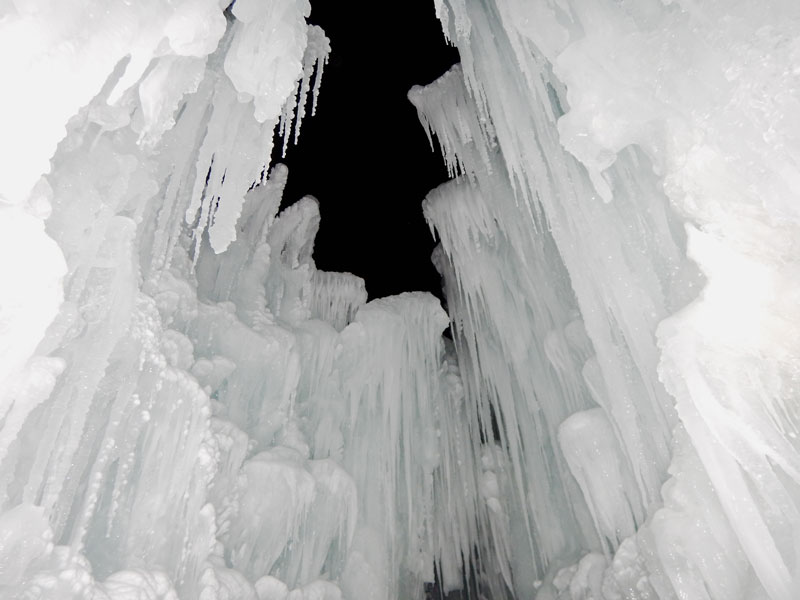 Where Are the Ice Castles?
Would your kids enjoy crawling, squeezing, and sliding through castles of ice? Can you envision your little ones channeling Elsa from Frozen and singing "Let it Go?" If so, Ice Castles is for you.
Ice Castles has four locations in America:
Midway, UT
Dillon, CO
Lake Geneva, WI
Lincoln, NH
My family visited Ice Castles in Midway, Utah, while we were on a ski vacation nearby. We were totally in awe.
At the entrance, we were greeted by a beautiful frozen fountain, colorful lights, and lots and lots of ice.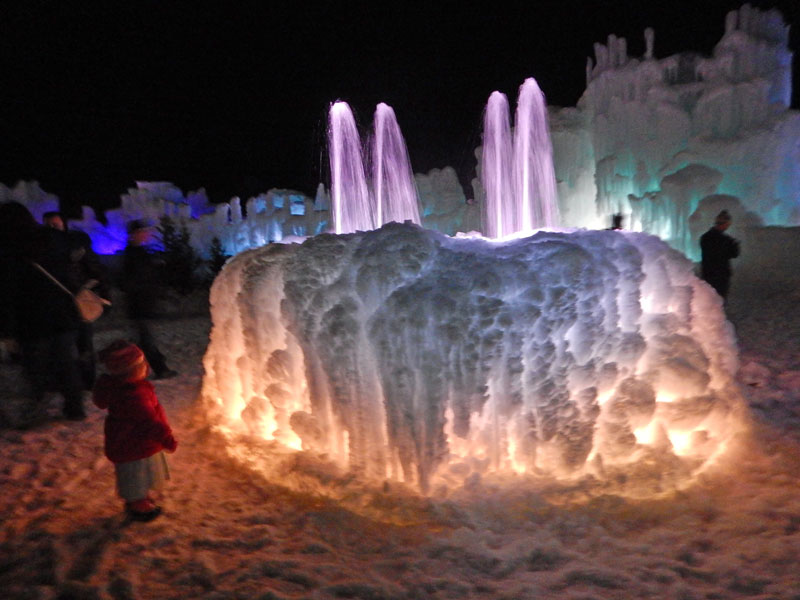 We wandered through narrow walkways flanked by tall walls of ice, crawled through ice tunnels, and slid down ice slides.
My favorite feature of the Midway Ice Castles was the dome room. While most of the castles were very tall walls of ice, the dome room walls were even taller and curved inward into a dome that draws oohs and aahs from everyone who strolls inside. We weren't completely enclosed, but it felt like we were.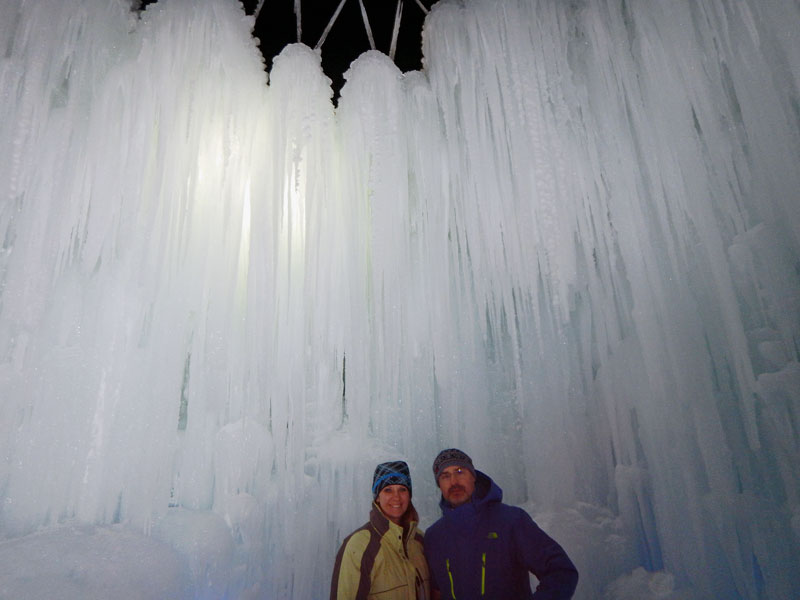 The ice slides were a big hit with everyone. There's a giant ice slide for adults and big kids, plus some tiny slides for the littlest Ice Castle explorers!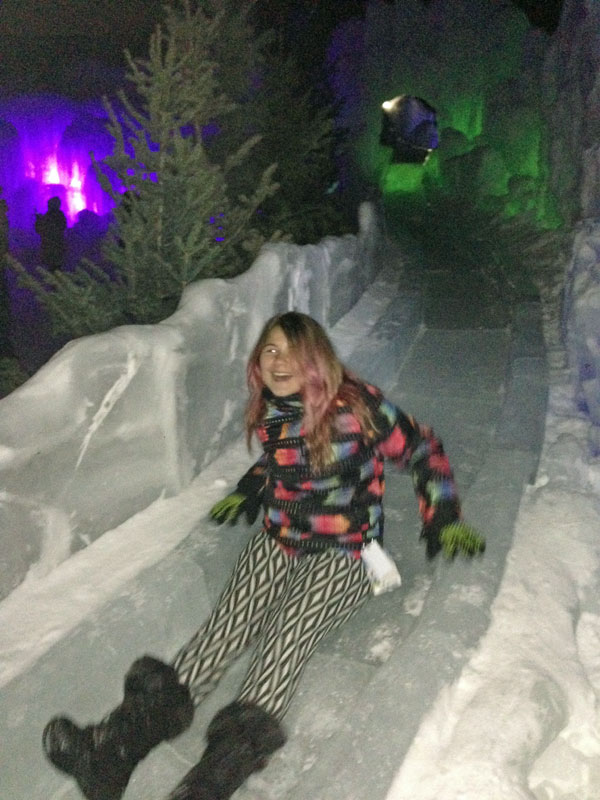 The idea for Ice Castles came from Brent Christensen who was building an ice cave for his daughter in his front yard in Utah. Designers manually place 12,000 icicles every night to create the framework and guide the direction they want they the castles to grow. Then they rain water on the installation for hours to allow the castles to freeze and grow. The average ice castle is 20 million pounds.
Tips for Visiting
Dress warm. You will need a warm coat, hat, gloves and preferably snow pants. If you want to go down the ice slide – snow pants are the best. You won't get wet, but jeans and cotton pants will slow you down. I watched lots of people pushing themselves down the slide because their jeans slowed them to a stop. Snow pants will really let you slide!
Visit at night. Ice Castles is stunning any time, but I highly recommend visiting at night when it shines with multi-colored lights.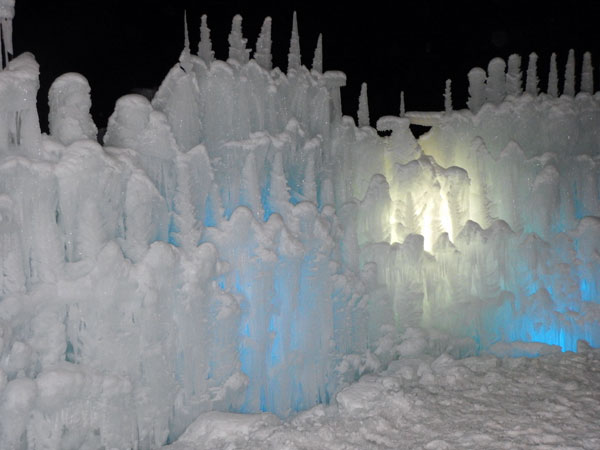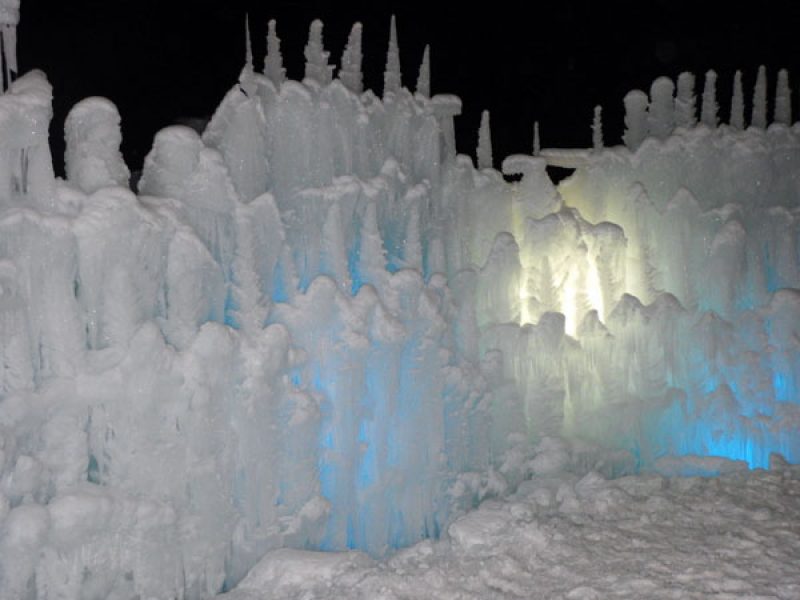 Wear boots. You won't find any rock salt or clear paths in the Castles. You'll be walking on crushed snow and ice which is often unstable. Appropriate footwear is important for safety and for warmth.
Visit during the week. If possible, visit Ice Castles Monday through Thursday. There will be fewer people and the ticket price is $4 – $6 cheaper, depending on location.
Get there early. You purchase tickets for a 1/2 hour time window, but you can stay as long as you want to explore. Arrive at least 15 minutes early to leave time to park, sign a waiver and get in during your time window. Plan to spend at least an hour enjoying the magic.
When you want to warm up, there's a snack bar and a gift shop. Midway Ice Castles offered hot cocoa, water, warm cinnamon rolls, and sugar cookies – everything you need to top off a magical ice-filled evening!