When you can't travel, what can you do to make life feel a little more like a vacation? Whip yourself up a nice cocktail and watch a travel-inspiring TV show or travel virtually via the internet.
I reached out to some awesome food bloggers to get their best travel-inspired cocktail recipes to share with you. I'm giving you the basic ingredients, but please visit their sites for all the details!
I've made a list of my favorites and some new ones I plan to try. Let me know what you're most excited to taste and remember to drink responsibly.
I'm going to kick things off with my cocktail of choice these days, the New York Sour. This cocktail is strong and sophisticated and reminds me of a night out in the Big Apple.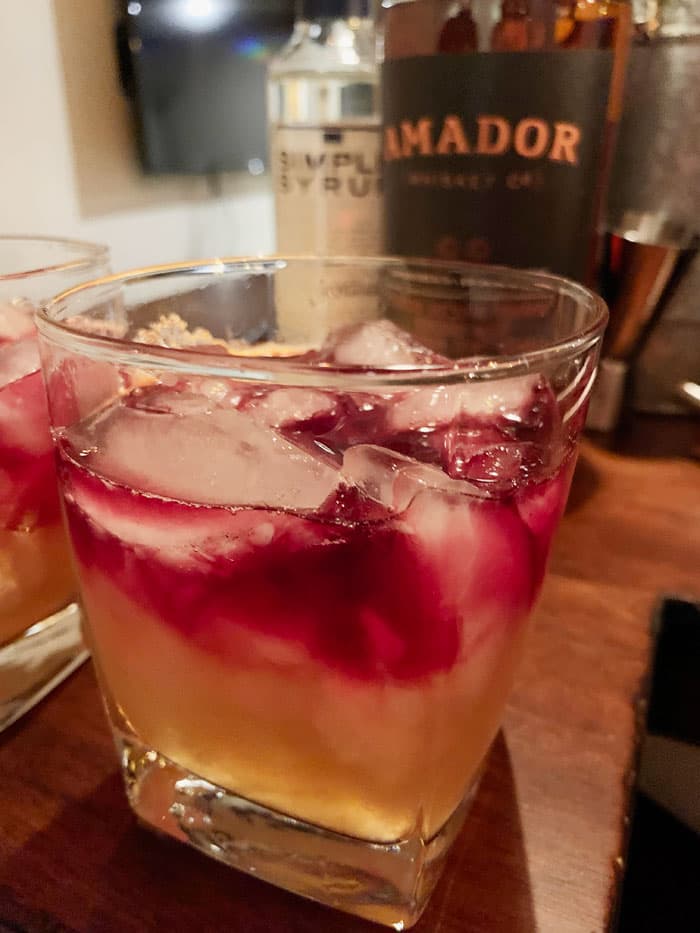 2 oz bourbon whiskey
1 oz simple syrup
1 oz lemon juice
1-2 oz red wine
Shake the first 3 ingredients in a cocktail shaker with ice. Strain over a glass of crushed ice (you can use regular ice, but the presentation is much nicer with crushed!). Slowly pour the red wine on top. Let it sit for a moment to allow the wine to rise to the top.
Check out more details and video on my cocktail blog!
Mexican-Inspired Cocktails
Just in time for Cinco de Mayo, here's a Mexican Martini recipe from Frugal Foodie Mama:
3 ounces of good quality tequila (try an anejo or reposado)
1.5 ounces of triple sec or Cointreau
Juice from 1 fresh lime
1 tablespoon of green olive brine
Splash of orange juice
Green olives & lime wedges, for garnish
Salt to rim glass
Mix it all in a cocktail shaker with ice, then strain into a salt-rimmed glass and garnish. This is not your average margarita!
Cabo is calling you with this Cabo Caliente recipe from Carrots 'N' Cake:
1 oz fresh squeezed lemon
1.5 slices cucumber
Cilantro
1 oz agave
1 slice jalapeño
2 oz tequila
Splash of cucumber Spindrift Sparkling Water
Muddle the lemon, cucumber and cilantro, then add in the remaining ingredients and stir. This cocktail screams summer. And Cabo, baby!
Cocktails for Cruising the Caribbean
This creamy and refreshing Coconut Lime Margarita recipe from Sequins in the South will have you dreaming of the tropics:
1 shot Tequila
1/2 shot Triple Sec
½ cup Coconut Cream (canned)
2 tablespoons Sugar
½ cup Lime Juice
2 cups ice
Sugar for rimming
Lime Slice (for garnish)
Juice the lime over ice. Combine coconut cream and sugar in a small bowl, stirring until the sugar is dissolved completely. Add coconut cream mixture, triple sec and tequila to the lime and ice and blend it well with an immersion or regular blender. Dip the edge of your glass in the margarita, then dip in sugar. Pour your cocktail into the glass and garnish with lime.
The tropical flavors of coconut, pineapple and lime blend together beautifully for this island-inspired Caribbean Sunset rum cocktail from Swirls of Flavor:
1/2 cup coconut rum
1/2 cup pineapple juice
2 Tbs lime juice
2 Tbs grenadine
1 cup lemon-lime soda, divided
fresh pineapple slices
lime slices
Mix all ingredients except the soda and fruit slices. Pour over ice (this makes two), top off with the soda and garnish with fruit slices.
This Miami Vice Cocktail from Tammilee Tips is everything you need to imagine yourself on a cruise:
5 oz Bacardi 151
1 bottle frozen pina colada mix
1 bottle frozen strawberry daiquiri mix
Blend the pina colada mix with 2 1/2 oz rum and ice. Blend the strawberry daiquiri mix with 2 1/2 oz rum and ice. Add the pina colada to a cocktail glass, then add the daiquiri on top. Make it fancy by tilting the glass to the side to layer the two drinks!
Inspired by a trip to Turks & Caicos, here's Another Day in Paradise cocktail recipe from Mom Endeavors:
1 oz Appleton Special Rum (or your favorite rum of choice)
½ oz Blue Curacao
3 oz pineapple juice
3 oz orange juice
Add all ingredients to a cocktail shaker with ice and shake well. Garnish with a pineapple slice and cherry for extra tropical fun!
Southern-Inspired Cocktails
This Rosemary Grapefruit Gimlet recipe from Someday I'll Learn will whisk you away to a big porch swing in Georgia:
1 cup sugar
1 cup water
1 sprig fresh rosemary
4 ounces grapefruit juice
2 ounces gin
Juice of one-half lime
Make a rosemary simple syrup by the cooking sugar, water and rosemary over low heat, stirring constantly, until sugar dissolves, then let cool. Stir one ounce of the syrup with the remaining ingredients in a cocktail glass and serve over ice.
Relive your Disney vacation with this Dole Whip Cocktail with Rum recipe from A Turtle's Life for Me:
3 cups frozen pineapple
1/2 frozen banana,
1 cup sweetened coconut milk
4 oz rum
Throw it all in a blender and – voila! – you're at Disney World. Although I'm not a fan of rum, it does go especially well with the delicious, creamy, pineapple-y Dole Whip. Maybe I should try it with vodka? Why not?
Escape to New Orleans with this Yankee-style Hurricane cocktail recipe from The Farm Wife Feeds:
1 cup orange juice
1 cup pineapple juice
1/4 cup dark spiced rum
1/4 cup light rum
maraschino cherries and the juice for garnish
Mix the juices and liquors and garnish with cherries. This makes a pitcher – not just one drink!
The Housewives of Frederick County have a slightly amped-up version of this cocktail with their Housewives Hurricane recipe:
1 1/2 ounces Amaretto liquor
1 ounce light rum
1 ounce dark rum
6 ounces fresh squeezed orange juice
6 ounces pineapple juice
1 tsp lemon juice
1 dash grenadine
1/2 cup Seagram's ginger ale
1 orange slice and 1 maraschino cherry for garnish
Shake well in a cocktail shaker with ice, then strain. The Hurricane was made famous by Pat O'Brien's Bar in New Orleans and it looks and tastes as fun as Mardi Gras.
Southerners love their sweet tea and this Irish Whiskey Sweet Tea recipe from Our Crafty Mom is perfect for summer nights:
1 oz Irish whiskey
1/4 lemon – cut into wedges
Iced Tea – sweet, peach, green or raspberry flavored
Squeeze the lemon wedges over a highball glass full of ice, then drop them in. Add the whiskey and fill with sweet iced tea. Make a whole pitcher and serve in Mason jars for a real southern vibe.
Georgia means peaches and this Georgia on my Mind cocktail from Just Short of Crazy is absolutely gorgeous:
10 oz Blood Orange Wheat Beer (or your favorite craft beer)
2 oz bourbon whiskey
2 oz peaches, sliced
Ice Cubes
Pour beer into a chilled, 16-oz glass, add the rest of the ingredients and enjoy. Every year I go to a local farm and pick fresh peaches, so this cocktail is definitely on my must-make list!
The Farm Wife Drinks learned to make this Siren cocktail recipe from a bartender at the Ritz-Carlton Sarasota:
1 shot St. Germain Elderflower Liquor
3 shots gin or vodka
1 shot fresh squeezed lemon juice
1 tablespoon simple syrup
1 bottle Prosecco or Champagne
1 cup grapefruit juice and cranberry juice
Several hours before you want to enjoy this cocktail, freeze the grapefruit juice and cranberry juice in an ice cube tray. Mix the St. Germain, gin or vodka, lemon juice, and simple syrup in a shaker and shake well. Add one or two of each type of fruit juice ice cubes to a large wine glass. Pour the shaken cocktail over the ice cubes and top off with Prosecco or champagne.
Kentucky Cocktails
I've been dying to get to Kentucky to hit the Bourbon trail and take some tours. But until I get there, I'll be happy to try these Kentucky-inspired drinks.
First, let's try a classic Mint Julep from Rocky Mountain Bliss:
Fresh mint leaves
Sugar cubes or simple syrup
Four Roses bourbon
Muddle together 5-6 mint sprigs with sugar cubes. You could also use simple syrup but Annie prefers the fresh taste of sugar cubes. Add 1 shot of bourbon and fill with ice. Serve in a glass with a mint garnish.
The Casual Foodist has a delightful Strawberry Mint Bourbon Smash recipe with fresh strawberries and a hint of smokey bourbon that you'll be sipping all summer long!
For something different and decadent, check out this Boozy Bourbon Root Beer Float recipe from Tonya Staab:
3 oz Buffalo Trace Bourbon Cream
1 oz vodka
Root beer
Breyers Vanilla Caramel Gelato
Add the bourbon cream and vodka to a glass and top with root beer, leaving enough room for a couple scoops of gelato. This is totally my kind of cocktail. Oh my yum!
More Travel-Inspired Cocktail Recipes
If you're craving a Hawaiian luau, check out this Classic Zombie Cocktail recipe (and the Pineapple Chicken!) from Whisky + Sunshine:
1 oz light rum
1 oz dark rum
1/2 oz apricot brandy
1/2 oz overproof rum
2 1/2 oz orange juice
2 1/2 oz pineapple juice
1 oz lime juice
1/2 oz grenadine syrup
Mint leaves and maraschino cherries
Combine all liquids except grenadine and overproof rum in a cocktail shaker with ice and shake well. Strain over ice in a serving glass, then gently layer grenadine on top using the back of a bar spoon. Repeat to layer the overproof rum. Garnish with mint leaves and cherries. Careful with this one or you'll end up feeling like a zombie!
Recall the holidays with this Coquito (Puerto Rican egg nog) recipe from Kids Are a Trip:
1 (15 oz) can coconut cream
1 (14 oz) can sweet condensed milk
1 (12 oz) can evaporated milk
1 tsp. vanilla
1/4 tsp. cinnamon
1/4 tsp. nutmeg
1/2 cup to 1 cup of white or dark rum (optional)
Cinnamon sticks for garnish
Add all ingredients in a blender and mix thoroughly. Refrigerate for at least one hour (or overnight) before serving. The Coquito, or a Puerto Rican egg nog, is a traditional holiday beverage and can be enjoyed with or without the rum.
I love coffee cocktails and can't wait to try this Carajillo Spanish Coffee recipe from Vindulge:
1 oz rum or brandy
1 shot espresso (or 2 oz strong, hot coffee)
sugar, for rimming the glass
Rim the outside of a brandy snifter or small coffee glass with sugar. Pour the rum or brandy into the glass and top with the espresso. Enjoy immediately.
Did you find a new favorite on this list?