Whether it's a spa vacation, a hiking trip, or a paddleboard yoga class, combining fitness and travel is a hot trend. My personal motivation to exercise stems mainly from the promise of traveling to a new location. Each year I pick a destination and find a race I can run. While finishing a half marathon feels euphoric, enjoying that race in a beautiful setting, a fun destination, or with the promise of a really excellent bonus at the finish line, makes it all the more worthwhile.
Here are seven races on my fitness travel bucket list: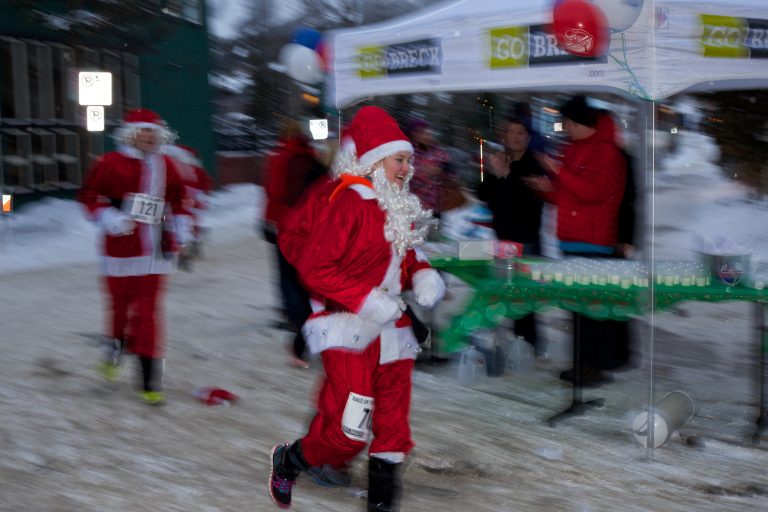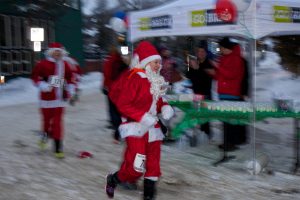 Race of the Santas, Breckenridge, Colo.: The first weekend in December, the town of Breckenridge transforms into holiday mode and 100's of Santas race down Main Street to benefit Adopt an Angel. The festivities continue with the Lighting of Breckenridge, where Santa greets holiday revelers from his horse-drawn carriage. Running a 5K in Santa suit? I'm in. Related: I also want to ski in a santa suit some day.
Hot Chocolate 15K/5K: Held in several cities across the US, this race promises a finisher's mug filled with hot chocolate, chocolate fondue and dippable treats. That sounds infinitely better than the standard banana and granola bar.
The Chocolate Race, St. Catharines, Canada: This race offers chocolate-covered strawberries and marshmallows along the course and chocolate milk at the finish, then indulge in dreamy chocolate truffles, decadent chocolate croissants and melt-in-your-mouth chocolate fudge at the post-race party! But the real draw is the location – just 14 miles from beautiful Niagara Falls, Canada.
The Hershey Half, Hershey, Penn.: Chocolate seems to be a popular theme (or maybe that's just with me), but, once again, this race is more about location than chocolate.  The course winds through a section of Hersheypark amusement park and down Chocolate Avenue. The Hershey Half takes place during Halloween season, and race registration includes two passes to "Hersheypark in the Dark" – when zombies and ghouls roam free amid the roller coasters. Hershey's Chocolate World offers a free chocolate factory ride, plus lots of additional experiences like the "4D Great Chocolate Factory Mystery" and "Create Your Own Candy Bar." I'll bring the family and make a weekend of it.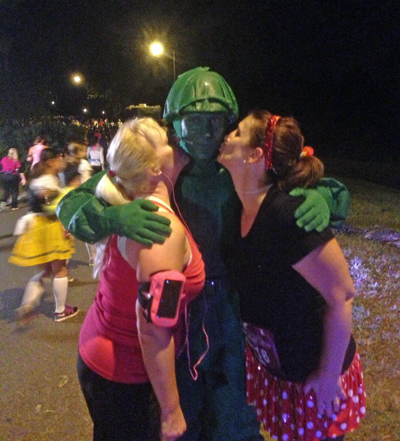 Disney Princess Half Marathon, Orlando, Fla.: I ran Disney's Wine & Dine Half Marathon in November 2012. Running at Disney is a ton of fun. The spectators are plentiful and motivating, you get to weave through the Disney parks, and running through the Osborne Family Spectacle of Dancing Lights in Hollywood Studios is surreal. But I didn't like the 10pm start time, and there were a LOT of people. I was forced at times to stop and walk to get through a bottleneck or avoid running into someone. But, still, it's Disney and I could do that scene again and again. I'm planning to run the Disney Princess Half – which starts in the morning – in 2015.
Napa Valley Marathon, Calistoga, Calif.: Running through serene Napa Valley, taking in views of fruit trees and vineyards, and enjoying wine and cheese at the finish? That is my idea of nirvana. Napa is my destination of choice this year. The race doesn't offer a half marathon option, so I might choose the Napa Silverado Half.
Le Marathon Du Medoc, France: France is a dream destination for me, but running a full marathon, let alone drinking wine through the whole 26.2 miles, is probably not in my future. Held in the Medoc wine region near Bordeaux in south-western France, racers run through the area's stunning chateaux and vineyards, stopping at 23 stations offering wine, cheese, fruit, oysters, steak, and more. From what I've read, this is more of a party than a race – costumes are a must and runners take their time to finish within the six-hour time limit. Finishing a marathon in 6 hours might be do-able for me, but I keep hoping a similar theme race will pop up in half marathon form!