Destination running races are not only a hot trend, they also provide that extra motivation we sometimes need to lace up our shoes and hit the road (or the treadmill).
The promise of traveling to a new location is a BIG motivator for me to run. Each year I pick a destination and find a half marathon or 5K. While finishing a race feels euphoric, enjoying that race in a beautiful setting, a fun destination, or with the promise of a really excellent bonus at the finish line, makes it even more worthwhile.
seven destination running races on my fitness travel bucket list
National Park Half Marathons: Running at some of America's most beautiful National Parks? YES PLEASE. I've heard these are challenging races with a lot of elevation changes, but I am still determined to run one some day. It's hard to choose just one, but I'd say Zion, Yellowstone, or Glacier are at the top of my wish list.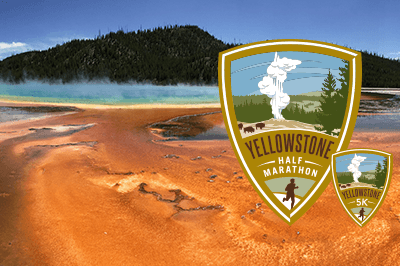 Wineglass Half Marathon, Finger Lakes, NY: This race is fast and flat and takes place in early autumn when the foliage is stunning. Finishers receive a hand-crafted, unique, and collectible Wineglass medal. The Finger Lakes area boasts tons of wine tasting, local breweries, shopping and world-famous museums, so there's lots to do before and after the event. I've been planning to run this race for a while, but haven't yet gotten to it!
Race of the Santas, Breckenridge, Colo.: The first weekend in December, the town of Breckenridge transforms into holiday mode and 100's of Santas race down Main Street. The festivities continue with the Lighting of Breckenridge, where Santa greets holiday revelers from his horse-drawn carriage. Running a 5K in Santa suit? I'm in. Related: I also want to ski in a Santa suit some day.
Hot Chocolate 15K/5K: Held in several cities across the US, this race promises a finisher's mug filled with hot chocolate, chocolate fondue and dippable treats. That sounds infinitely better than the standard banana and granola bar.
Disney Princess Half Marathon, Orlando, Fla.: I ran Disney's Wine & Dine Half Marathon in November 2012 and the Dark Side Half Marathon in April 2016. Running at Disney is a ton of fun. The spectators are plentiful and motivating, and you get to weave through the Disney parks – even accessing some "behind the scenes" areas. But I didn't love the start times (3am buses to get to the staging area before the start line) or the MASSES of runners. I was forced at times to stop and walk to get through a bottleneck or avoid running into someone.
But, still, it's Disney and I could do that scene again and again. I'd definitely love to do the Star Wars weekend run again in the future.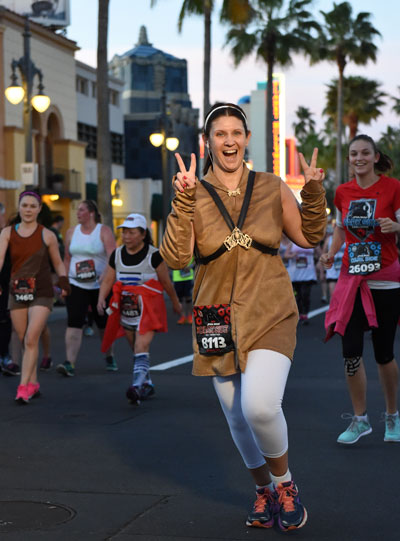 Napa Valley Marathon, Calistoga, Calif.: Running through serene Napa Valley, taking in views of fruit trees and vineyards, and enjoying wine and cheese at the finish? That is my idea of nirvana. Napa is my destination of choice this year. This race doesn't offer a half marathon option, so I might choose the Napa Silverado Half.
Le Marathon Du Medoc, France: Held in the Medoc wine region near Bordeaux in south-western France, racers run through the area's stunning chateaux and vineyards, stopping at 23 stations offering wine, cheese, fruit, oysters, steak, and more. From what I've read, this is more of a party than a race – costumes are a must and runners take their time to finish within the six-hour time limit.
France is a dream destination, but running a full marathon, let alone drinking wine through the whole 26.2 miles, is probably not in my future!
Destination running races are an awesome motivator to get in great shape and visit an amazing location.