The Wharf in Orange Beach, Alabama, is a beautiful outdoor shopping, dining and entertainment complex. I recently spent a day there browsing, eating, and creating my own personal bath products at High Cotton Bath Co.
I heard about High Cotton Bath Co. from a couple of my blogger friends and I knew I wanted to check it out. Unlike your typical bath products store, this one offers a unique, interactive experience. With more than 40 base products and over 200 fragrances, you can smell, combine, and test until you find the perfect scent for your body wash, lotion, scrub, soak, or shave cream.
Owner Marlo Webb walked my daughter and I through the process.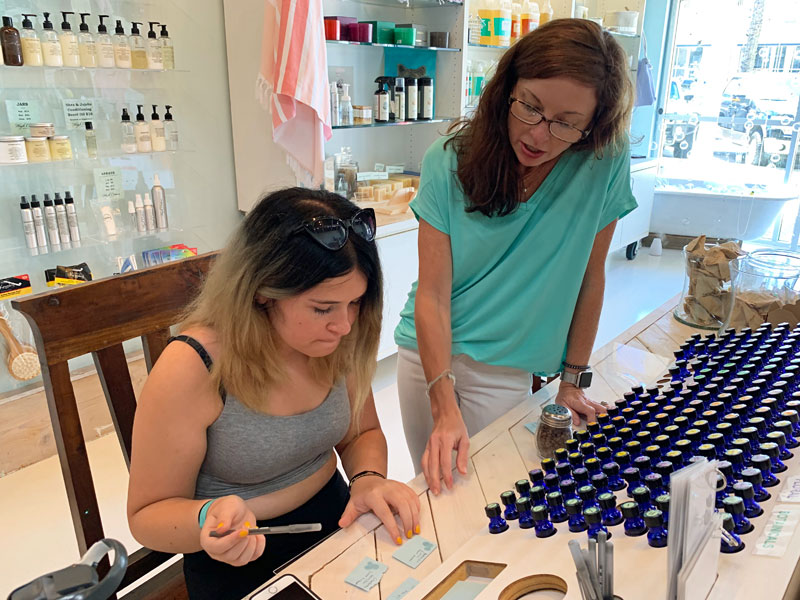 First we sat down in front of the huge collection of oils and did some blind scent-testing. Marlo put a drop of a few different oils on pieces of paper and asked us to try to figure out what they were. I only guessed half of them, but they all smelled SO familiar!
Creating My Own Unique Fragrance
Next Marlo showed us how to combine oils so we could create our own personalized fragrance. We put a drop of each oil on the paper so the oils are close to each other, but not touching. Then we took a second piece of paper and rubbed the oils together to blend. In between testing scents, we took a sniff of coffee grounds to "cleanse" our scent palette.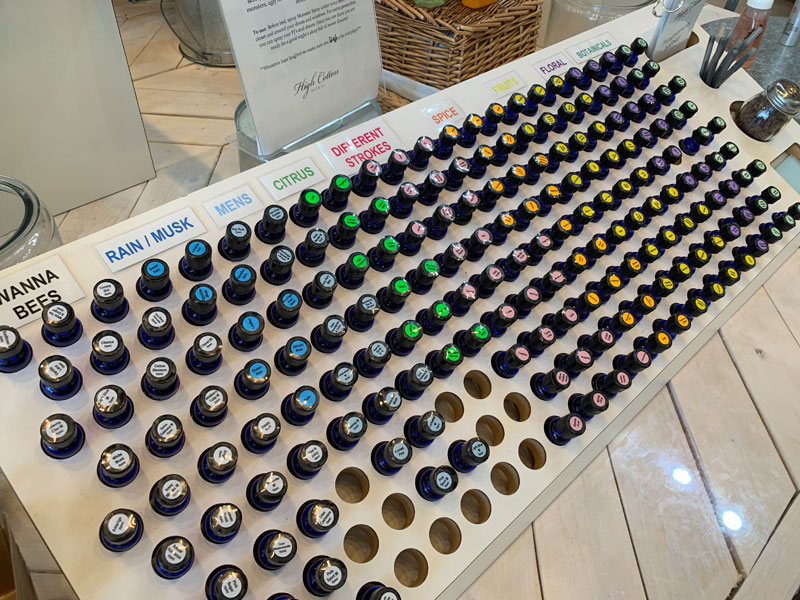 High Cotton Bath Co. has so many oils to choose from. There are florals, spices, botanicals, rain, musk, citrus, fruits and more. And if you already have a favorite, there are "wanna be" scents that smell like certain fragrances from Bath & Body Works.
There is a recipe book to get some ideas, but the sky is really the limit when it comes to creating your own fragrance. I started experimenting with some citrus oils and creating an "island" scent – orange, pineapple, coconut, ocean. But then I noticed the lilac oil!
Lilac is my absolute favorite scent so I knew I wanted to create something with that base. Marlo suggested combining it with an oil called "Spring Fling" which is one of their signature scents. I experimented some more and ended up adding in a "Rain" scent to get the perfect result.
Choosing the Base Bath Product
Creating my own fragrance was super fun, but choosing the base product was tough! High Cotton Bath Co. has a large selection of high quality body wash, lotions, shimmer cream, salt scrub, sugar scrub, salt soak, walnut scrub, body oil, bubble bath, hair products and more.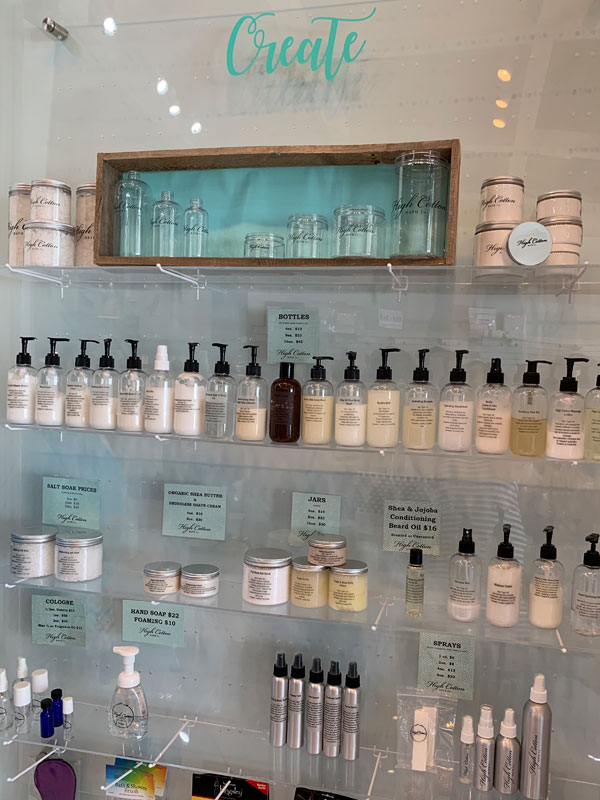 I wanted them all, but I settled on the Shea Cream and Silky All Over Body Wash. My daughter got the Leave-in Hair Conditioner and the Brushless Shave Cream – which she says is the best shaving cream she's ever used! I was happy to find out that High Cotton Bath Co. labels each of your products with your exact scents so you can easily re-order online when you're running low.
When you've decided on your fragrance and product, there's still one more choice left to make: color! I chose a nice teal for my products and then watched Marlo create them right in front of me.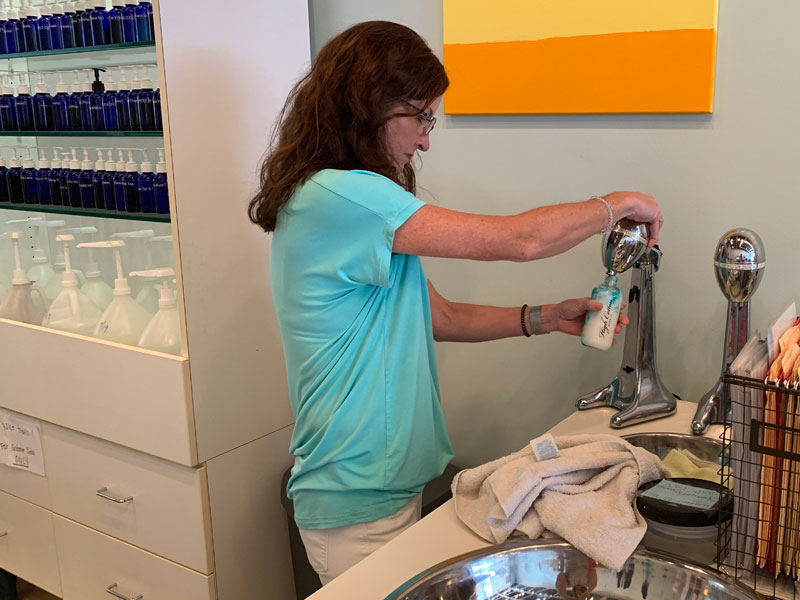 High Cotton Bath Co. has a lot more to offer, and it's all perfect for gift-giving. I picked up a few things from their selection of handmade soaps, bath bombs, home cleaning products, pet products, home décor and clothing.
More To Do At The Wharf
After our morning at High Cotton Bath Company, we saw a movie, shopped for beachwear and souvenirs, and enjoyed dinner at Ginny Lane.
In addition to shopping at The Wharf, there's a spa, a ferris wheel, mini golf, an escape room, an arcade with laser tag, zip lining, a movie theater, a farm market, and an amphitheater that attracts big-name entertainment. There's even an ice skating rink in the winter months!
You'll find a wide variety of dining, drinking, and snacking options, including excellent restaurants, coffee shops, candy stores, wine tastings, specialty sauces and more.
We made sure to stay at The Wharf until dark to enjoy the free SPECTRA Sound & Light show! Dancing lights pulse to popular music all along the palm tree-lined Main Street. It's fun and beautiful to watch! Nightly shows are free to the public and occur several times throughout the evening.
For your next trip to Gulf Shores and Orange Beach, be sure to spend some time at The Wharf. With luxury condominiums overlooking the Intracoastal Waterway or a suite at Springhill Suites by Marriott, you can even stay right at The Wharf for your vacation or long weekend getaway.