It's not hard to find the best restaurants in Orange Beach and Gulf Shores, Alabama. The foodie scene on the Alabama Gulf Coast is full of unique eateries offering fresh, local deliciousness.
After many visits to Alabama's beaches (and more than one food coma), I've put together this list of restaurants you shouldn't miss. This post was updated December 2019.
Don't Skip Breakfast in Orange Beach
The Ruby Slipper Cafe
For its incredible food, breakfast cocktails, and overall vibe, the Ruby Slipper Cafe is one of my favorite places to eat in Orange Beach. Eating is emotional and this restaurant hit all my buttons: homestyle menu items, unique cocktails, friendly service, comfortable atmosphere, and a touching story behind the store.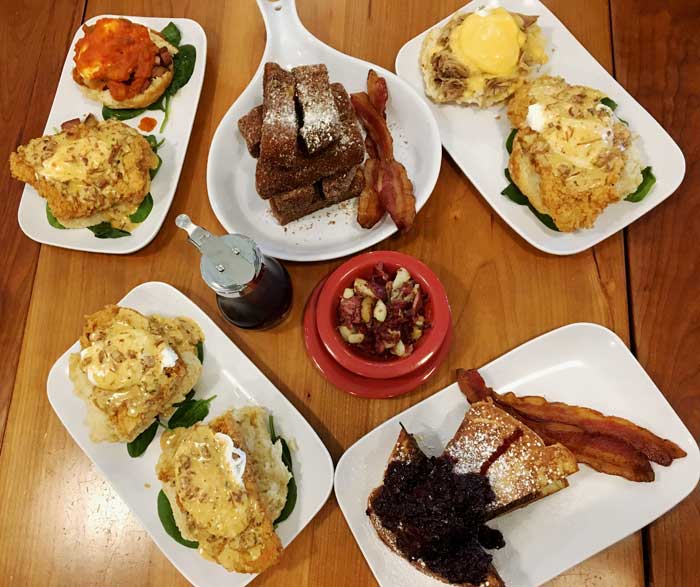 The Ruby Slipper Cafe was founded in New Orleans where the owners were inspired to create a place to "come home to" after Hurricane Katrina devastated the area. There are now eight (soon to be nine) locations to give you that "no place like home" feeling.
The Ruby Slipper Cafe is known for its incredible Eggs Benedict options including shrimp, pork, chicken, corned beef, and salmon. Can't choose just one? Order the "Peacemaker" which allows you to mix and match any two Benedicts.
I sampled everyone's food at my table and highly recommend the pig candy bacon (made with brown sugar – it's TO DIE FOR), corned beef hash, stuffed french toast, and the Chicken St. Charles Benedict (fried chicken, poached egg, and cream sauce over a buttermilk biscuit). Also get an order of French Toast Batons for the table – they are crispy, sweet, and delicious!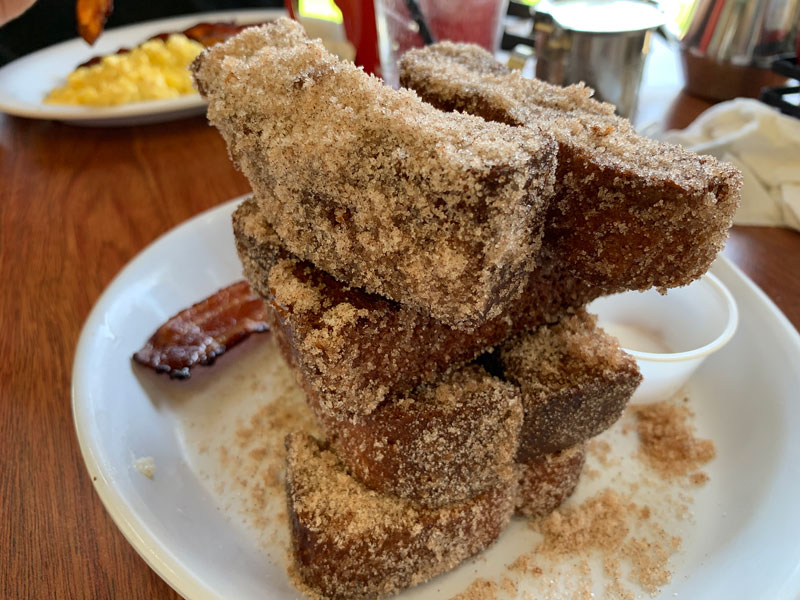 And don't forget your morning drink! Try a fresh Berry Mimosa, a Morning Margarita, or an Irish Cream Coffee. As a big fan of breakfast cocktails, I loved the tag line on their coffee mugs: "You can't drink all day if you don't start in the morning." Now that sounds like a beach vacation mantra if I've ever heard one!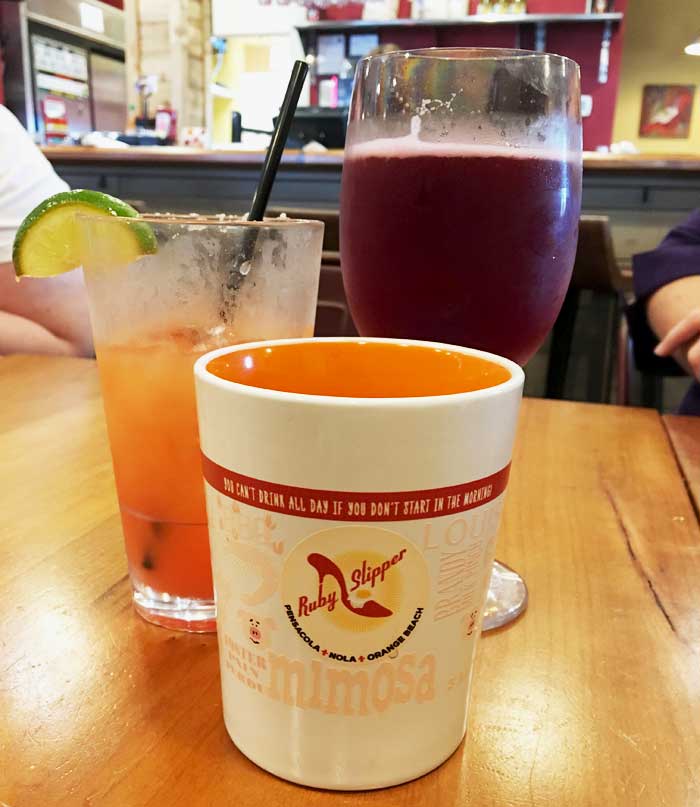 Southern Grind Coffee House
This pretty little coffee shop is beautifully decorated in ocean hues, making it the perfect place to start your day at the beach. They offer fresh, healthy options for breakfast and lunch, as well as baked goods, gelato, and home decor. It's a terrific spot to stop in for a meal or just to enjoy coffee, pastries, and a little local shopping.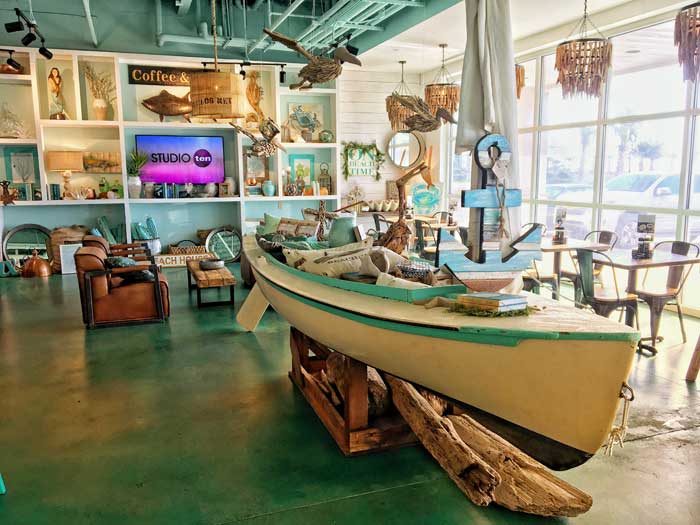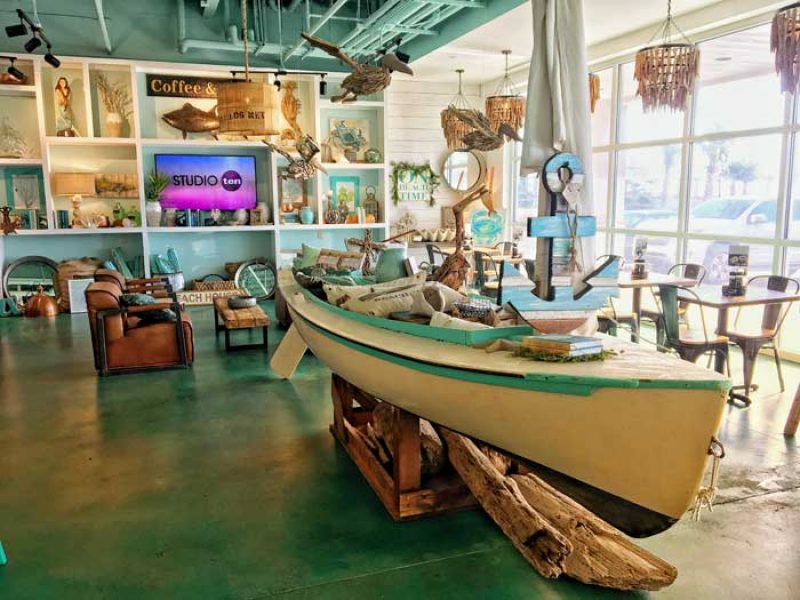 I had the Jalapeno Potato Scramble for breakfast. It's made with eggs, seasoned potatoes, cheddar cheese, peppers, onions, and jalapenos. With a side of toast and crispy bacon, this was a hearty breakfast with tons of flavors. And Southern Grind offers one of my favorite coffee options– Nitro Cold Brew, an extra-caffeinated coffee infused with nitrogen.
BuzzCatz
Whether you want a sit-down breakfast or a quick coffee and pastry, BuzzCatz will satisfy your breakfast sweet tooth. I had the hardest time deciding what to order because it all looked so amazing. My daughter went with a traditional breakfast of eggs, bacon and potatoes, but I had to go for the pastries.
BuzzCatz makes their own challah bread and stuffs it with love in the form of eggs, cheese, bacon, ham, sausage and/or veggies. They call it their Breakfast Hollah! I tried the bacon, egg, and cheese and it was divine. I'm also a sucker for any kind of hand pie, so their homemade, flaky, fruit-filled "Pop Tarts" kept me satisfied on my drive to the airport.
I had an incredible Cuban Coffee, which apparently is a southern thing because I've never found it in the northeast – or even heard of it before! It's made by whipping sugar into the first, and strongest, drops of espresso. It's hot, sweet, and strong.
Brick and Spoon
Named one of the "Top 10 Breakfasts in the US" by Travel + Leisure, the Brick and Spoon's menu is chocked full of awesomeness. If you like seafood and a Bloody Mary for breakfast, this is your place!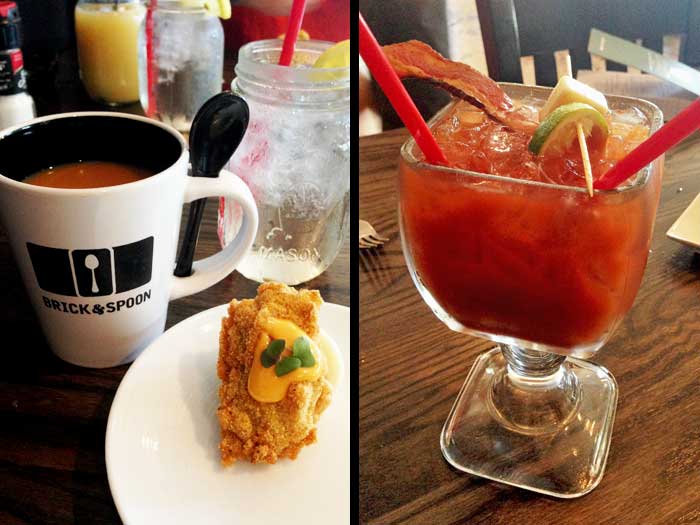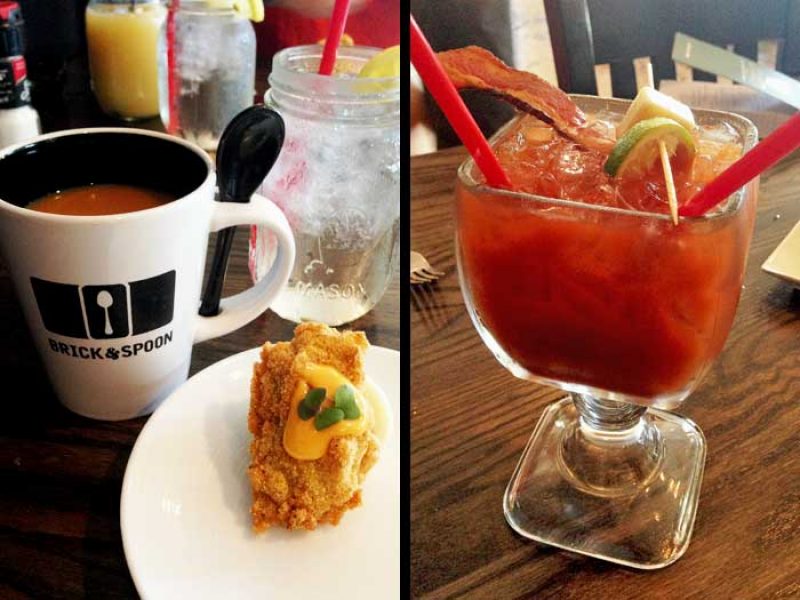 I'd never seen a "starter" menu for breakfast, but the Brick & Spoon had one. I sampled "Deviled on the Bayou" – tasso deviled eggs topped with fried oysters & sriracha aioli. Definitely out of my comfort zone for breakfast, but really tasty!
I then ordered Stuffed French Toast Sliders for my breakfast "entree." The slightly crisp, battered French bread was layered with cream cheese and topped with blueberry compote, fosters sauce, whipped cream, and powdered sugar. Delicious.
The adventurous soul will love the Brick and Spoon's "build your own Bloody Mary" menu. You'll get a pencil and a handy checklist to help you choose from the 11 vodkas, 17 fruits and veggies, 7 herbs and seasonings, 9 meats and cheeses, and boiled or deviled egg. Phew!
City Donut
City Donut is my go-to for a little early-morning "me time." I'm the early bird in my family, so I get out around 7am to secure the donuts. If you want the best selection, you need to get to City Donut early. In peak times they will sell out by mid-late morning.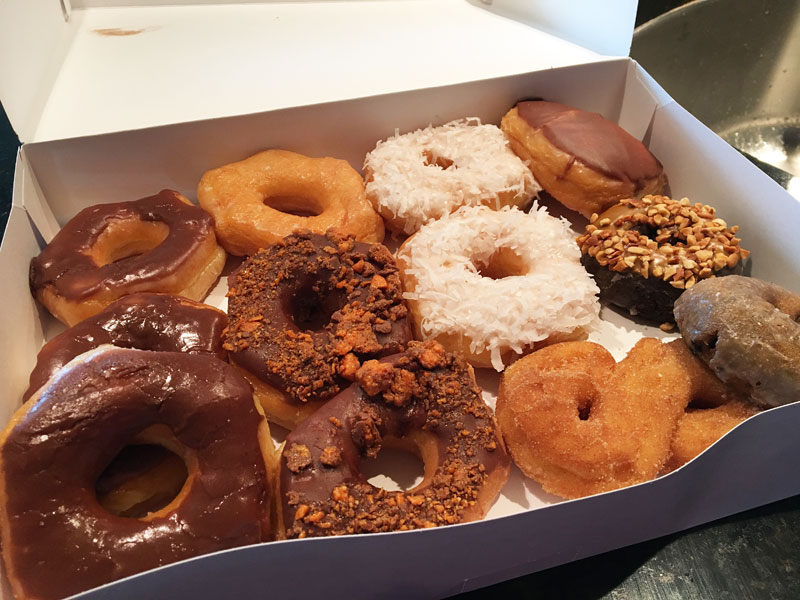 Then I take my coffee and a donut (or two, if I'm honest) and drive just down the road to Alabama Point East Park to sit by the water and watch the boats go by. It's one of my favorite things to do on my vacation to Gulf Shores and Orange Beach.
Named "Best Donut Shop in Alabama" by Delish.com, City Donut has made-from-scratch cake and yeast donuts with varieties changing daily. This is the place to get your cinnamon rolls, glazed croissants, candy bar donuts, and more.
Lunch and Happy Hour on Alabama's Gulf Coast
The Gulf
The Gulf is one of my top favorites out of the best restaurants in Orange Beach. It's cozy, captivating, and chill. The outdoor bar, picnic tables, and couches on the sand beckon you to gather, sit, and relax. It's like sitting on your back deck with your best friends, but with an unparalleled view and delicious food and drink served to you!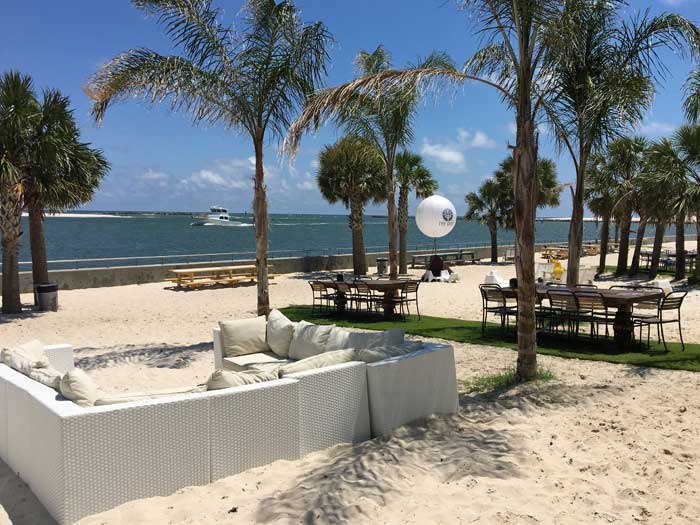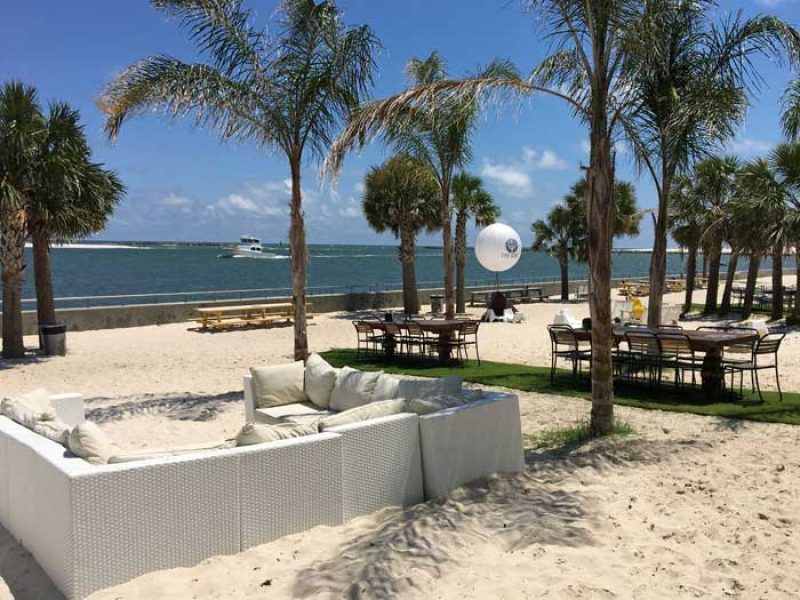 The food at The Gulf is fantastic. You'll find burgers, fish and chicken sandwiches, tacos, fresh local seafood, salads and more. I enjoyed a few tasty adult beverages and a juicy chicken sandwich with crispy fries.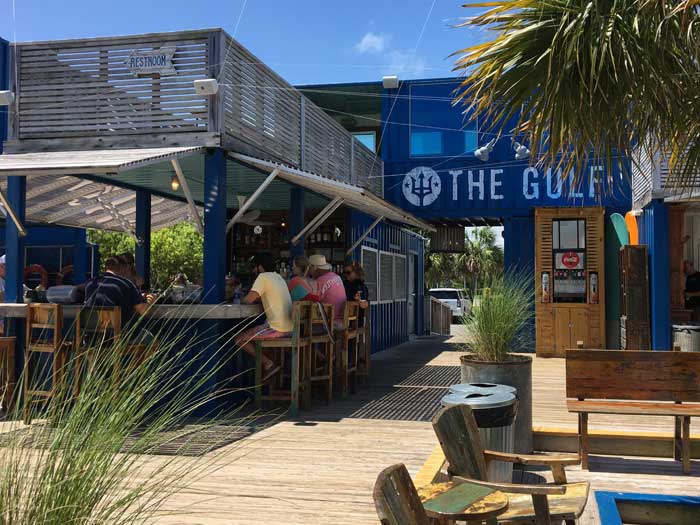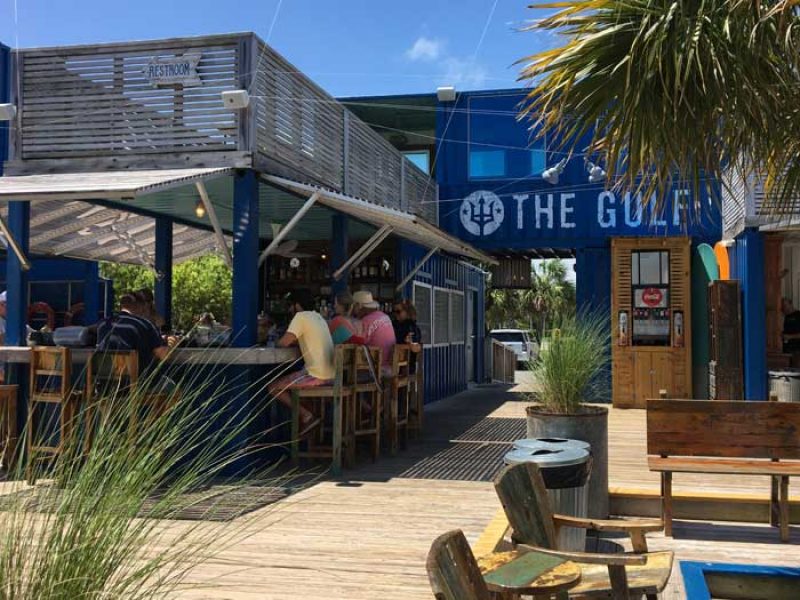 Picnic Beach
Picnic Beach is an eclectic little place where it's all about relaxing, playing games, and enjoying food that is fresh, clean, and healthy.
The picnic theme is carried throughout with a floor of faux grass and large wooden picnic tables. There's a shelf full of board games you can enjoy while you eat, as well as a lovely outdoor seating area.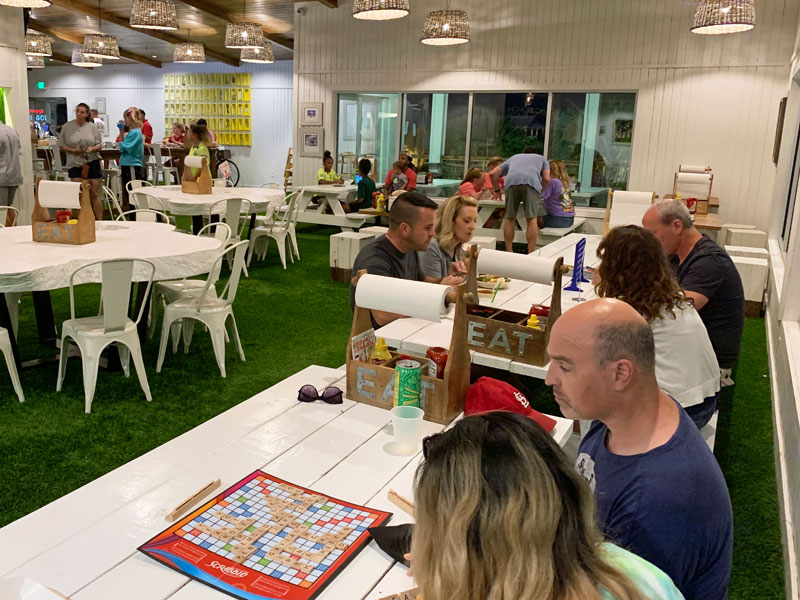 The menu at Picnic Beach is unlike your typical "beach bar" eatery. They've got BBQ, quinoa bowls, acai bowls, and fresh juices – with plenty of gluten-free and vegan options. Hand-crafted cocktails and a selection of beer and wine is also available.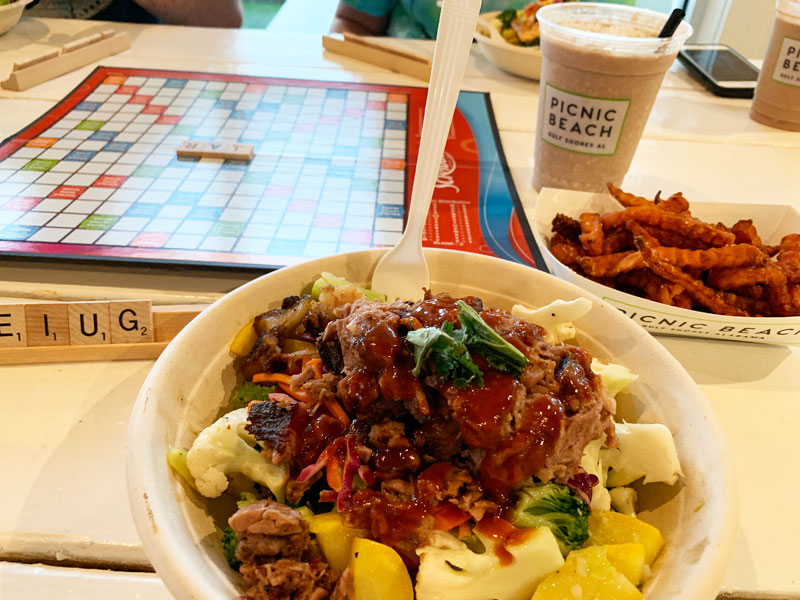 I enjoyed a Brisket Bowl – smoked brisket with broccoli, smoked cauliflower and squash, topped with Korean BBQ sauce, apple mojo, and key lime coleslaw. I topped it off with sweet potato fries and a Bushwacker to drink. We played Scrabble while we ate and I even won – which rarely happens when I play board games with my husband! It was perfection.
My family loved the food, and the whole experience, at Picnic Beach. It's definitely on our list of places to rep-eat on our next visit!
The Hangout
If you like a restaurant that's entertaining and buzzing with activity, The Hangout is the place to go. It's a large complex with covered, open-air and outdoor eating areas, live music, games, and a wall of TVs above the huge bar.
Located right on the beach in Gulf Shores, The Hangout has a party vibe that can't be beat. While we were eating, there was an emcee/DJ keeping us entertained with trivia, birthday announcements, and even a makeshift karoake – the cutest little girl stood up on her table and sang for everyone!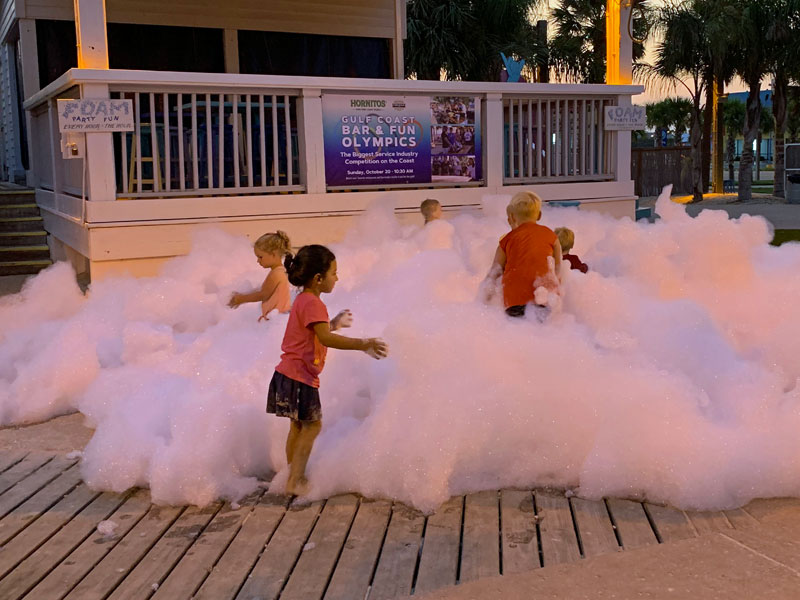 Outside they've got a courtyard with a sandpit, foosball table, ping pong, and a giant foam machine that pumps out foam every half hour or so for the kids to run around in. The Hangout hosts regular competitions and activities, as well as the annual three-day Hangout Music Festival.
The Hangout's menu is classic sports bar food with an emphasis on fresh, local seafood. They've got a good selection of salads, burgers, sandwiches, and cocktails to satisfy everyone. Whether you are visiting with the family or for an adult getaway, be sure to hit the Hangout on your trip to Gulf Shores.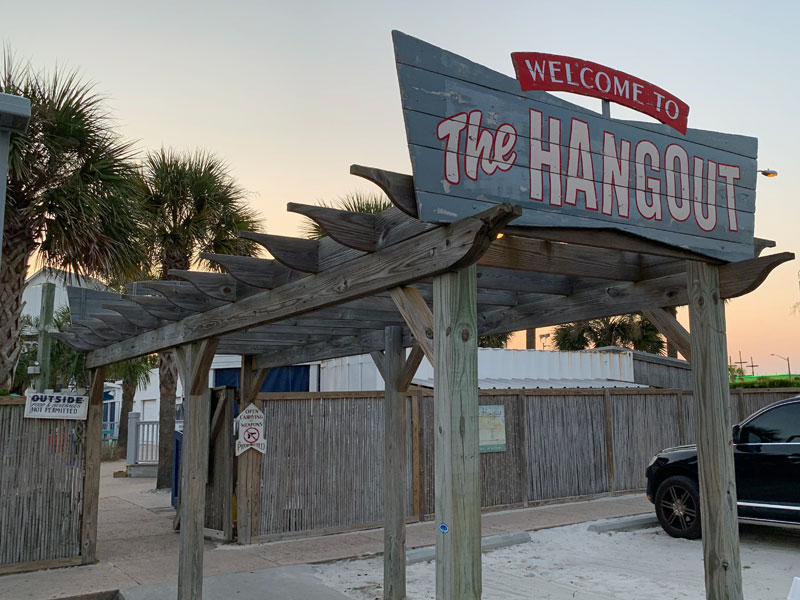 LuLu's Gulf Shores
LuLu's Gulf Shores restaurant is the perfect place to achieve that elusive blend of family and adult time. Founded by Jimmy Buffett's sister, Lucy Buffett, LuLu's is more accurately a family entertainment complex – not just a restaurant.
There's a climbing structure, arcade, face-painting and hair-wrapping stations, beach volleyball, a sand and water-play area, hoola-hoops, and more. And with multiple outdoor bars around the complex, parents can enjoy a cocktail while the kids have a blast.
Oh, and the food is awesome, too! LuLu's offers a classic American menu with tons of options and local flavors. I've tried their burgers, nachos, chicken, gumbo, fried pickles, fried green tomatoes, and smoked tuna dip.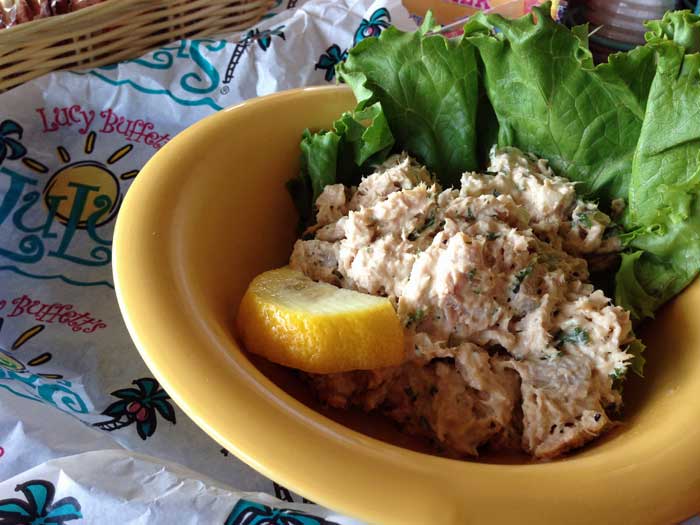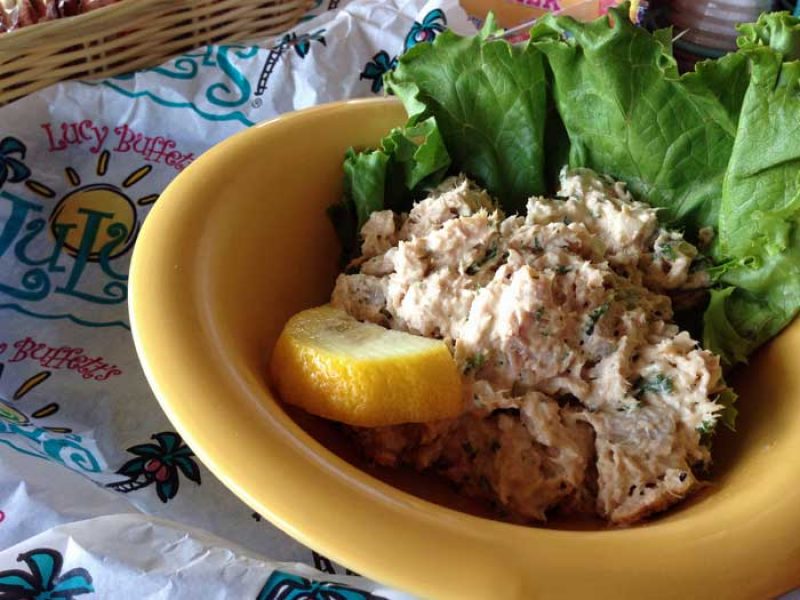 LuLu's has a separate allergy menu that is simply incredible for kids with allergies. They get their own menu, with food prepared by a separate chef on a dedicated grill, and a manager personally handles each allergy order. I was so impressed with LuLu's dedication to handling allergies.
Warning: LuLu's is a popular place, with wait times up to two hours in the summer for dinner. Which is why I recommend it for lunch.
Royal Oyster
You can't beat the Royal Oyster to satisfy your fresh oyster cravings! This small restaurant feels more like a roadside-stand with its welcoming deck and wide selection of raw, roasted, and raw prepared oysters.
Among my favorites were the chipotle bourbon and the parmesan. Their oysters are locally-sourced from Shellbanks Selects Oyster Farm, which I had the opportunity to tour and try my hand at shucking an oyster!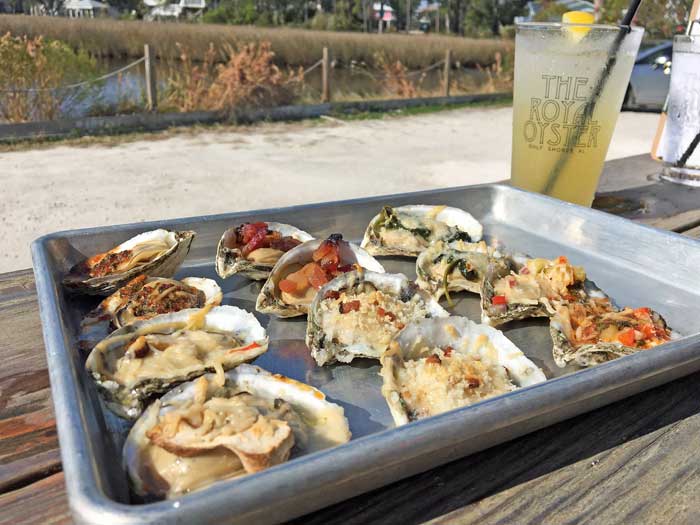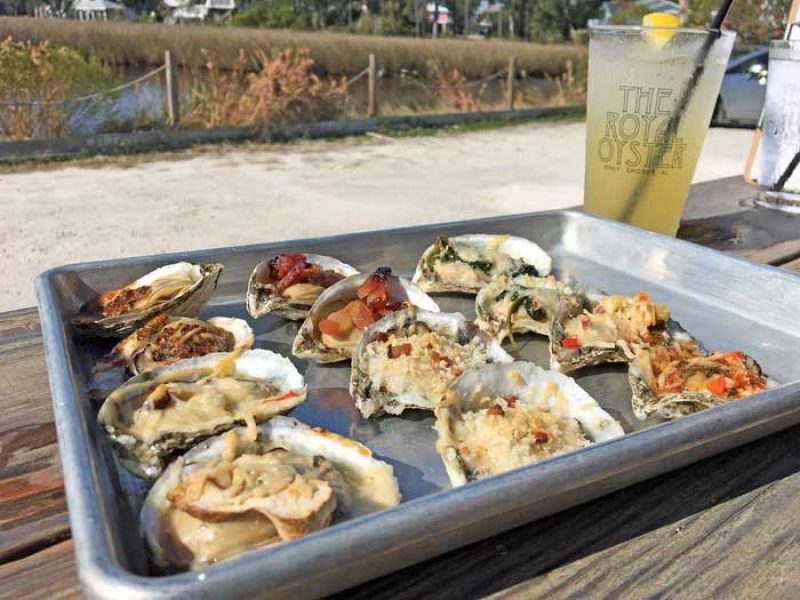 In addition to oysters, they offer shrimp, clams, crab cakes, burgers, steak and more. And they have an impressive drink menu with lots of signature cocktails. Try Mini's Maple Magic, made with Maker's Mark, maple syrup, lemon, mint, and soda. Yum!
Related: Best Cocktails in Gulf Shores and Orange Beach.
Luna's Eat & Drink
I could see myself hanging out at Luna's for happy hour on a regular basis. Their huge craft beer selection, yummy appetizers, and comfortable bar are super inviting. Luna's specializes in creating unique options with fresh, simple ingredients.
One of the best examples of this is their Tomato Pie – which is like pizza baked in flaky pie crust. So simple. So savory and flavorful. Tomato Pie, a flight of beer, live music… what more do you need?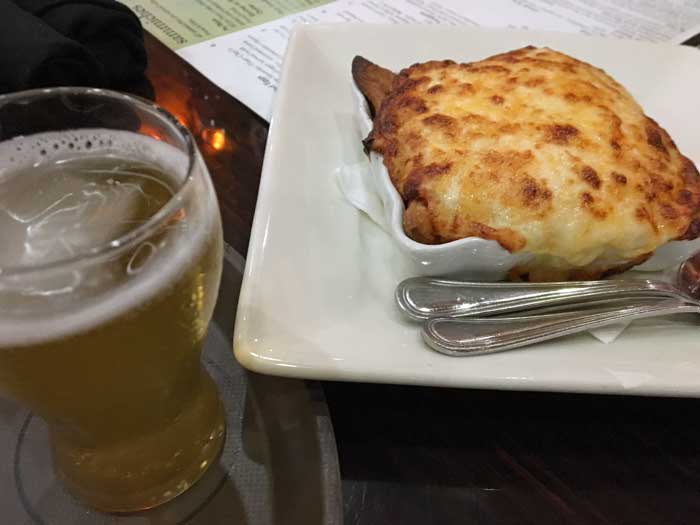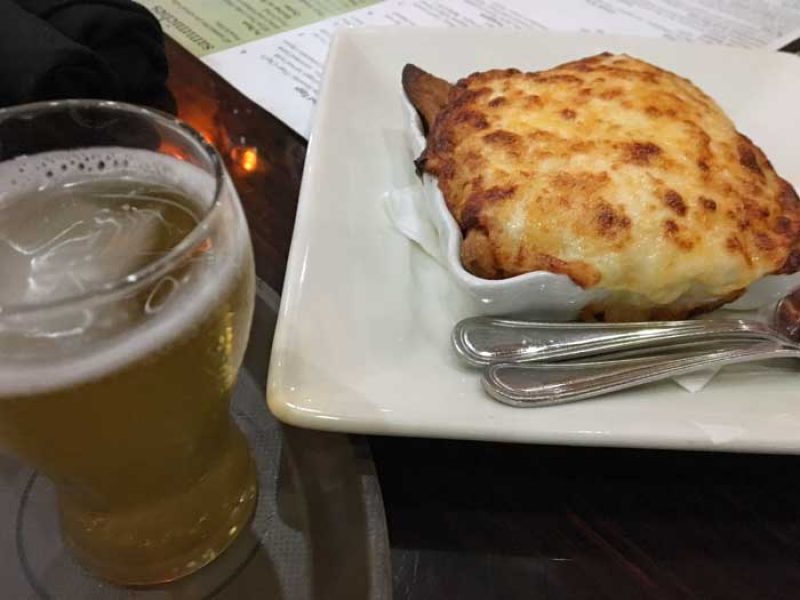 Best Restaurants in Orange Beach for Dinner
Sunliner Diner
This 1950s-style diner is spacious and bright, with an upbeat atmosphere and terrific food. The name references the two classic Ford Sunliner cars on display out front.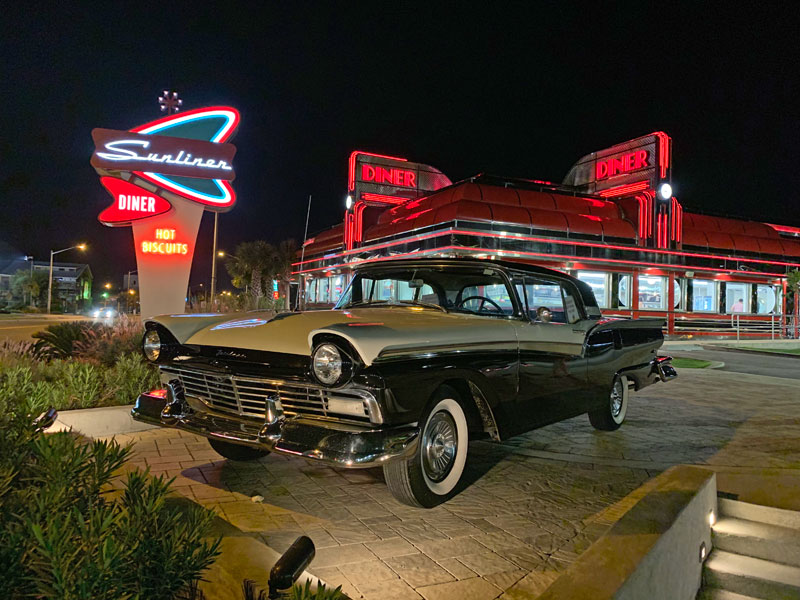 Step inside and you're greeted by energetic employees and handed a retro newspaper menu. There's even a jukebox and a classic car right in the middle of the restaurant that you can eat in. Servers in retro, white waitress outfits and bright red lipstick complete the experience.
The Sunliner Diner offers a classic American menu with a Southern-inspired twist – can you say fried green tomatoes and Alabama white BBQ sauce? Oh yeah.
Their extensive menu includes a large selection waffles, Benedicts, sandwiches, salads, burgers, milkshakes, and more. And yes, you can get breakfast all day long.
I had the Nashville Chicken Sandwich, a crispy, boneless fried chicken breast with lettuce, tomato, pickles, and Alabama white BBQ sauce on a brioche bun. There's an option to get it spicy, and of course I did.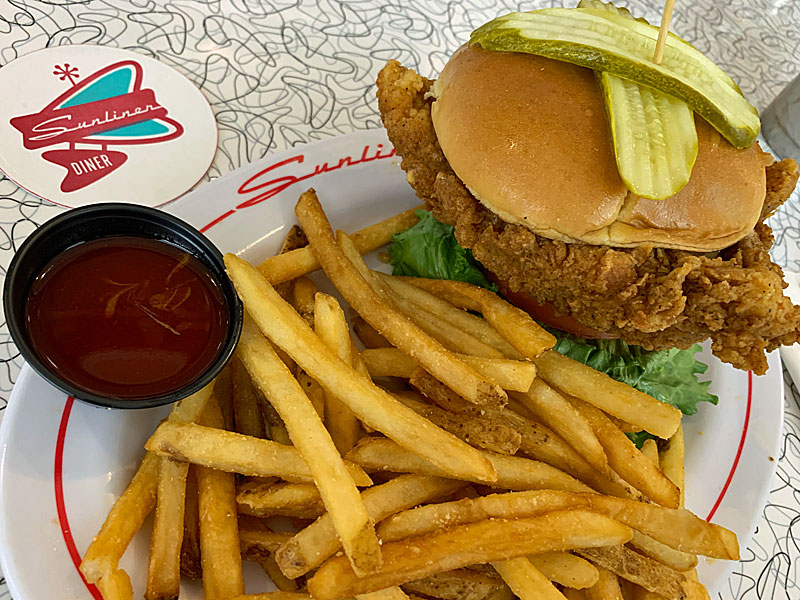 This isn't the place to save your calories. Get a milkshake. They have fun flavors like the Cereal Yum and Candy Blast. Or be adventurous and go for the "Big Tickle Party" – you choose chocolate, strawberry, or vanilla ice cream and leave the rest up to them. You won't be sorry. You can also get your milkshake "on cloud nine" – with alcohol – and they've got tons of sundaes, floats, cakes and pies to satisfy your sweet tooth.
The Sunliner Diner is walking distance to the beach in Gulf Shores, so it's a great place to eat any time of day.
Ginny Lane
Ginny Lane is casual dining at The Wharf in Orange Beach. Here you'll find live entertainment, a fun atmosphere, and a beautiful waterfront location. They serve up fresh, local seafood and Certified Black Angus Beef.
We started our night at Ginny Lane with Short Rib Nachos and Blackened Shrimp with Fried Green Tomatoes. My kids devoured the nachos, but I didn't mind because the shrimp dish was out of this world! The perfectly seasoned shrimp and the crispy, but warm and juicy, tomatoes were topped with a to-die-for remoulade. Not your typical mayonnaisey remoulade, this version was tomato-based with just a little creole kick. My mouth still waters when I think about it.
One of Ginny Lane's best entrees is their shrimp and grits – creamy and perfectly seasoned. They also have some great specialty cocktails. How does a Watermelon Margarita sound? Or perhaps a Key Lime Pie Martini?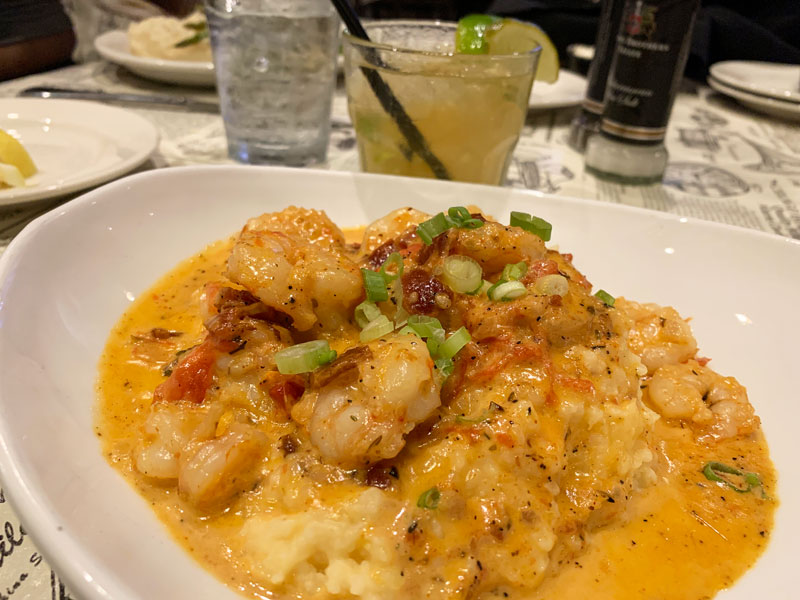 Flora-Bama Ole River Grill
You might have heard of the world-famous Flora-Bama restaurant and bar on the border of Florida and Alabama. But did you know it has a sister site across the street? The Flora-Bama Ole River Grill is a family-friendly, sports bar-themed restaurant that has recently overhauled its menu. They've got a great dining area, a big bar, and an even bigger deck overlooking the water.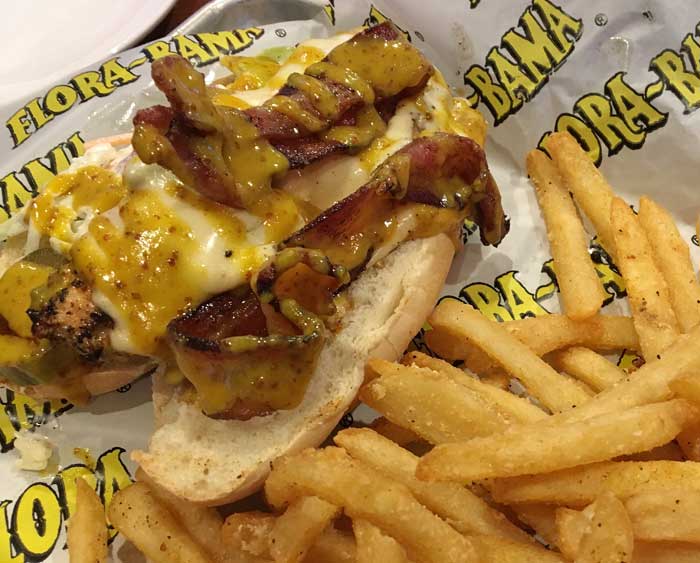 The Ole River Grill's Chef Jon Gibson recently won the "Chef of the Year" Award for Wild American Shrimp and the American Shrimp Processors Association (ASPA). I had the opportunity to sit with Chef Jon and sample some of his creations like the Fried Mac 'n Cheese Balls, Big Earl's Shrimp & Grits, Sweet Tea Chicken Club (my personal favorite), and a Cobb Wedge salad that everyone at the table agreed had the BEST buttermilk ranch dressing we've ever tasted.
And don't forget to try a Bushwacker. The mascot cocktail of Alabama's Gulf Coast, the Bushwacker is made with coffee, rums, chocolate liqueurs, and vanilla ice cream, blended into a milkshake-like consistency. It's the ultimate beach drink. I tried one at almost every restaurant, and still can't say which one was best. But the Flora-Bama's was definitely in my top three.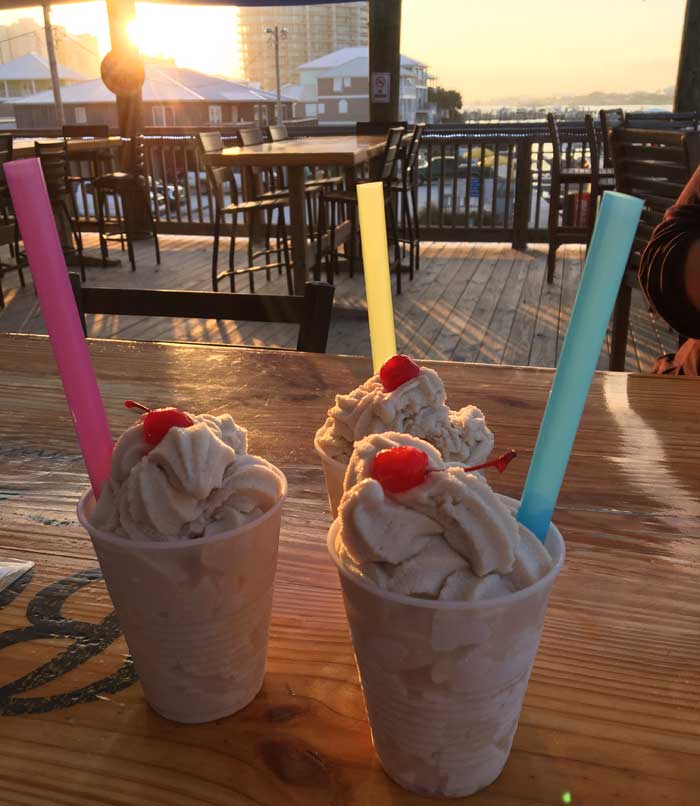 Fisher's
Located in Orange Beach Marina, Fisher's offers two distinct dining experiences: the casual Dockside and the upscale Upstairs. Fisher's Upstairs continues to be one of my favorite spots for fine dining in Orange Beach.
When you want a quiet night out with your significant other, Fisher's offers top-quality dishes and fabulous cocktails accompanied by a warm, classy ambiance. I discovered my absolute favorite drink at Fisher's Upstairs: the Yacht Rocker, made with Luxardo Maraschino Liqueur, rye whiskey, demarara, (I use a simple syrup), and blood orange bitters. I experimented with the ingredients at home and now enjoy this drink regularly!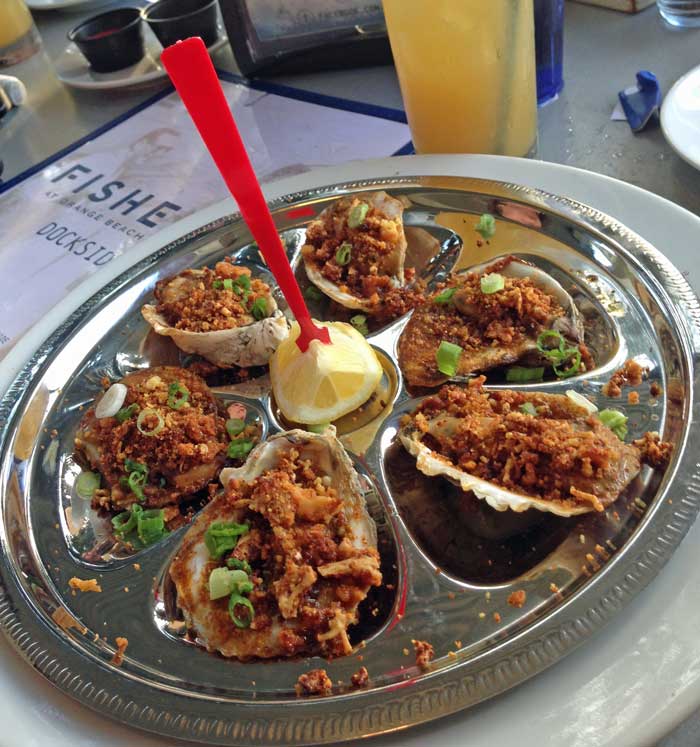 At Dockside, you can sit by the marina and appreciate the view while savoring mouthwatering bites like cajun roasted oysters, crab claws, boudin balls, boiled peanuts, and the famous Murder Point oysters – farm-raised to be small and sweet. I also had a shrimp and grits dish that made me rethink everything I thought I knew about grits. Creamy, slightly firm, buttery, and seasoned to perfection, those grits live on in my memory.
Cobalt
I was so happy to finally get to Cobalt on my fourth trip to Gulf Shores and Orange Beach. I had heard so many good things about this restaurant and I'm happy to report they are all true. Cobalt has it all – amazing food, perfect location, and beautiful ambiance.

You can eat inside at Cobalt, but I highly recommend a table on their huge patio, preferably at sunset. You can listen to live music, watch the boats go by, and take in the gorgeous view.
Cobalt's menu is mainly seafood, though there are a couple steak, pork and chicken options. Rest assured that whatever you order, it will be delicious. I had the Bronze Gulf Grouper served over Parmesan risotto, topped with sauteed blue crab and a Creole tomato sauce. I'm not typically a fan of seafood, but I'm always willing to try something new when it comes to the fresh fish on the Gulf Coast.
Best Dessert in Gulf Shores
The Yard Milkshake Bar
While most of these restaurants have great desserts, you don't want to miss The Yard Milkshake Bar! Build your own "freak shake" or order one of their amazing creations. And you get to bring home your glass as a souvenir! Block out a good amount of time for your visit, because the wait can be two or more hours. But trust me, it's worth it.
Grab a menu and a grease pencil when you walk in and choose your ice cream flavors and toppings. After you build your shake, bring your menu to the counter and they'll take your order and give you a number. Then you wait. And watch everyone else's milkshake creations come to life around you!
On a personal note, The Yard went out of their way to create a dairy-free shake for my nephew who has allergies. They scored big points in my book for that.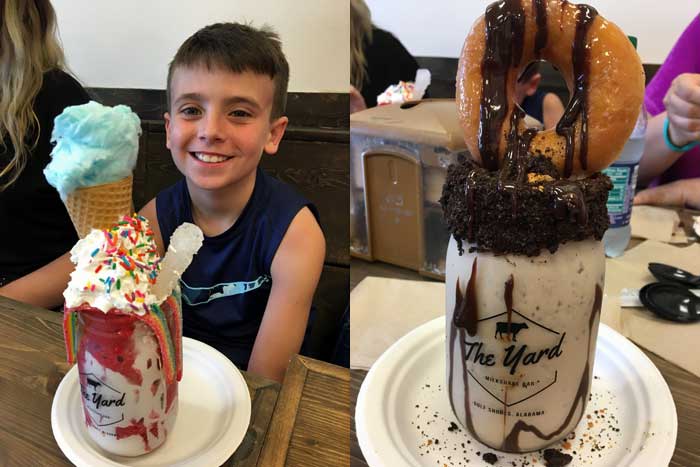 Stocking Your Vacation Rental Kitchen
Let's face it, you may not want to eat every meal out during your vacation. Here are three places where you can stock your vacation rental kitchen with fresh, local deliciousness.
Blalock Seafood & Specialty Market
Pete Blalock has lived in Orange Beach for over 47 years, starting out in a truck delivering fresh shrimp. Today he has three locations for his seafood and specialty market, offering fresh local fish, meats, seasonings, sauces, dips, crackers, wine and more. Do not miss their smoked tuna dip, it was so good I had them pack me some on ice so I could take it home on the plane!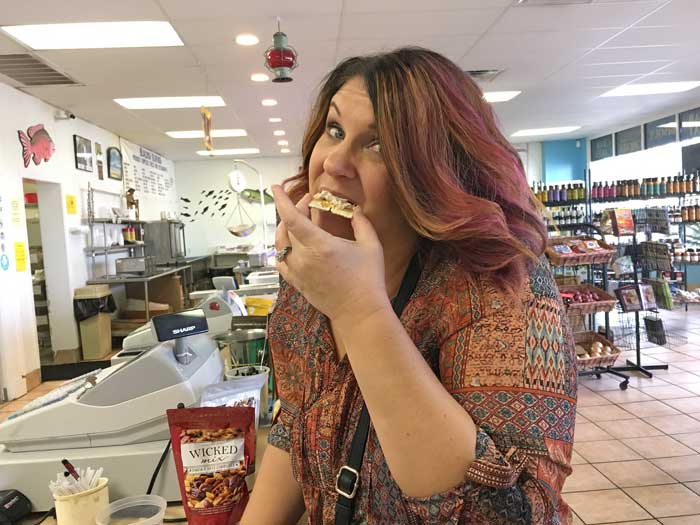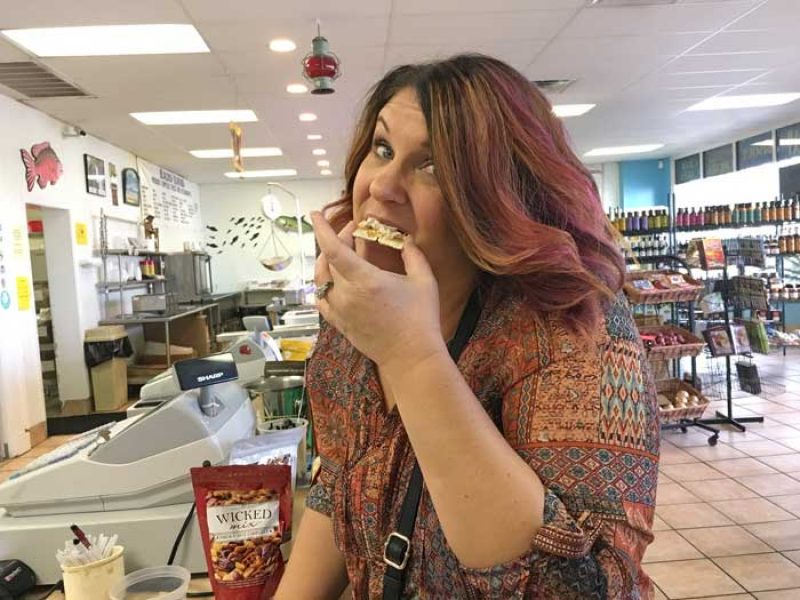 Burris Farm Market
Located at The Wharf at Orange Beach, Burris Farm Market is a one-stop shop for fresh fruits, veggies, soups, and sandwiches.
Rum Sisters
You'll want some sweets to snack on, so stop by Rum Sisters to pick up a bunch of their award-winning, alcohol-infused cakes. Definitely try the Bushwacker Rum Cake and the Twisted Sista' with Kahlua and chocolates! (Bonus tip: You can order their cakes online right now!)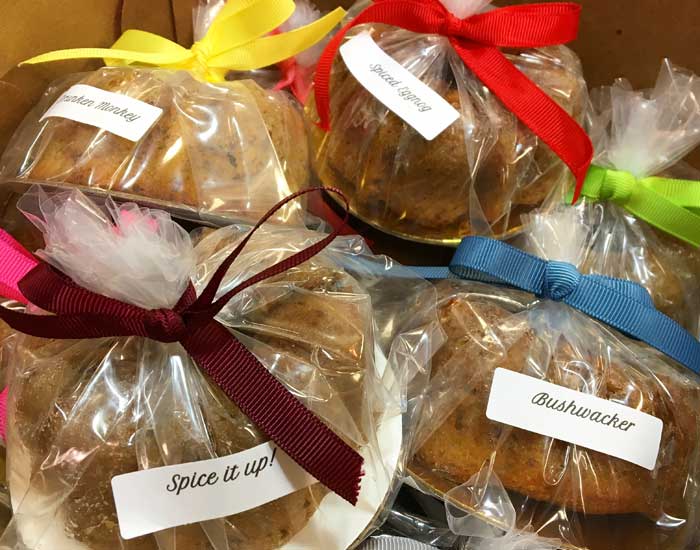 Whether you're eating out or cooking in, there are tons of options for locally-sourced, incredibly delicious food. Is your favorite on this list of best restaurants in Orange Beach and Gulf Shores?