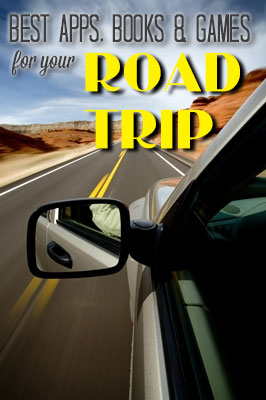 As you can probably tell from the name of my blog, I love road trips. Hopping in the car and driving, with a loose plan and some cool apps, is my favorite thing to do. Today I'm going to share some of my favorite apps, books, and games for road trips, and tell you how you can win a very awesome road trip prize package!
My Favorite Road Trip Apps
My Favorite Road Trip Books
Miles of Smiles: This book is full of fun facts, trivia and games that will keep kids and adults talking and laughing. One of our favorite games from this book is called "What Am I Counting?" One person starts counting something out loud and the rest of the passengers have to figure out what they are counting. It's a tough game! Is he counting traffic lights? Trucks? Surveillance cameras?
National Geographic Kids' Almanac: Bursting with information about the culture, history, animal life, geography, wackiest weather and weird but true facts from every corner of the globe, this book offers an entire section that provides an overview of all 195 countries and another section containing info on our 50 states. My kids love the "weird but true" facts and I love that they are learning something new. And it's full of the gorgeous photos you'd expect from a National Geographic publication!
Rand McNally Activity Books: Are We There Yet? offers boredom-busting puzzles, games, and journaling and coloring pages. The Kids' Road Atlas is the ideal companion for any US road trip with a page for every state that includes a road map, state facts, and a game or puzzle. I mapped our route on each state map before the trip so the kids could follow along.
My Favorite Road Trip Games
Travel Scavenger Hunt Card Game: Each person is dealt five cards depicting various things you might find on the road. There are the usual items, such as stop signs and hotels, but there are also some fun ones, like a "person with orange hair," and a "really dirty car." When you see the item on your card, you call it out, put your card aside, and draw a new one. There are also swap cards that let you exchange cards if you've got a particularly difficult one in your hand. The first person to find 10 items wins. The game goes pretty quickly and my kids always ask to play again. I love that it makes everyone look up from their devices and outside at their surroundings.
Magnetic Travel Bingo: Bingo is always a classic, and this magnetic version makes it easy to play in the car with all ages.
Brain Quest: My kids love all versions of Brain Quest and the questions have sparked some interesting and educational conversations!