Part two of three in my series on How to Plan a Successful Family Road Trip. Read part one, Planning an Itinerary and part three, Car Games.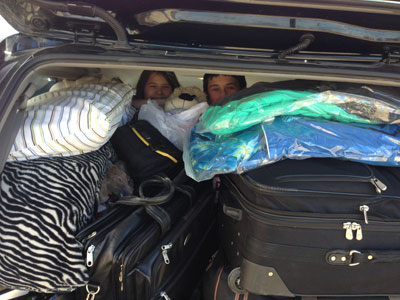 Packing Light and Right
This is a photo of our car during our most recent road trip. We are staying in Lake Tahoe for two months and skiing, so we needed a lot of stuff. Or so we thought. We really didn't need half of our payload. We brought too many clothes, stuffed animals, and games, and we could have rented a lot of ski gear.
Advice for packing? Here are seven tips:
Bring half of what you want to bring. You can re-wear clothes and will usually have an opportunity to do laundry.
Use space bags to fit more in your luggage (just be sure you'll have access to a vacuum when you need to re-pack to go home!).
Ship things to your destination if you can. (Or ship things home that you can't re-seal in the vacuum bags.)
Deal with fewer shoe options (that's a tough one for me).
Bring fewer toiletries and makeup. Those bottles don't pack and squish well, so get some trial sizes for the road and buy what you need at your destination.
Convince the kids they really won't die without Fuzzy Bear, Mr. Unicorn, and every video game they own.
One thing to splurge on? Pillows. Never underestimate the value of a good pillow in the car or at a rental home!
Car Safety
Get your oil changed, tires rotated and fluids filled a few weeks before you leave. Buy a plastic bin for your trunk and fill it with the following safety items:
Water
Snacks (energy bars, crackers, tuna in a pouch)/pet food if needed
At least one towel and preferably a blanket. You can buy emergency mylar thermal blankets that don't take up any space at all. Pack one for each member of your family. Don't forget pets if you're traveling with them.
Whistle
Lighter/matches
Flashlight
Leatherman or other type of all-purpose tool set
Be armed with apps and be sure you have a car charger for your phone. You don't want to be stuck 100 miles from the nearest gas station in the middle of the Nevada desert without a phone. Some of my favorite apps for finding roadside amenities and even odd attractions are iExit, AroundMe, Roadside America, and Roadtrippers.