On our road trip across America, we closely paralleled the iconic Route 66. I scoured a few of the many books written on the Mother Road and picked out interesting stops we could visit in our limited time. And since I was trying to be budget-conscious, I was happy to find a couple things that were free in Amarillo, Texas.
There are a lot of kitschy, throwback eating establishments and roadside attractions, but one I knew we had to visit was Cadillac Ranch.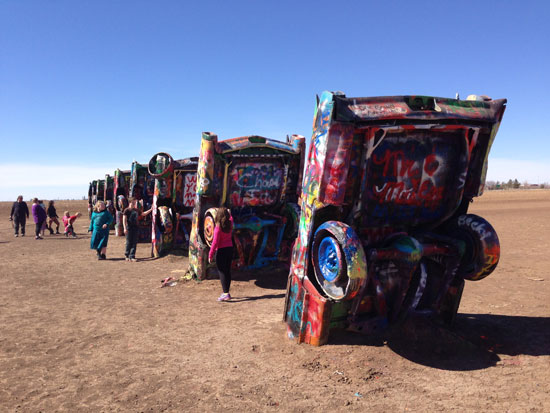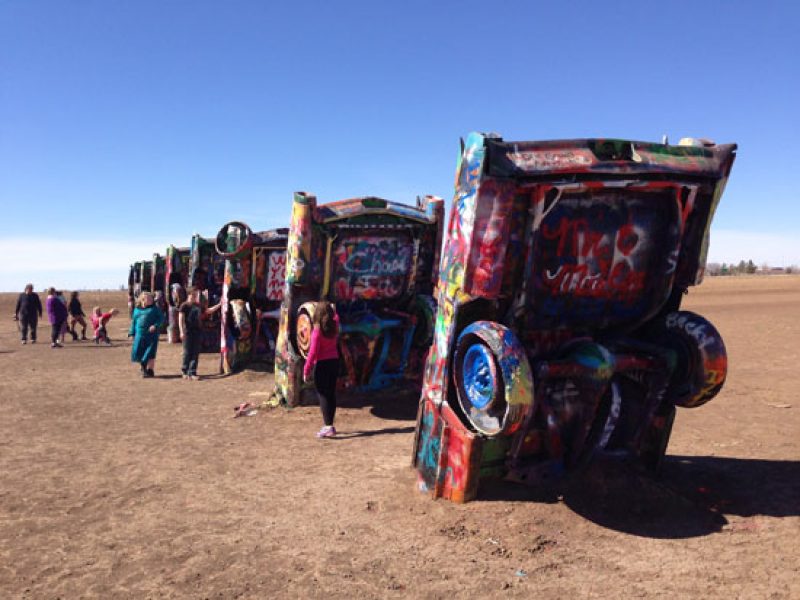 I can't explain why I've always been attracted to visiting Cadillac Ranch. Maybe because it's one of those oft-photographed sites I've seen in so many books and magazines. Or because it's a unique perspective on art. Maybe it was just the hands-on fun of spray-painting with my kids on some big Caddies buried in the dirt.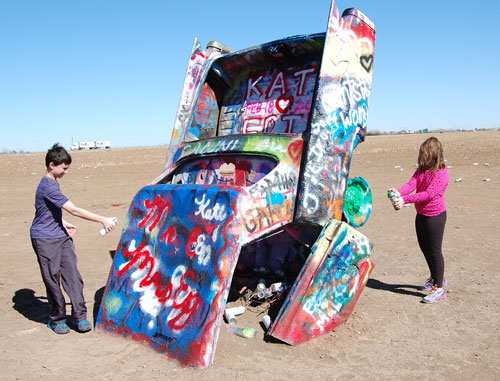 In 1973, Texas millionaire Stanley Marsh 3 invited a San Francisco artists' collective called the Ant Farm to help him create a unique art installation. The group acquired ten used Cadillacs (at an average price of $200 each), ranging in model years from 1948 to 1963.
Marsh built his work of art along the remains of historic Route 66, and the cars were meant to represent the "Golden Age" of American automobiles. In 1997, the Cadillac Ranch was exhumed and replanted about two miles to the west, in order to escape the encroaching city of Amarillo. The monument was built as a public sculpture and visitors are encouraged to participate in it.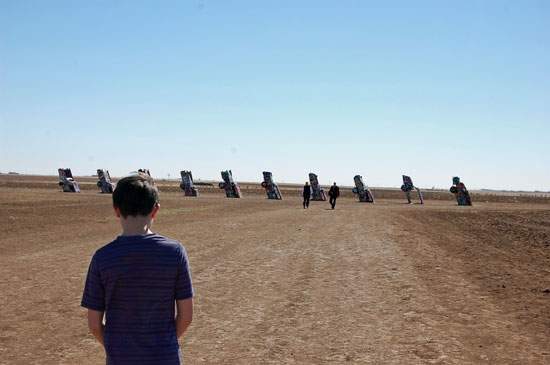 If you're driving Interstate 40 through the Texas panhandle, you'll drive right by Cadillac Ranch. It's an easy stop – directly off the highway on the frontage road – and there's ample parking. It's free and always open.
Paint Tips for Cadillac Ranch
Don't forget your spray paint! I picked colors based on my kids' favorites, but in hindsight I would recommend white, black, and neon for the best chance of creating something that can be easily seen and photographed.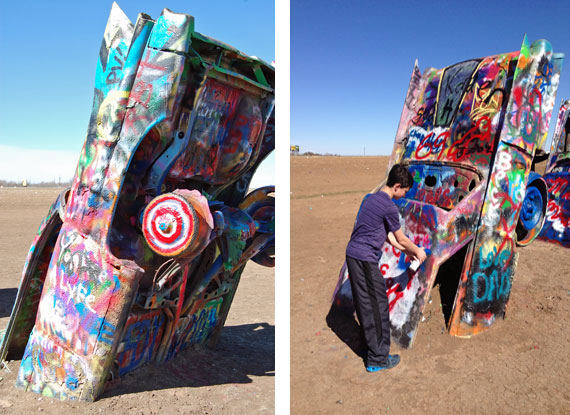 Be aware of the combination of paint and wind. It was rather windy the day we visited, so we had to experiment a bit to determine the best direction to point our spray to avoid getting paint on our clothes and in our face.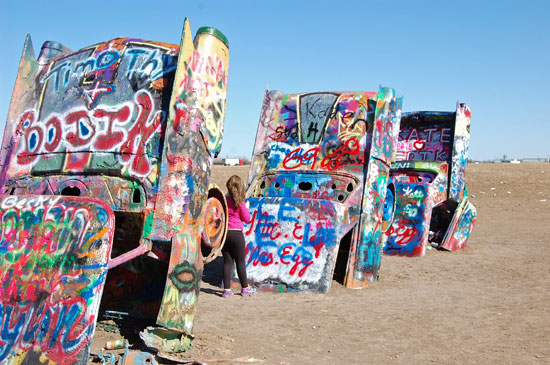 Jack Sisemore RV Museum
Also in Amarillo is the Jack Sisemore RV Museum, an impressive collection of vintage recreational vehicles and campers dating back to the 1920s. During our visit, we were taken on a journey through time that reflects not only Sisemore's passion for the open road, but also the evolution of road tripping, camping, and the all-American family vacation.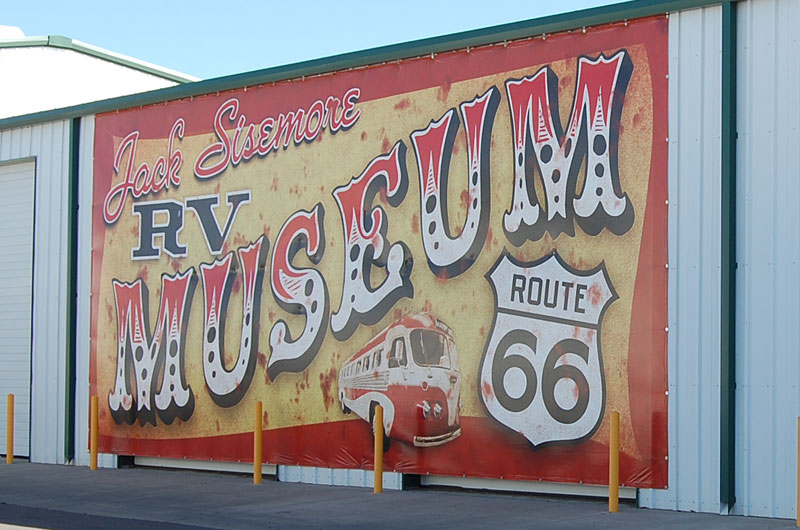 As someone who dreams of selling all her belongings and living in an RV, this museum was inspiring. I enjoyed watching Jack light up as he pointed out vehicles he'd found neglected in barns, some in like-new condition and some he lovingly restored.
The RVs were open for exploration and cleverly staged with items from the appropriate time period. Discovering Tinkertoys and packaged food containers from long gone brands that reminded me of my childhood brought the trip through time to life.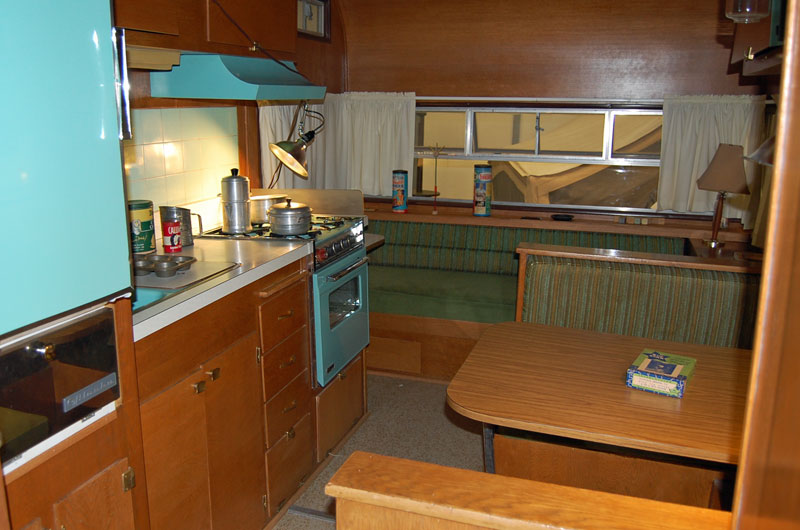 With his 25+ years of collecting, restoring, servicing, and selling RVs, Jack Sisemore lives and breathes RVs. His museum boasts the first Itasca motor home ever built, the oldest Fleetwood in existence, and classic Winnebago, Airstream, and Volkswagen models. For another little gem, Jack obtained the actual "Happy Max" bus from the Robin Williams movie, "RV."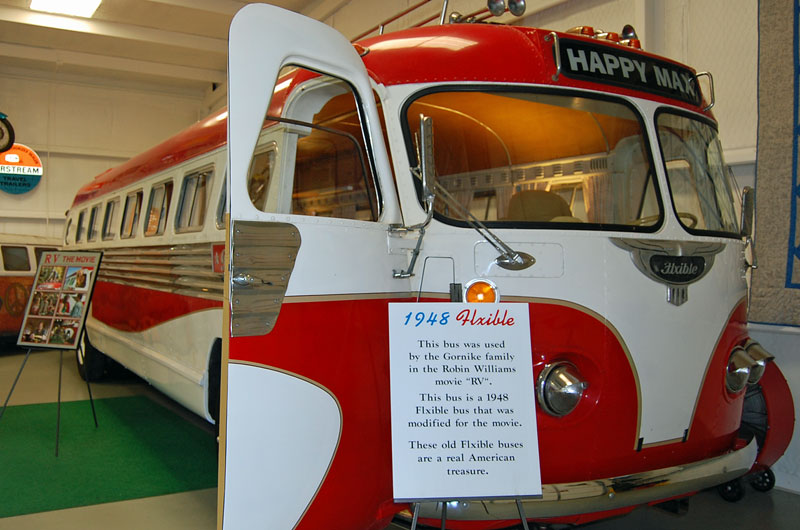 The most modern RVs were found in the showroom – quite a treat to tour in its own right! My kids were eagerly climbing from one vehicle to the next as if searching for their dream home. My son remarked, "I didn't think looking at RVs could be so much fun!" High praise from a teenager!
Having built a career out of his love of travel, Jack is a man after my own heart. He started by opening a Chevron station with a loan from his grandmother and now owns and operates the huge Traveland where he rents, sells and services RVs and campers. He's expanded 17 times – all financed with cash from the growth of his business.
Jack has plans to continue expanding both his RV business and the museum. He shared with me his hope to add a fruit stand and an A&W – a perfect fit for the American driving theme – to the museum in the coming years.
Don't miss this highlight of our road trip – another activity that's free in Amarillo. Be sure to talk to Jack Sisemore. His story, his love of travel and his gigantic RV showroom will inspire you, too.