I never knew the difference between a tram, a gondola, and a funitel until I came to Squaw Valley. Heck, I never even heard the word funitel.
A gondola is attached to one steel cable, while a funitel is attached to two cables for more wind stability. Both are continuous systems, meaning they have several cars that run in a circular motion (like a traditional ski lift).
An aerial tram, by contrast, is a fixed system that runs back and forth between two points. Like this one at Squaw Valley: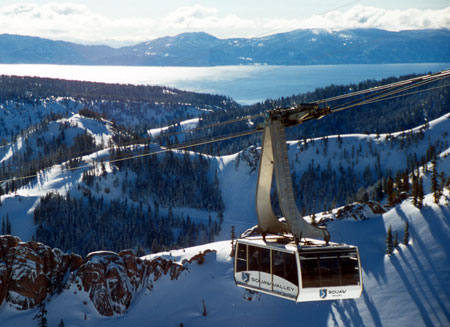 The tram can carry more people per car than a funitel or gondola car, but you have to wait for it to drop off and come back down to pick up more passengers. So it's not necessarily faster than the funitel, which is continuously taking passengers up (and down). Over the course of an hour, the funitel delivers more people to the snow – 4,000 passengers per hour vs. 700 pph on the tram.
My family likes the funitel for skiing, but we had to try the tram for the views and the experience.
Only the tram has an operator/guide. It was nice to get some background and information from our tram operator, Steven, during our trip up the mountain.  We learned about the hot tub and pool at the High Camp area where the tram unloads. We also learned that there is an Olympic Museum (free admission with your tram ride) up there, too. Squaw Valley was the home of the Winter Olympics in 1960.
The coolest thing we learned is that Walt Disney used the rock formations from Squaw as his inspiration for the Big Thunder Mountain Railroad ride at Disneyland and Disney World.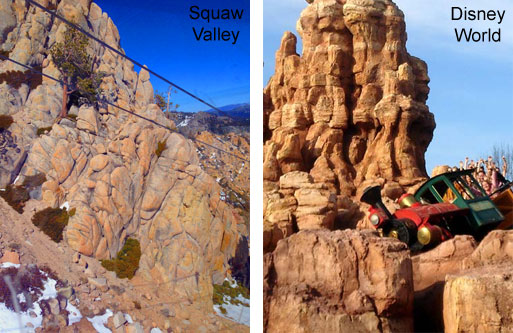 Steven also told us when to expect "the swings." As the tram passed over the first support tower, I felt a little lurch in my stomach as the tram swung forward and back. It wasn't a big deal, but I didn't like standing up in a crowd of people holding skis while the tram gently swayed. I much prefer sitting on the funitel – with no swings!
Squaw Valley's tram ride is available year-round to skiers and non-skiers alike. In the summer, you can swim in the pool at High Camp and enjoy the many hiking trails Squaw has to offer. Or you can take the tram ride solely for the spectacular views of the Sierra Nevada mountains and Lake Tahoe. It's so worth it.