Driving to Whiteface Mountain in Lake Placid, New York, takes five to six hours from the New York City/New Jersey area given perfect weather conditions. In winter, it could be longer. So is it worth driving to Whiteface for a ski vacation? I'll tell you what to expect from the town, the crowds, and the terrain.
Impressive Terrain
Whiteface Mountain, site of the 1980 Winter Olympics skiing events, offers the greatest vertical drop of all eastern ski areas at 3,430 feet. You'll get long runs from top to bottom and less time in lift lines. The 2.1-mile intermediate trail, Wilmington, for example, will test the quads and cardio of even the strongest skiers.
Whiteface towers over most eastern ski resorts. In fact, signs on the towers of the Summit ski lift mark where the elevation of the lift surpasses the peak elevations of Stratton, Mt. Tremblant, Jay Peak and other nearby resorts.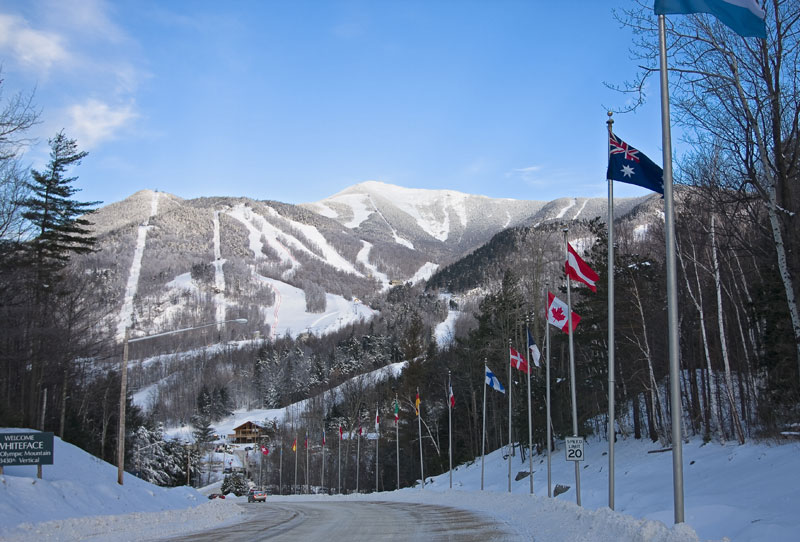 With this impressive height, Whiteface features some serious, steep, gnarly terrain that belongs in the same category as the Castlerock Peak at Sugarbush and the single chair at Mad River Glen. Remember, the Olympic downhill, giant slalom and slalom events were hosted on the very same runs we get to ski today.
On a recent visit, I skied Skyward from the top of the summit and was gasping in amazement at the length of sustained pitch. It just kept going. On the lift, I was eyeing the super steep and narrow Lookout Below but it was closed for the entire three-day weekend. But most of the trails, whether black, blue or green, are very wide and groomed flat. The only moguls were hidden on a single run called Upper Mackenzie.
Beginners enjoy their own area and lodge called Bear Den with nothing but green terrain. It's a great spot for novices to learn. As they progress, it's easy for improving beginners to handle a typical blue trail. Likewise, intermediates aspiring to be experts can handle a typical black trail if the conditions are good.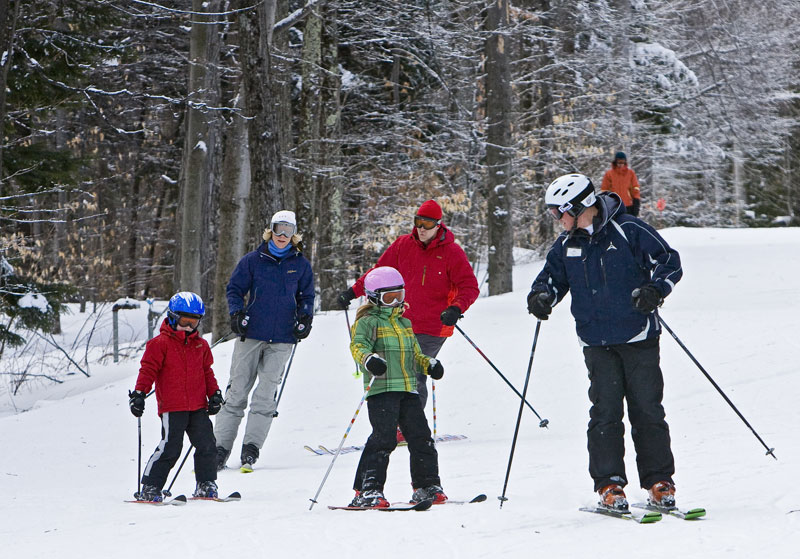 Why They Call It "Iceface"
It's the ski conditions at Whiteface that earned it the nickname "Iceface." The mountain received six to eight inches of snow in the week prior to my visit, yet the conditions were still vintage, eastern hardpack and ice. The ski racers like it but for everyone else, it's very easy to pick up speed and quickly get out of control. Be aware and be careful.
When you add in winds blowing any snow off the trails, even a tame, blue cruiser becomes a real test of one's skiing ability. In fact, one or more upper mountain lifts were closed for wind hold almost the entire ski trip. And I'm grateful to ski operations for shutting them down rather than risk an accident.
With the winds, the erratic weather and the inconsistent snowfall averaging 195" per year, you'll need to adjust your expectations when booking a ski vacation. Whiteface doesn't receive enough natural snow to have any solid expectation that the gladed areas for tree skiing or the hike-to extreme terrain called The Slides will be open when your vacation time comes.
Parking and Getting to the Lifts
The parking lots fill up even on relatively empty days. Cars line the access roads in a demonstration of parallel parking skill worthy of New York City.
Spaces in the parking lot closest to the mountain can be had for $20.00. But locals know to drive past the free parking lots, past the cars parked on the roadsides and continue to Bear Den Lodge, with its own parking lot.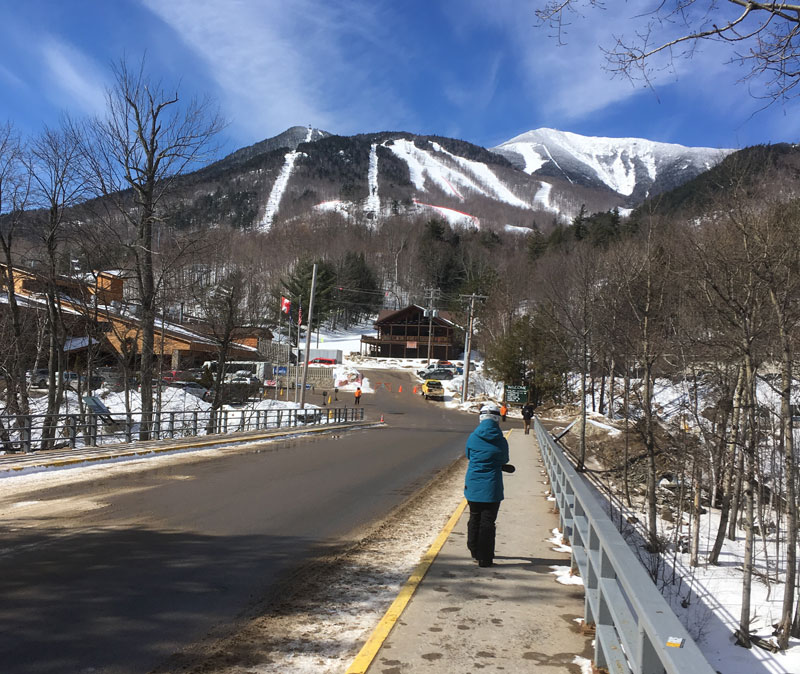 It can be quite a walk from the outer lots to the ski lodge so the mountain operates a free shuttle bus service. The buses picked up and dropped off every few minutes without making us wait for other people to board. The bus even dropped us off right at our car.
Crowds at Whiteface Mountain
On weekends, every eastern ski area gets crowded. Whiteface is no exception. As a large mountain, it disperses the crowds fairly well but ultimately offers only 283 skiable acres. It's easy to look at the mountain and envision where a dozen new trails could be cut without requiring additional ski lifts. But that doesn't seem to be in the very near future for this state-owned ski resort.
To avoid crowds, avoid blue trails like Exelsior, Lower Northway and Paron's Run and use the upper mountain lifts instead of going to the bottom. Long lines often form at the gondola for its toasty, wind-protected ride to the Little Whiteface summit. If you're willing to walk just a few steps up to the Face Lift and deal with the weather, you can get to mid-mountain with virtually no line every time. Then use the Summit and Little Whiteface lifts.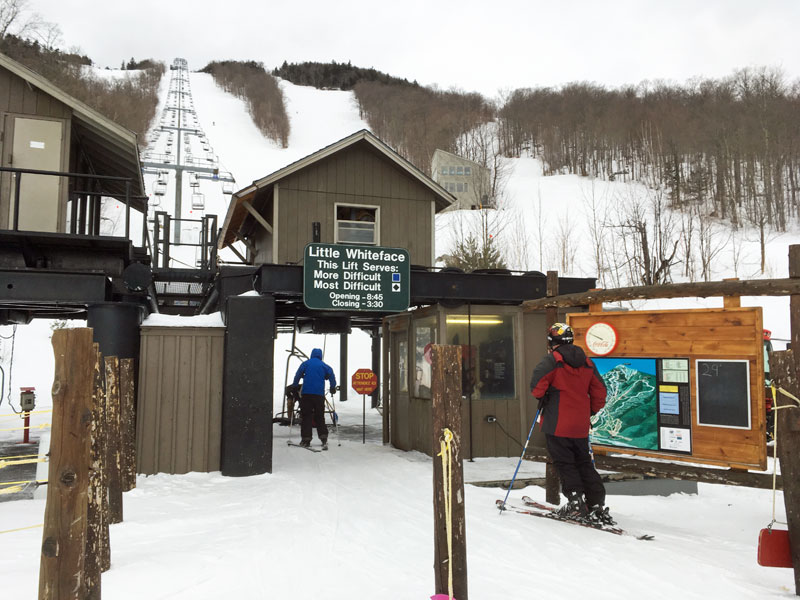 Relaxed, Small-Town Vibe
Some skiers from the New York metropolitan area speed up the Thruway to Hunter Mountain, speed down the mountain, speed through lunch and speed home. It's not uncommon to hear stories of stolen skis, road rage in the parking lot or occasional nastiness on the slopes.
I was pleasantly surprised to find a completely different vibe at Whiteface. Many of the people were happy family vacationers and locals with Upstate sensibilities. Nobody fought over tables in the lodge and nearly everyone placed their day bags on shelves. Though a very large mountain, Whiteface seemed to share the same small-town, throwback vibe as the much smaller ski areas struggling to survive.
Lake Placid Lodging and Activities
As an older ski area built before the boom in ski area real estate, Whiteface Mountain isn't surrounded by condos or dotted with luxurious, slopeside vacation homes. And its location inside Adirondack Park makes building very difficult.
Charming bed and breakfasts, inns and motels line the mountain roads nearby. But many ski vacationers stay 10 – 20 minutes away in Lake Placid. There you'll find many lakeview hotels, such as The Lake House, as well as plenty of vacation rental homes.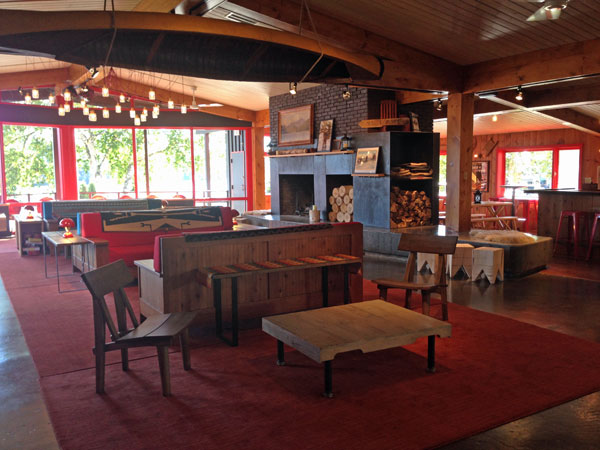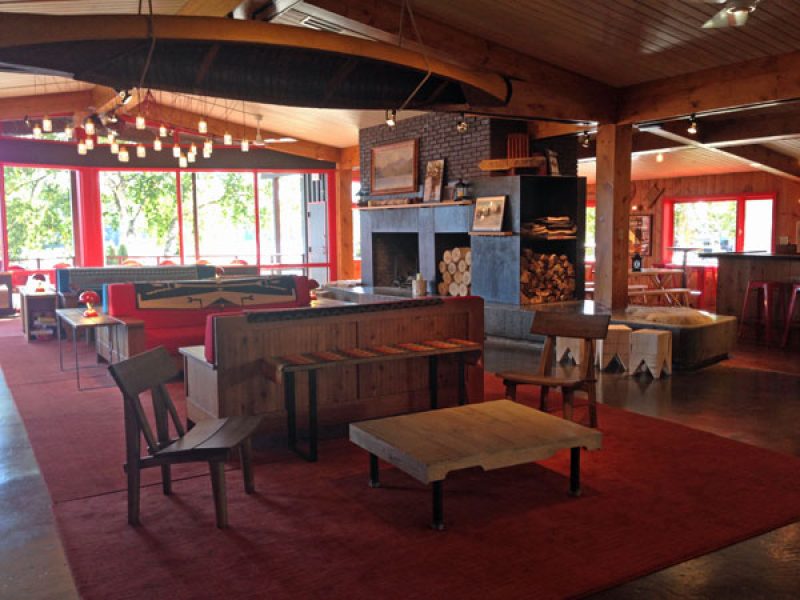 When planning a winter vacation in the East, Lake Placid comes up in nearly every conversation not only for skiing at Whiteface but also for its wide variety of activities beyond skiing. This enables families and large groups to offer something fun for everyone, such as:
Ice skating on the Olympic speed skating oval where Eric Heiden earned five gold medals
Hockey on Mirror Lake or in the "Miracle on Ice" rink where Team USA earned Olympic gold
Bobsled and skeleton rides with Lake Placid Bobsled Experience on the Olympic track
Cross-country skiing and/or riflery at Mt. Van Hoevenberg Cross Country & Biathlon Center
Hiking at High Falls Gorge in Wilmington, NY between the town and the ski mountain
Shopping and dining on historic Main Street
And more
So is it worth driving to Whiteface from the New York City area? It really depends on the snow and your ability to ski the standard, eastern, icy trails. Whiteface Mountain offers thrilling expert terrain, long, rolling intermediate terrain and a wide rage of beginner terrain to help novices progress to confident intermediates in a one-week vacation. In a good winter with a lot of snow, Whiteface is a fine choice for a ski vacation destination. And if you don't get lucky with the snowfall? There's still a lot to do in the Lake Placid area.