If you're an eastern skier planning a ski trip out west, you'll find a very different experience skiing the east vs west. In the western US, the skiing conditions and snow are different, the mountains and trails are bigger, and even the food and atmosphere are pretty distinct.
Here's everything you need to know if you're an eastern skier planning a western ski vacation.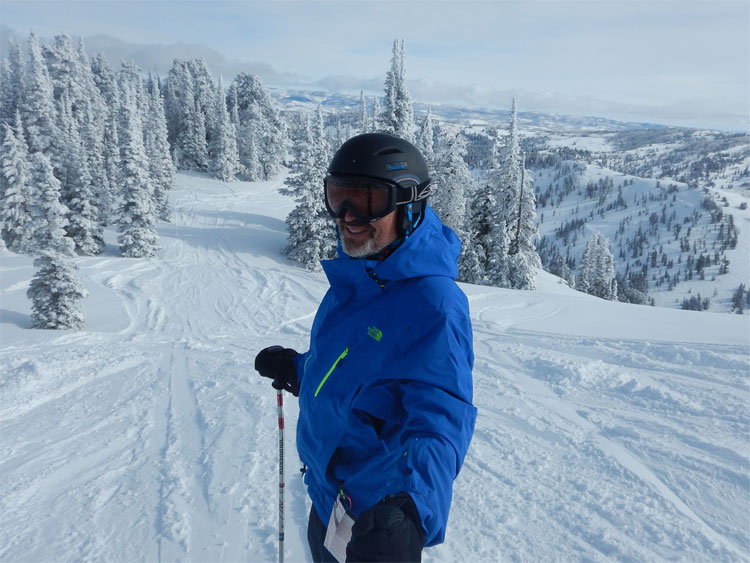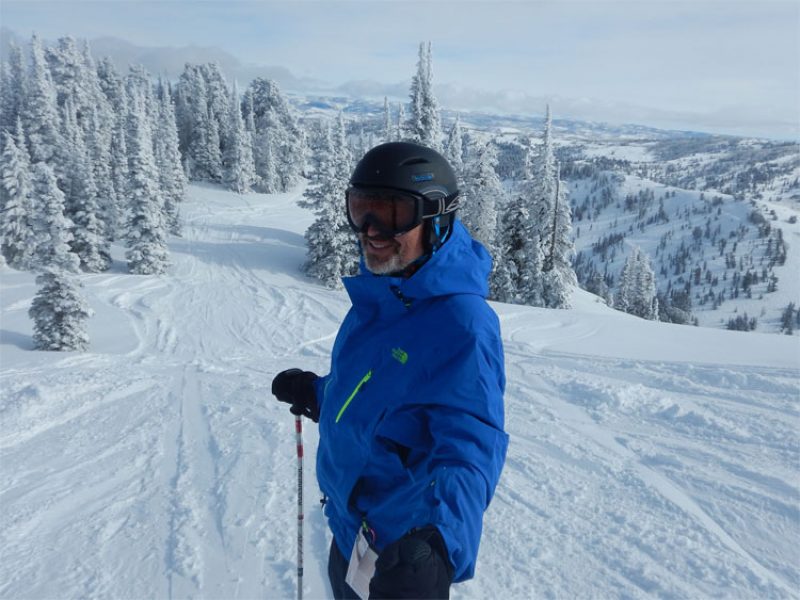 East vs West: A Tale of Ice and Powder
Most eastern skiers learned how to ski on ice or skied-off hard pack. Tough as nails, these skiers had to hone their technique and learn how to carve turns on concrete to survive. When there's ice, they just point their skis down the hill and deal with it.
Western ski resorts typically enjoy low humidity, consistently cold temperatures, and enough natural snowfall that ice doesn't form as easily. Sure, a groomed, blue cruiser gets slick by the end of the day, but it's nothing like the icy conditions that eastern skiers tolerate.
I was once riding the lift at Winter Park, CO, looking down at the bumps and salivating at the phenomenal packed powder conditions. The guy sitting next to me said, "Ooh, that looks icy." It turns out that what locals consider "icy" are some of the best conditions eastern skiers would hope for.
How is Skiing in Powder Different?
Eastern skiers post Go-Pro videos titled "Shredding the Pow", "Massive Snow Day" and "Glades are Open for Powder!" Never mind it only snowed five inches.
Unless you live near Jay Peak, VT, eastern skiers can only dream about the mind-blowing powder days that are common at western ski resorts like Kirkwood, Steamboat, or Powder Mountain. Even eastern skiers who get to ski 25 days per year go entire years without catching a pow day.
While only three Vermont ski areas average 300 inches of snow per year, most western resorts top that – and many by a whole lot more. Alta/Snowbird, UT, averages more than 500 inches of fluffy, light powder per year.
Utah's slogan on their license plates is "Greatest Snow on Earth." And they actually have a scientific argument to back that up. The snow out west is drier and fluffier, making your ski experience more floating and less scraping.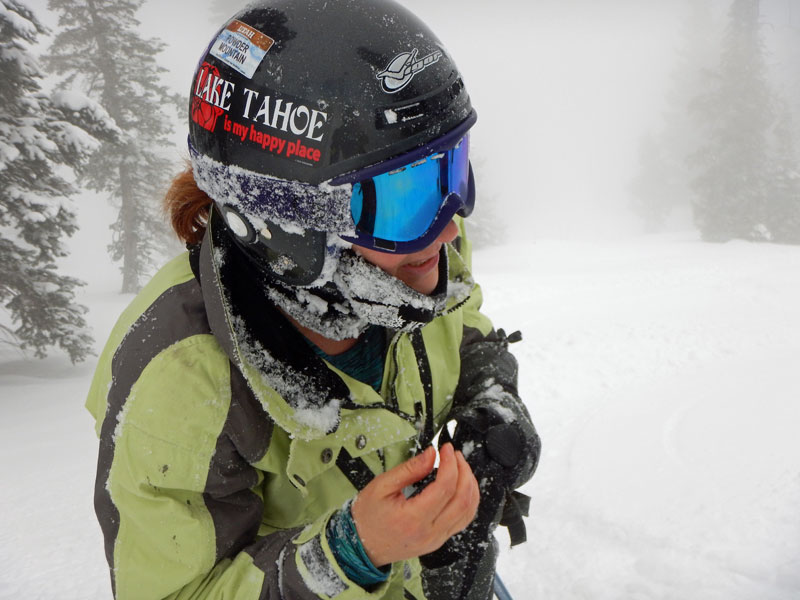 If you're planning a ski vacation in the winter months, you're very likely to get to experience a real powder day – measured in feet, not inches. And western resorts get a lot more sunny, bluebird days than the endlessly gray, overcast east.
Your Eastern Skis May Not Serve You Well
Eastern skiers accustomed to the narrow skis needed to carve precise turns will wonder in awe about those gigantic planks skiers use in the west. In deep powder, those narrow skis with an 80 mm waist sink into the snow. That's no way to enjoy a massive powder day.
The idea is to keep the ski tips on top of the snow. Enter powder skis. These skis span 115 mm or more in the waist and use a rockered design to float above the snow.
If you get a significant pow day on your ski trip, rent powder skis and take a lesson on how to ski powder. It matters. If you rent at the mountain or use a ski delivery service then you can switch skis every day based on the snow conditions.
Everything is Bigger Out West
Silverton Mountain, CO, stands as the highest ski mountain in the United States at an elevation of 13,487 feet. Most of the Colorado resorts top 12,000 feet. That's about 2 1/2 times higher than the highest eastern ski area – Beech Mountain in North Carolina, with a summit of 5,506 feet. Whiteface Mountain in Lake Placid, NY is the second-highest, reaching 4,650 feet at the summit.
Killington offers the most skiable acreage in the east at 1,509 yet Powder Mountain, UT, covers an expanse of more than 8,000 skiable acres. I was curious at first why everyone at Pow Mow attached a whistle to his/her jacket. Then I found myself skiing in a vast, wide open field of untracked powder without a single person in sight and only the sounds of the quiet solitude of the forest. I realized if anything were to happen, that whistle may be the only way to get help. It's that big.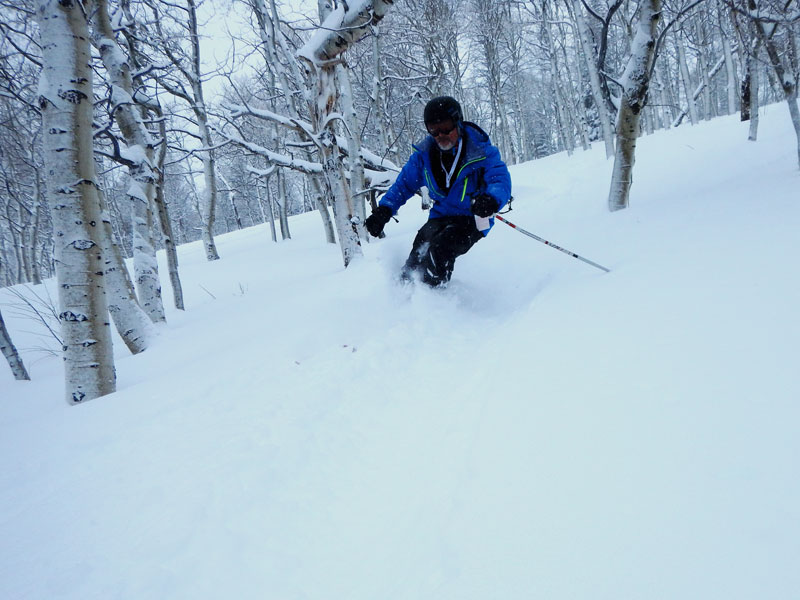 Many western resorts will appear jam packed on weekends. Full parking lots, massive lift lines at the base and a line at the kiosk for coffee. But these mountains are so expansive that the crowds can be dispersed over thousands of acres. You can often ski all day and never have to do the same trail twice.
Even the busiest days feel like eastern resorts midweek, as long as you know the pinch points to avoid. Once you figure out where to ski at a given ski resort, you can steer clear of the lifts that usually attract long lines.
Steeper, Wider, Faster, Longer
When skiing east vs west, eastern skiers are also surprised at how long the trails are. They are also unprepared for how different skiing wide open bowls feels compared to feeling restricted by the dense trees on both sides of eastern trails.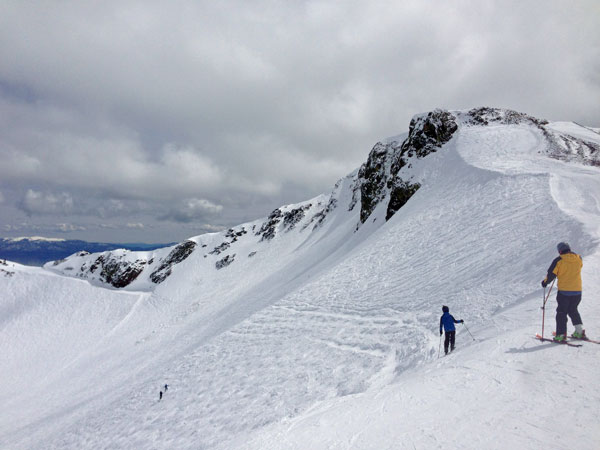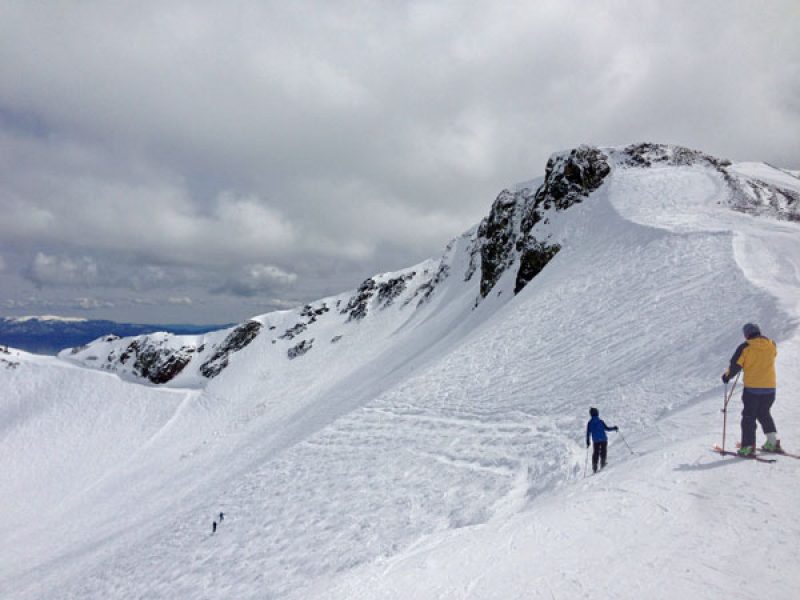 There's so much more terrain out west, and you're usually free to explore it all. In addition to the marked trails on the map, most western resorts offer even more terrain that you can hike to, as well as areas accessible only by a snowcat, which usually involves an extra cost. If you like walking uphill, backcountry gates offer access to the untracked powder beyond the ski area boundary. Beware and be prepared – ski patrol does not monitor outside the ski area boundary.
With bigger mountains and vertical drops of more than 3,000 feet, it can take a while to get to the bottom, especially for beginning skiers. Green skiers can ski from the top on trails like Schoolmarm at Keystone or Sugar N' Spice at Sierra-at-Tahoe that meander gently for miles. It can literally take hours for novices to get to the bottom. This means more time skiing and less concern for lift lines.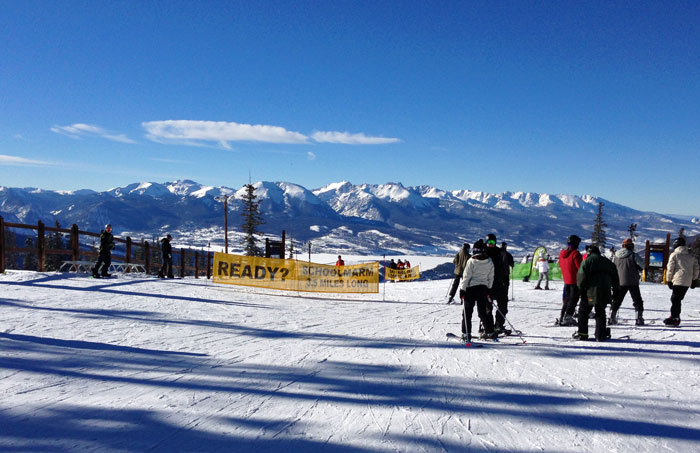 Longer verticals can also mean steeper runs, which means putting more effort into speed control. Easterners who gauge their ski day success on the number of "laps" they get in will be in for a surprise out west.
Of course, you don't have to go all the way to the bottom. Except for resorts such as Killington and Sunday River, ME, most eastern ski resorts are built on only one or two mountain peaks. The ski lifts go from the base to the top. Most western resorts span multiple peaks of varying elevations.
The highest peaks often feature steep, gnarly expert terrain served by their own lifts. This means you can ski the black diamonds over and over again without going all the way down on the runout to the lift at the bottom. This is a special bonus for snowboarders who prefer to avoid the flats.
Another surprise to many easterners skiing out west? It's easy to find a bar in the ski lodge but not always on the ski lifts. It's not common, but you could experience a lift ride without a safety bar out west, especially on the lifts that serve expert terrain.
In some cases, these lifts are shielded from any wind by trees, or by smart engineering, so it's not a big deal. But accidents can happen. Be careful and always keep one hand on the chair and the other on any groms in the next seat.
Longer Ski Season
Easterners who ski during Christmas week might find half of the mountain closed for lack of snow. Then when conditions finally get really good in mid-March, many eastern ski areas close, transitioning to weddings, mountain biking and summer camps. Credit Killington, VT and some others for making the effort to stay open longer, even when it's not as profitable as during peak season, and for making snow to open earlier than ever for 2020.
Western resorts often open in November and are fully open by Christmas week. They usually plan to close in late April and can extend into May or longer in a good ski season. That makes season passes at western resorts an incredible bargain. Squaw Valley, CA, has been open into July for the past few years! Can you say bathing suit skiing?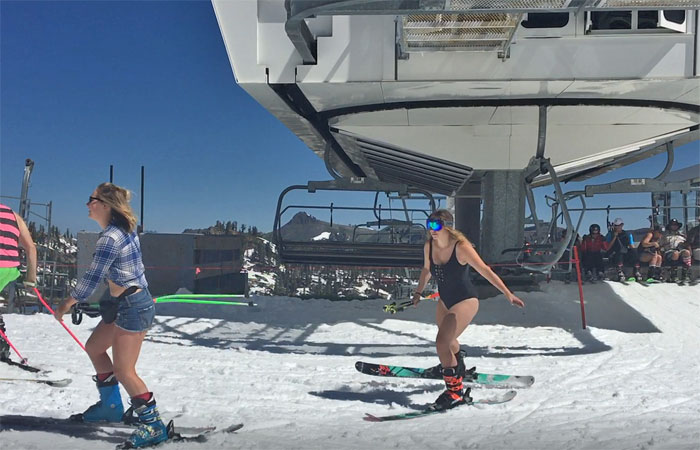 Enjoy Gourmet Meals at the Lodge
Not long ago, most eastern ski areas served up a standard fast food menu with burgers and fries, plus chicken noodle soup and an occasional bowl of chili. The massive numbers of people required quick service speed to get them fed and back on the slopes.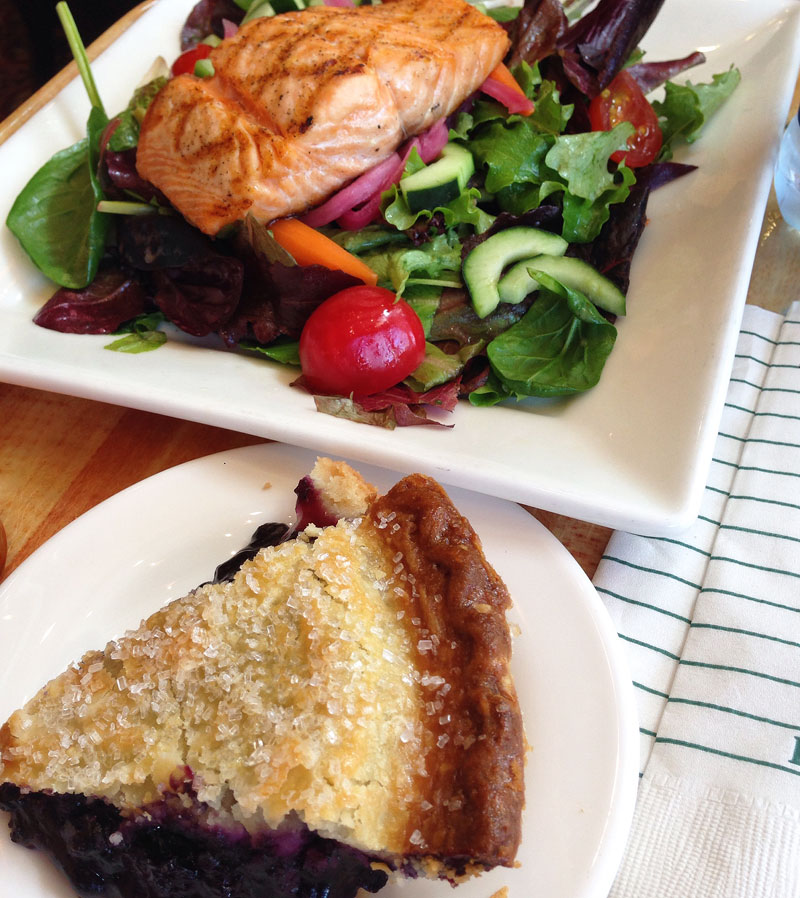 Though some have upgraded their menus of late, they still don't compare to western ski resorts. Western foodservice teams pay much more attention to food quality. Even ordinary menus in the west offer fresh salads, hearty soups, and solid meals that lend the feeling of a restaurant rather than a cafeteria.
At places like Deer Valley and Snowbasin in Utah, lunch far exceeds a typical restaurant experience. You'll pay through the nose for it – and you'll like it.
There's also the free water and paper cups, often available outside the lodges at western resorts. You don't need to go all the way into the lodge to get hydrated, let alone pay $5 for a bottle of water. Since water helps prevent altitude sickness, be sure to drink some at every available opportunity.
Speaking of altitude sickness, don't dismiss it. It's a real thing. Give yourself at least a day to acclimate to the elevation before skiing. Drink lots of water and be extra careful when drinking alcohol – the altitude will kill your tolerance.
You'll Still Be Fighting Traffic
Eastern skiers who spend Friday nights driving I-87, I-90, I-91 and I-93 to go skiing in the Northeast and Sunday nights driving home to go back to work will quickly recognize the pattern on I-70 when flying into Denver for a Colorado ski trip. It feels just like home.
You'll see frenzied hordes of crazy drivers racing down the highway, weaving in and out of traffic, passing snowplows and ultimately landing in the median, hopefully with everybody in one piece. I suspect most of these people driving too fast are eastern tourists in rental cars. Don't be that guy. Rental companies do not guarantee four-wheel drive or snow tires will be available and they do not offer chains. Drive carefully.
Snowboarders Are High
And lots of skiers are, too. Recreational marijuana is legal in Colorado. Some easterners specifically choose Colorado resorts for legal access to weed on their ski trips.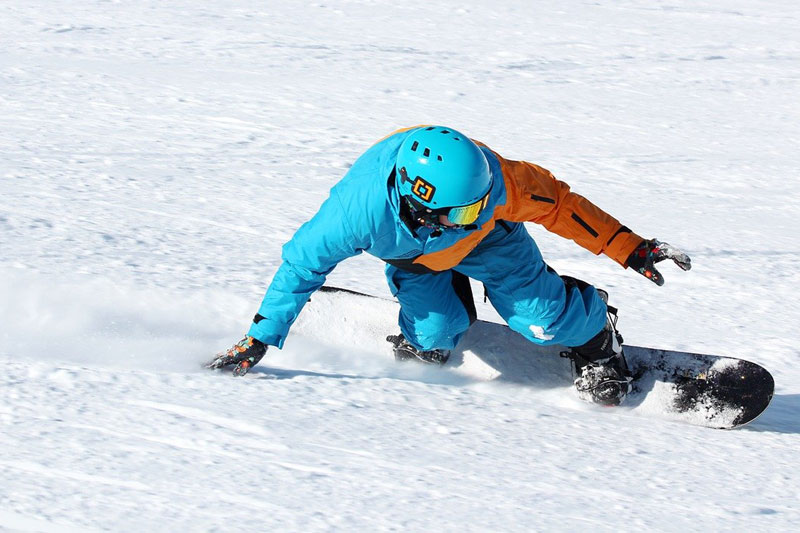 I recently rode a lift near a huge terrain park at a Colorado ski resort and all three snowboarders were burnt to a crisp. They told me that almost everyone they know smokes while snowboarding. Most ski towns have a dispensary, even tourist towns like Breckenridge, though they are kept away from the family-oriented Main Street.
Have the conversation with your children before you get there and keep your head up and on a swivel if you're anywhere near a terrain park.
You'll Need to Chill Out
I'm not saying you should get high, but you will need to chill out.
To ski in the East, you need to really love to ski – so much that you can't be deterred by ice, winds, crowds, lift lines, traffic, and ridiculously high costs. It demands a serious commitment of time and money and a family of determined people who love to ski.
This intense love for skiing, and the need to squeeze in as much as possible over a short ski season, sometimes bubbles out of an easterner as an overly aggressive attitude. For people who live in the west, being near a skier from the east feels like standing near an impending eruption – even when you're not doing anything.
You'll need to chill out. You may need to sit in traffic, wait in line or slow down for a beginner skier. Just relax and enjoy. Everything moves at a more mellow pace out west. And it's great.
So great that you may never want to ski the east again.