Now that my kids are getting older, ghost tours have become one of my family's favorite ways to explore a new area. And while they are a fun way to tour a city and learn its history, I've been on the hunt for an experience that would take me beyond skeptical amusement. I found that experience on a ghost tour in Breckenridge, Colorado.
The town of Breckenridge, Colorado was founded in 1859 by a small group of gold prospectors. I wanted to learn more about the history of this mountain ski town, so I signed my family up for the Haunted Breckenridge Tour with the Breckenridge Heritage Alliance.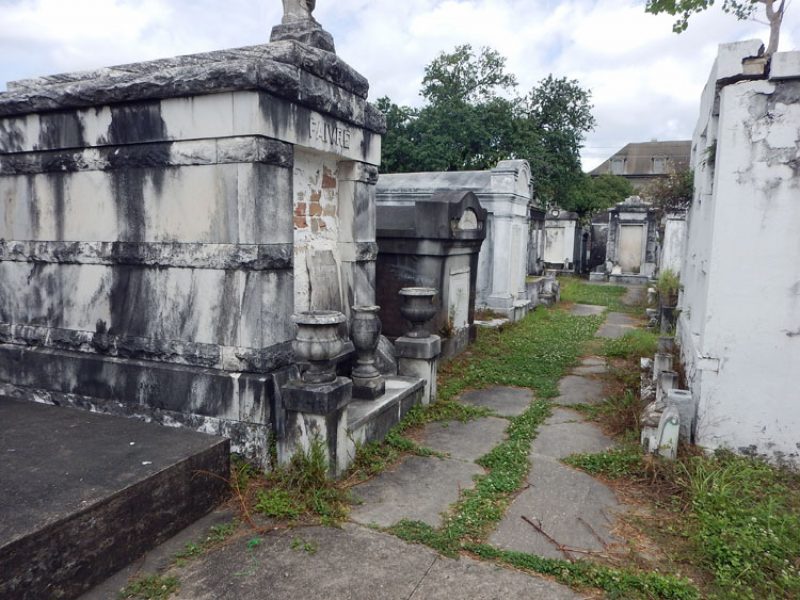 It started out like every other ghost tour – history, stories of mysterious deaths and murders, haunted restaurants, even a visit to a pet cemetery. Then we walked several blocks out from the downtown area and actually entered a supposed haunted house. It was there that I finally got my scare on.
It was a freezing cold night when we entered a historical home in a dark, quiet, residential area. Our guide, Trevor, led us through the gate and flipped on a dim light. We were all thankful for the respite from the icy air. We peeled off our hats and mittens as we gathered around a table in the parlor.
A Good Ghost Tour Guide Makes the Difference
Personal experiences from the guide can kick your tour up a notch. Indeed, an animated and exciting tour guide can make all the difference. Turns out, our guide Trevor was also a paranormal investigator.
He pulled out an EMF (electro magnetic field) detector to measure ghost activity and placed it on the table next to his smart phone. The phone was running an app that supposedly translates paranormal energy into words. We joked and scoffed that there's even an app for texting ghosts. But within a few moments, it spit out the word "article."
My husband nudged me, wide-eyed. I was taking the tour so I could write an ARTICLE about it for this blog. A minute later, everyone in our group whipped their heads toward the front door. It sounded as if someone was jiggling the handle. OK, this was getting interesting!
"Katie, are you with us?" asked Trevor. The EMF detector lit up.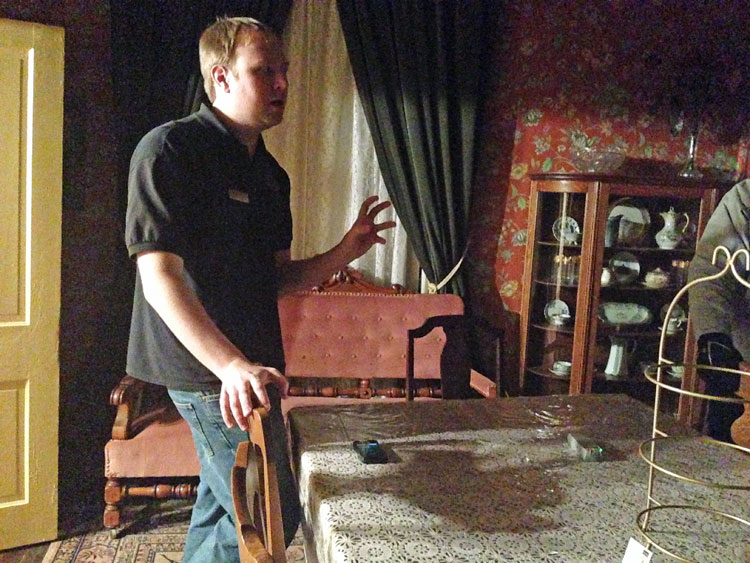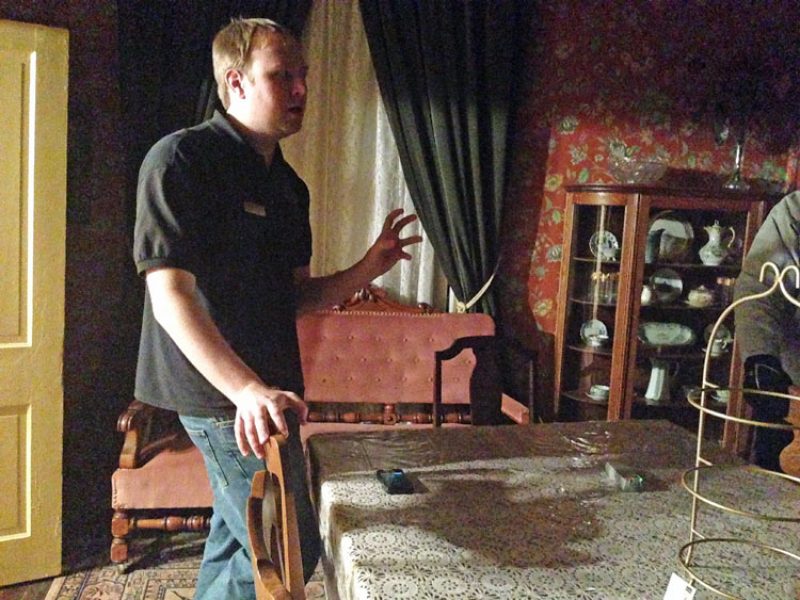 We entered the bedroom of Katie Briggle – one of of Breck's leading ladies in the late 1800s – who often entertained fellow socialites with teas and music concerts in her parlor. There was a single, soft light in the corner of the room and a creepy doll on the bed. It may have been the weather, but I felt a shiver go down my spine. I grabbed onto my husband's arm.
We moved further into the house. It smelled old – that damp, musty smell that seems to accompany antiques. It is said that Katie loved Breckenridge, was proud of her home, and simply does not want to leave.
Trevor told us the story of paranormal investigations where flashlights had been flipped on and off by her spirit. And the time a tour guide and her participants witnessed a can fly off the shelf when she reached into the root cellar to turn on the light.
My husband and daughter immediately moved into the pantry and root cellar to investigate. Adequately spooked, I stayed away.
Trevor shared a few more stories of the Briggle home and we heard the ghost app announce words periodically. Peter. Ball. Rice. Motor.
After "article," none of the words directly related to me, though my mind raced as I tried to find some connection. It's easy to become susceptible to suggestion when you're feeling nervous. We all got excited when a new word came out.
I'm not often scared by ghost stories. But something about the Briggle house set me on edge and I was ready to get out.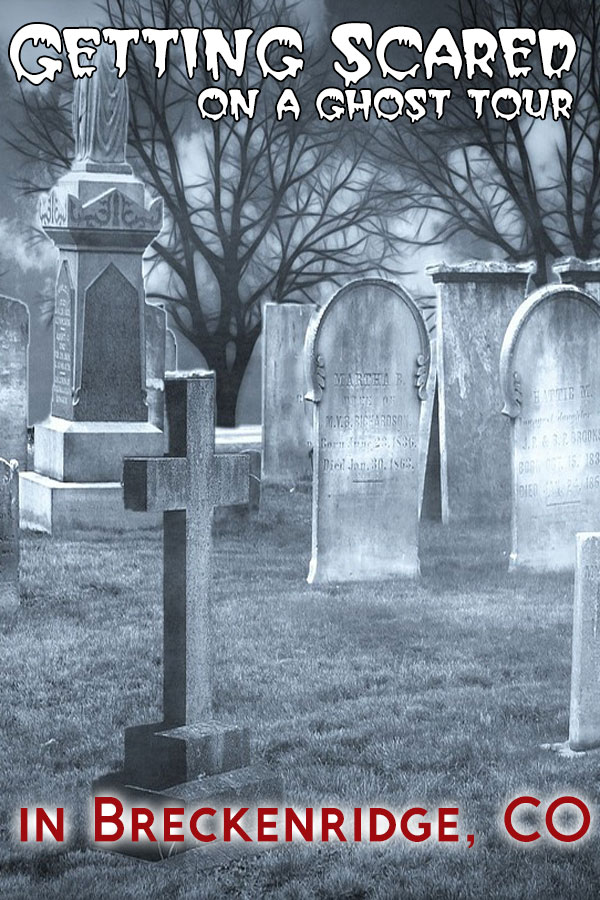 More Ghost Tour Experiences
Ghost tours offer an engaging way to tour a city, learn about its history, and feel the shivers from a creepy story. I've taken several ghost tours, though none have really given me shivers the way the Breckenridge ghost tour did.
A ghost tour in Philadelphia served up some entertaining stories about Leo Callahan, the only prisoner to escape from Eastern State Penitentiary and never be captured. And there were stories about Edgar Allen Poe, who used to reside in the city of Brotherly Love.
Educational, sure. But scary? No.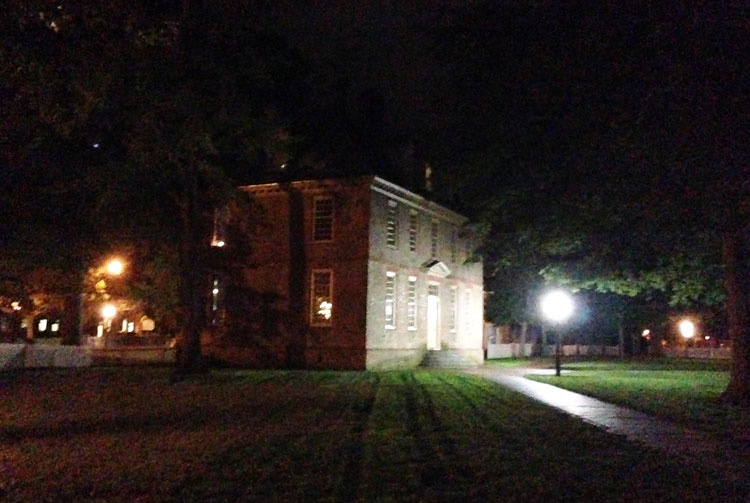 In Colonial Williamsburg, Va., the Tavern Ghost Tour and Ghosts of Williamsburg tour offered similar experiences. We heard some fine tales, learned some history, and maybe got a little spooked – if only because the living history streets of Colonial Williamsburg are quieter, darker, and emptier at night than in a typical city.
I had high hopes for our ghost tour in New Orleans, but we made the mistake of taking a daytime tour. It's definitely harder to be scared on a sunny, sweltering day. Our tour guide was passionate though, spinning gruesome tales of voodoo, murder, and the Rugarou – a werewolf-type creature whose stories are legendary in the NOLA area.
The guide even had her own personal experience with the Rugarou. She was riding her bike late one night and saw a strange animal-like figure running in the distance. She was sure it was the Rugarou… until she heard that a llama had escaped a farm in the area. Still, she wasn't 100% convinced.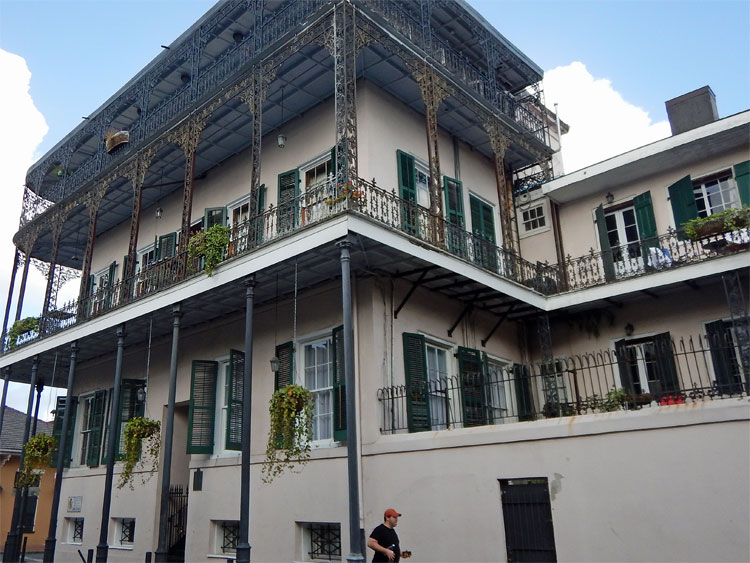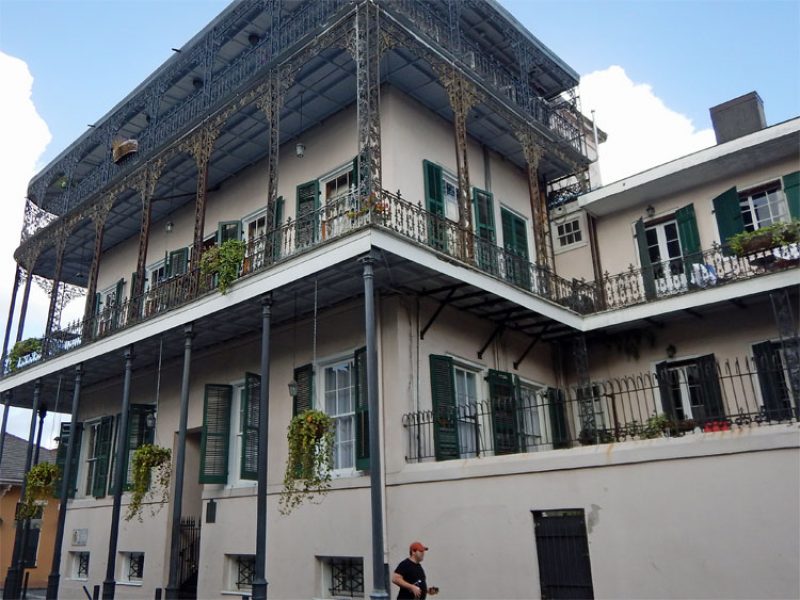 It's difficult to know whether or not a ghost tour is going to scare you, but it will definitely entertain and inform you. Go in with low expectations – you know you'll learn about history and hear some intriguing stories. And maybe – just maybe – you'll get a good fright.