When you enter the Hershey Lodge in Hershey, Penn., it's the smell of chocolate that hits your first. Then you'll notice the cozy wood and stone decor of the lobby, with families gathered around the fireplace in comfortable chairs, playing cards and eating treats.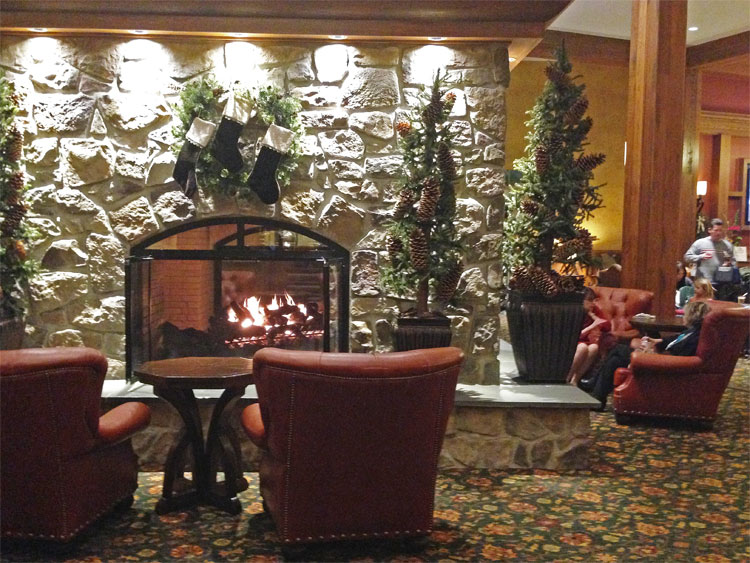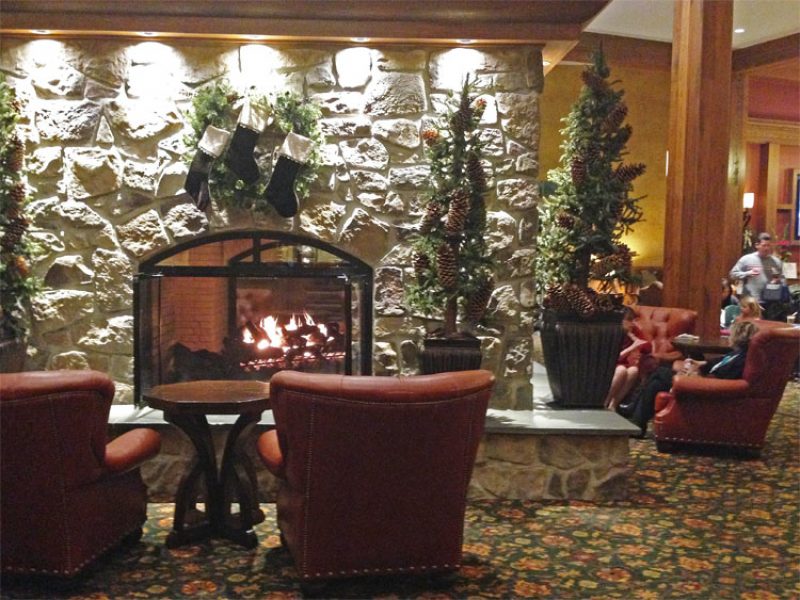 Hershey Lodge goes all-in with its chocolate theme. As it should be in "The Sweetest Place on Earth." If the bedside chocolate kisses and cocoa-infused shampoo and conditioner don't delight you, surely the specialty desserts and chocolate martinis will.
Checking in was a breeze and we were met with smiling, helpful faces every step of the way. Hershey's Kids' Check-in (available seasonally) is a unique feature that gives kids special treatment upon check-in. Kids get to sign the "Kids at Hershey Lodge" guest book, participate in a Hershey's candy guessing game, and receive a chocolate surprise.
Kisses for Everyone at Hershey Lodge
We found our room and were greeted with Kisses on our pillows and bedside table.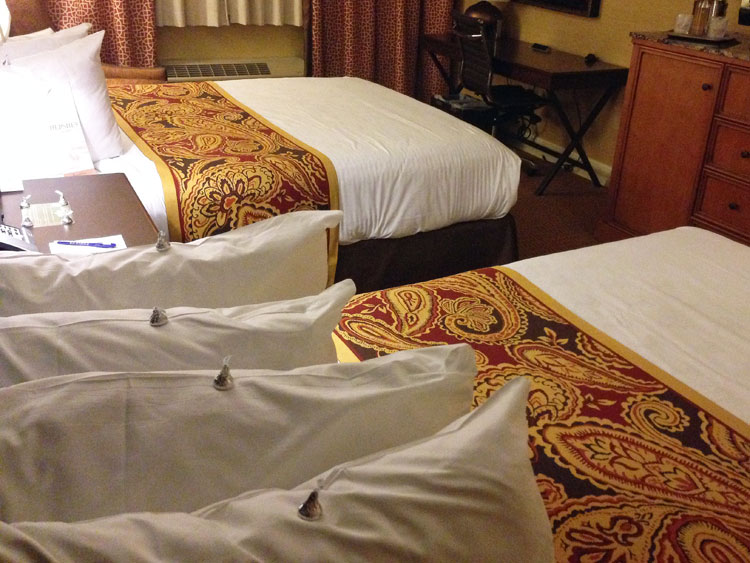 In the bathroom we found more Kisses on the wallpaper and imprinted in the soap. And the cocoa-infused shampoo, conditioner, and lotion made me feel like I was bathing in fudge – in a good way.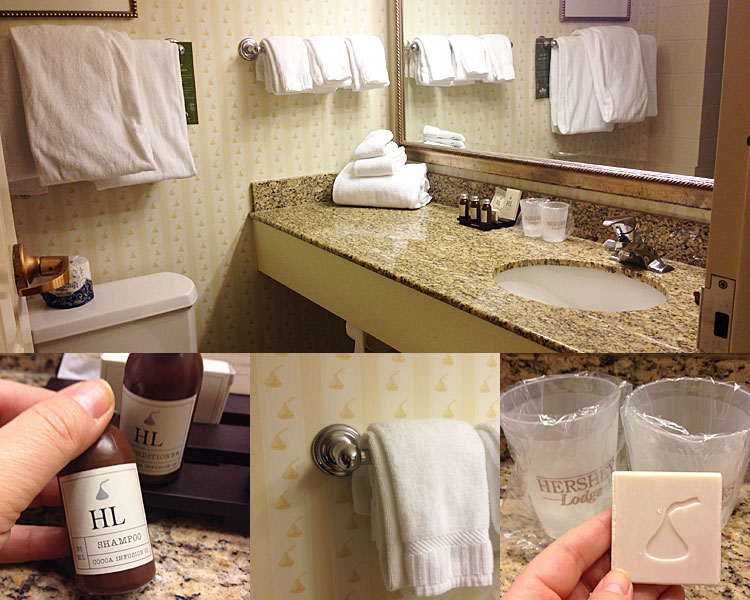 The room was tastefully decorated in chocolatey-brown, gold, and burgundy and was just the right size. We had two queen beds, a lounge chair, desk, dresser, TV, safe, mini fridge, coffee maker and luggage rack.
Hershey is a small town that's easy to get around and Hershey Lodge is in a perfect location just minutes from all the attractions, mainly Hersheypark. We could see the roller coasters from our room! Check out these tips for visiting Hersheypark with kids.
There is a free shuttle around town, but we had no trouble finding our way or a place to park. We visited in November though, so the shuttle is probably helpful during the peak summer season.
The Lodge offers everything you need for a family vacation: two outdoor pools, an indoor pool, exercise room, arcade, mini golf, basketball court, tennis court and free wifi.
Where to Eat at the Hershey Lodge
When it's time to eat, Hershey Lodge has several on-site options. The Bears' Den and Hershey Grill are great options for lunch or dinner with the family. The Cocoa Beanery is open all day for coffee, baked goods, soups and sandwiches. If you're looking for gourmet, The Forebay is your choice.
Because it was Sunday, we chose the sports bar, The Bears' Den, so my son and I could keep an eye on our fantasy football players. As we were seated, my son chose the chair facing the enormous 7′ by 12′ display. He was in heaven.
And I was in heaven trying out some of the delicious chocolate martini recipes – the Peppermint Patty was my favorite. We gobbled down nachos for an appetizer and savored steaks for dinner. We skipped dessert because the kids were anxious to visit the gift shop/candy store. They stocked up on mix-n-match peanut butter cups and kisses and we headed back to our room.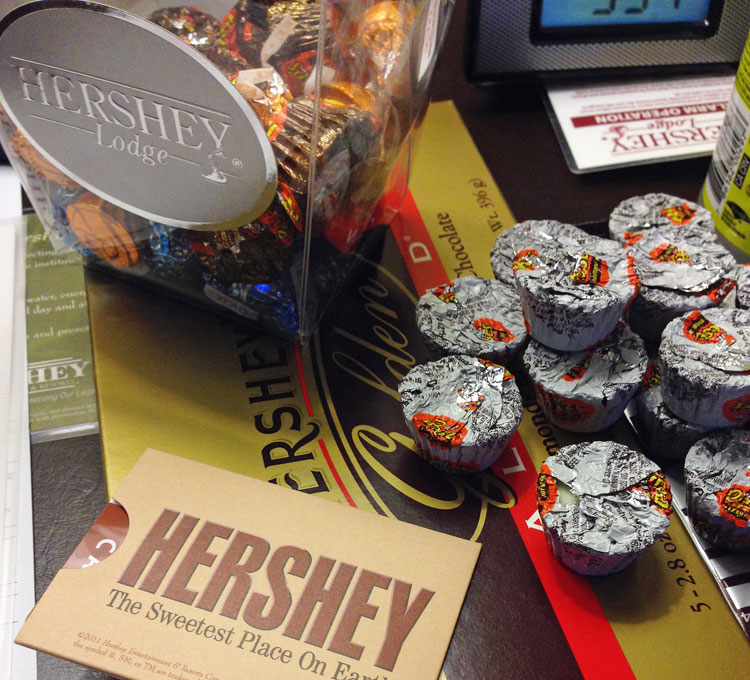 Our room was blissfully quiet and I have to mention the perfection of the heating/cooling system. I like a little white noise when I sleep and always appreciate when I can keep "fan mode" on without it getting too hot or too cold in the room. At Hershey Lodge, the consistent temperature and humming of the fan helped us all get a solid nights sleep.
Before we checked out in the morning, we fueled up on coffee, hot cocoa, and chocolate croissants at The Cocoa Beanery. Oh, and I also bought full-size bottles of that cocoa-infused shampoo and conditioner. My daughter promised not to argue with me about washing her hair if she could have that chocolate shampoo!
Looking for things to do in the Hershey-Harrisburg area? Check out these posts:
Disclosure: I was a guest of Hershey Lodge to facilitate this review. All opinions are my own.