During its run from 2009 to 2017, the hit TV series The Vampire Diaries filmed primarily in Covington, GA, about 30 minutes southeast of Atlanta. The show tells the story of Elena Gilbert (Nina Dobrev), a recently orphaned teenager who falls in love with Stefan Salvatore (Paul Wesley) and later his brother Damon (Ian Somerhalder) – both vampires. Teenage drama ensues and Elena comes to realize that her small home town of Mystic Falls is full of supernatural beings, including werewolves and witches.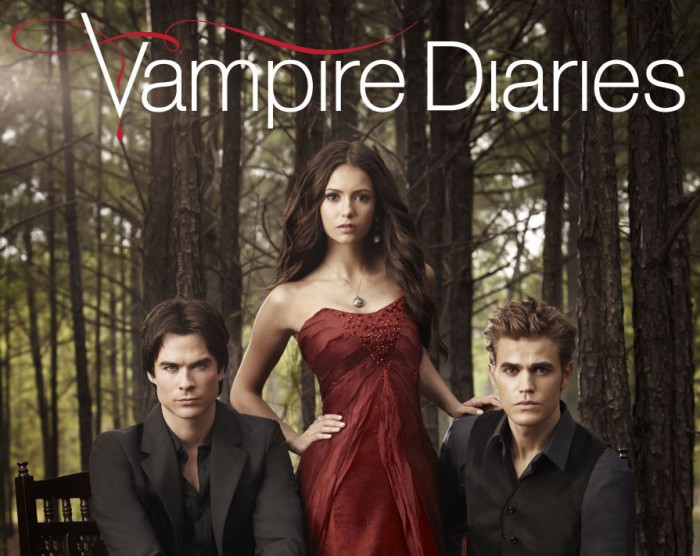 I'm a big fan of The Vampire Diaries, so of course I set out to find the filming locations. When TV shows and movies use real towns for a large part of their filming, it's great fun for fans to visit. Some real-life towns have been transformed into fandom destinations. They embrace the fans with local merchants offering tours, merchandise, and themed food. This is definitely the case in Covington, aka Mystic Falls, Virginia. (Senoia, GA is another fandom town if you're a fan of The Walking Dead!)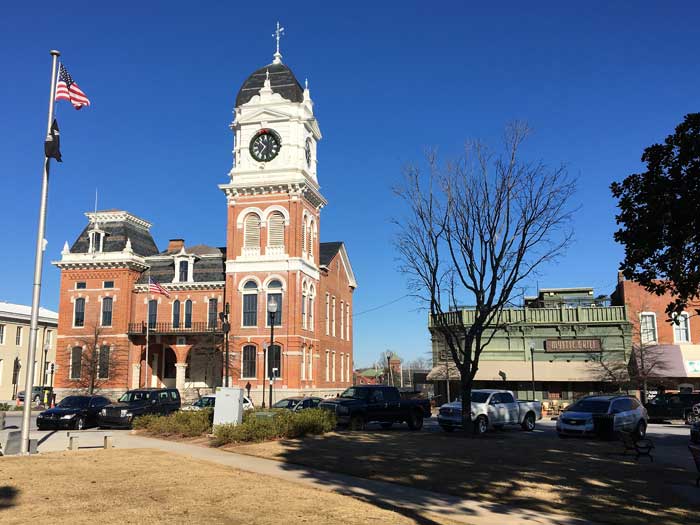 First Stop: The Clock Tower
When you arrive in Covington, you can't miss the famous clock tower where so many scenes from The Vampire Diaries were filmed. And right across the street is the Mystic Falls Town Square. Standing there, I could only think, "Ah, remember that Founder's Day celebration? The parade, the fireworks. And then all the vampires got vervained. That was a crazy year." Oh, wait, that didn't really happen. I just saw it on TV.
But the town feels so familiar that you imagine it really did happen.
Tour More Locations Where The Vampire Diaries Filmed
You can walk around the town square and maybe even find some of the other Vampire Diaries filming locations, but your best bet is to take a tour with Mystic Falls Tours. Jessica and her team are the authorities in all things Vampire Diaries – so much so that her business is called "Vampire Stalkers."
She got that nickname from hanging out in town and near the set while The Vampire Diaries was filming. Over the years, she has guided thousands of fans around "Mystic Falls," sharing her knowledge and little-known details of the show. And she is personal friends with many members of the cast. Cast members have even been known to take her tour!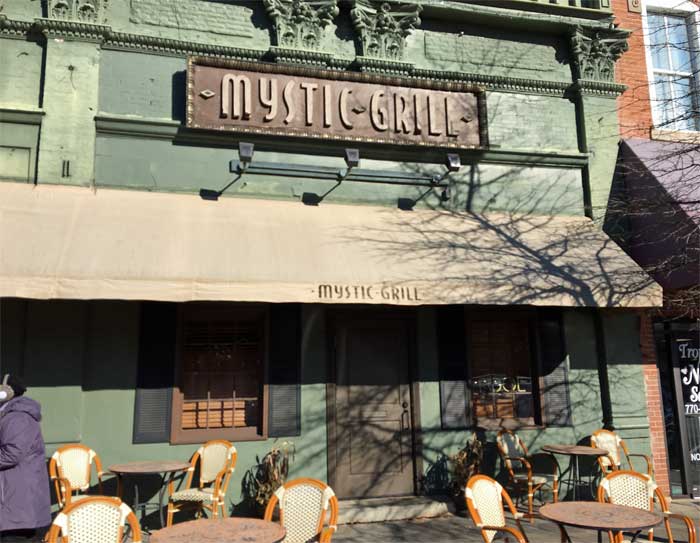 My daughter and I took their Vampire Diaries tour on a cold January morning. We started out in the town square and learned how they filmed those scenes where Elena and Damon were sitting at the top of the clock tower. We saw the Mystic Grill and several other buildings where scenes were filmed.
Next, we were given Vampire Stalkers flags for our cars and we followed Jessica to some awesome locations around town.
The cemetery: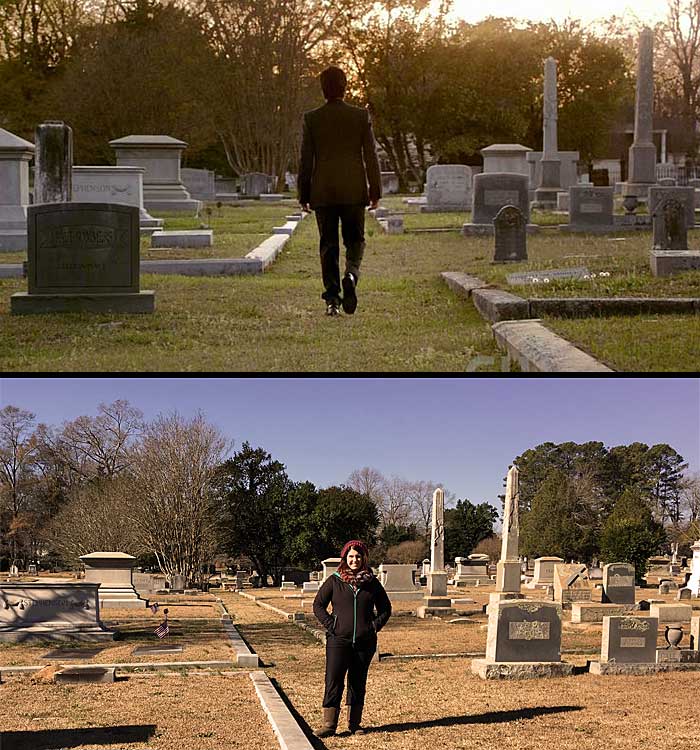 Elena's house: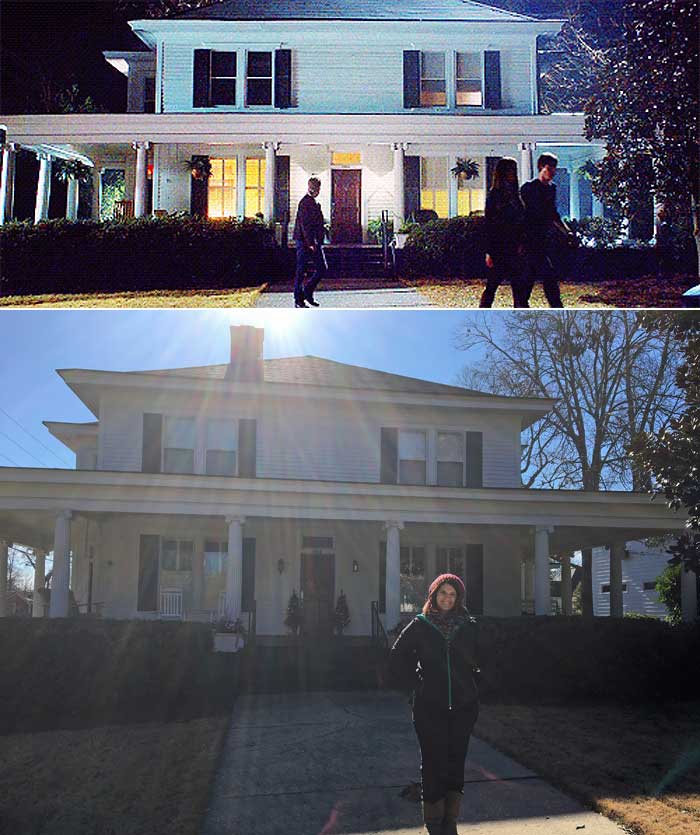 One of the best parts of the tour was our exclusive access to the Lockwood Mansion. Known as Worthington Manor, this is a historic home and private residence. Most fans can only peer in through the gate. Mystic Falls Tours is the only tour that brings you on to this gorgeous property.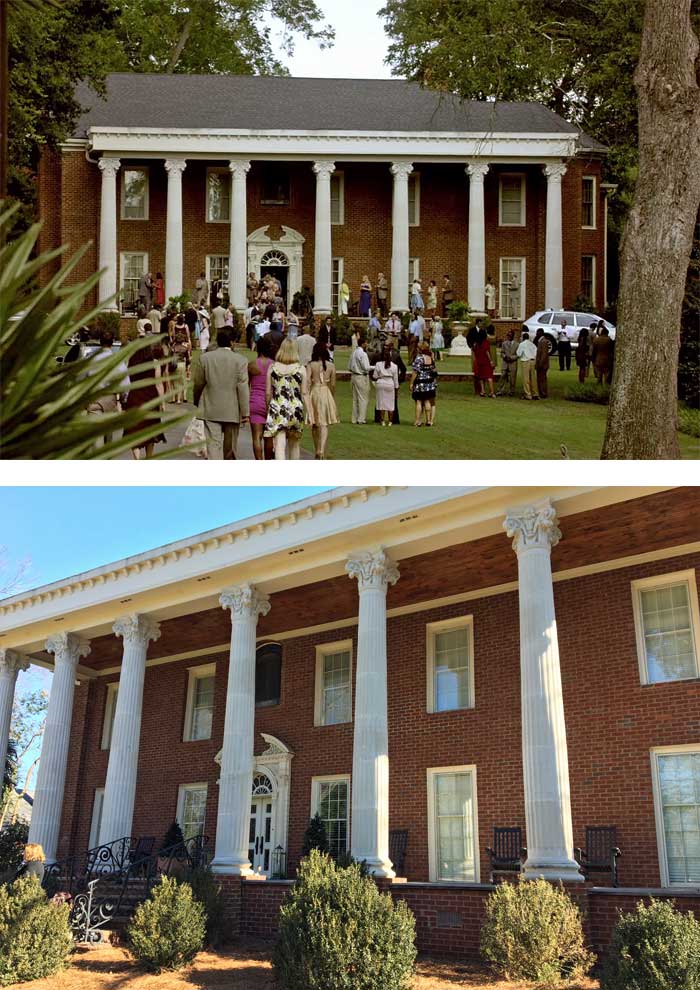 The Lockwood Mansion was the site of Caroline and Stefan's wedding, as well as many, many other scenes over the years of filming. My photo below was taken from a different angle, but we are standing right at the top of the steps where Caroline walked down.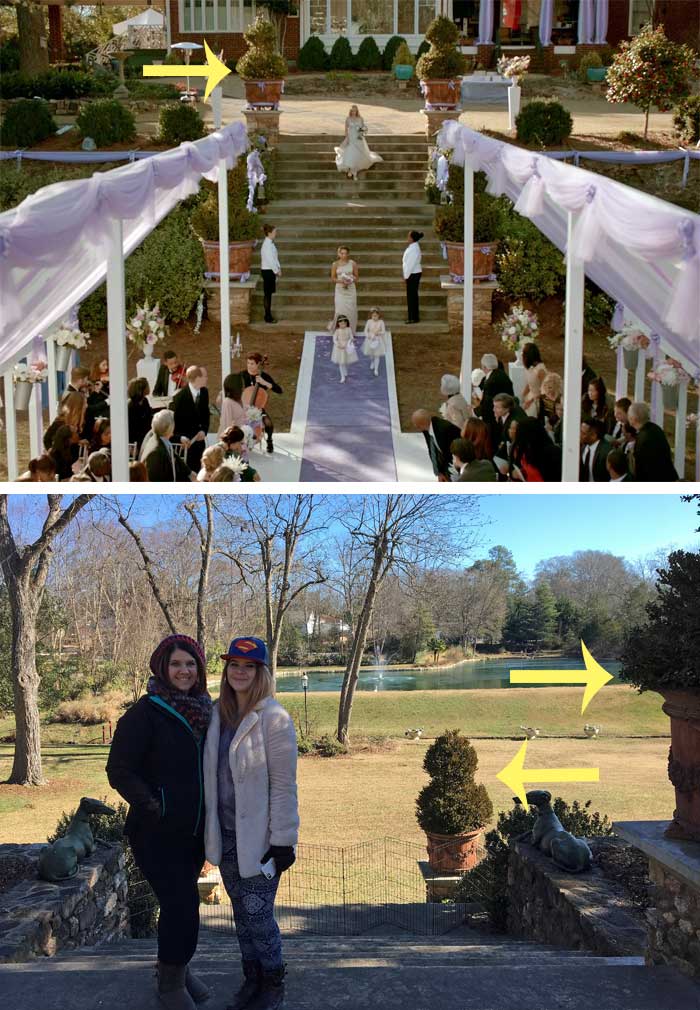 It was a pleasure to explore the picturesque yard, meet the owner, and see some of the memorabilia he has. We got to enter a small side building that is like a mini-museum of Vampire Diaries photos and collectibles.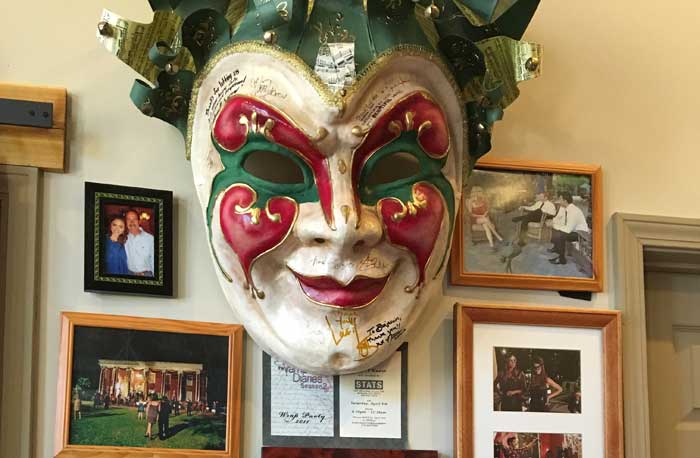 That's the homeowner in the photo with Hayley (Phoebe Tonkin). Look closely and you can make out Nina Dobrev's autograph over the eye on the mask!
Don't Forget About the Vampire Shopping
After your tour, be sure to shop in the Vampire Stalkers gift shop. In addition to T-shirts and all sorts of fan merch, you need to check out their cast autograph wall and some really cool props from the show.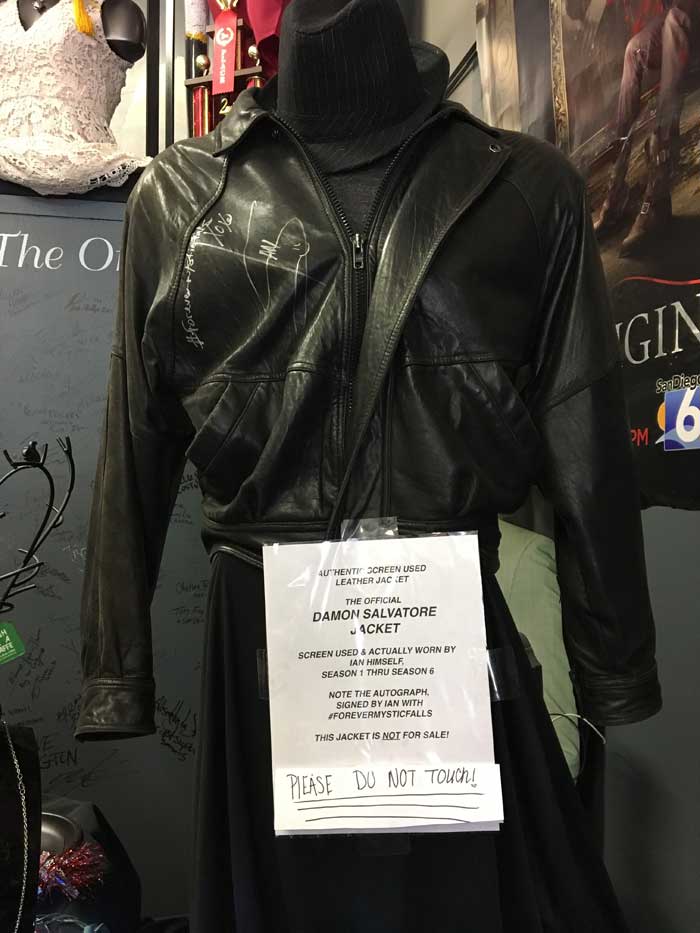 Who wouldn't love this awesome jacket that Damon wore – autographed by Ian himself! Sorry, it's not for sale. Can't blame Jess, I would never part with that prop either.
Vampire Stalkers/Mystic Falls Tours also offers filming location tours for The Vampire Diaries' spin-off show, The Originals, and they'll soon offer tours for the newest show, Legacies.
After you've had your fill of vampire fun, check out the "Hollywood of the South" museum down the street from the Vampire Stalkers shop. So many TV shows and movies have been filmed in the area and this museum is a tribute with props, fun facts, and costumes you can even try on and take selfies in!
Where to Eat on Your Visit to Mystic Falls
Mystic Grill: It doesn't look the same inside (interior scenes were shot on a sound stage), and Matt won't be your server, but it's still really fun to enjoy lunch or dinner at the Mystic Grill. They serve southern favorites like fried green tomatoes and shrimp & grits, along with classics like burgers, steaks, chicken, fish and salads.
Bradley's BBQ: Casual dining, inexpensive, and delicious BBQ. If you order a sandwich, ask them to "vamp it up!"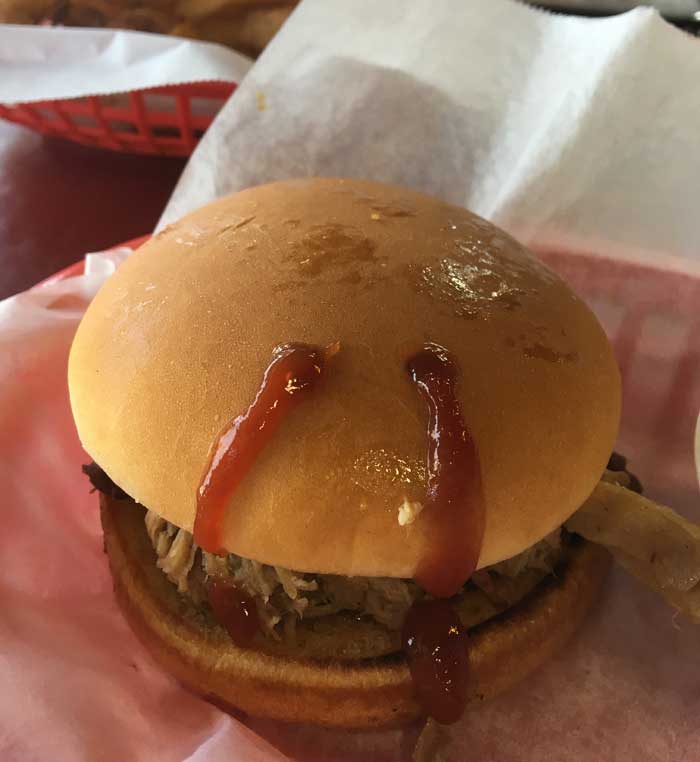 Scoops: This ice cream shop is reportedly a favorite of the cast and I can see why. They serve up some yummy ice cream and unique flavors, along with a wide selection of candy, baked goods and coffees. It's been said that Birthday Cake is Kat Graham's (Bonnie) favorite flavor and Banana Pudding is Ian Somerhalder's (Damon).
Are you a fan of Stranger Things? Check out my Stranger Things road trip to filming locations!
On August 1st, I'll be visiting Covington to celebrate the final episode "The Originals!" I'll be meeting some cast members and enjoying a Mardi Gras themed party hosted by Vampire Stalkers and Go Covington GA – Newton County Visitors Bureau! Click here for information. If you can't make it, follow along on my Instagram!