The Netflix original series Ozark is set in Lake of the Ozarks in Missouri. But if you're a huge fan like me, you have probably asked "where was Ozark filmed?"
Ozark is filmed in Georgia, a hotbed of filming activity due to the state's tax incentives. During my recent visit to the Atlanta area, I tracked down several Ozark filming locations that any fan can drive by and check out.
Read on for all the details, photos, and addresses so you can see for yourself where Ozark was filmed!
Spoiler warning: There are some spoilers in this post, so proceed at your own risk if you haven't watched Ozark seasons one through four.
Iconic Blue Cat Lodge Location
Probably the most iconic real-life location you can visit from Ozark is the Blue Cat Lodge. Now known as "JD's on the Lake," it's a real restaurant that's open to the public. It's located on Lake Allatoona at 6979 Bells Ferry Rd, Canton, Ga.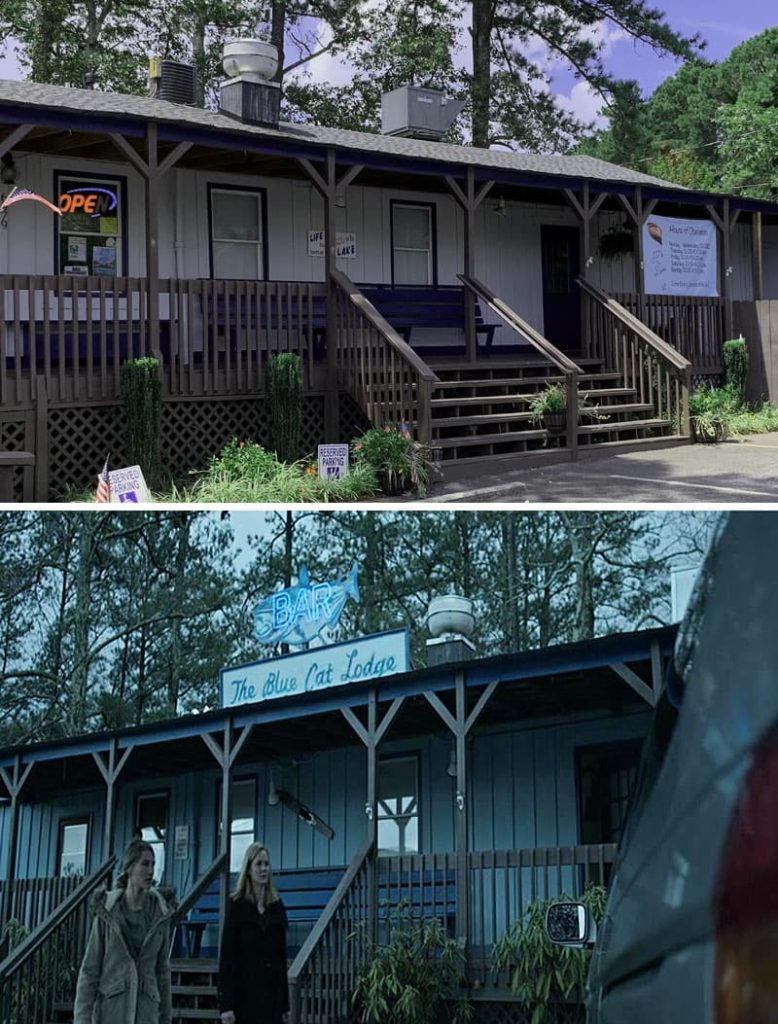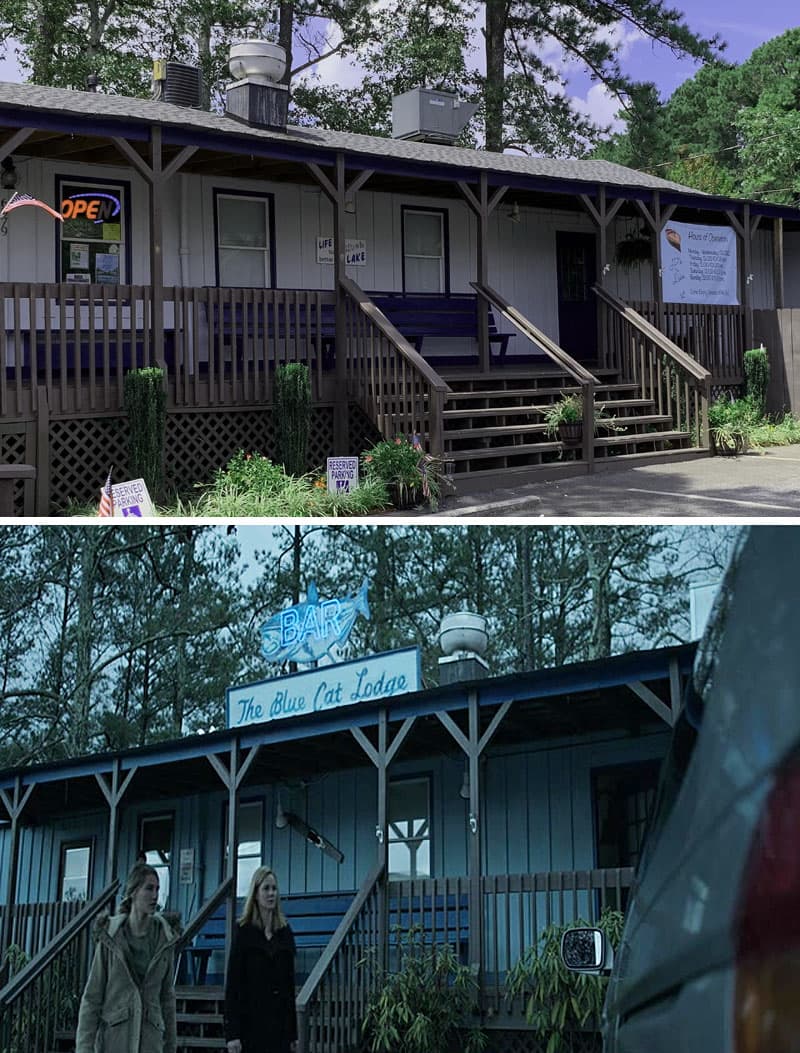 You will instantly recognize this lakeside restaurant and boat launch. The outdoor sign has been taken down, but step inside and you'll see they've kept the Blue Cat Lodge signage above the bar.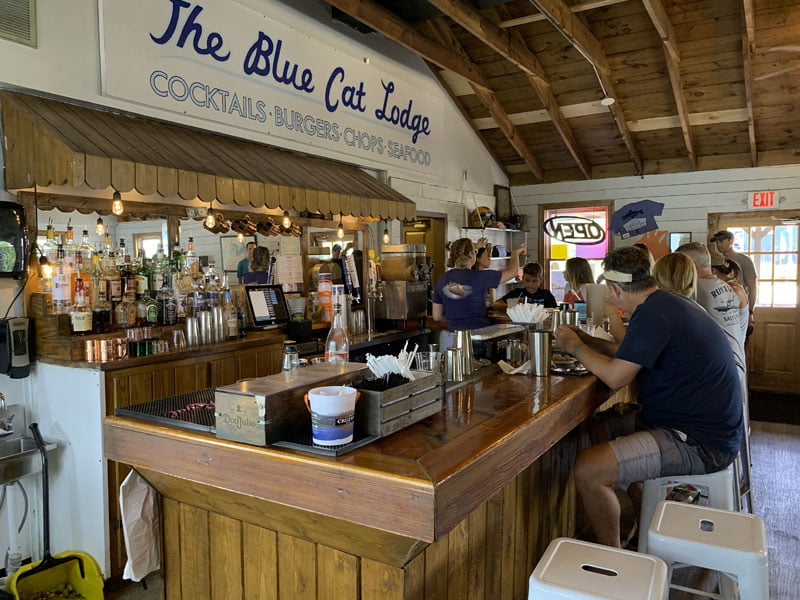 The interior looks the same as it does on TV. But like most filming locations, it seems a lot smaller and brighter in real life. Sadly, I only had a short time to visit and didn't have the chance to sample their food.
Outside you'll recognize the dock where boats came to fuel up at the Blue Cat. You won't find the cabins where Marty hid his money though. I learned that those cabins were built as sets and subsequently torn down.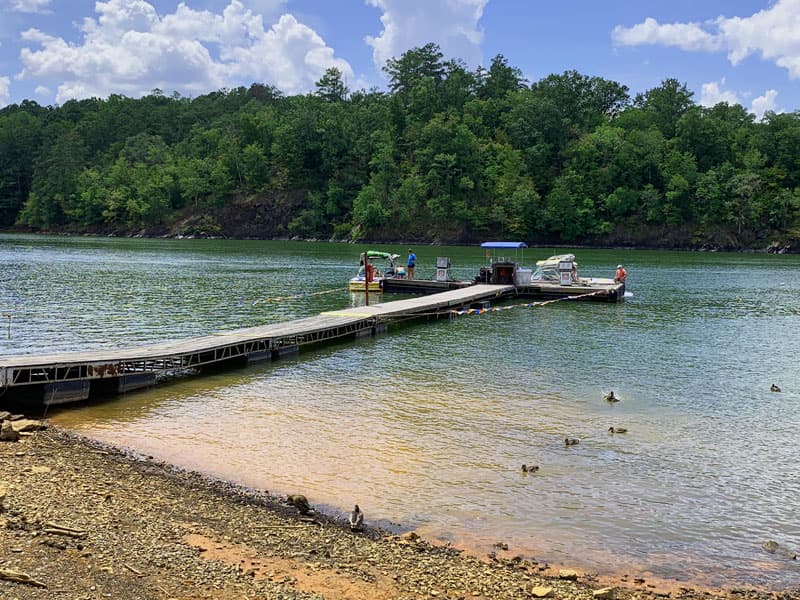 Little River Marina
Across the street from the Blue Cat Lodge is Little River Marina. This Ozark filming location is where several scenes were shot, including the scene when Marty buys the old boat to store his money, where Ruth tries to invest in the marina, and the dock scene where the Langmore brothers die.
This post contains affiliate links to products and services I recommend. I may make a commission, and there is no cost to you.
Stone Mountain Park
Another awesome Ozark filming location to check out is the Missouri Belle casino riverboat located at Stone Mountain Park. This location is featured prominently in Ozark season 3.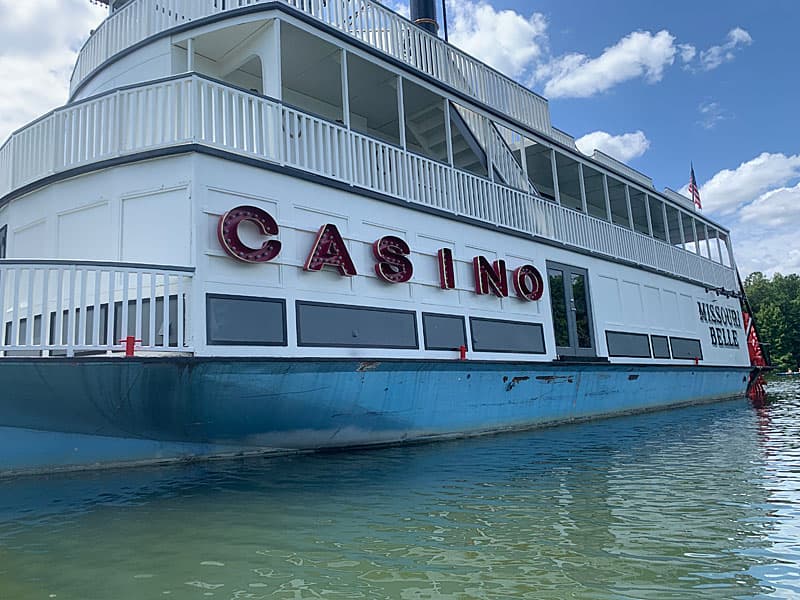 I had two different adventures at Stone Mountain Park and was able to see the riverboat from two different sides.
First, I went on a boating excursion with REI Boathouse. I hopped in a cool pedal kayak and set out to enjoy Stone Mountain Lake. As I rounded a corner, the casino boat came into view and I was shocked!
I was able to kayak right up next to the boat. Too bad there was no filming happening at that moment!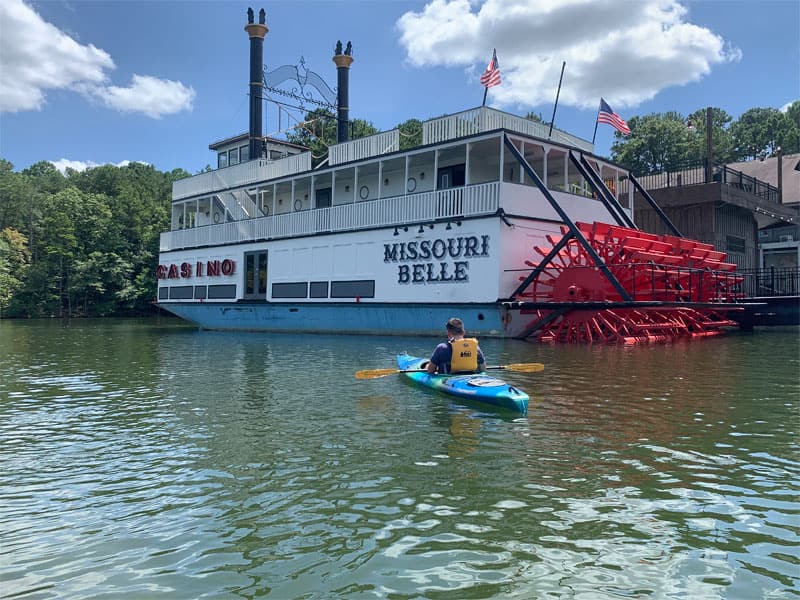 Later that day, I took an electric bike tour with Atlanta Adventure Tours. We biked right up to the "casino" entrance!
You could also drive by the Missouri Belle casino location at 1000 Robert E Lee Blvd, Stone Mountain, Ga.
This is a scene from Ozark season 3: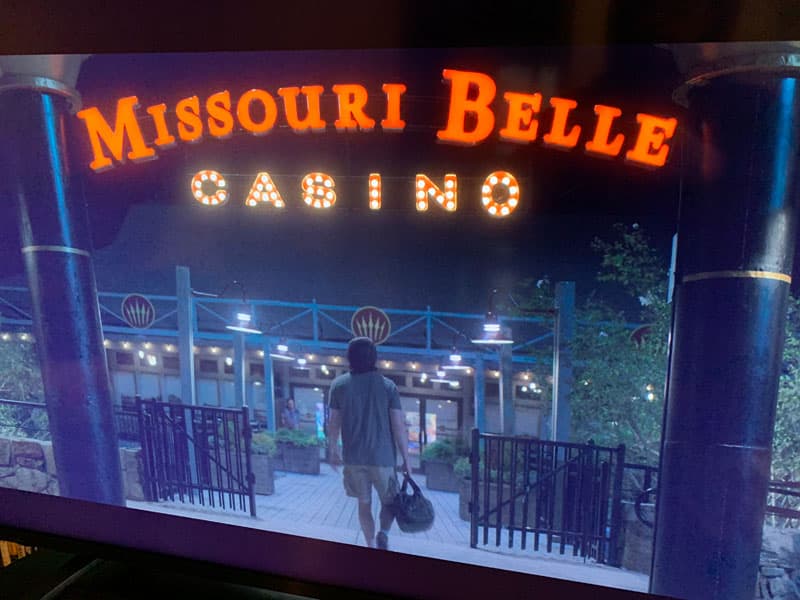 And here's me standing in the filming location: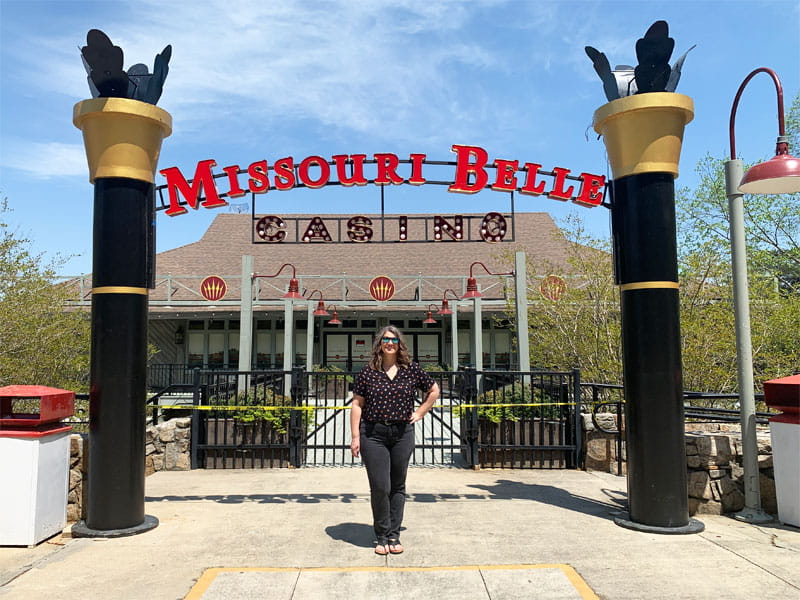 Please note that the boat could be moved or dismantled at any time. I certainly can't guarantee it will still be there when you visit.
But even if it's not, you can still enjoy a wonderful day hiking, biking, or kayaking at the park. And a LOT of filming goes on there, so who knows what you might see! Stranger Things, MacGyver, Raising Dion, and more have been filmed there recently. Keep your eye out for these yellow signs that indicate filming!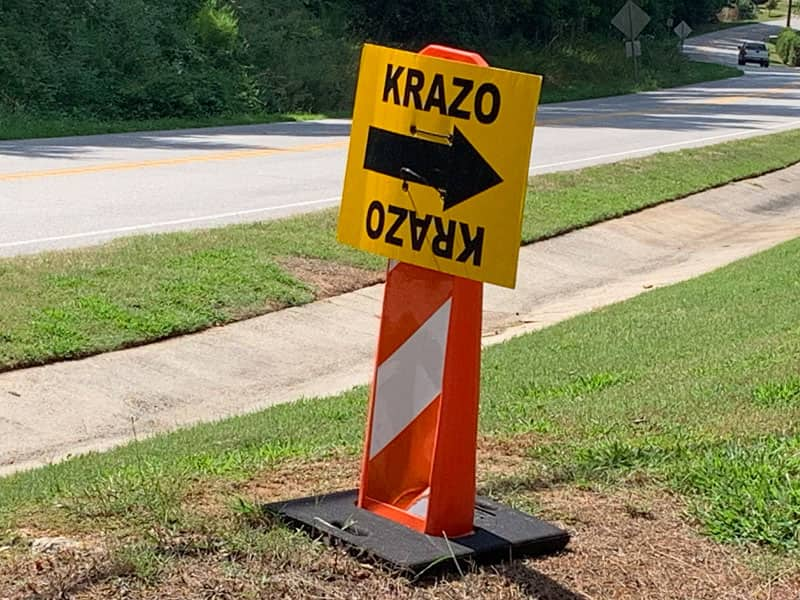 The Byrde's House
On another day, my family and I drove by the filming location for the Byrde's house, and filming was actually going on! It was very exciting, with several black vans, big trucks full of equipment, and security camped all around the property.
We slowed to a crawl as we drove by the house and saw a white tent in the front yard and a cherry-picker-type truck that looked to be hoisting some lights. There were a lot of people around but I couldn't get close enough to see any faces or recognize any actors.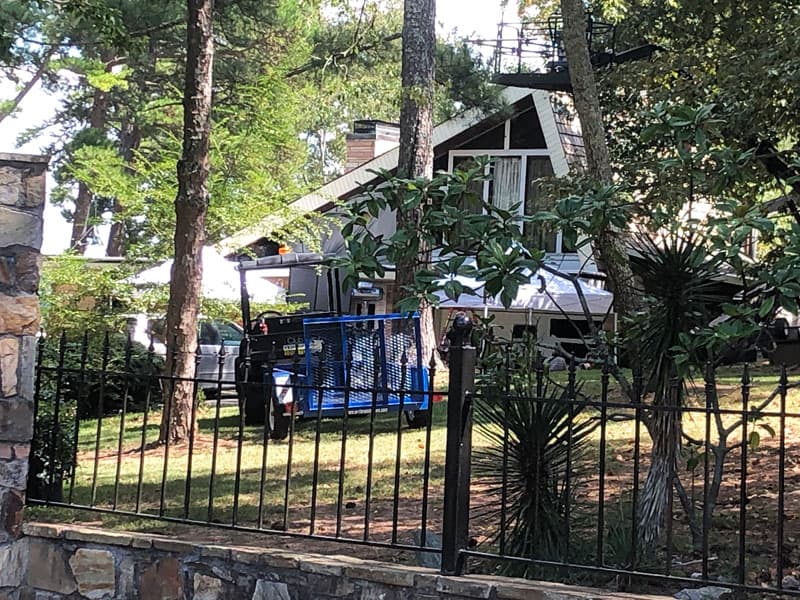 A police officer was parked on the side of the road in front of the house. With all the activity, there really wasn't a place to park and get out to take photos, so I snapped some from the car and drove on.
If you visit when filming is not happening, it would be easy to park on the side of the road and get some great photos of the Byrde's house.
We continued up the road, looking for a place to turn around, and ended up in a parking area for Van Pugh North Park. This is a campground and recreation area that's right across the water from the Byrde's dock.
We made our way down a hill through the trees so we could get a better look at the dock. I felt very stealthy, even though there were people sitting on the dock, guarding it. I know they saw and heard us in the woods!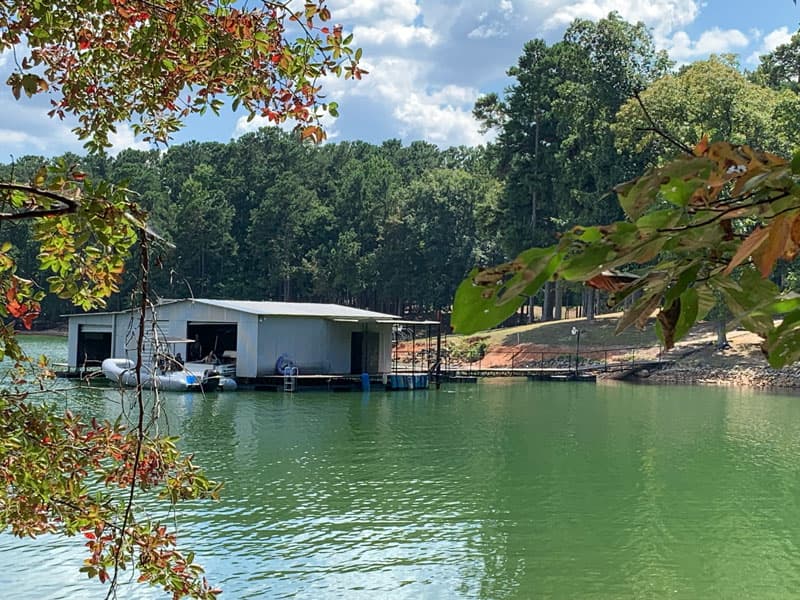 For some reason, Google maps does not show an actual address for this house. But if you point your GPS to 6802 Gaines Ferry Rd., Flowery Branch, Ga., and drive just a little further, you'll see the Byrde's house on your right.
Ben & Wendy's Restaurant
The restaurant where Wendy left Ben is open for business! It's called JR's Log House and it's located at 6601 Peachtree Industrial Boulevard, Norcross, GA.

Omar Navarro's Mansion
Navarro's mansion is actually a stunning mausoleum in Westview Cemetery at 1680 Westview Drive SW, Atlanta, GA. The grounds and architecture are beautiful and the location is so recognizable!


Definitely add this to your list of Ozark filming locations to visit!
Sue's House
The Byrde's spend some time in marriage counseling at Sue's house… but not for long.
You can drive by Sue's house at 119 Little Ridge Rd NW, Duluth, Georgia.

Where is the Lazy-O Motel?
The Lazy-O Motel is featured in season one and again in season four. You can check out the motel and pool where Ruth, Wyatt, Three, and the Byrde's all swam!

There is a bit of movie magic happening in filming the Lazy-O Motel scenes. The pool is attached to America's Best Suites & Value Inn at 1297 Dogwood Drive SE in Conyers, GA. But the motel is a run-down building across the parking lot.
I wasn't able to access the pool to get the right angle for a photo, but I did get up to the fence and you can see the motel in the background. Too bad that big truck was there!

Jones Bridge Park
Jones Bridge Park, located at 4901 East Jones Bridge Road, Peachtree Corners, Ga., was the setting for most of the fly fishing scenes in Ozark. This is where Jonah meets Tuck in season one.
It's also where Russ and Agent Petty went fly fishing. And it's probably where Petty meets his end… though I have not been able to confirm that detail.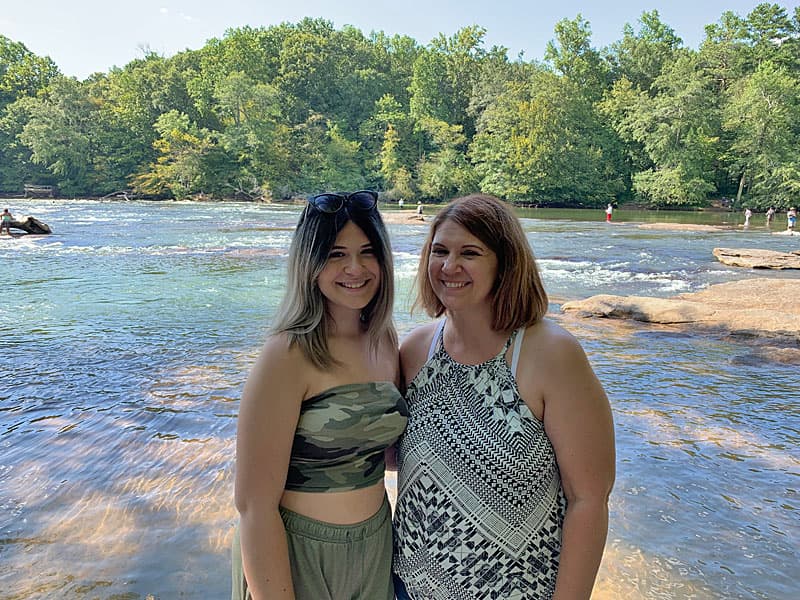 The park is on the Chattahoochee River, famous from Deliverance, and it's a beautiful spot to hike, fish, picnic, or just dip your feet in the water.
Not sure it's good for swimming though – the water was freezing when we visited in late August! I've read that the water temperature is typically between 50 and 60 degrees.
Ozark stars Jason Bateman, Laura Linney, and Julia Garner. Seasons one through four (part 1) are now streaming on Netflix. It has been confirmed that the fourth season is the last for Ozark and it will be split into two parts with seven episodes each.
If you're an Ozark uber-fan, please join my Ozark's Dirty Laundry Facebook group!
Interested in more filming locations in Georgia? Check out these posts on Stranger Things, The Walking Dead, and The Vampire Diaries (and its spin-off, Legacies). I've also got advice on where to stay in Atlanta to tour filming locations.