When you really, really love a TV show or movie, there's nothing quite as exciting as seeing where it's filmed. And while a lot of shows are filmed in closed studios, fans can experience many Walking Dead filming locations up close and personal in the charming town of Senoia, Georgia.
I'm a huge fan of The Walking Dead and have visited Senoia (pronounced seh-NOY – get it right so you don't sound like a noob!) four times. The tiny town has embraced its TV fame and offers fans lots of opportunities to geek out.
Here are some key points you need to know about finding Walking Dead filming locations, taking Walking Dead tours, and maybe even spotting celebrities!
Tips for Visiting Walking Dead Filming Locations
Are the filming locations hard to find? When you drive into the town of Senoia, you are literally in Woodbury (Season 3). Drive around the corner and across the railroad tracks (the tracks to Terminus, Seasons 4-5) and you'll run right into Alexandria (Seasons 5-8). While the scenery is very recognizable, you'll want to take a tour to learn all the details you can't discover on your own. The tour guides are full of exciting stories and insider information – and some have even played Walkers and extras on the show! See below for my tour recommendations.
How much time do you need to visit Walking Dead filming locations? I recommend at least a full day in Senoia to take a tour and visit the shops, restaurants and museum. If you're a super fan, stay two or three days, take two (or more!) tours, and hang out at Senoia Coffee and Cafe (aka the Woodbury Coffee House) where you might catch a celebrity stopping in for their latte!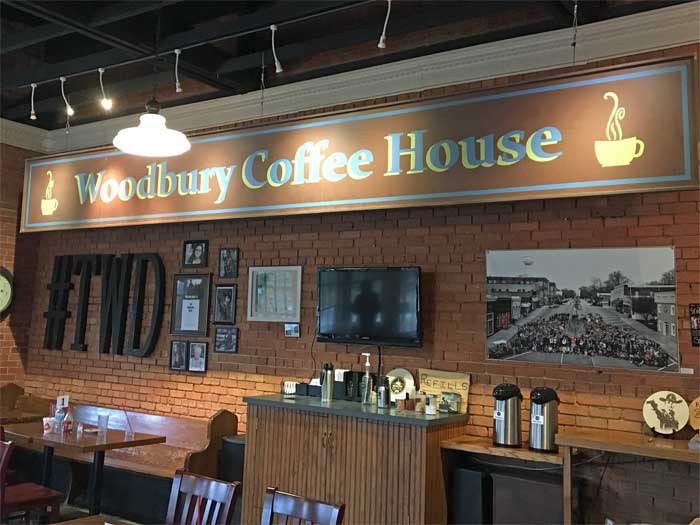 Where should you eat? Definitely don't miss Nic & Norman's! This restaurant is owned by Greg Nicotero (director and makeup effects creator) and Norman Reedus (Daryl Dixon). Inside you'll find Norman's photography on the walls and you never know who you might run into at the bar! I also recommend Senoia Coffee and Cafe for lunch. The Walking Dead Cafe, while definitely more touristy in nature, serves up excellent coffee and snacks and is attached to The Walking Dead Store and Museum.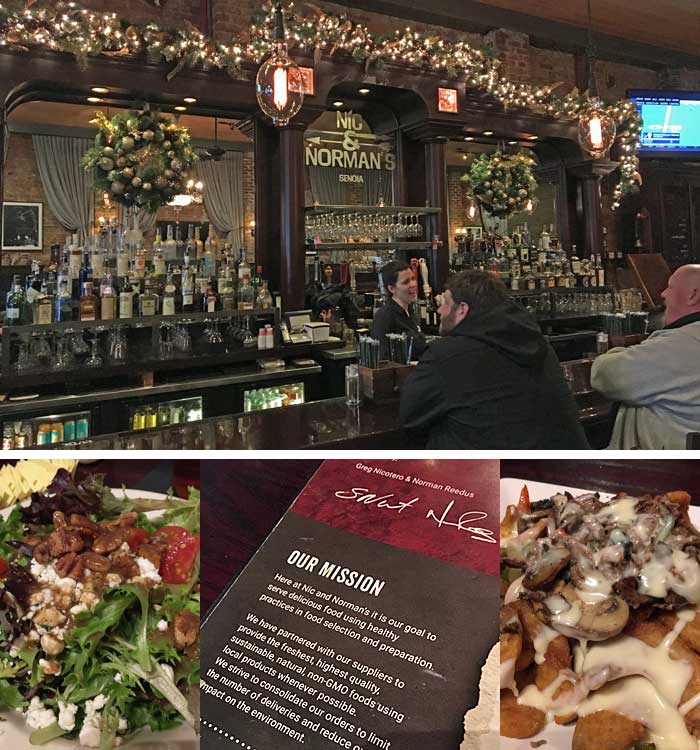 Where can you stay? Atlanta is only 45 minutes from Senoia, so it's an easy drive if you are already in Atlanta for other reasons. But you can also stay right in Senoia at the lovely Veranda Historic Bed & Breakfast Inn. There are also a number of chain hotels in nearby Peachtree City.
Walking Dead Tours with the Georgia Tour Company
I've toured twice with the Georgia Tour Company and loved it both times. Their tour guides dress up as characters from the show. My first tour was with "Senoia Rosita" and my second tour was with "Senoia Daryl."
The tour is about two hours long and you stroll slowly around the town, covering about two miles. I loved how the guides had their own stories of celebrity encounters. Senoia Rosita (Mara) was even an extra in several episodes in Season 8, so she's got stories to tell!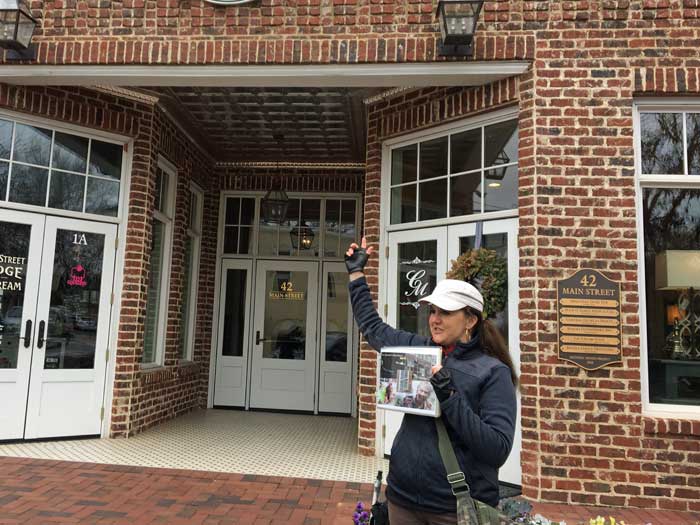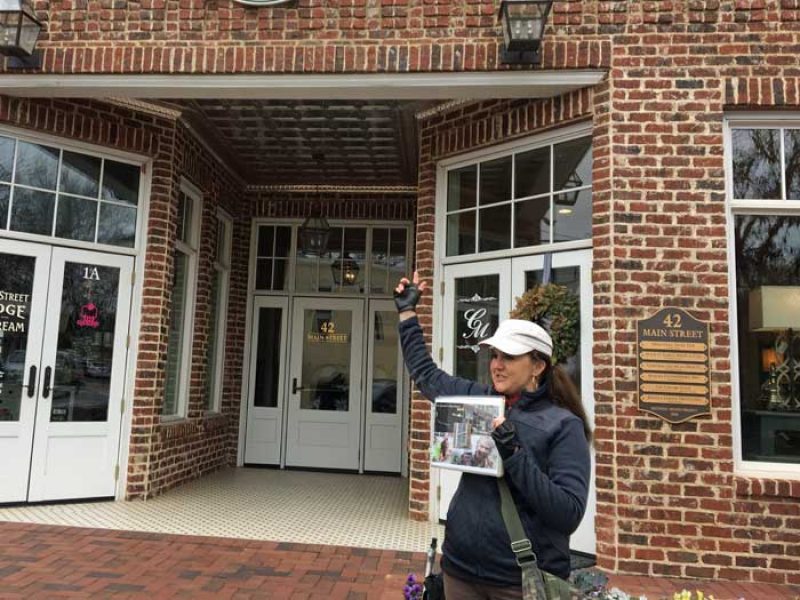 Here are some of the spots you'll see on your tour:
Alexandria Safe Zone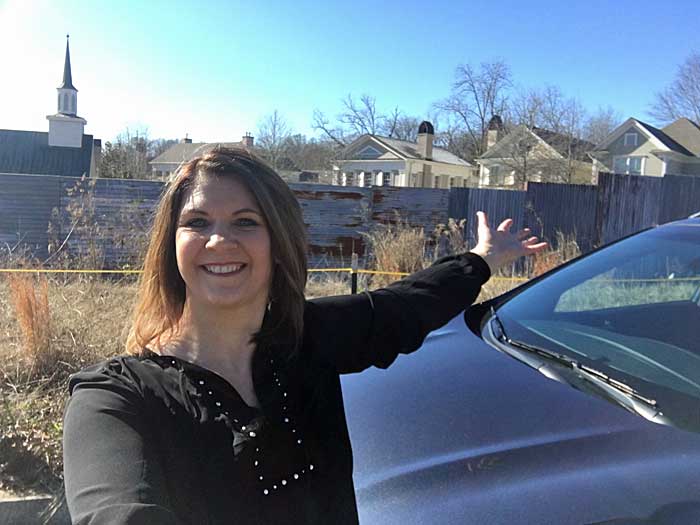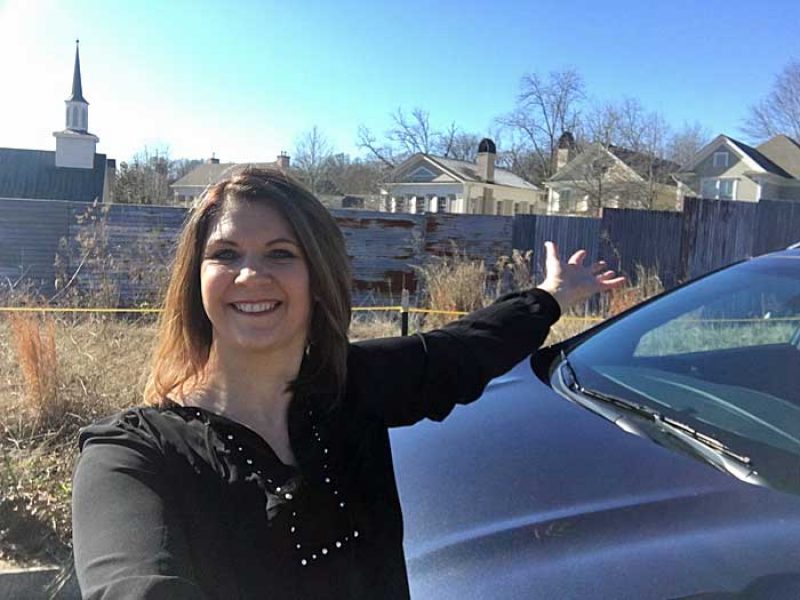 Woodbury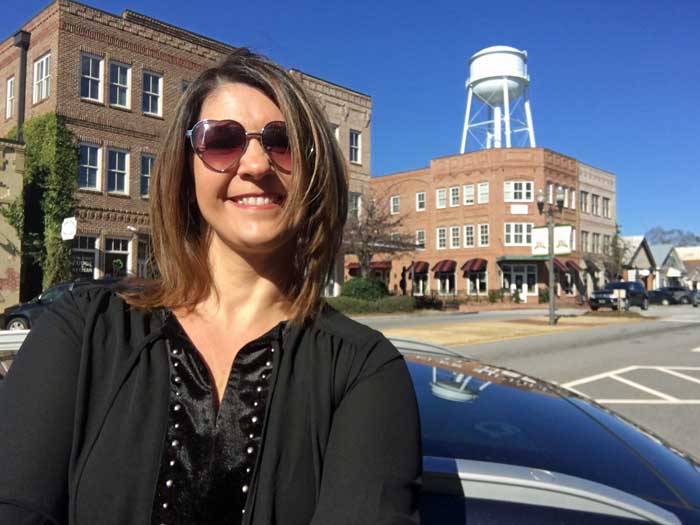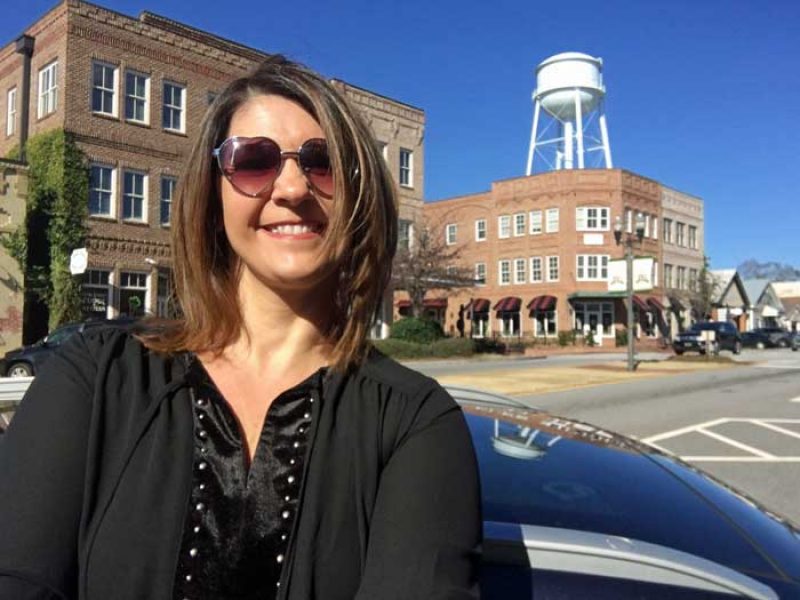 Enid's Wall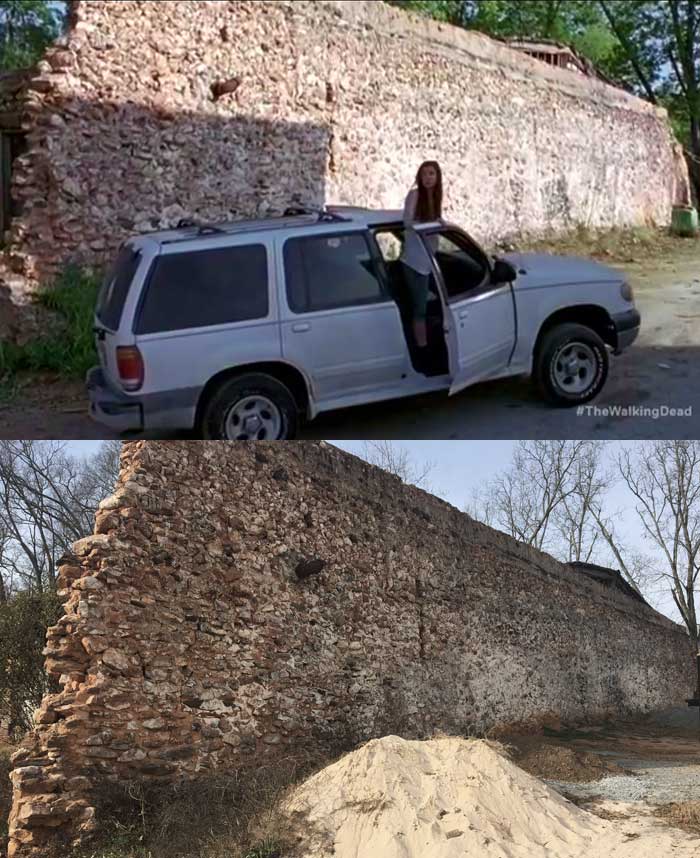 Pudding House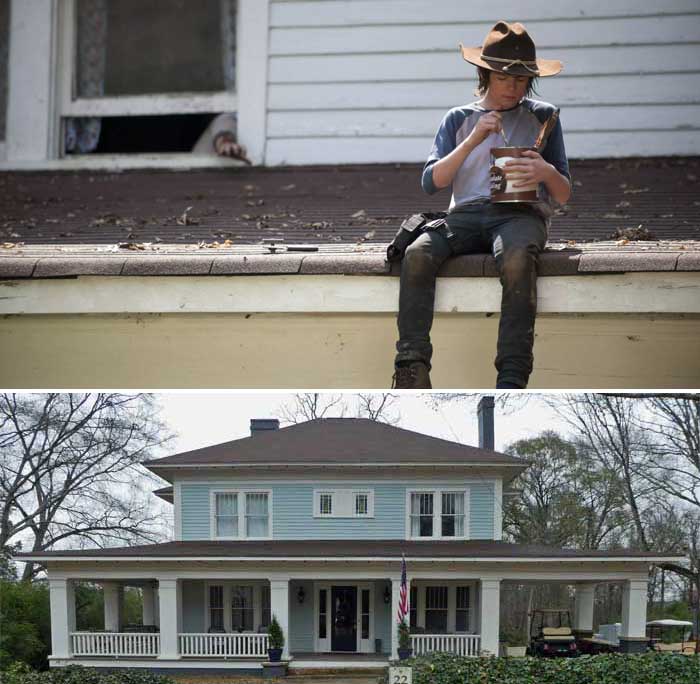 … and lots more!
The Georgia Tour Company has been offering tours since 2014 and estimates upwards of 15,000 people take their tour each year. Fans come from all over the world – it is commonplace for each guide to have an overseas guest at least once a week.
In addition to their walking tours, they have a tour called "Survive the Ride" that's offered two Saturdays per month. This interactive tour uses a professional fight cast and trained cosplayers. Guests get "kidnapped" by the bad guys, rescued by the good guys, and visit some amazing, exclusive locations. Included in the cost of the tour is a stop for lunch in Woodbury, as well as a souvenir green screen photo with cosplayers – which is always SUPER FUN.
You start and end your tour at the Georgia Mercantile Company – a delightful store full of local gifts, foods, and souvenirs. And the building was used for filming an "Oceanside" scene in Season 7!
And don't miss the Walking Dead Store – right next to the Walking Dead Cafe. Downstairs you'll find the Walking Dead Museum and the photo studio of Chris Twellman, aka the German Abraham, who is a dead ringer for Abraham! Stop in and take an iconic photo with the German Abraham and sometimes other cosplayers are there, too.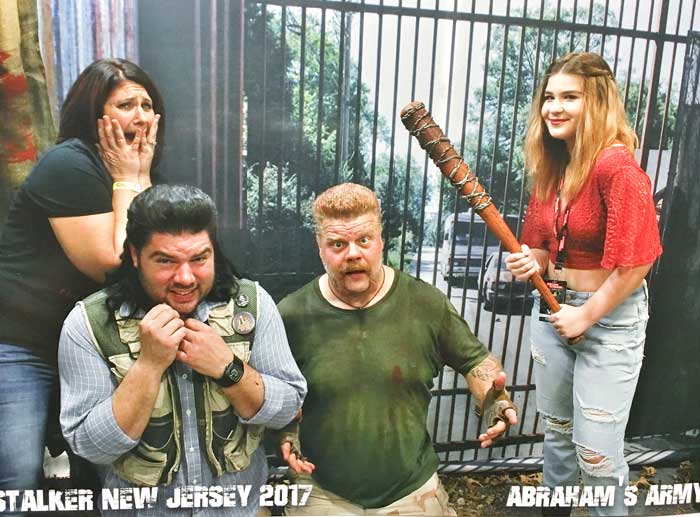 More Walking Dead Filming Locations with Atlanta Movie Tours
After getting up close and personal with The Walking Dead filming locations in Senoia, you can branch out and see some other locations with Atlanta Movie Tours. They offer three different Walking Dead bus tour options with their Big Zombie tours.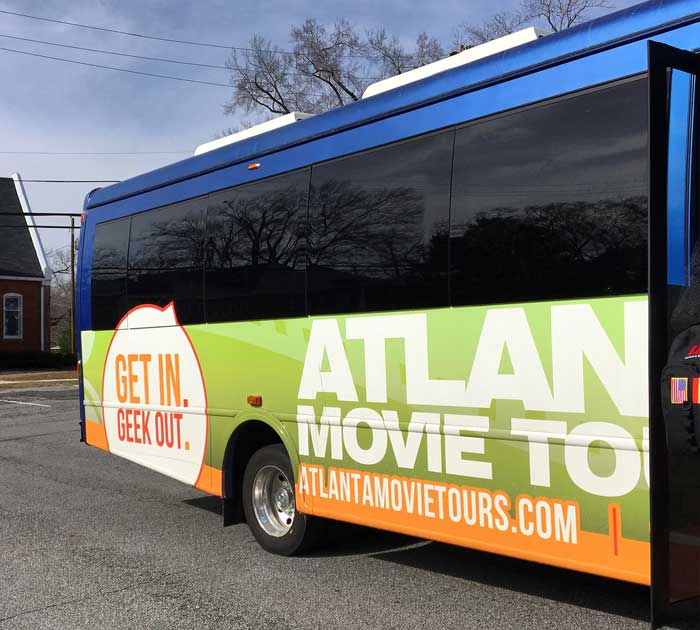 I did the Big Zombie Tour 2 and it was fantastic. The Big Zombie Tour 1 starts in downtown Atlanta, but Tours 2 and 3 start in Senoia. You have the option of taking the bus from Atlanta, or meeting at the Walking Dead Cafe in Senoia. Each tour is three hours with a guide who was actually a character on the set of The Walking Dead.
Our tour guide was a Walker and told us lots of interesting stories about the necessary makeup and prosthetics needed to make the transformation. Sounds like it might not be that fun, especially in the Georgia summer heat! But I think I'd still go for it if I ever had the opportunity!
We started our tour with a short drive around the city of Senoia. While we hit many of the same highlights as the Georgia Tour Company, it was a different experience because we were on a bus and not on foot. We didn't get into as much detail or get off the bus to take photos. This is why you could take both tours and really not feel like you're repeating information.
I liked that they showed scenes from The Walking Dead on monitors on the bus. This helped refresh my memory and gave each stop more impact.
Next we rode out of Senoia to several other filming locations. We were given exclusive entry to the Woodbury Arena where the Governor staged fights for entertainment in Season 3. This is where Daryl & Merle were forced to fight each other. The arena is also where some scenes from The Hunger Games were filmed.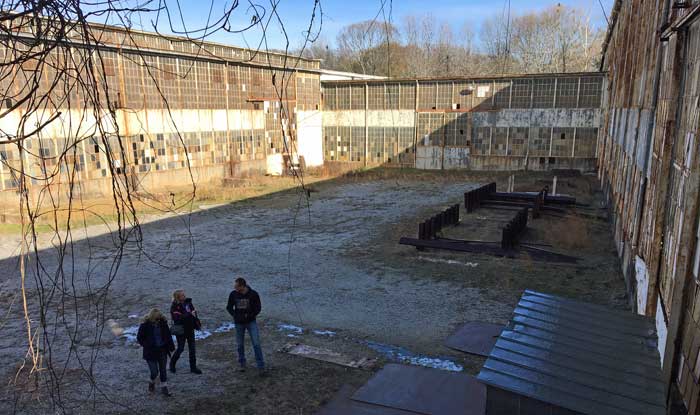 The site where the group camped at the end of Season 2 and Rick made his "this is not a democracy" speech.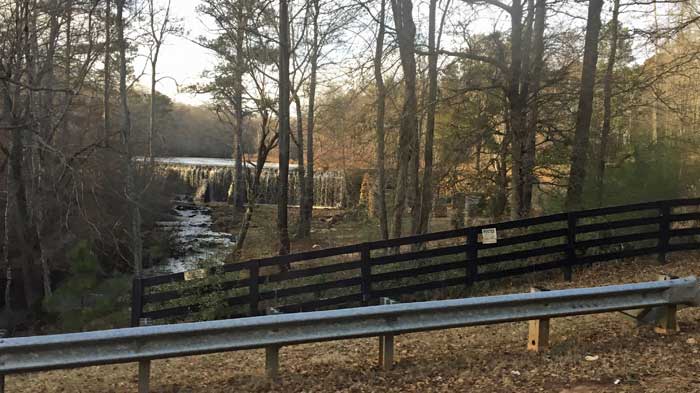 The Carriage Bar where Hershel fell off the wagon after his barn full of walkers were gunned down by Shane. Around the corner from here is Steve's Pharmacy where Glenn & Maggie first did the deed.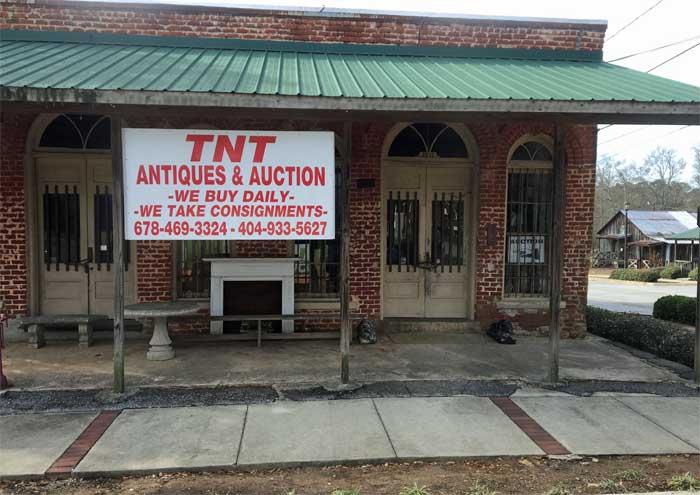 My favorite part of the tour was a visit inside Morgan's apartment from the "CLEAR" episode.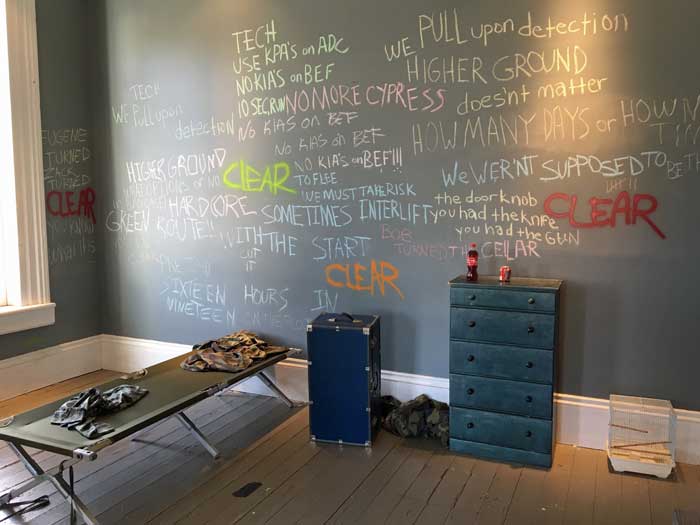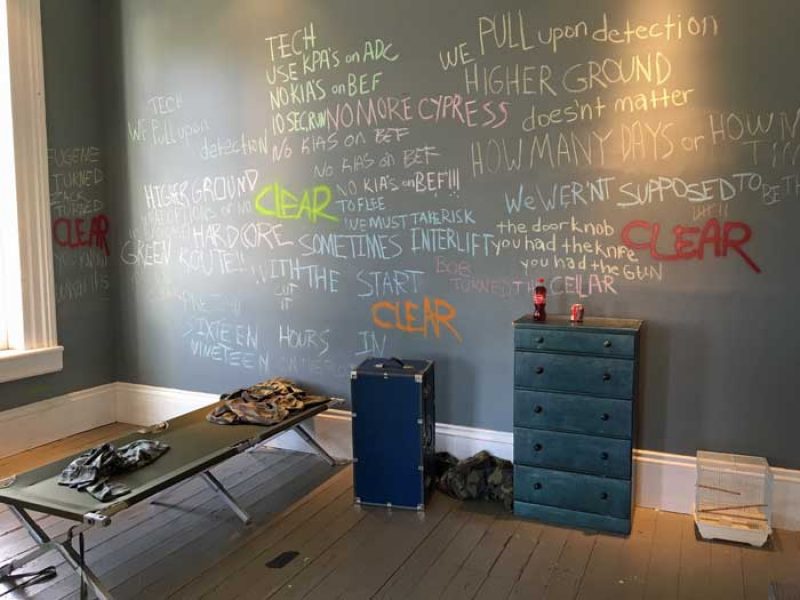 And then there's this iconic wall, shown in the opening credits.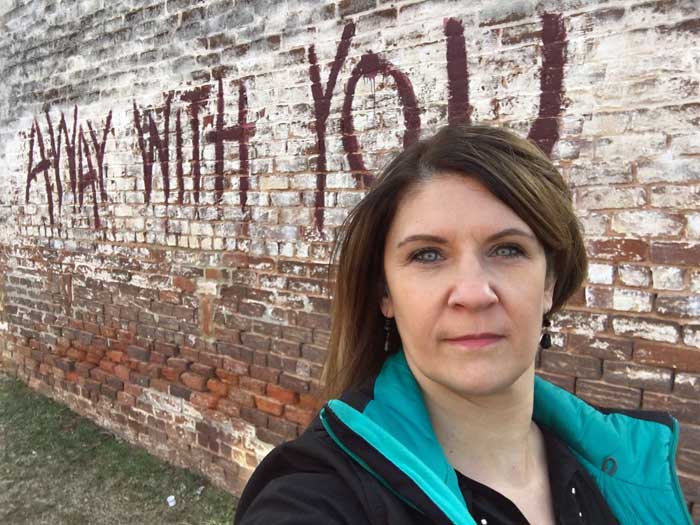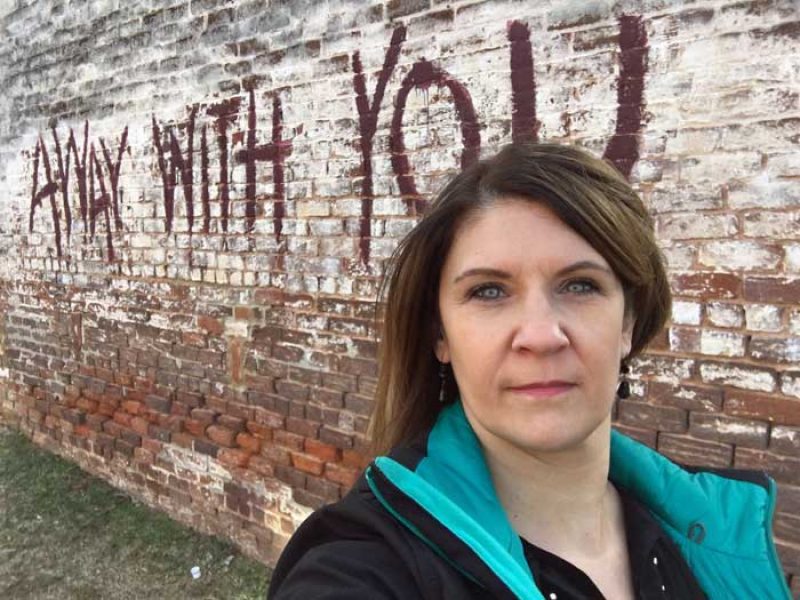 There's even more to see with the other two Big Zombie Tours from Atlanta Movie Tours.
Want more? The latest BIG NEWS is the newly-opened Walking Dead Studio Tour! On this two-hour tour you can stand at the garbage heaps, visit the Sanctuary, the Hilltop, Oceanside, and go behind the wall in Alexandria! I haven't taken this tour yet, buy plan to soon.
There are also smaller tours, such as the Grantville Dead Walking Tour (site of Morgan's CLEAR apartment), and Walkin' Dead Haralson Tours (site of the mill where Merle dies).
For any serious fan of The Walking Dead, taking a pilgrimage to Senoia, GA is a must. These Walking Dead tours and filming locations are so much fun and you'll leave an even bigger fan than you already are!