"These are the times that try men's souls. The summer soldier and sunshine patriot, will, in this crisis, shrink from the service of his country, but he that stands it now deserves the love and thanks of man and woman. Tyranny, like hell, is not easily conquered: yet we have this consolation with us — that the harder the conflict, the more glorious the triumph."
This passage is from General George Washington's speech, given on the shores of the Delaware River on Christmas Day, 1776. That evening, Washington led his troops across the ice-choked river, through sleet and snow, and on to victory against the Hessians (German soldiers fighting for the British) in Trenton, NJ. This victory invigorated the troops at a time when morale was low and troops on both sides had mostly conceded to regrouping until the spring campaign.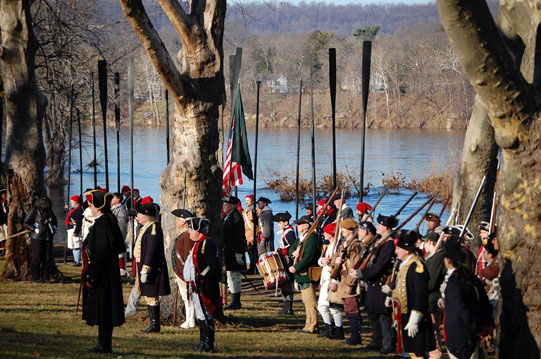 Every December, Washington's historic crossing of the Delaware is reenacted at Washington Crossing State Park in Washington Crossing, Pennsylvania. The crossing is reenacted on Christmas Day, but if that's not a convenient day for your visit, they also do a dress rehearsal earlier in December.
During the Crossing reenactment, the park hosts many fascinating displays and demonstrations. Families can tour several historic buildings on the grounds and learn about blacksmithing, colonial games, candle-making, quilt-making, cooking, crafts, and the boats that were used to cross the Delaware in harrowing conditions. Probably most fun for the kids (of all ages!) are the colonial musket drills. The historical actors delight in sharing their passion with you and your family.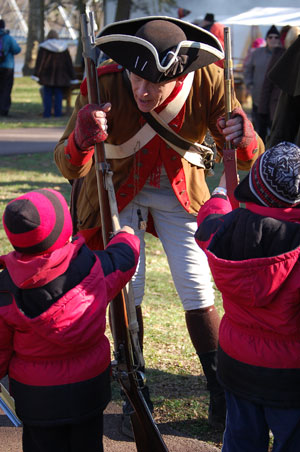 Standing on the banks of the Delaware River on a cold, but sunny, day in December, I felt as I often do when visiting historical sites: Grateful. Thank you, General Washington, for your bold move that reignited the American Revolutionary war effort.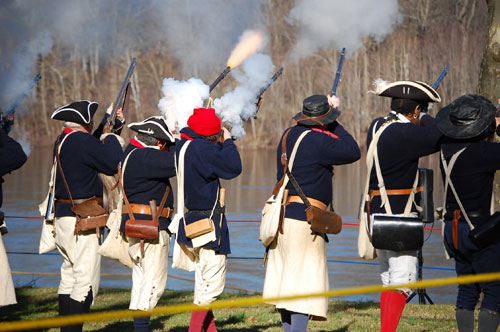 Washington Crossing State Park hosts special events nearly every month. It's a wonderful place to visit and I highly recommend visiting during October to enjoy the colorful fall foliage. For more information, please check out the Washington Crossing State Park web site.