Lake Tahoe is one of my favorite places to vacation, so when Hotels.com asked me to share the best restaurants in South Lake Tahoe, I was definitely up for the task!
South Lake Tahoe is on the border of California and Nevada, flanked by majestic mountains on one side and the gorgeous, alpine lake on the other. If you aren't within driving distance, your best bet is to fly into Reno, NV or Sacramento, CA.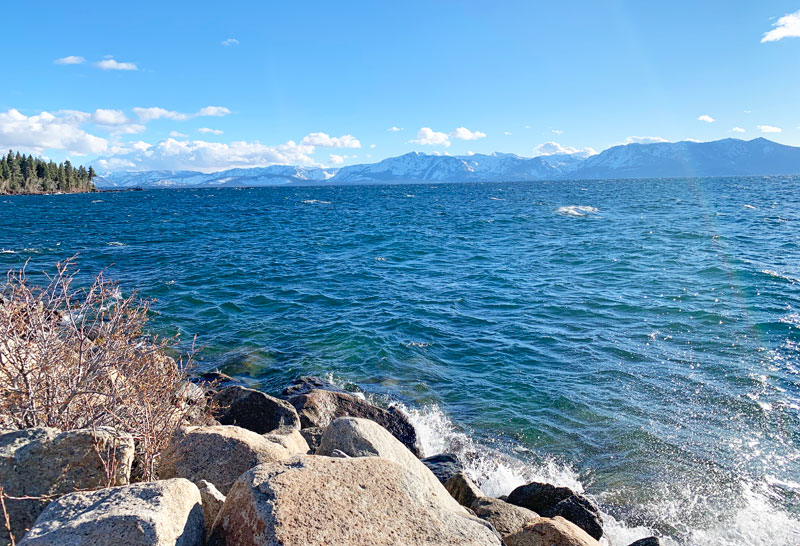 South Lake Tahoe has tons of lodging options, so you won't have a hard time finding something that's right for you. Slopeside or beachfront accommodations are plentiful at the many hotels, casino resorts, beach retreats, lodges, and spas.
Best Breakfast in South Lake Tahoe
There are two iconic South Lake Tahoe breakfast establishments that you definitely don't want to miss.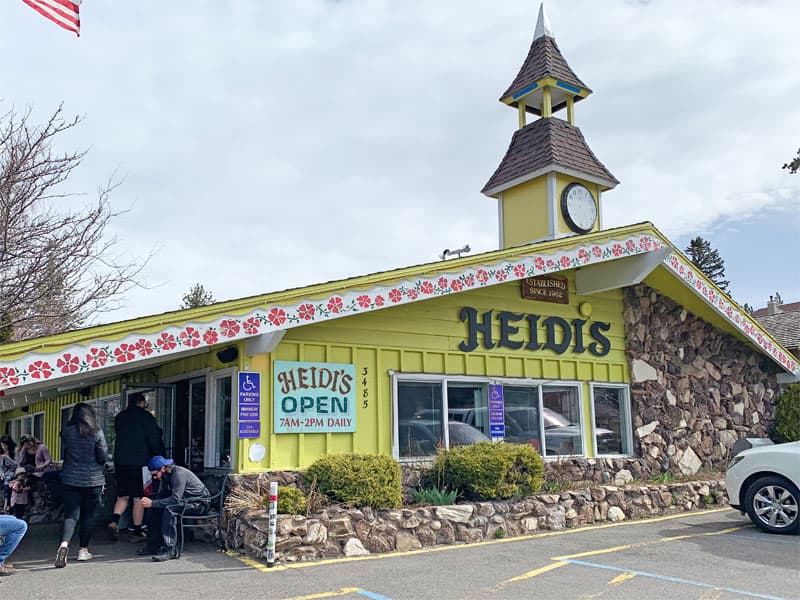 Heidi's Pancake House: The bright yellow, Swiss chalet-themed exterior of Heidi's may look dated, but trust me when I say you MUST east breakfast here. Heidi's has been serving up homestyle comfort food for breakfast and lunch since 1964. This iconic restaurant will almost always have a wait to get in, and it's worth it. My favorite dish is their corned beef hash – fried to perfection with all those yummy, crispy bits!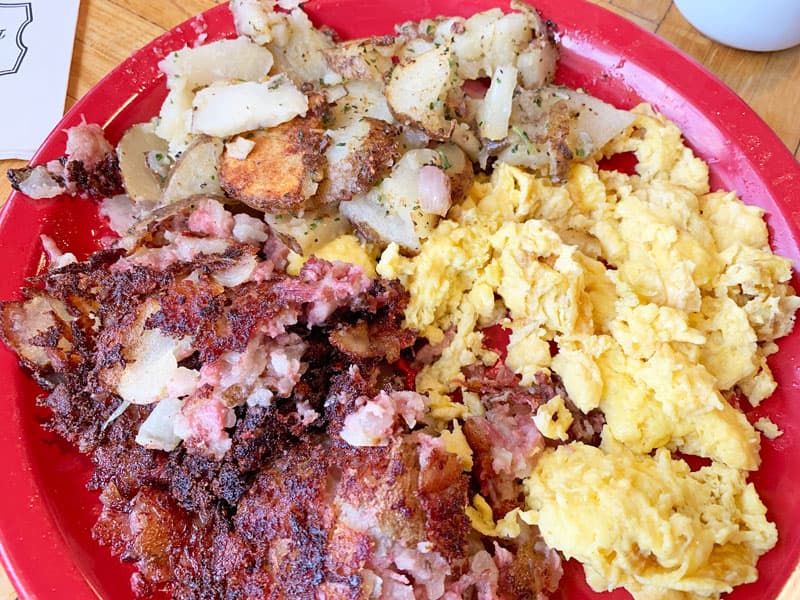 The Red Hut: The original Red Hut opened on Highway 50 in 1959 and was literally a red hut. My husband and I had breakfast there many times on our honeymoon in 1994 after some locals told us it was THE place for breakfast. They now have two additional locations in South Tahoe, the newest and largest being the Red Hut on Ski Run Boulevard. Portions are huge and breakfast is served all day. I love the chicken and waffles, and I dream about their jalapeno bacon!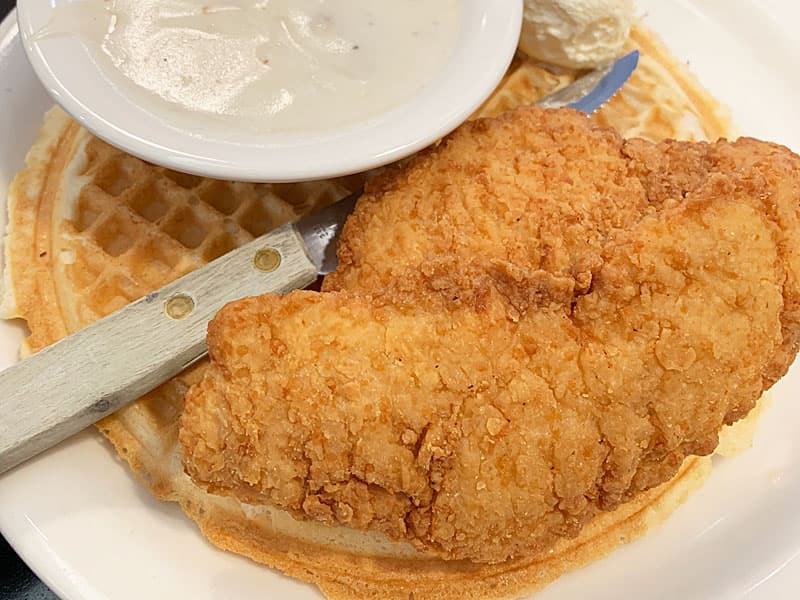 Best Heavenly Village Restaurants
In the heart of South Lake Tahoe is the Heavenly Ski Resort Village where you'll find the gondola to the mountain and lots of apres-ski fun, food and drink. Here are my favorite bites in Heavenly Village.
Base Camp Pizza: This is the same restaurant as my favorite Fireside Pizza in Squaw Alpine Village in North Tahoe. In addition to their excellent thin-crust pizzas (from basic to gourmet), they have pasta, appetizers, and fantastic salads. Try the Garlic Chips!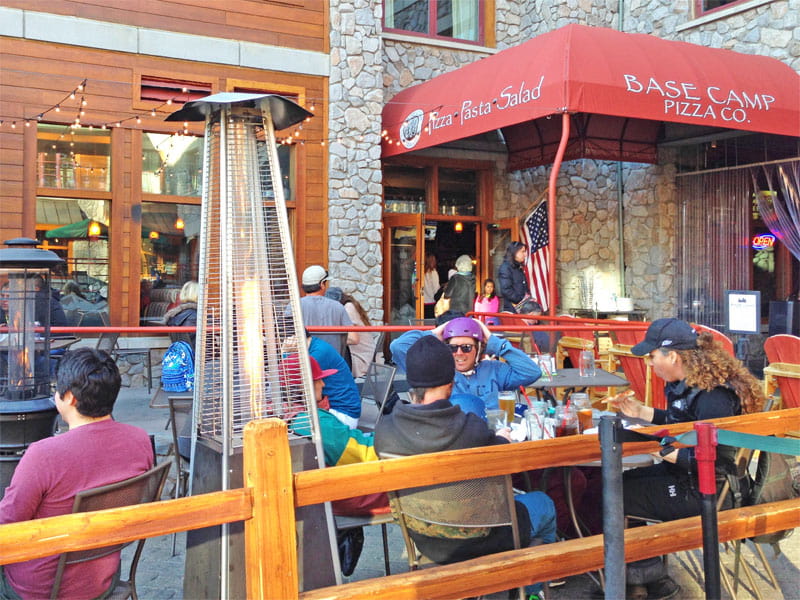 Azul Latin Kitchen: The California-style Mexican menu offers lighter, fresher, healthier food that is so delicious. I had an amazing plate of nachos but also needed to sample my husband's kale and quinoa salad with chicken! They also have some tasty craft cocktails and live music daily (weather-permitting).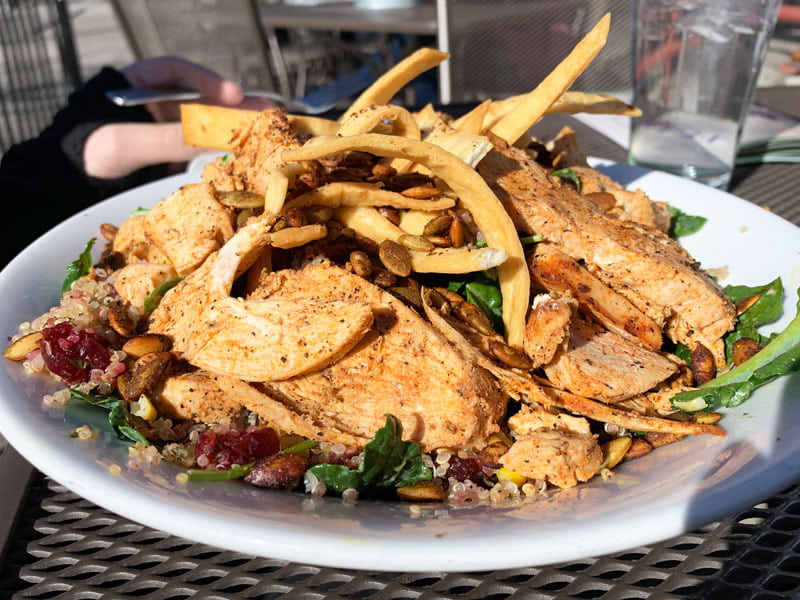 Gunbarrel Tavern: This is the place to go if you're looking for a cold beer and some pub-style food. They offer house-smoked ribs, soups, salads, burgers, and sandwiches.
Fire & Ice: Another fun apres spot, Fire & Ice lets you select your protein, veggies, sauces, and toppings and they sizzle it all up for you on a gigantic grill in the center of the restaurant. It's super fun for the kids, the food is delicious, and you can even go back for seconds!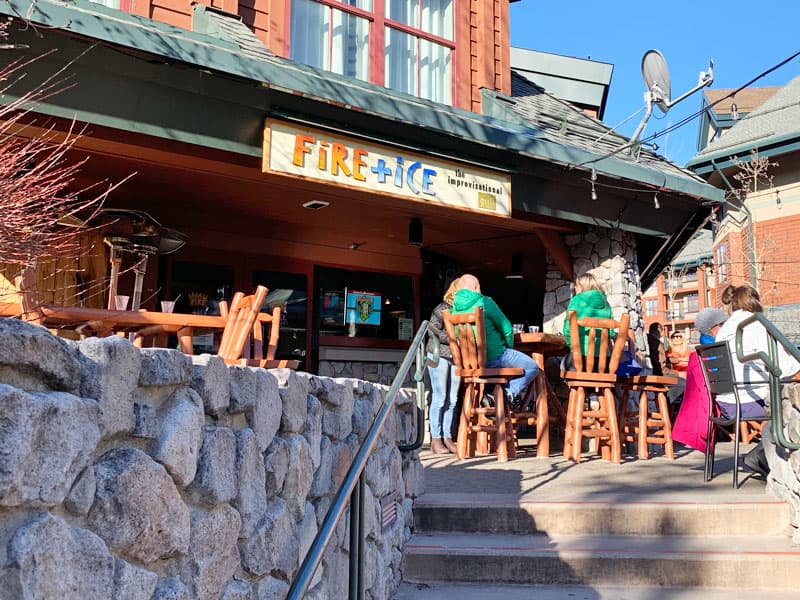 Heaven's Little Cafe: When I want an amazing breakfast burrito and an Americano, Heaven's Little Cafe is my go-to. This family-owned coffee shop has what you need any time of day with a large menu of omelettes, quesadillas, tacos, sandwiches, and salads.
Heavenly Donuts: Pick up a dozen of these mini donuts before hitting the slopes and you won't be sorry. Made to order with your choice of toppings, these donuts will bring back memories of your local town fair.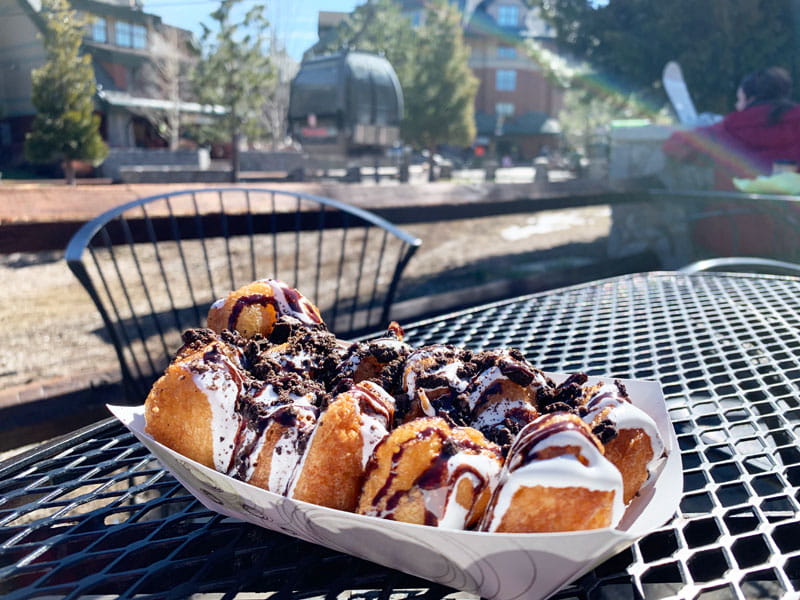 Driftwood Cafe: I have never actually eaten at this cafe, but there has been a long line of people waiting to be served every time I've walked by. That's always a good sign! They are open for breakfast and lunch and have a large menu with several unique offerings. I've got my eye on the Carolina Connection (two potato pancakes topped with grilled ham, eggs and gravy) when I get back to Tahoe!
Excellent Places to Eat in South Lake Tahoe for Dinner
There are tons of fantastic restaurants in South Lake Tahoe, but these three are my favorite when I want a nice night out for dinner and drinks.
Cold Water Brewery & Grill: Combine an excellent selection of their own craft beer with delicious food, friendly service, and a fun, relaxing atmosphere, and you've got Cold Water Brewery. Their food was better than delicious – the Tahoe Loaf with beer cheese fondue was to die for! I had the CW Burger with sweet potato fries, but also sampled everyone else's food at the table, including the short ribs, the chopped salad, and the parmesan truffle fries. This restaurant is definitely on my go-back list.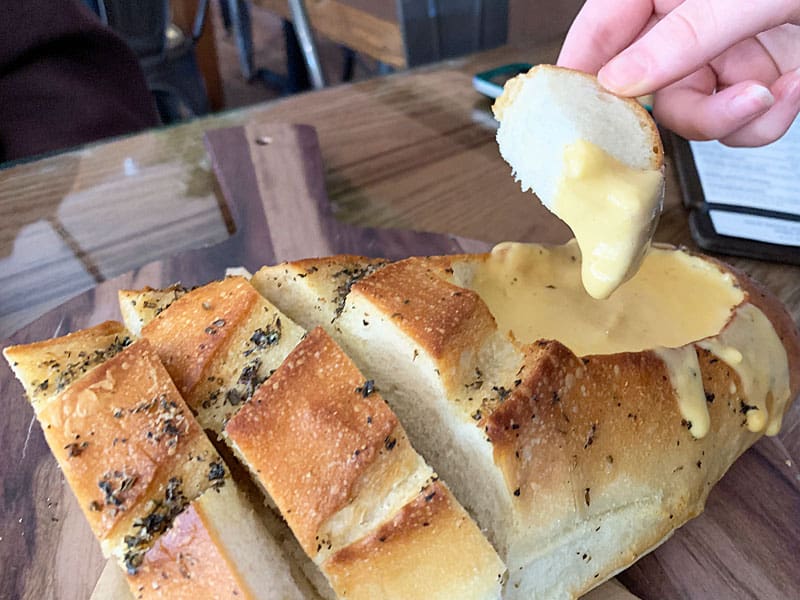 Sonney's BBQ Shack: If you like a good BBQ dinner, do not miss Sonney's! Sonney has been making BBQ sauce for nearly 30 years and their meats are all cooked "low-n-slow" with oak, apple and other hardwoods. I love a good hot sauce, so their "Burn Yer Butt" sauce was my favorite. The brisket melts in your mouth and their ribs fall right off the bone. I also loved the sides, especially the Creamy Cheesy Spicy Grits and Jalapeno Corn Bread.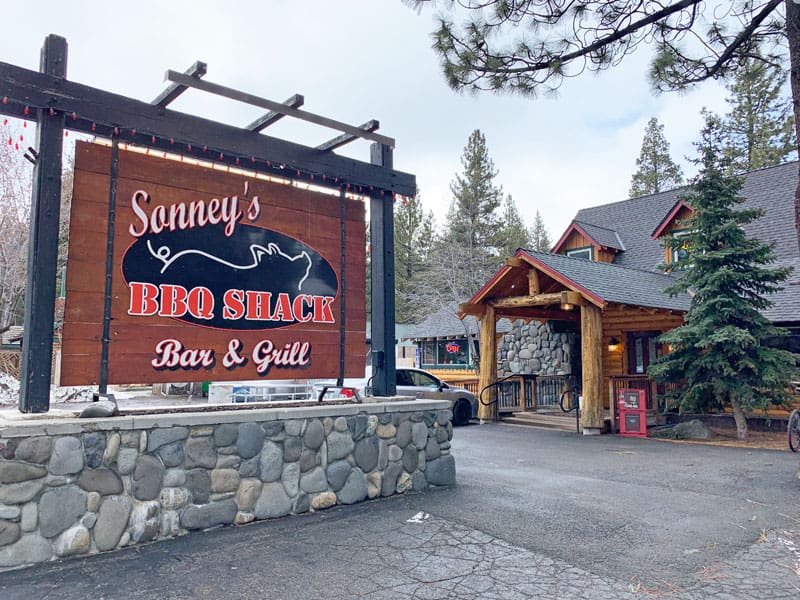 Riva Grill on the Lake: Offering beautiful lake-front dining, Riva Grill is the place to go when you want to get a little dressed up (or a lot drunk). Their menu includes sandwiches and salads, but where they really shine is their seafood and steaks. They also have a large signature cocktail menu. Be sure to try the Wet Woody, which is a signature drink that originated at Riva's sister restaurant, Gar Woods on the North Shore. The Wet Woody has many variations, but all include different types of rum and juice, frozen to a slushy consistency and often topped with a rum floater.
There are still a lot of places I haven't tried yet, but after several visits these are my best restaurants in South Lake Tahoe. Let me know if you have a favorite that I should try on my next trip!