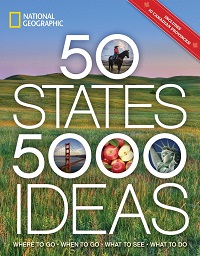 Anyone who enjoys traveling the U.S. appreciates how beautiful and diverse this country is. And while each state has its own "can't miss" sites to visit, sometimes you need a little more inspiration. That's where the book 50 States 5000 Ideas will come in handy.
Each state is represented in four to six pages, with one section devoted to cities and one to landscapes. There are also call-outs with tourism info, recommended road trips, festivals, local flavor, little-known facts, and more. The book includes beautiful, glossy photos to fuel your wanderlust.
You'd think a book covering 5000 ideas wouldn't offer a lot of detail. And yet, somehow this book does. Let's take Arkansas for example – a state I have never visited and have been hard-pressed to find a reason to. In this book, I learned that Little Rock offers the largest collection of presidential papers and memorabilia in the nation, that Little Rock Central High School is actually a National Historic Site with civil rights movement history, and that Crater of Diamonds State Park is the world's only public diamond mine. Of course, I had heard about the Ozarks and Hot Springs, but never knew that the Old Grist Mill in North Little Rock was featured in the opening credits of Gone With the Wind (one of my favorite movies of all time!).
Here's what I liked most about the book: It is as helpful for planning a full vacation as it is for a day trip or weekend getaway. It gives you several jumping off points in every state, helping you identify what areas and activities are most interesting to you, then leaving you the freedom to plan as much or as little as you want. And I can't help but note that this book would be an excellent resource for RVers.
I've seen quite a bit of America (though I still need to log some time in about 10 states). But after reading 50 States 5000 Ideas, I realize how much I've missed. I'm inspired to plan some new road trips and explore! Check out this book if you're looking to do the same.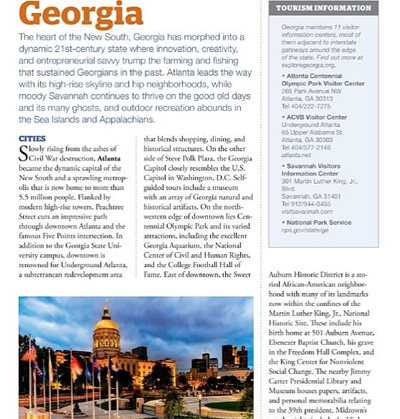 About 50 States 5000 Ideas
• Paperback: 288 pages
• Publisher: National Geographic (February 7, 2017)
This richly illustrated book from the travel experts at National Geographic showcases the best travel experiences in every state, from the obvious to the unexpected. Sites include national parks, beaches, hotels, Civil War battlefields, dude ranches, out-of-the-way museums, and more. You'll discover the world's longest yard sale in Tennessee, swamp tours in Louisiana, dinosaur trails in Colorado, America's oldest street in NYC, and the best spot to watch for sea otters on the central California coast. Each entry provides detailed travel information as well as fascinating facts about each state that will help fuel your wanderlust and ensure the best vacation possible. In addition to 50 states in the U.S., the book includes a section on the Canadian provinces and territories.
You can purchase 50 States 5000 Ideas on Amazon.
About Joe Yogerst
During three decades as an editor, writer, and photographer, Joe Yogerst has lived and worked on four continents—Asia, Africa, Europe, and North America. His writing has appeared in National Geographic Traveler, Conde Nast Traveler, Travel + Leisure, Islands magazine, The New York Times (Paris), and numerous National Geographic books. During that time, he has won four Lowell Thomas Awards, including one for Long Road South, his National Geographic book about driving the Pan American Highway from Texas to Argentina.