The Shooting Star Saloon in Huntsville, Utah, is the oldest continuously operating bar west of the Mississippi. It's known for it's quirky interior and simple menu – don't even think of asking for fries!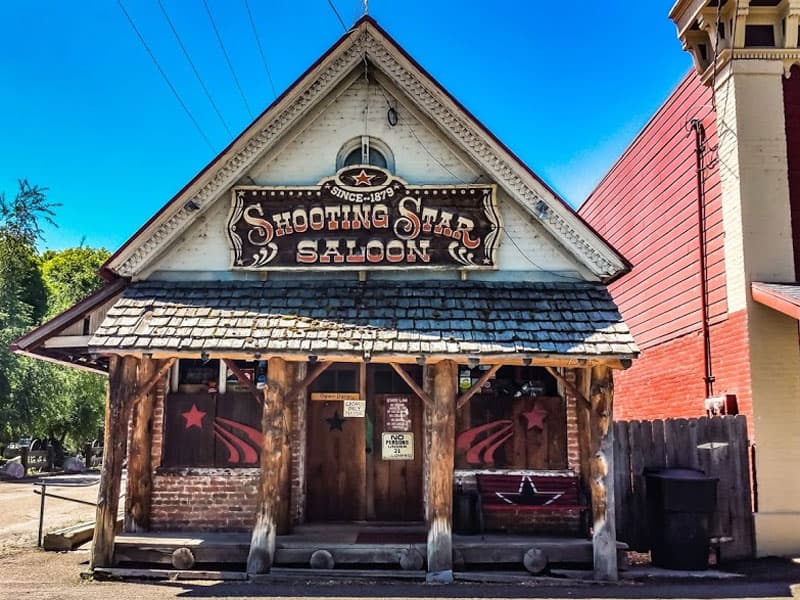 The exterior of this long-established bar looks to be straight out of a John Wayne or Clint Eastwood western movie. And when you walk in, you don't quite know where to look first.
The walls are covered from floor to ceiling with decades of local lore. Lanterns, bells, boots, teapots and a rubber chicken hang with tiny white lights above the bar. An old revolver is mounted next to an ancient cash register. Several entertaining – if somewhat lewd – signs are scattered about.
Behind the bar, the mounted head of a rabbit with antlers – a jackalope? – wears reading glasses and has a Huntsville marathon medal hanging around its neck. As I studied it, the medal started to look like a stopwatch and, combined with the reading glasses, visions of Alice in Wonderland's White Rabbit popped into my head.
History of the Shooting Star Saloon
The Saloon opened in 1879 and has not closed its doors since – even through Prohibition. Its history is muddled and includes some bizarre traditions. Take for example the ceiling that is covered – and I mean covered – with dollar bills signed by patrons from all over the world.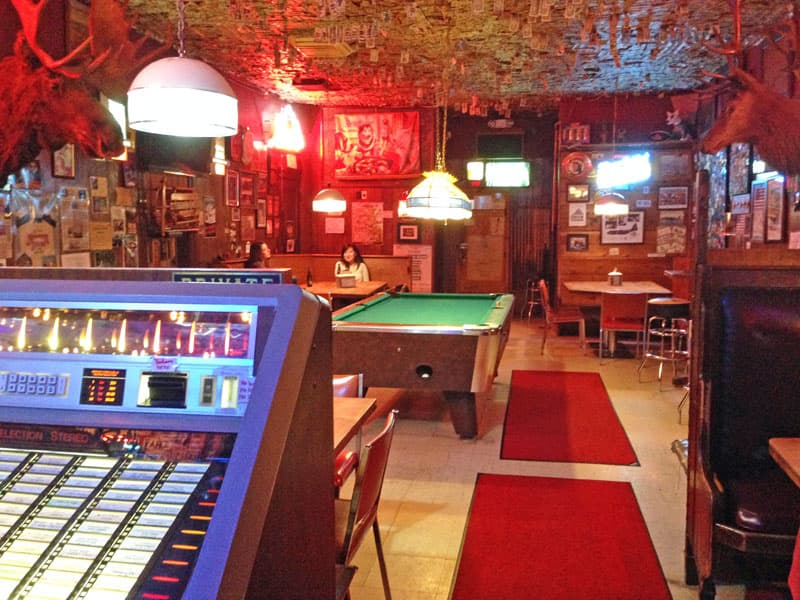 One story says the tradition started when a local named Whiskey Joe was running a tab before getting drafted. Someone decided to stick a dollar to the ceiling to save it for Whiskey Joe's tab after he returned from military duty. Today, it seems the tradition is more a guest book of sorts. I read that someone once tried to count the bills and estimated the total to be $14,000.
Perhaps one of the more famous pieces of history to decorate the Saloon is "Duke" – the stuffed head of a St. Bernard dog. Once in the Guinness Book as "World's Largest St. Bernard" (weighing in at 298 pounds), it's said that his owner loved him so much, he had his head mounted when he died.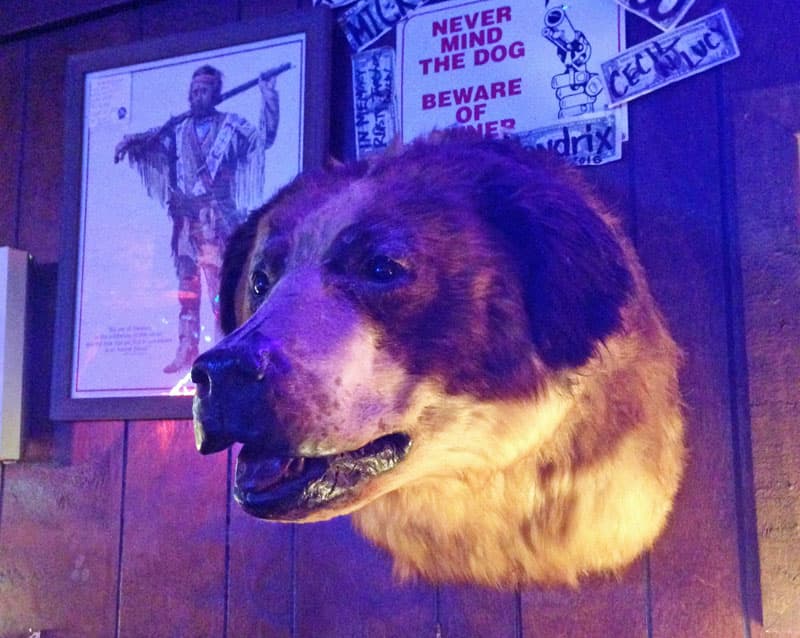 How Duke came to rest at the Shooting Star is not clear. One story says the dog belonged to a friend of a previous owner of the Saloon. According to another story, the dog's owner ran up a tab at the Saloon and offered the mounted head to settle up.
No Fries For You!
Besides the bar, there are a handful of booths, a juke box, and a pool table. The menu fits on the napkin dispensers: hamburger, cheeseburger, bacon cheeseburger, the special Star Burger – two beef patties with cheese and a Polish Knackwurst – and the Star Dog, knackwurst with grilled onions, tomatoes and pickles.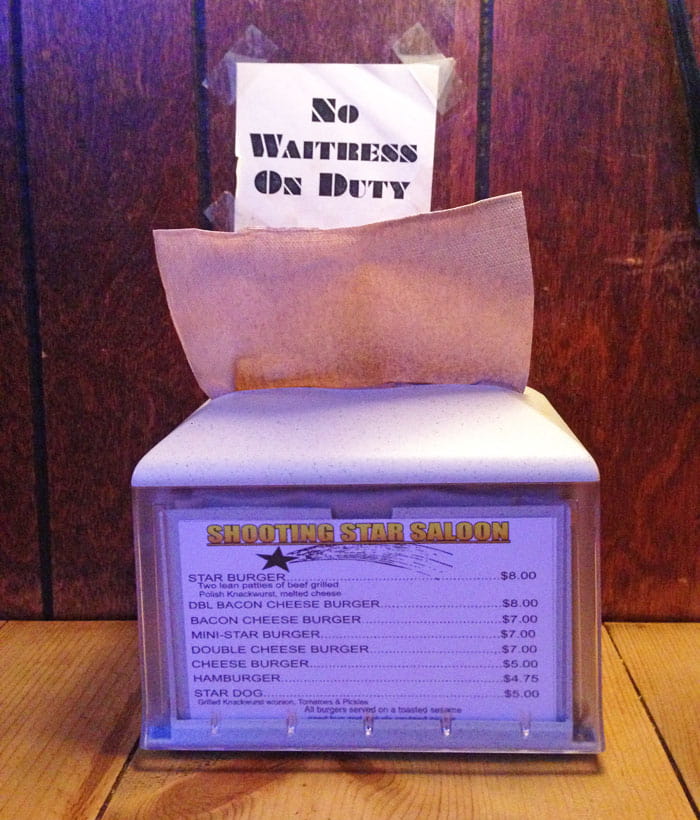 All burgers come with sauteed onions, seasoning, ketchup, mustard, pickles, lettuce, tomato and chips. No special orders or variations, so don't even ask. Signs around the establishment clearly state "we are not a restaurant" and "no waitress on duty." You place your order at the bar, and you order only what's on the menu.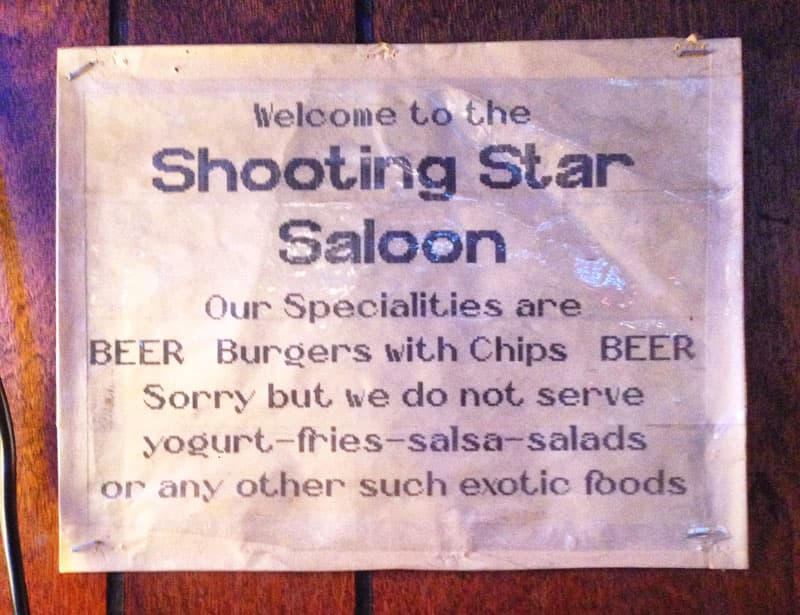 My husband and I sat at the bar, trading ski stories with the couple next to us and listening to the old-school jukebox that plays 45-rpm vinyl records. "Rhinestone Cowboy" came on and I savored my delicious burger and beer, humming along to one of my favorite 70s songs. It felt like a scene out of Cheers… only way cooler. Our bill for two burgers and a Shooting Star Amber Ale? $14.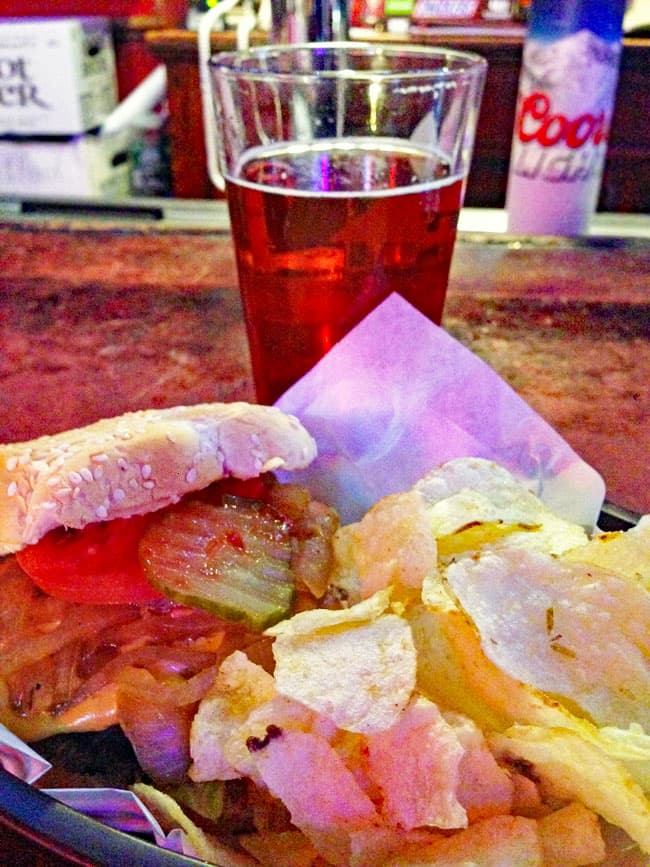 Huntsville is a small town east of Eden, Utah and within 30 minutes of Ogden and nearby Powder Mountain and Snowbasin ski resorts. Any road trip through northern Utah needs to include a stop in Huntsville to check out the Shooting Star Saloon. Bring cash, but leave the kids at home. You must be 21+ and they don't take credit cards.