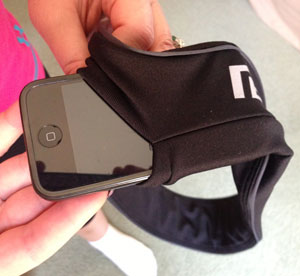 Today is National Running Day and I have a great recommendation if you want to buy yourself something to celebrate: The FlipBelt. It's a sleek, stretchy belt that fits flat around your hips and holds all the essentials you need on a run.
I wore the FlipBelt during my last half-marathon in March and it was completely comfortable – I barely knew it was there. It stays tight, but is not constricting. It doesn't ride up and nothing inside jiggles. I had a credit card, my car key, a Gu energy gel, and my iPhone in that belt and it didn't feel the slightest bit bulky.
I did notice that my iPhone got hot and a bit wet from my sweat, but that was easily remedied by moving it around to my back instead of keeping the phone in front. It's a little more work if I need to access it to check the time or change a playlist, but not a big deal.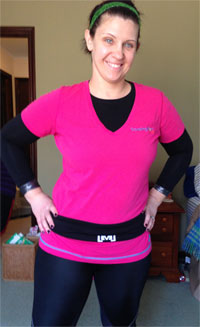 There are four openings in the FlipBelt. Just slide your items in, then "flip" the belt over so the openings are against your body. Everything is snug inside. There's a video on the FlipBelt web page that shows exactly how it works. And they come is lots of colors.
As I wore the FlipBelt during my workouts, I couldn't help thinking how useful it would be for travel. There are many times I don't want to carry a purse or backpack, but I still need a few essentials. I've since used it many times during my travels.
And how perfect is this belt for a day at a theme park? Never worry again about your phone falling out of your pocket or having to put your valuables in a locker. My daughter has worn the FlipBelt many times to amusement parks and it works fantastic.
Check out the FlipBelt. I'll be packing mine on every trip from now on.