Food Network's Giada De Laurentiis has just penned two new children's books — and they aren't cookbooks.
The Recipe for Adventure series is all about family, food, travel, adventure, and magic! Two books – Naples!

 and Paris!

– have been published, with Hong Kong! slated for release in early 2014. (Update: Giada has now published five additional books in the series – New Orleans, Rio, Hawaii, Miami, and Philadelphia.)
The chapter books, written for a 7-11 year age range, remind me of the Magic Tree House

series. In Giada's books, a brother and sister team find themselves transported to different cities where they must accomplish a mission while learning all about the city's food and people. Each book comes with two recipe cards.
We watch a lot of Food Network here, so my daughter was familiar with Giada. She also loves Magic Tree House, so when we saw these books at our local grocery store along with a sign advertising a book signing – we were fully on board!
We bought Recipe for Adventure: Paris!

 and are thoroughly enjoying it. Paris! was my daughter's choice because she wants desperately to get to Paris some day. She wore a shirt that says "Bon Jour" to the book signing, and when Giada asked if she liked Paris, my daughter said, "Did you see my shirt?!"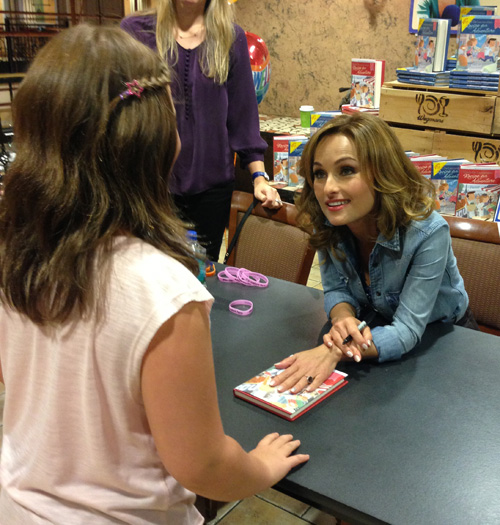 Giada is as sweet and adorable in person as she is on television. She signed the book for my daughter, laughed about her shirt, and chatted about Paris. It's wonderful when a TV personality can use her fame to inspire a younger generation to appreciate international food and travel.