This is a guest post by Dana Freeman, originally published on Dana Freeman Travels.
One of the nicest things about staying at a first-rate hotel is first-rate service, and that's what my family experienced during our visit to Stowe Mountain Lodge in Stowe, VT. From the valet parking to the ski valet to the plentiful apres-ski relaxing and dining options, our stay was nothing less than luxurious.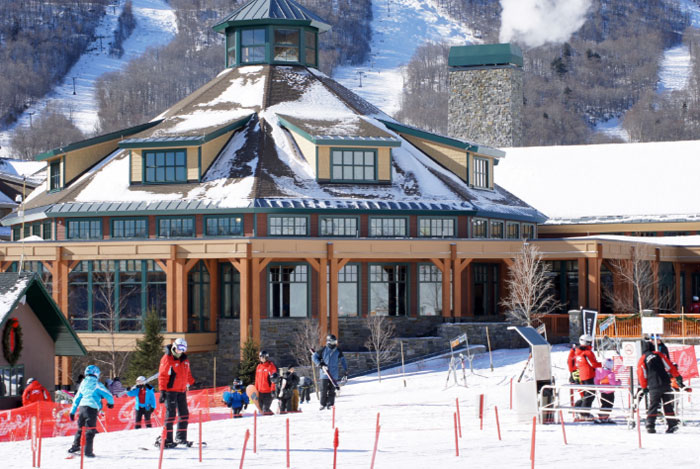 My family of four arrived at Stowe Mountain Lodge on a Friday evening in late January. Just like everyone else we were checking in for a weekend of skiing. We pulled up to a mammoth valet parking line. I was sure we going to experience a long check-in process, but I couldn't have been more wrong. This luxury resort operates like a well-oiled machine.  It was like something out of a movie when multiple valets came streaming out of the hotel with bell-carts ready to take everyone's luggage, skis and park our cars. Our family was inside in less than 5 minutes. Soon after that we were settled into our Ridgeline one-bedroom suite in the south wing.
This suite was perfect for our family of four and all of our ski gear! We had a full sized gourmet kitchen with a separate eating area, a living room with a sleeper sofa, a separate king-sized bedroom and an oversized marble finished bathroom. It is good to know ahead of time that most guest rooms feature some sort of kitchen or kitchenette. You can bring your own food or if you forget, the hotel has a great little shop that sells just about everything. Families will appreciate the stacked washer/dryer unit in this suite as well.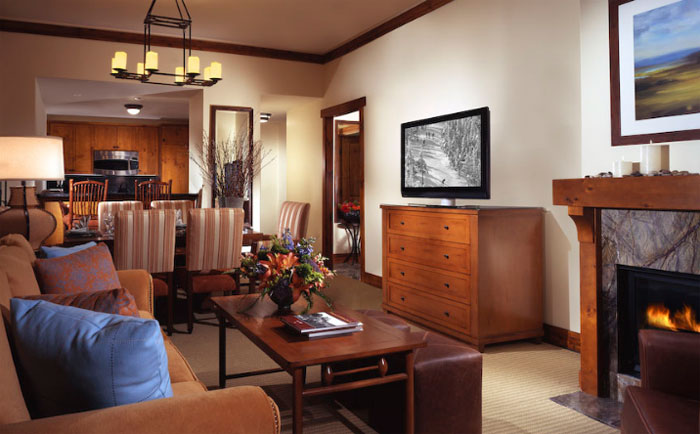 When it's time to ski, there is no worry about carrying your gear around the resort. Although you keep your boots in your room, the Ski Valet will take care of the rest. When you have kids and tons of gear, having your skis brought out to you on the slope is a real plus! We enjoyed two full days of skiing on world-class terrain. Stowe has invested in state-of-the-art snowmaking operations, just in case Mother Nature doesn't pull through, so the conditions are usually terrific. We loved that it is an all high-speed lift access mountain, which means less time getting to the top and more time skiing!
Après-ski Options at Stowe Mountain Lodge
Après-ski we spent time in the hotel's heated outdoor pool and hot tubs. You can choose to brave the cold and run out outside like our kids did, or swim out through a special indoor access area into the full size heated pool. This large swimming pool is kept at 86 degrees year round.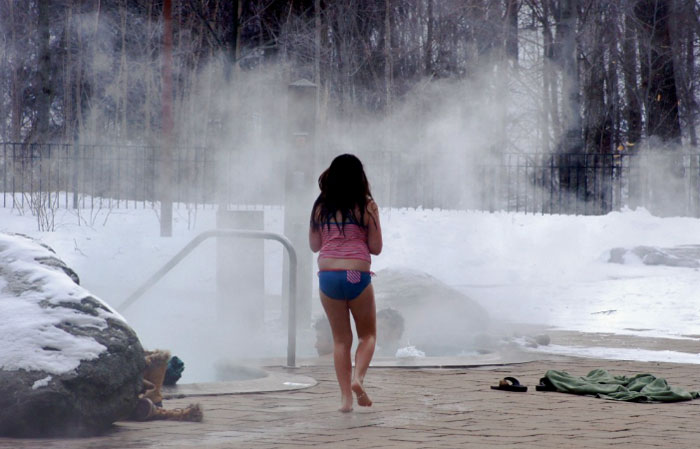 Adults know that after a full day on the slopes there is nothing better than relaxing at the spa. At Stowe Mountain Resort, for $25, you can treat your children to this special experience too. My kids thoroughly enjoyed their Chillax treatment. At pick up time they smelled so good after their cucumber eye treatment, chocolate face mask and whoopie pie hand cream massage that I just wanted to gobble them up!
We ate most of our meals at the Resort's AAA Four Diamond restaurant, Solstice. With the mostly grown-up choices on the menu, you might feel like kids would not be welcome. But they actually have a huge menu dedicated just to kids! I think parents will really appreciate what I think is the most extensive menu for "growing youngsters" that I have ever seen. It had lots of choices like the fluffernutter sandwich, a Nutella sandwich, hidden veggie-pepperoni Mac and cheese, junior sliders and more. In addition to being able to order off the kids' menu, there is a kids buffet during busy season and on weekends. My children helped themselves to generous portions of delicious mac & cheese and some of the best chicken fingers ever.
Although many people may find Stowe Mountain Lodge pricey, we think you get what you pay for.  This full service, luxury ski resort doesn't disappoint and delivered where it counts.
Disclosure: I was invited to Stowe Mountain Resort and they paid for some of my expenses, my review reflects the honest opinions of my experience without outside influence.
Photo Credits: FindandGoSeek & Stowe Mountain Resort