The U.S. National Whitewater Center desperately needs a new name – one that truly does justice to such an inspiring whitewater rafting destination.
Sure, this Charlotte, North Carolina facility is known worldwide as a premier whitewater training center – it hosted the 2012 U.S. Olympic trials for canoe events, after all. But while whitewater delivers the big splash, it's really just the centerpiece of a total outdoor adventure theme park.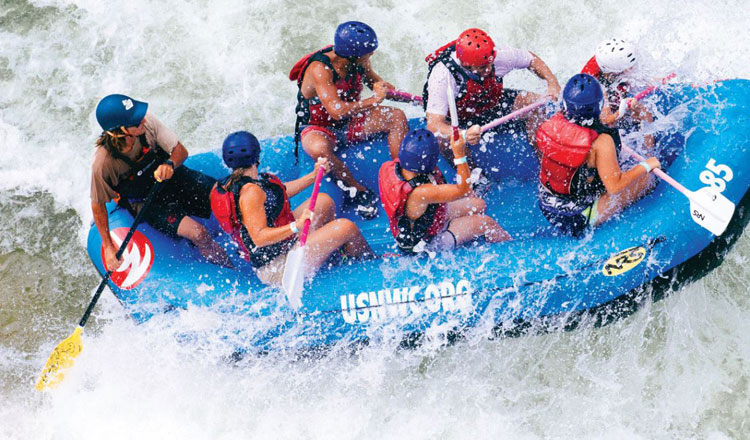 Mountain biking, hiking, zip lining, rock climbing, yoga, and other dry land activities are set throughout the sprawling 400-acre, wooded area. This is Disney World for a rugged, active outdoor enthusiast. And since I used to be part of that set yet somehow failed to pass it on to my kids, ages 7 and 13, I jumped at the chance to show them that riding rapids in a raft would be far more fun than riding the couch playing video games.
The whitewater rafting trips are held on the largest recirculating, man-made river in the world. Think of the lazy river at your favorite water park. Then add rapids – up to class IV.
These rafting trips are billed as Family Rafting, Adventure Rafting and Rodeo Rafting. All of the trips are guided and they all share the same river (it's a big oval). The difference is in the line taken through the river.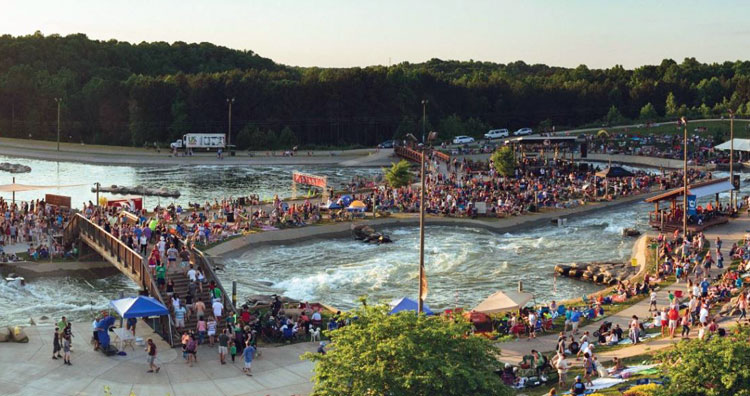 Family trips ride through class II and III rapids only, Adventure trips add class IV and Rodeo trips are promoted as extreme swimming that may include some time in the raft. That one's not for children but kids as young as eight are welcome on the family trip. Rafting times are reserved at the ticket window and fill up fast.
About 20 minutes before each rafting trip, all participants attend a safety presentation. The focus is on what to do when falling out of the raft. Some might find it alarming or scary, but it's important and it's unlikely that family rafters will spill out from the raft.
Adventure and Rodeo rafters will almost definitely take a spill (or two) so please do pay attention. After the presentation, everyone walks to the water for a personal flotation device, helmet and paddle. Several guides help locate the right sizes for everyone, they help with any adjustments and then check everyone again for proper fit before allowing anyone onto a raft.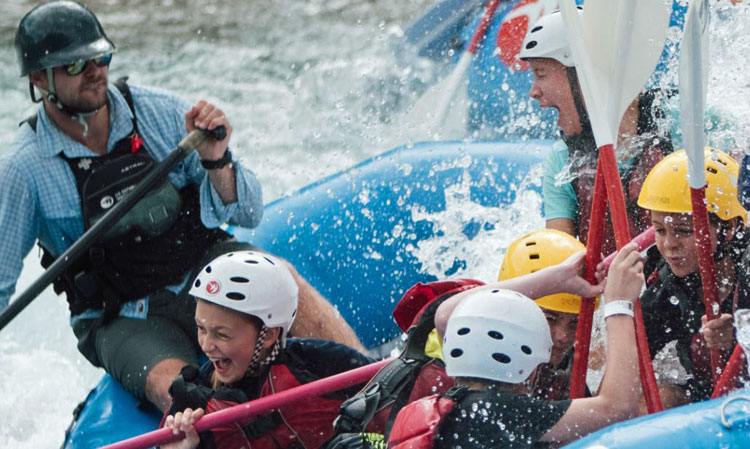 My Family's Whitewater Rafting Adventure
We were grouped with a family of four who were Charlotte-area locals on a day trip during summer vacation. Our guide, Jose, paid close attention to all of the kids throughout the trip. Jose often commanded "Paddle twice left!" "Paddle back once!" and everyone paddled, though, he really didn't need anyone to paddle, he was fully in control.
The trips last around 1-1/2 hrs. By the third time around the loop my youngest and her new friend had given their paddles to Jose.
Everyone had a phenomenal time whitewater rafting. Everyone got wet and nobody fell out, though we came close enough to experience the thrill of the whitewater I'd described on our drive to Charlotte.
For the kids, their favorite part was called surfing, where Jose would park the bow of the raft at the bottom of a section of rapids and soak everyone as if under a waterfall. Smiles all around. Now when I mention a rafting or canoeing trip, my kids are far more interested. Dare I say excited?
We dried off while eating a fine lunch outdoors at the River's Edge restaurant. We enjoyed burgers and broccoli slaw, but out-of-staters beware, North Carolina state law requires hamburgers to be charred to at least well done. Other food & beverage options include the Pump House Biergarten, The Trail Center, The Market, and Outfitters. Most offer grab & go options and craft beers.
Festivals, Yoga, Adventure Dining, and More
The USNWC offers several other adventurous activities. There's hiking, ziplining, jumping, rope courses, kayaking, rock climbing, stand-up paddleboarding, and mountain biking. Yoga classes are offered daily May through September.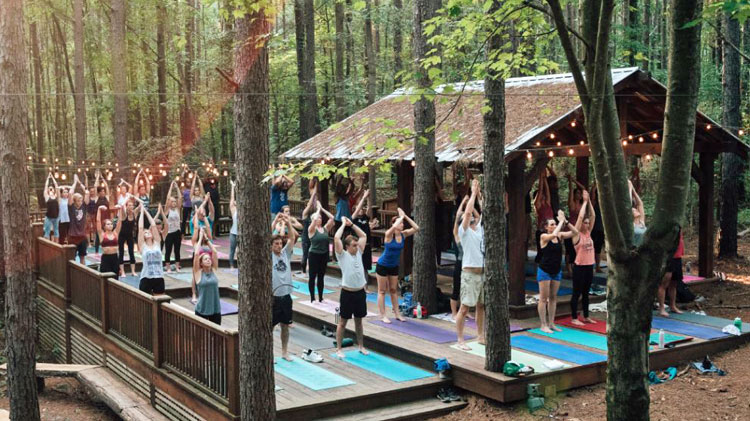 In the summer months, you can join their "Paddle to Table" experience. Choose from kayaking or stand-up paddleboarding to a fireside dinner with craft beer and wine. In the spring and fall, try "Zipline and Dine" – a ziplining adventure culminating in a chef-curated dinner.
For runners planning a visit to Charlotte, check out the Center's new summer race series. 5K and 10K trail races are held on the second Thursday of every month from May until September while triathlons, half-marathons and other events are held throughout the summer.
You'll also find several festivals planned at the Center throughout the year.
What it Costs
A variety of ticket options are available for the 2019 summer season. The Day Pass ($59.00 for adults, $49.00 children nine and under) allows use of the whitewater and dry land activities for the entire day such as rafting, kayaking, ziplining, and more. A Two-Day Pass offers a discount on consecutive days priced at $109.00 for adults and $89.00 for children.
This offers maximum convenience and flexibility. When the kids see the rock climbing wall or decide they really do want to try kayaking or single track mountain biking, these and all other activities are already included.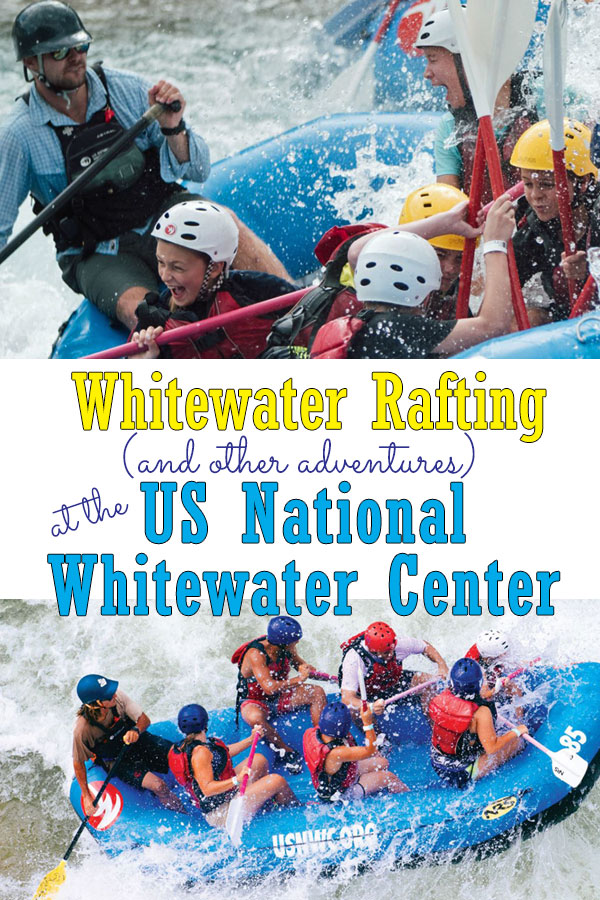 For guests who prefer to spend the day enjoying one activity, Single Activity passes allow access to one experience, such as mountain biking or kayaking. These passes require a separate payment each time (bike rentals included in the fee, if needed). Whitewater rafting, for example, costs $49.00 as a single activity so the Day Pass is often the smart buy.
For locals and vacationers planning to spend four or more days, the Annual Pass offers non-stop access to every activity for 365 consecutive days for $199.00 for adults and $169.00 for children. Parking is $6.00 per day.
All in all, the U.S. National Whitewater Center is a thrilling family adventure destination that I wholeheartedly recommend to everyone, families and otherwise.