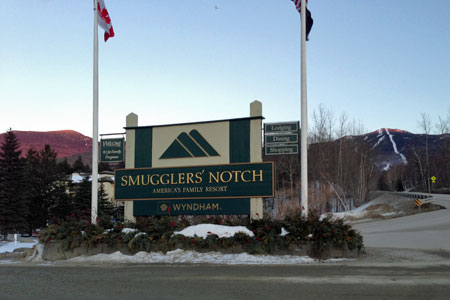 It's tough to pinpoint why my family's visit to Smugglers' Notch Resort in northern Vermont was so memorable. Maybe because it was full of first-time adventures like airboarding and zip lining. I had special bonding experiences with each of my kids. We were super comfortable in our spacious condo, and the steam shower and jacuzzi tub scored major points!
You'll never experience a dull moment at Smuggs (as it is affectionately known). Of course, there is skiing. And then there's snowshoeing, tubing, skating, airboarding, zip lining, health & wellness classes, art classes, food classes, bonfires, fireworks, spa treatments, cat tours, snowmobiling, broomball, teen events, and – wow – even more.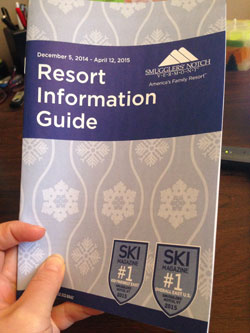 But it's not overwhelming because of this one handy piece of literature: The Resort Information Guide. When you book your visit to Smuggs, the guide will be your vacation bible. Everything you need to know is in there – where, when, and how to experience all the awesomeness Smuggs has to offer. With your Resort Information Guide and the prompt, simple shuttle bus system, your family's winter vacation will be as smooth as a freshly-groomed ski run.
We stayed at Smuggs for three and a half days, and because everything was so easy and accessible, we were able to fit in some skiing and all of the following excellent adventures.
Airboarding. Have you ever heard of airboarding? I hadn't, but was excited to try this crazy form of sledding down a ski slope on an inflatable that looks similar to a boogie board. The bottom has hard plastic ridges to help you grip the snow. You start with a bit of a run, then throw yourself onto the airboard on your belly. Some of the younger kids could really get a running dive, but I stuck to taking a few quick steps, setting the airboard out in front of me and gently flopping myself onto it. It wasn't graceful, but at my age, a running dive was out of the question. My teenage son got the hang of it quickly, while it took me a bit longer.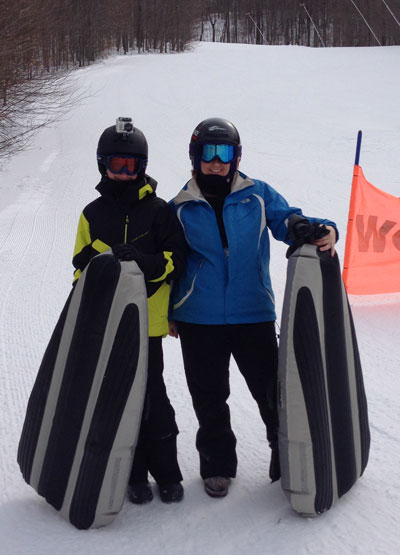 Once you pick up a bit of speed, you need to push down on either side of the airboard in order to steer. Just like skiing, you need to put pressure on one side of the body so you can move yourself in the opposite direction, zig-zagging across the hill to control your speed. If you don't make a hard effort to steer, you'll get going way too fast and need to roll off ("bail out") – which is not a pleasant feeling. I had one scary experience where I was out of control and flew off the trail and into the woods. Thankfully, I managed to avoid the three trees and come to a safe stop without being injured. Hey, it's not as if I've never had a close call or two while skiing.
It's not easy, but it's definitely an adventure! You need a good amount of upper body strength and body awareness to control the airboard, but once you get the hang of it, it's pretty exhilarating. One tip: you'll be dragging your legs and feet behind you and, while you're supposed to lift your feet up, it's hard to resist using them to slow you down when you're going too fast. Be sure to wear good snowpants and rubber-toe boots. My fabric winter boots ended up worn and ripped at the toes by the end of the session.
Ziplining. ArborTrek Adventures is just minutes from Smuggs Resort. This was another first for me and my son. Up in the trees, in the forest, with time to talk and share something new together – it was a bonding experience I will never forget. Our ArborTrek guides were knowledgeable, fun, and made us feel confident – even when I was a bit nervous about rappelling down from a tree.
They start you out on a short zip, only about 6-7 feet in the air to help you understand how to stop yourself and get comfortable with the feeling. Then it's on to the real zip lines! Our session included six zips from 150 – 1000 feet in length, two sky bridges and two rappells – which ended up being my favorite part! Something about putting your faith in a series of ropes and carabiners and lowering yourself down from a treetop – it makes you feel a little stronger and believe in yourself a little more than when you arrived.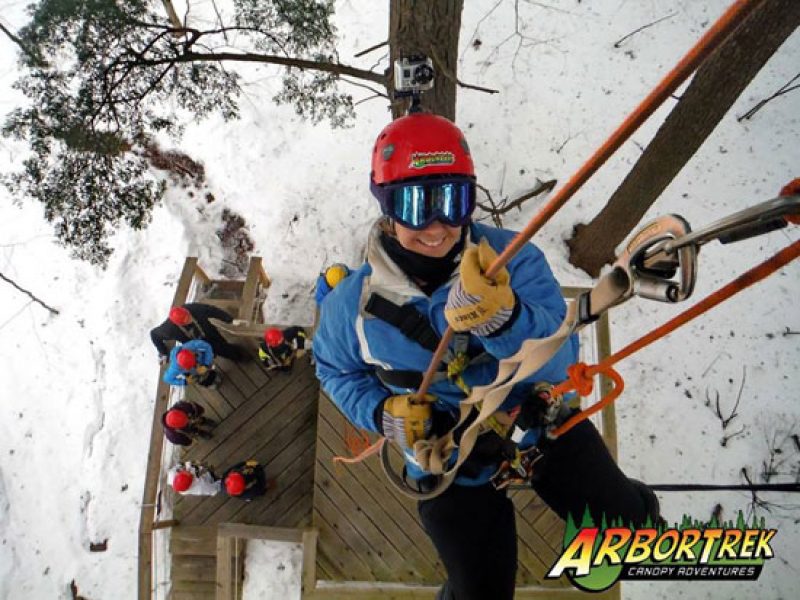 Snowshoeing. Smuggs offers several different snowshoe adventures. You can hike on your own, or take a guided tour. My family did the "Soup & Snowshoes" tour, a one-mile trek to Zeke's Place for homemade soup, hot chocolate, and tea, then more snowshoeing back to the Nordic center. As a homeschooling mom, I appreciated our guide teaching us about the trails, trees, and history of the area. We learned a bit about maple sugaring on our tour (did you know it takes about 40 gallons of sap to make one gallon of syrup?) and saw a huge tree split down the center by a bolt of lightning. After activities like zip lining, airboarding, skiing, and massages, I wondered if my 16 year old son and 10 year old daughter would find snowshoeing boring. But, much like hiking, they ultimately appreciated being out in nature and they learned a good deal from our guide – even if they complained initially about the effort of snowshoeing up and down the rolling hills!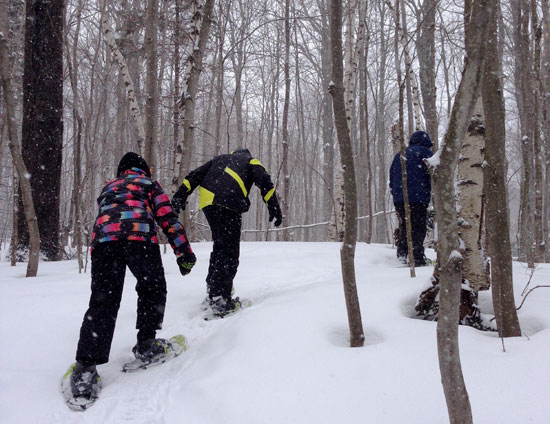 Cat Trax Tour. This was a pretty big thrill for me. I'd always wanted to ride in a snow cat. Once the slopes were cleared at the end of the ski day, we boarded the snow cat and chugged up Madonna Mountain. They say on a clear night you can see the lights of Montreal from the top, but the weather wasn't cooperating and we were socked up there. No view of anything except clouds and snow, but we all got a kick out of just riding the snow cat up and down, walking around at the top after hours, and experiencing what the groomers do every night.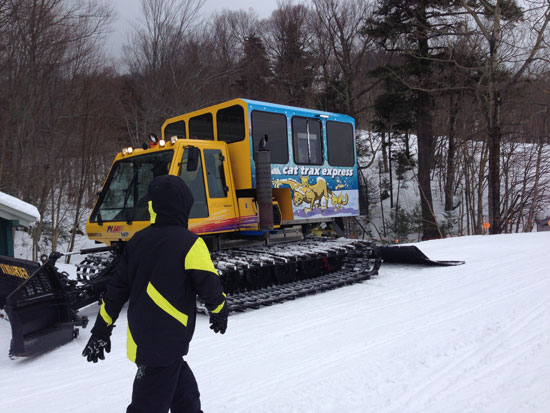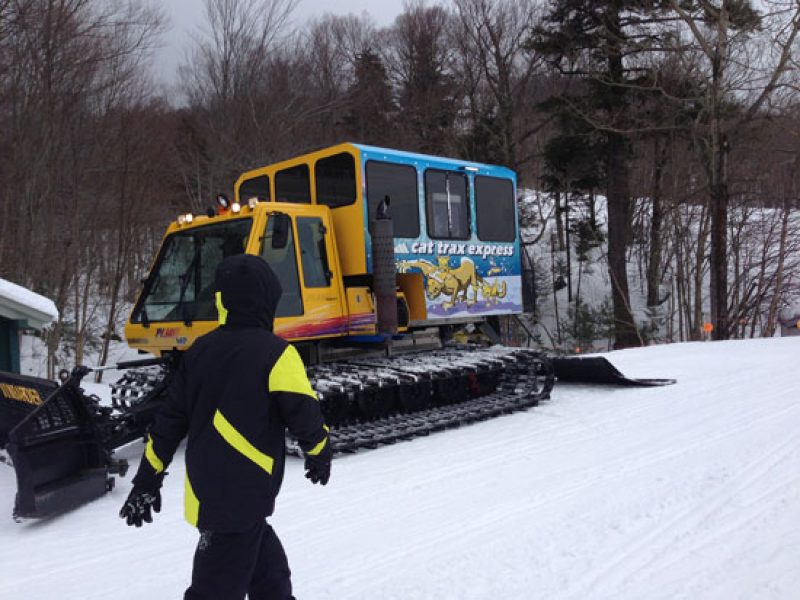 Mountain Massage Center. Think of the spa at Smuggs as a small sanctuary of relaxation. And they have special treatments just for kids – a big plus when traveling with the family. I took my 10 year old daughter for her very first massage. We've had some experience in the past with kids' spas offering short, kinda' lame treatments that involve the word "ice cream." My daughter wanted to experience a real spa treatment, not just soak her feet in something that doesn't even smell like chocolate. I was so pleased with the way the girls at the Mountain Massage Center took care of my daughter, giving her a real massage and offering her aromatherapy scents, while treating her gently and helping her feel comfortable.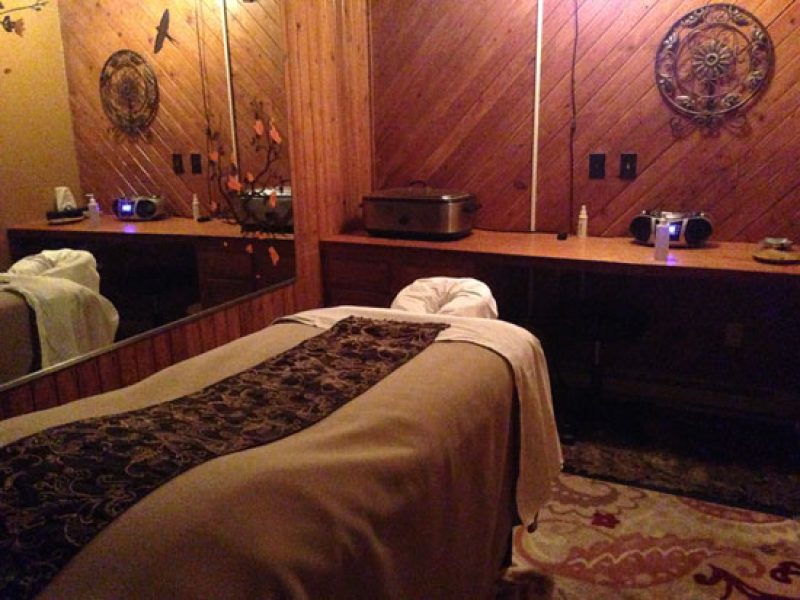 The FunZone. The FunZone at Smuggs is like nothing I've ever seen before. I've been to plenty of indoor fun parks, but this one was incredible with huge inflatable slides, sports games, arcade games, mini golf, pool tables, ping pong, foosball, a toddler play area, and more. My daughter didn't want to leave and still asks me when we are going back.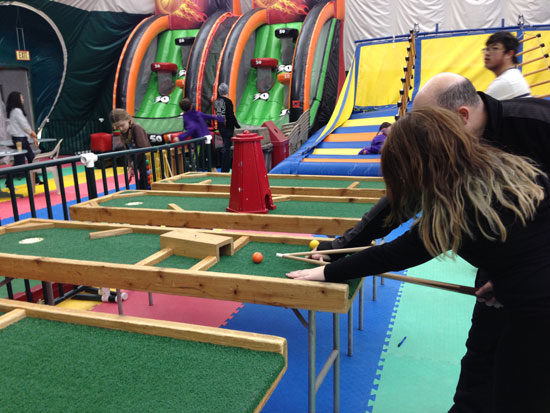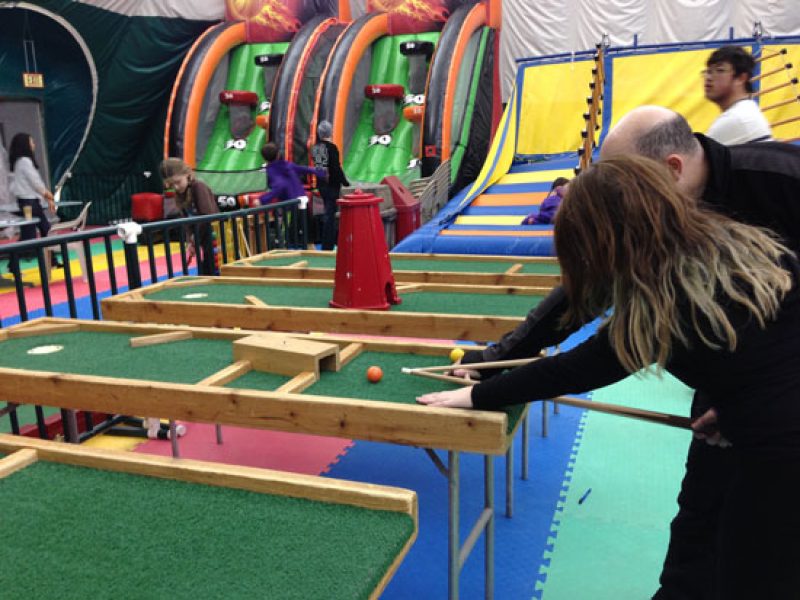 With all there is to do at Smuggs, it's no surprise they've been voted the #1 resort in the East for kid-friendly activities year after year by SKI Magazine readers. But I think what made Smugglers' Notch special is they made it all so easy. Shuttle buses loop around from the condos to the ski area to the activity centers non-stop and you can call them like a taxi service. Activities were well-managed and everyone on staff was happy to help. Smuggs holds a special place in my family's heart because the people are wonderful, the adventures are amazing, and the resort really knows how to make a family vacation run smoothly.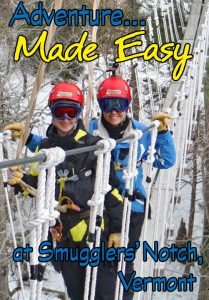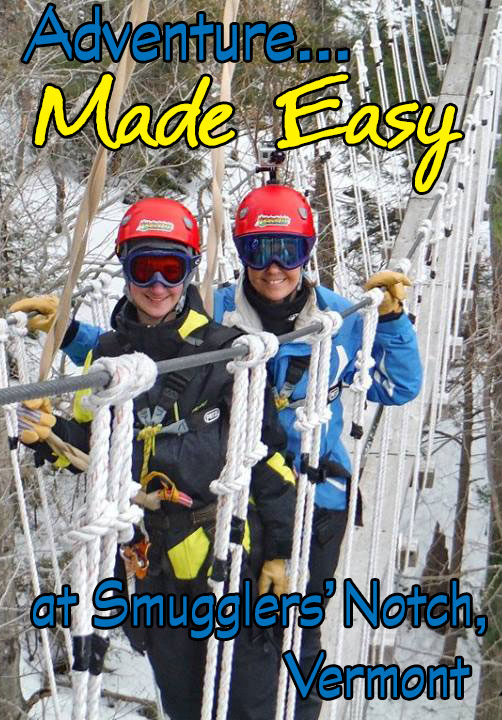 Pin for later!