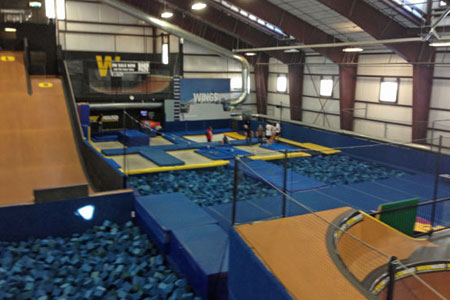 During my introductory session at Woodward Copper – an action sports training facility at Copper Mountain Resort in Colorado – I hoped to learn to be lighter on my feet, absorb the shock of skiing bumps, and maybe not be terrified to get a little air on the slopes. While the physical part of my experience was challenging, it was the mental part where I grew the most.
If you're not familiar with Woodward, it might seem like something the average sports enthusiast would bypass. Filled with young, agile skiers, snowboarders, and skateboarders perfecting their jumps, flips and tricks on trampolines, in the halfpipe, and into foam pits, "the Woodward Barn" seems like a place for athletes.  But I was intrigued by their claim of progressive learning for all ages and excited that my family of four could push our respective boundaries together.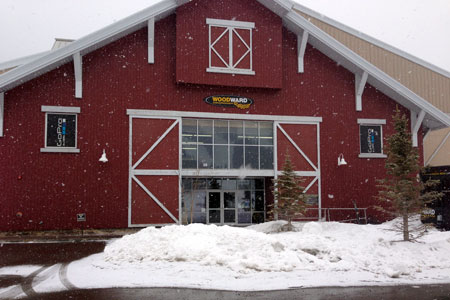 Our session started with our instructor, Angie, leading us in some basic warm-ups, front and back rolls on a wedge-shaped mat, and simple jumps into a foam pit. Next we moved on to the trampolines. In my mind, I would jump effortlessly on the trampoline, fall down to my hands and knees as Angie demonstrated, and spring right back on to my feet. The reality of my attempt was far from graceful and included me landing on my face. My kids chuckled, and the 20-somethings ignored me, executing their flips and tricks. But one woman cheered me on, "Try again, you'll get it next time!"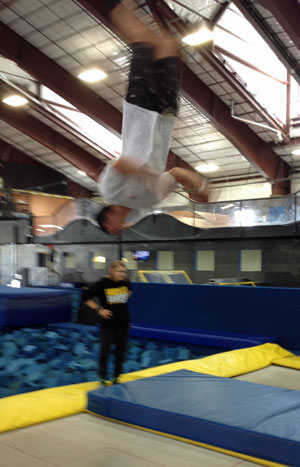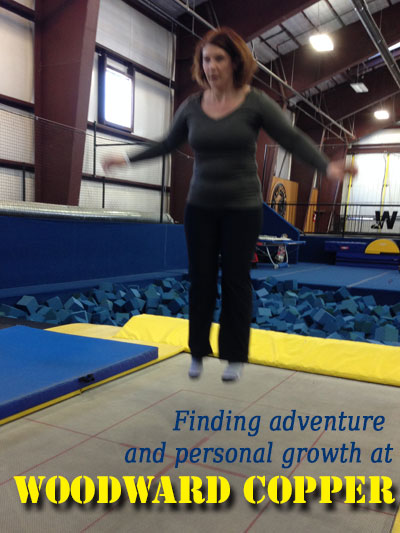 The woman encouraging me was Susan, a frequent visitor to Woodward. And a 57 year old grandmother.  As I got to know her a bit better, she shattered every preconceived notion I had about aging, adventure, and pushing yourself out of your comfort zone.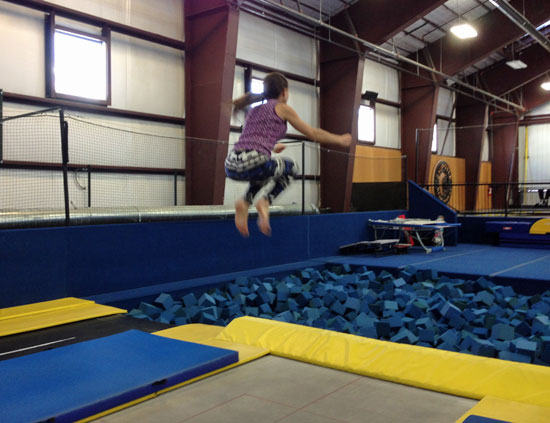 According to the 2013 Adventure Tourism Market Study, adventure travel has been growing 65% year over year since 2009. No longer content to take a few turns on the ski slopes and retire to the bar, more and more skiers and boarders are seeking out adventure experiences that push their limits. Woodward is the place to hone the skills for those experiences, and it doesn't matter what your age, shape, or athletic ability may be.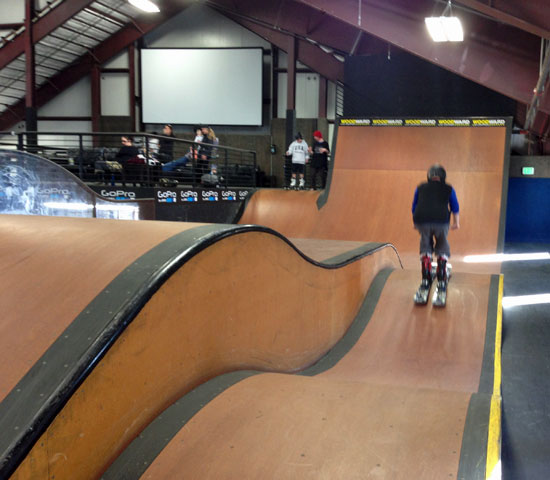 The next step in our progressive learning was to buckle into our ski boots and snap on skis on wheels. We went to the "rollers" – a wooden ramp with a series of rolling hills in front of it. The idea was to soften your knees and absorb the rolls, simulating skiing over a small hill. We were to start out with a gentle push – just enough to roll us backward and forward again. Angie gently pushed me back. I wailed like a baby. The sensation was scary and I fought to keep my balance. I tried again twice and felt better about it by the third time, but still no where near confident enough to ski down the ramp and over the rolling hills. My husband, on the other hand, handled it famously and went on to do a full-on ski jump into the foam pit – several times. At this point, my kids were happy on the trampolines and foam pits, and I went back there to join them.   And I chatted a bit more with Susan.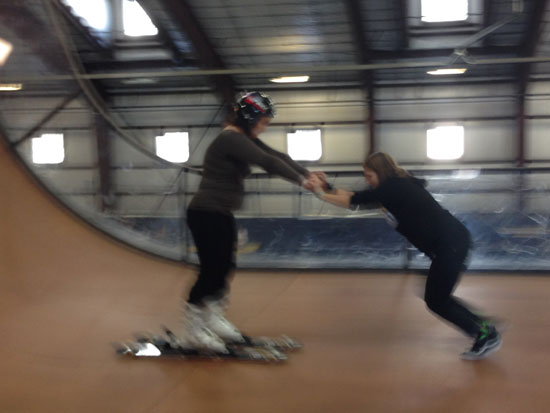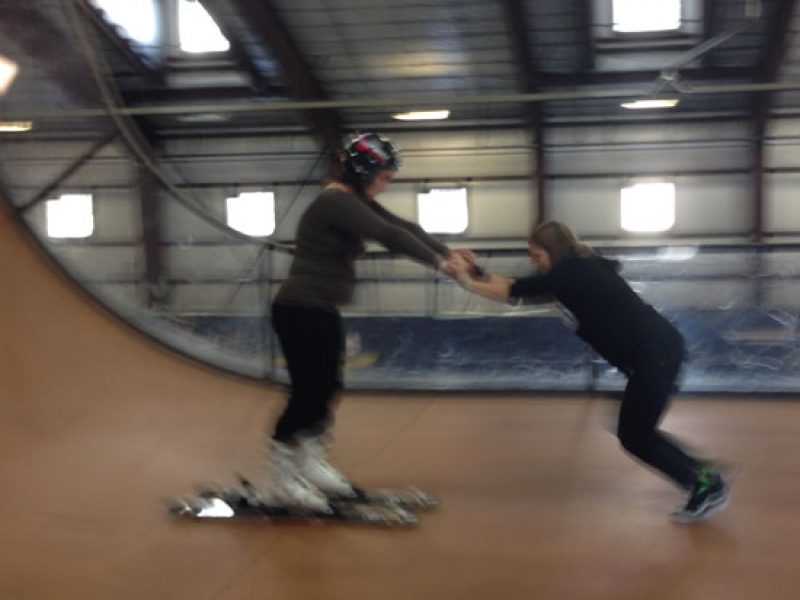 I learned that she is a skier who snowboards "when her grandson comes to visit." I asked if her goal was to learn tricks and jumps, and she shared with me why she keeps coming back to Woodward every couple months: To keep learning. "When you come here," Susan said "it turns what you think is impossible into something possible. With little steps, you make it possible. And that turns your whole world upside down. If I can do this, what else can I do?"
As I face my own "impossibles," I will think of Susan and her wise words. She is the woman I want to become.
I never felt pressured to do more than I thought I could handle during our Woodward session, but I felt supported in trying to go as far as I could. I know that if and when I go back to Woodward, I'll take another step forward.
Woodward Copper is open year-round for introductory sessions and is now gearing up for summer camps for skiers, snowboarders, skateboarders, BMX and mountain bike riders, scooter riders, cheerlearders, and more. It's an inspiring place to experience adventure at any age.
Thank you to Copper Mountain Resort for hosting my family's experience at Woodward Copper to facilitate this review. All opinions are my own.