I'm not really a hot-weather girl, so it's about this time of year that I'm completely done with summer and ready for cooler autumn days. But with a month left of summer in my area, I've got my ways to beat the heat or spend a rainy day. Check out these indoor attractions in Central NJ and Eastern PA: Liberty Science Center, Sahara Sams, and Crayola Experience – and read on to enter to win two tickets to Crayola!
Liberty Science Center
There's a feeling you get when you walk into Liberty Science Center (LSC) in Jersey City, NJ. It's a feeling of possibility. The spacious layout and hands-on exhibits draw you in to the wonder of science and experimentation, and the inspiring views of the New York City skyline remind you of freedom at every window. There's so much fun to be had.
In the Skyscraper! exhibit, kids can walk a narrow steel girder 18 feet above ground, then get suited up in goggles and ponchos to experience 100 mph hurricane-force wind and rain while learning how engineers test a building's behavior in high winds. The Energy Quest and Got Power? exhibits had the kids experimenting with various ways to make things go. From wind to tidal and solar to muscle, we used power to race cars, light up bulbs, move fans and spin wheels.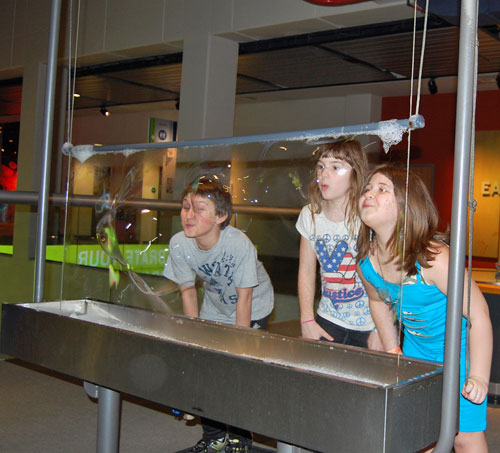 You'll want to grab a seat and relax at the Wonder Why exhibit while the kids climb the rock wall, test their reaction time, make a 6-foot soap bubble, balance a beach ball on a stream of air, and more. I couldn't get them to move on until I mentioned the Touch Tunnel, an 80-foot long, crawl-through pitch-black maze that has been the hands-down favorite at LSC for years. I tried it myself, and it's an eye-opening experience feeling your way through complete and utter darkness.
Some of the exhibits change regularly at LSC. You can experience Grossology: The (Impolite) Science of the Human Body, for example, until September, as well as Block Party (design and create with 1600 oversized blocks), and Art of Science. Check their web site for more information.
Sahara Sam's Oasis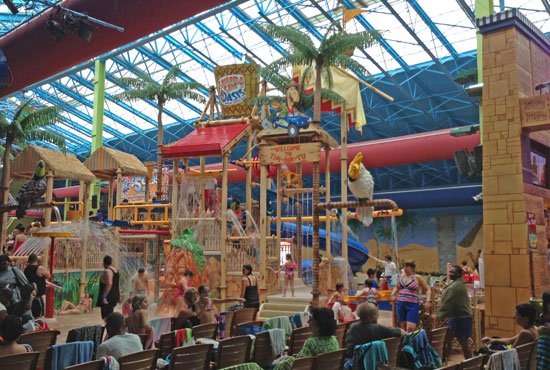 Sahara Sam's Oasis water park in West Berlin, NJ, offers water adventures for everyone. There's the Tim-Buk-Tu adventure playland where kids can climb, slide, and squirt passers-by with water guns, or just wait for the big bucket to spill and drench everyone in the vicinity. Lizard Lagoon, with its mini water slides and swings, is perfect for toddlers. Sahara Sam's has two single-rider winding slides (Snake Eyes), one family slide allowing 3-4 people to ride together (Mount Kilamanjaro), and one 350-ft super-fast body slide (Nile Mile) plus an obstacle course and pool basketball. The CongoBongo lazy river has several waterfalls and sprays, and it's decorated with an attractive  jungle theme, which kids may not notice, but I appreciated as I floated along.  My kids especially enjoyed the water slides and the lazy river. Sahara Sam's also has New Jersey's only FlowRIDER Surfing Simulator, and though only body-boarding is permitted, it's quite a rush to ride a serious wave.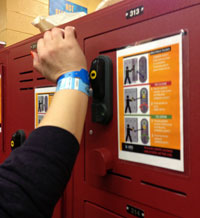 Sahara Sam's has a pretty good layout for traffic flow and ease of use. The changing area, lockers and restrooms are conveniently located. Lockers are accessed electronically with your admission wrist band (though locker rental is an extra fee), so there are no keys to carry or number combinations to remember. As a mom, I appreciated being able to access the lockers so easily when my kids wanted food or money for the arcade.
It was mildly crowded the day of our visit, but there were plenty of chairs for adults to relax. There's also a full-service bar located just inside the entrance to the water park. A tropical cocktail might be nice, but the park is so loud, I don't know how much relaxing could really be done there. As for food, Sahara Sam's Desert Palm Cafe has a fine selection – from the usual kid food to chicken parm sandwiches, chef salads, and the ingenious funnel sticks. The one thing Sam's could use more of is lunch tables. I definitely recommend eating during "off-hours."
If you prefer to spend time outside, Sahara Sam's has an amazing outdoor Beach Club. Just opened this year, it includes a leisure pool, a children's splash park, a 12,000 sq ft wave pool, a full service Tiki bar, sand volleyball courts, and the "Samazon" – the world's tallest rope-climbing adventure course. Visit Sahara Sam's web site for full details.
Crayola Experience
With 18 attractions and art stations, the recently revamped Crayola Experience in Easton, Penn., is a little artist's dream. You and your kids can spend the day immersed in color, imagination, and technology.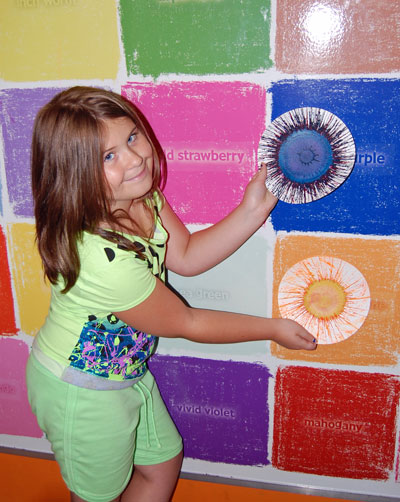 There are three floors of activities at Crayola, and one floor that houses the Cafe and Crayola Store (don't miss the big wall of color where you can assemble your own pack of crayons or markers!).  On the 2nd floor your kids can create a design on the giant lite-brite board, take home a personalized crayon that they named and labeled, design art that comes alive in a display on the walls, make their own marker, and sculpt with Model Magic. But my daughter was drawn immediately to the "Be a Star" attraction where she chose a background and had her photo turned into a coloring page.
The 3rd floor is all about motion. Dance with animated crayons in "Doodle in the Dark."  Climb and slide on the giant play structure. Draw on the chalk floor. Create a puzzle from your own artwork. Splash a crayon boat through the 85-ft water play table.
The 4th floor is where crayon wax is melted and transformed into other forms of art. The Crayon Clinic lets you take your favorite crayon color and watch it melt into a molded keepsake such as a ring, car, or dinosaur. Drip Art is Crayola's take on spin art – melt your crayons over spinning paper and make a stunning design (as seen in the photo). And at the Meltdown, kids paint with melted wax.
Want to win tickets to the Crayola Experience? They have graciously provided me with 5 sets (2 tickets each) to give away. Enter below! Or if you want to buy tickets now, they are offering discounted tickets until August 20th. Click here to save $3 on the Crayola Experience!