You're probably hearing and reading more and more about essential oils. That's because they're effective, natural, and fun!
I've been learning about essential oils for the past few months and have several success stories where the oils have helped me and my family get healthier, feel better, and be more productive. They smell wonderful and turn my home into a spa-like experience.
So how do I use essential oils in my travels? First, I've got an amazing travel swab my family and I use every time we get on an airplane to ward off germs.
Immune-Boosting Travel Swab
2 Tbsp Rose Ointment or Animal Scents Ointment (they are essentially the same, but the Animal Scents is much less expensive).
3 drops Exodus II essential oil
3 drops Egyptian Gold essential oil
Mix these ingredients together in a small container. Before we get on an airplane, we take a small dab and swab it inside each nostril. It helps boost your immune system and protect against breathing in nasty germs on a plane.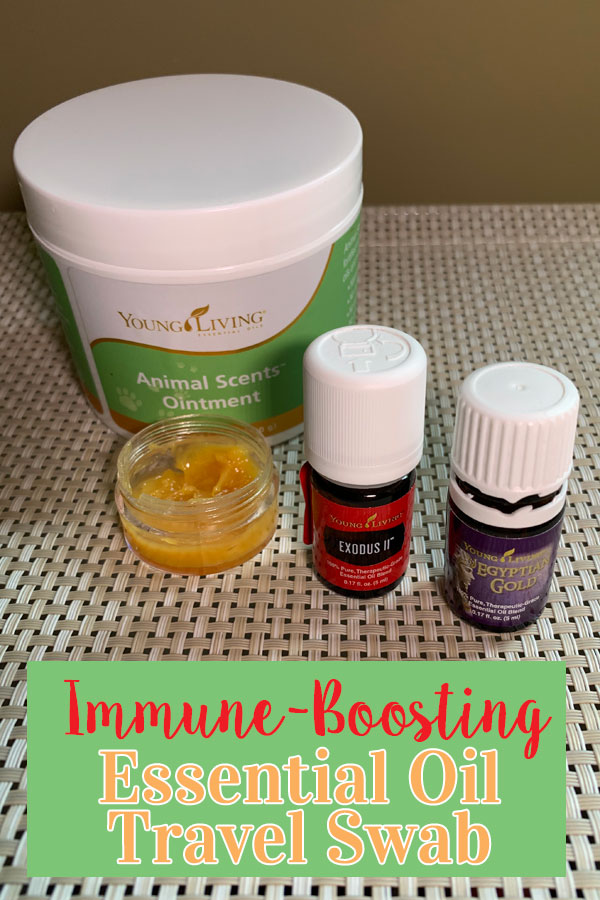 I also recommend traveling with the following essential oils:
Thieves – Antiviral, antiseptic, antibacterial and anti-infection. Basically a ninja oil. Legend has it Thieves was used by a group of 15th-century thieves who rubbed oils on themselves to avoid contracting the plague while robbing the bodies of the dead and dying. I rub it on my hands before heading to the airport and on the plane.
Peppermint – Another ninja oil with all kinds of claims, I like peppermint to help attention and focus. It's a stimulating smell and it's also said to curb appetite. Peppermint is also excellent to ward off motion sickness on road trips!
Lavender – I don't particularly love the smell of lavender, but my daughter does and she now includes it in her bedtime routine, rubbing a bit on her feet, palms, and pillow for relaxation. It's also good for soothing skin if you're going to be in sand, salt, and sun.
Stress-Away – A mix of copaiba, lime, cedarwood, vanilla, ocotea, and lavendar, this blend smells heavenly. I love to use it on a road trip to calm everyone down!
And when you come home, there are lots of ways essential oils can bring back memories of your travels. I created several essential oil blends that will remind you of skiing, the beach, walking in the woods and even Disney World!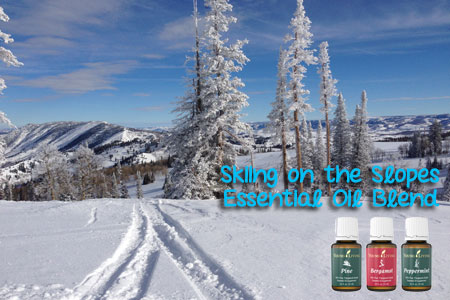 If you're interested in experimenting and learning more about essential oils, don't buy just any oils. Young Living sets the standard for purity and authenticity. Through a unique "Seed to Seal" process, Young Living carefully monitors every step of oil production.
Young Living makes it easy to get started on the learning process with their Premium Starter Kit that includes all the basic, everday oils you need. Here's my regimen (and check out the infographic at the end of this post) for daily use of essential oils:
I start the day drinking two ounces of NingXia Red – a combination of wolfberry and essential oils that tastes amazing, wakes me up, and makes me feel energetic.
I add a drop of Lemon, Peppermint, or Jade Lemon oil to my water bottle. Essential oils also mix really well with seltzer for a healthy soda-like taste.
Next, I fill my diffuser. To kick my morning off right, I choose from my favorite oils to enhance focus and productivity: Awaken, Highest Potential, Joy, Motivation, or Peppermint.
After running around with the kids during the day, I make sure to diffuse and inhale Thieves or Purification to ward off any germs that might be trying to chip away at my immune system.
I try to eat healthy, but dinner time is my most challenging time of day. I put a couple drops of Slique Essence in my water or tea to help curb my hunger and cravings. It doesn't always work, but I have noticed that if I distract myself and stay busy, I don't feel hungry. This makes me think that the Slique Essence helps keep the hunger at bay at least a little!
At the end of the day, I might mix a couple drops of Pan-Away with coconut oil and rub it on any sore muscles. (I've been working out, yo.)
Before bed, my daughter always rubs a little Lavender oil between her hands and on her pillow. It's a special treat when I agree to rub her feet with it!
I'm not particularly fond of Lavender, but I love Peace & Calming or Stress-Away before bed. I'll massage it into my feet, put a little on my temples and neck, and sometimes put a drop on a cotton square and put it inside my pillow case.