Have you ever had a scent remind you of a specific place or event that makes you feel happy? I recently started experimenting with making my own essential oil blends to remind me of places I've traveled.
Essential oils – natural oils extracted and distilled from plant sources – are my new passion. They have been used for thousands of years for cosmetic purposes, as well as for their spiritually and emotionally uplifting properties. Essential oils can enhance your physical wellness, purify your home, and inspire a positive emotional state.
Essential oils that smell like skiing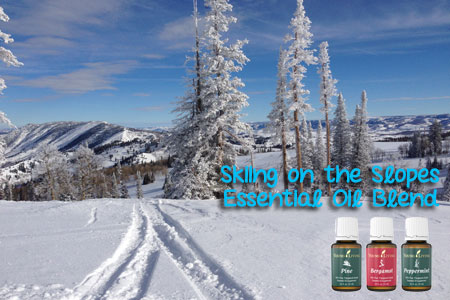 Every time I skied down the Cobabe Canyon trail at Powder Mountain in Utah, I would catch the most wonderful scent of pine trees mixed with fresh snow and mountain air. It must have been the concentration of pines in that area because that was the only place I smelled it. I remember skiing down the run-out of that trail and breathing deeply, over and over, trying to catch a hint of the pure pine scent.
When I found Young Living's pine-scented essential oil, I wanted to see if I could recreate the scent of that ski trail! After some experimentation, I mixed 4 drops of peppermint, 3 drops of pine, and 3 drops of bergamot in my diffuser and – BAM! – I'm back on the slopes.
Too bad it's not that easy, but it's certainly easy enough to bring my mind back to that peaceful place and bring back memories of our vacation. Pine and peppermint oils are both useful for an energy boost and may help relieve mental and physical fatigue, so I love to diffuse this blend in the afternoon when my energy starts to wane.
I started mixing up a few more recipes for the diffuser, inspired by other places I've traveled. I hope some of these remind you of your favorite travel spots!
Walk in the Woods Blend
This one reminds me of hiking in the Sierra Nevada mountains overlooking Lake Tahoe.
5 drops frankincense essential oil (can also use elemi essential oil)
3 drops white fir essential oil
2 drop cedarwood essential oil
Disney's Soarin' Essential Oil Blend
If you've been on the old version of the Soarin' ride at Disney World's Epcot park, you've smelled the fresh citrus scent as you fly over the California orange groves. The ride has now been changed to "Soarin' Around the World," so you won't get the chance to experience that scent again… Unless you create this blend! It's a favorite with my kids!
5 drops orange essential oil
2 drops lemon essential oil
2 drops lime essential oil
1 drop grapefruit essential oil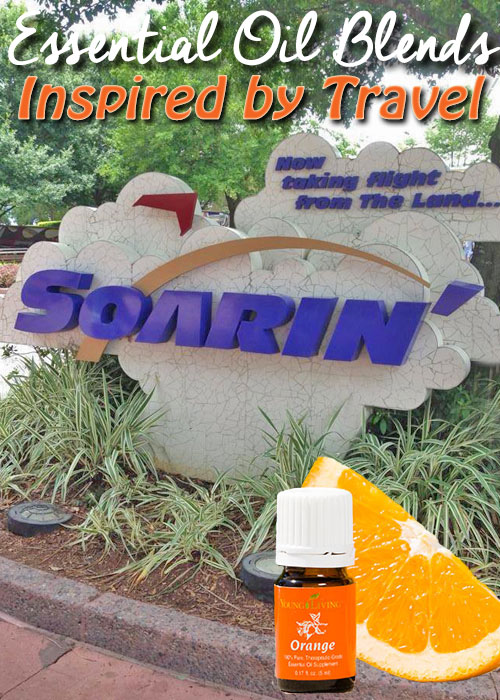 Day at the Beach Blend
I had the hardest time creating an "ocean" scent, but this one is pretty close to the waves.
3 drops lavender essential oil
2 drops rosemary essential oil
2 drops bergamot essential oil
1 drop eucalyptus essential oil
Skiing on the Slopes Blend
4 drops peppermint essential oil
3 drops pine essential oil
3 drops bergamot essential oil
If you burn candles or use air fresheners in your home, did you know that you may be releasing loads of chemicals into the air that could aggravate asthma, allergies, and your lungs? With essential oils, I don't have to be concerned about spraying chemicals around my house. Young Living's Seed to Seal promise ensures its oils are genuine, free of synthetic chemicals, and of unmatched purity.
I use only Young Living Essential Oils. You can try their amazing essential oil starter kit here. I will receive a small commission.