Looking for things to do in Plymouth with kids? With waterfront beauty and small-town ambiance, Plymouth, Mass., oozes with American history and charm. A visit to Plymouth might have you stepping back in time, spotting a humpback whale, strolling along the beach, exploring Burial Hill, or shopping and dining along Main Street.
There's a lot to do, but at the same time, there's not a lot to do – and that's the beauty of Plymouth.
While it can be crowded in the summer months, Plymouth isn't Disney World crowded. It's a small, quaint town with bed & breakfasts and a few, key historical attractions. What I loved most about Plymouth is how they are still living their history today so that visitors can really immerse themselves in the experience of the 17th century settlers.
An ideal place for a romantic weekend getaway or a short trip with the kids, I recommend these five fun (and educational!) things to do in Plymouth: Plymouth Rock, Plimoth Patuxet, Mayflower II, Plimoth Grist Mill, and the town of Plymouth.
Visiting Plimoth Patuxet
That's not a typo. Plimoth Patuxet is a living history museum formerly known as Plimoth Plantation. Its spelling is taken from a historical account of the town by Governor William Bradford. Back in the 17th century, there were no standards for spelling, so many things were spelled phonetically. The museum stays true to its roots by using the "Plimoth" spelling.
In July of 2020, the museum changed its name from Plimoth Plantation to Plimoth Patuxet. Patuxet is the Wampanoag name for the land where English settlers landed in 1620.
Plimoth Patuxet is a must-see with kids. It is comprised of the Wampanoag Homesite, the English settlement, and a craft center. At the Wampanoag site, visitors interact with Native Americans dressed in 17th-century, historically accurate clothing. You can watch, engage, and learn as they demonstrate how they grew food, fished and hunted, made clothing and tools, played games, and more. My family had an inspirational visit to a nush wetu (long house), where we sat by a fire pit and talked for quite some time with a Native American.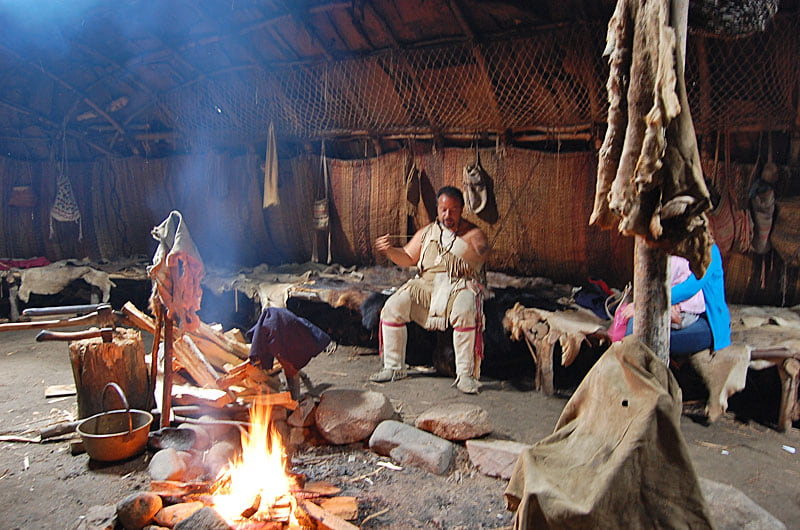 As you walk down the path from the Wampanoag Homesite, prepare to enter the 17th Century in every way. At the English Settlement – a recreation of the community built by the Pilgrims along the shore of Plymouth Harbor – the role players are very serious and do not break character.
They are strict about not knowing anything of the world beyond their time. You can ask a question using a modern term and they will feign ignorance. This might be frustrating for some kids, but it's also quite entertaining. We spent less time at the English Settlement, but learned a lot exploring the homes, stores, fields, animals, and fortifications.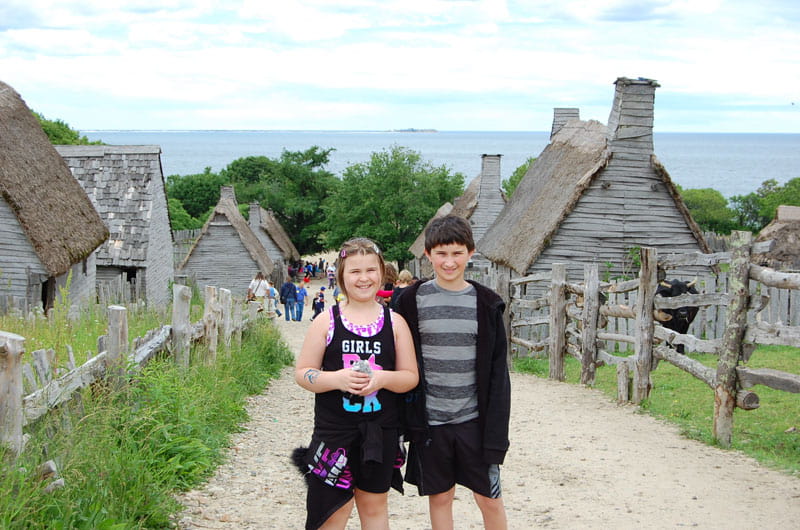 You'll definitely want to plan a full day at Plimoth Patuxet.
Plymouth Rock
Yes, it's a rock. A rock with the year "1620" carved into it. It's not much to see, but you really can't go to Plymouth – the birthplace of America – without taking a look at the symbolic first footfall of the Pilgrims.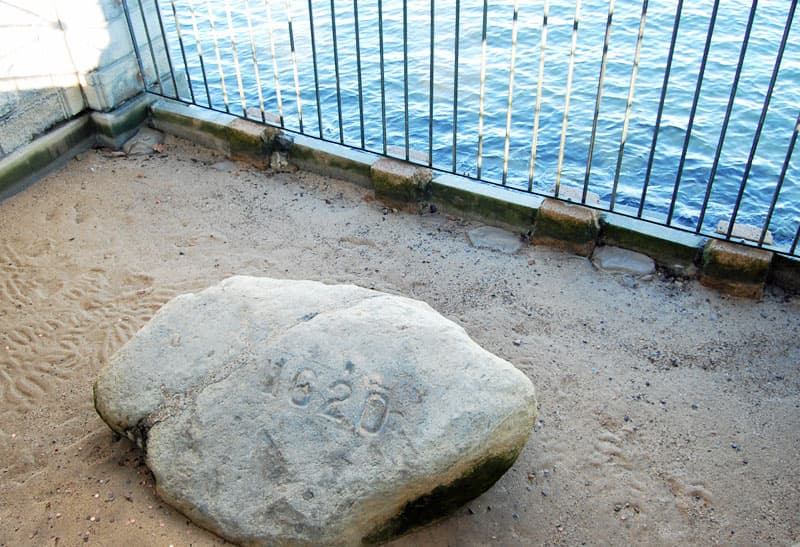 But be sure you know the facts to tell your kids! There is no evidence from contemporary writings that the Pilgrims actually stepped on a rock when they landed in America. "Plymouth Rock" was not designated as the landing place until 1741, more than 120 years later, when plans were being made to build a wharf and the rock was to be buried. At that time, 94-year-old Thomas Faunce identified the precise rock his father had told him was the first solid land the Pilgrims set foot upon.
It's also important to note that Plymouth was the first settlement of the Pilgrims in the New World, but not the first landing. The Pilgrims actually first landed in Provincetown on Cape Cod, but decided to move on after getting into a skirmish with the local Native Americans.
So while Plymouth Rock was not the first place the Pilgrims set foot on American soil, it is still a symbol of our nation's founding.
Mayflower II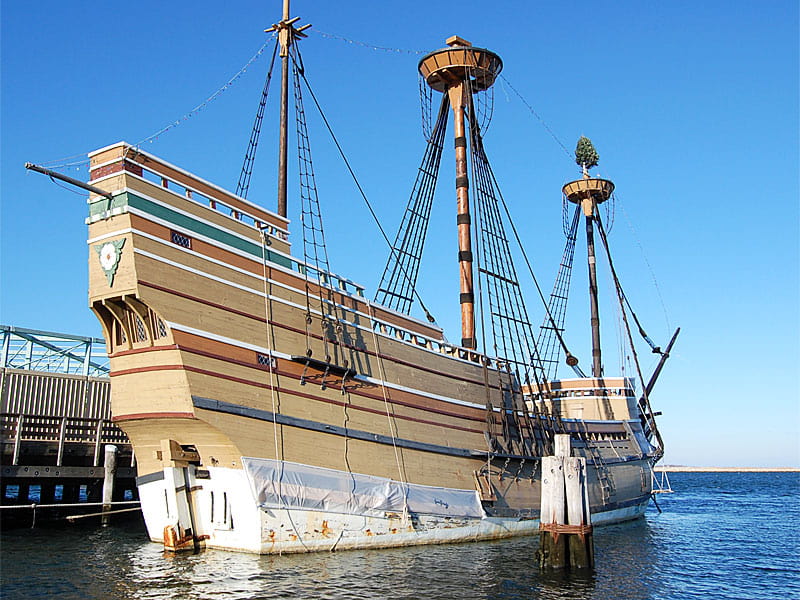 The original Mayflower ship no longer exists, but a full-scale reproduction was built in England and crossed the Atlantic in 1957. This ship, the Mayflower II, is open for tours so you can see for yourself what it was like for those 100+ people crossing the ocean for 66 days. Let me tell you, it's tiny! You'll get to see the cramped passengers' quarters and the lower level "hold" where supplies were stored.
Plimoth Grist Mill
A short walk from the waterfront and Mayflower II, the Plimoth Grist Mill tells the story of the grist (corn grinding) mill built by the Pilgrims in Plymouth Colony. After more than a decade of laboriously grinding corn by hand in wooden mortars, the colony authorized the construction of a water-powered corn grinding mill in 1636.
The mill you see today is a reproduction that was completed in 1970. Many of the parts (the stones, spindle, and stone furniture) are from the early 1800s and were salvaged from a mill near Philadelphia, PA.
They still mill corn here, so call ahead to find out what days they will be milling! After your visit, you'll be able to purchase freshly ground, organic cornmeal and other treats, as well as books and souvenirs.
More Things to Do in Plymouth
Plymouth is a wonderfully walkable town. From the southern part of town, we walked through Brewster Gardens and past Immigrant Monument. We checked out the oldest street in North America and the site of the Pilgrims' original settlement.
Next we made our way along Cole's Hill, where there is a sweeping view of the bay into which the Mayflower sailed. There are benches and I highly recommend sitting with a coffee and soaking up the view. There's plenty of open space for the kids to run around and burn off some energy.

Finally, we walked up to Burial Hill Cemetery. Burial Hill is on the National Register of Historic Places and is the site where Mayflower passengers are buried including Governor William Bradford and William & Mary Brewster.
If you think wandering cemeteries is weird or boring, you should reconsider. There is so much history and fascinating info you can find in a cemetery! We noticed how many children didn't live past their teen years. And we kept seeing these angel/skull/grim reaper carvings in the headstones.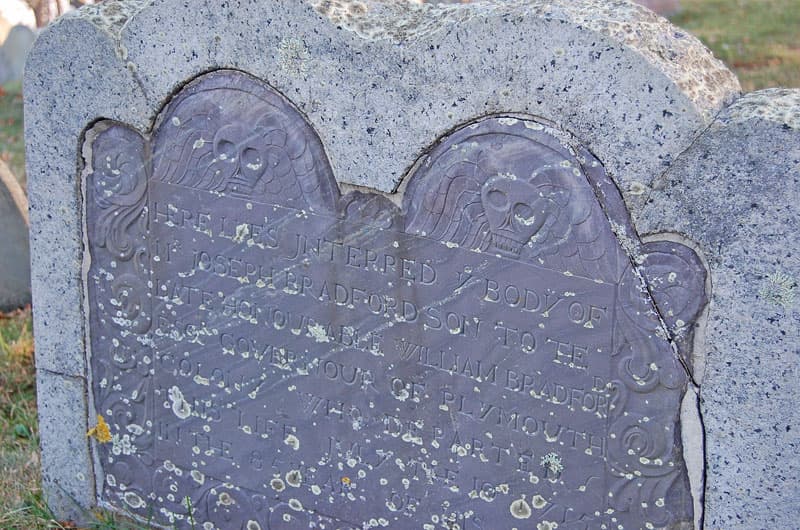 Depending on the time of year you visit, there are even more things to do in Plymouth with kids. You might enjoy the beaches, nature walks, whale-watching tours and more historical things to see in Plymouth.
I recommend spending at least three days to maximize your experience, but in the summer months you could take four or five days and enjoy all the sights, sounds, smells, and tastes of this wonderful little town by the ocean.
One last tip: If you're driving west out of Plymouth on your way home, you'll likely pass through Miles Standish State Forest where you can see the cranberry bogs! Having never seen a cranberry bog, it took a few minutes for me to realize what I was seeing. Then I noticed signs for Cranberry Road and Ocean Spray. I recommend a quick detour to drive along Cranberry Road for a bit. The bogs are really interesting to see, especially if you pass through when they are ripe from mid-September to early November.
If you're looking to extend your trip, definitely consider these under-the-radar things to do in Cape Cod!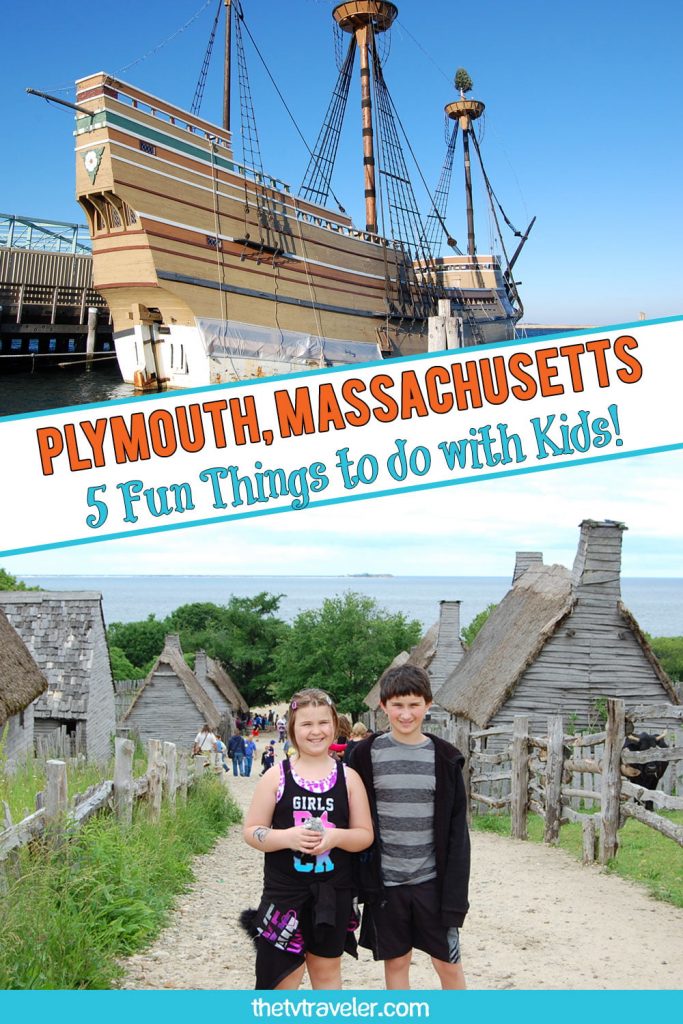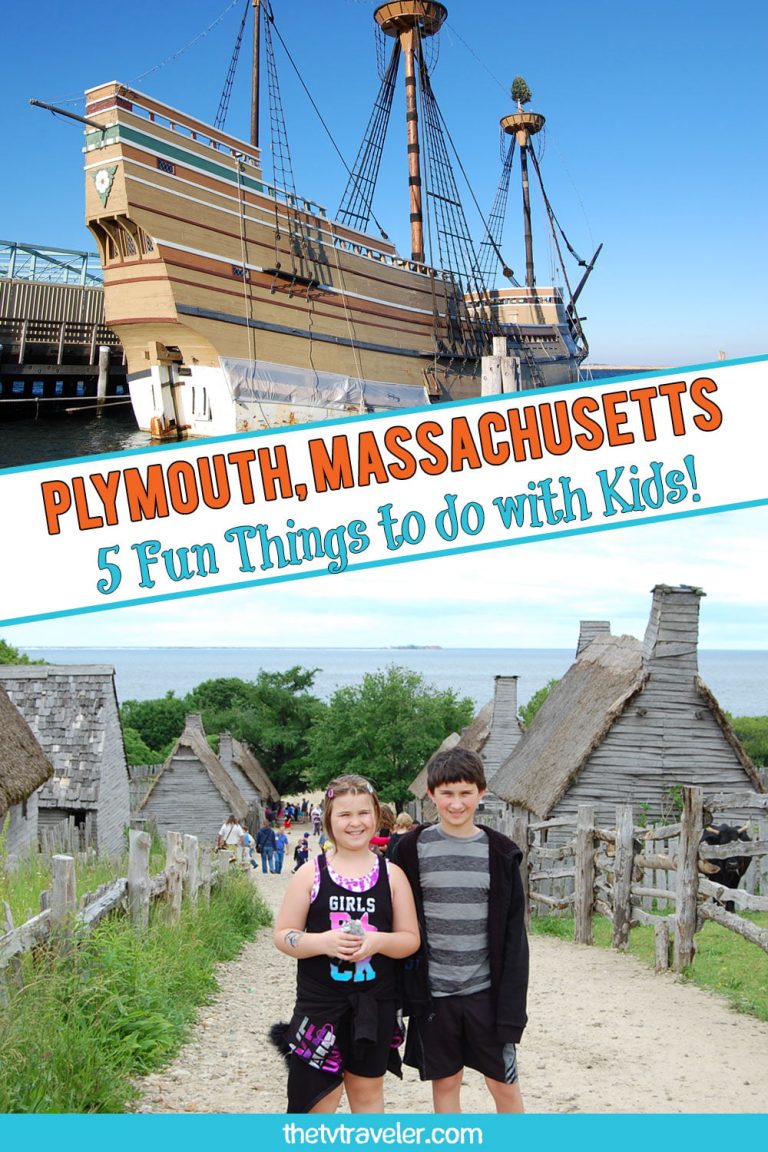 This post was originally published in 2012. It was updated with new information in 2021.