Our trip to Plymouth, Mass., was an overnight getaway for my husband and I the day after Christmas. It was last-minute and not well-planned. Sometimes when you don't plan, the unexpected provides a much nicer result.
We drove into Plymouth on Route 44 from Providence, RI. It's a rural road, dotted with family-owned auto-body shops and car dealerships and evidence of by-gone cultural centers. Route 44 goes smack through the center of Main Street, New England. In the city of Taunton there's a beautiful town center known as the Church Green, a triangular shaped common that was decked out in Christmas decor. I've always had an affinity for these "town greens" – they remind me of my childhood weekends in upstate NY listening to a band in the gazebo and window-shopping on Main Street.
What to Do on Your Trip to Plymouth
Our first stop in Plymouth was Kiskadee Coffee, a relaxed coffee shop with friendly service and quality food. We had lunch and a festive Candy Cane Latte. The atmosphere was unhurried, lots of laptops, lots of conversation. We loved Kiskadee so much, we revisited the next morning before we headed out of town.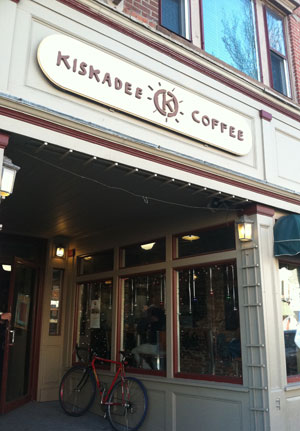 After refueling our bodies, we started walking. From the southern part of town, we walked through Brewster Gardens and past the Immigrant Monument. We checked out the oldest street in North America and the site of the Pilgrims' original settlement, which wasn't really much to see.  Next we made our way along Cole's Hill, where the view is stunning.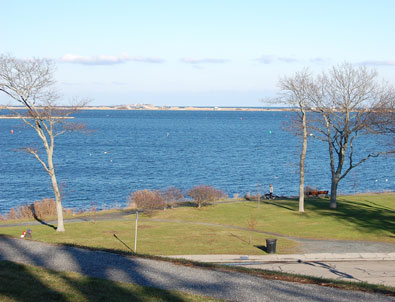 We headed down toward the water to see "The Rock." It's really just a rock stamped with the year 1620, but its true history is interesting. There is no evidence from contemporary writings that the Pilgrims actually stepped on a rock when they landed in America. It was not designated as the landing place until 1741, more than 120 years later, when plans were being made to build a wharf and the rock was to be buried. At that time, 94-year-old Thomas Faunce identified the precise rock his father had told him was the first solid land the Pilgrims set foot upon. Plymouth Rock may or may not be the first footfall of the Pilgrims, but it is a wonderful symbol of our nation's founding.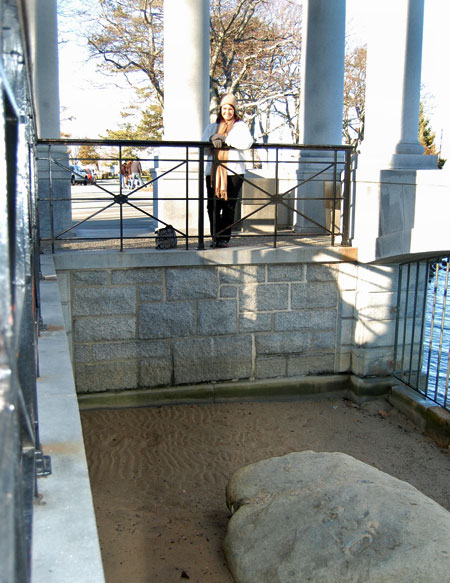 Our next stop was the Mayflower II. This replica of the original Mayflower was not open to tours in the winter, but it was amazing to see how small the ship is. I tried to imagine 130 people on this tiny boat crossing the ocean for 66 days…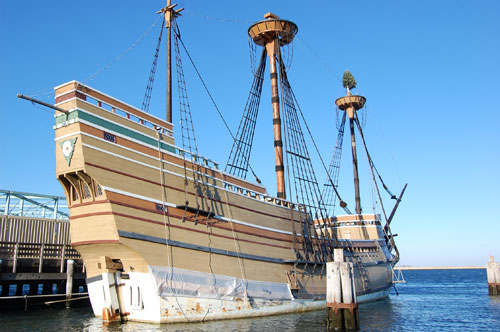 We walked back toward our car, stopping in a few quaint shops along Main Street and then stumbling upon the cemetery. If you're one of those people that think wandering cemeteries is weird or boring, you should reconsider. There is so much history and fascinating info you can find in a cemetery! We noticed how many children didn't live past their teen years. And we kept seeing these angel/skull/grim reaper carvings in the headstones.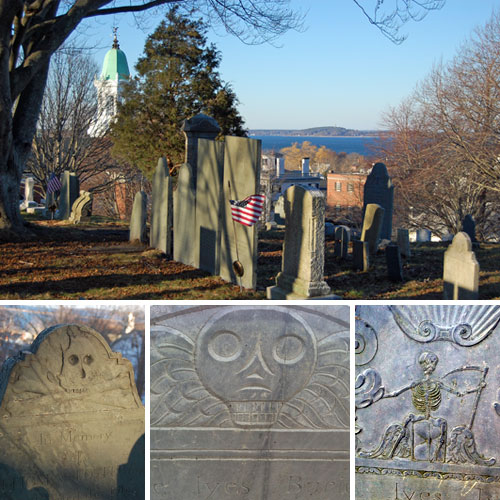 Because we visited Plymouth in December, some popular sites like Pilgrim Hall Museum and Plimouth Plantation were closed, but they are definitely places you should check out. We had a wonderful day trip exploring the town and surrounding areas, and we'll definitely be visiting again with the kids when the weather is warmer.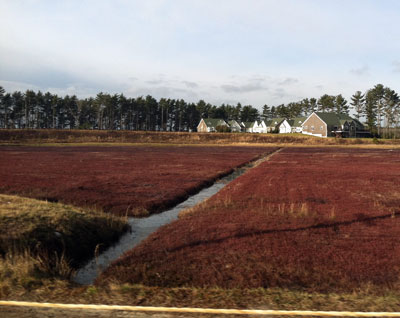 On our drive home, we passed through Miles Standish State Forest and stumbled upon the cranberry bogs. Having never seen a cranberry bog, it took a few minutes for it to click in my mind. Then we saw Cranberry Road and signs for Ocean Spray. We took a quick detour and followed Cranberry Road for a bit. Even though the cranberries were not quite ripe, the bogs were really interesting to see.
Our spur-of-the-moment trip to Plymouth was relaxed, as we strolled unhurried through town and along the waterfront with no real plan. And sometimes unplanned trips are the best kind.