Looking for a hotel in Southern California? The Hills Hotel in Laguna Hills is ideally located between Los Angeles and San Diego. This boutique hotel offers a beautiful pool area, on-site restaurant, and clean, well-appointed rooms – all at a price that won't break the budget.
THE Hotel in Southern California For Easy Access to Everything
I stayed at The Hills Hotel with my husband and daughter (age 12) while we attended VidCon at the Anaheim Convention Center. We also spent a day at Disneyland and did some sight-seeing in Beverly Hills.
Aware of the frequent traffic in LA, I was a little concerned about getting to and from the hotel every day. But the location turned out to be perfect. The hotel sits directly off I-5, just 20 minutes from Anaheim/Disneyland and minutes to Laguna Beach.
If you're planning to head south, The Hills Hotel is less than an hour to LEGOLAND and about an hour and 15 minutes to the San Diego Zoo. Both are an easy drive down I-5. I recommend leaving the hotel a bit later in the morning (9 or 10am) to avoid rush hour traffic. The only time we hit traffic was when we came back from Beverly Hills around 4 pm.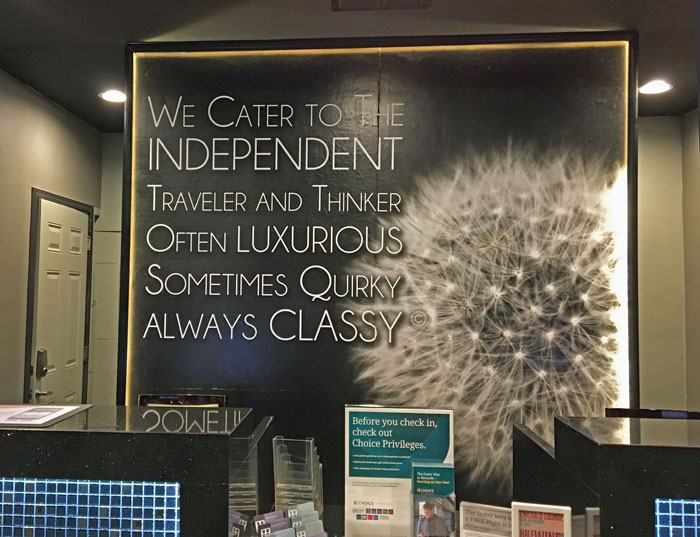 I loved the secluded feeling I got at the Hills Hotel. Guests are removed from the congestion and hustle & bustle of LA, but just an on-ramp away from the interstate. And because it's not in the middle of the Disneyland and convention center action, the Hills Hotel is priced right at around $160/night for a king bed or two fulls.
Spacious Rooms, Excellent Amenities
All guest rooms feature pillow-top mattresses, bathrobes and slippers, 32-inch flat-screen HDTVs, refrigerators, coffee makers, hair dryers, safes, ergonomic desks, irons and ironing boards.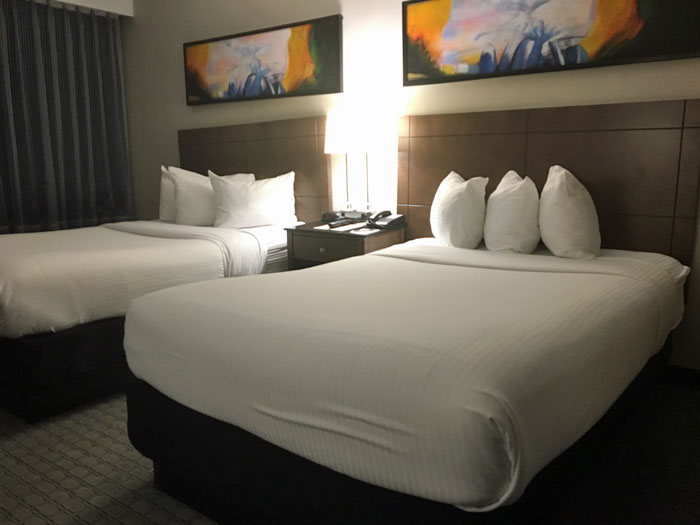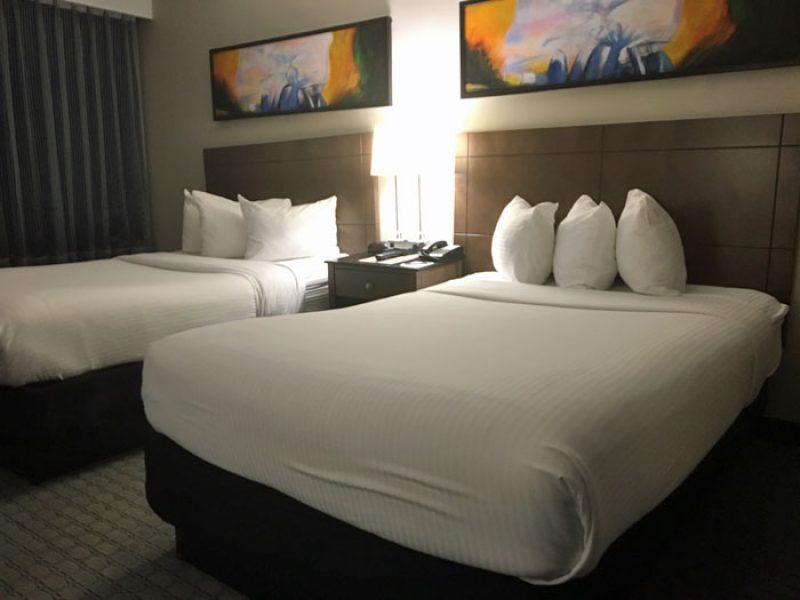 We had plenty of space to spread out in the room. In addition to the two double beds, we had an easy chair, large desk and desk chair, huge ottoman (big enough to hold our 50-lb duffle bag!), and a unit that housed the refrigerator, safe, and two drawers. This would probably be my only complaint about the room – I would have liked a couple more drawers.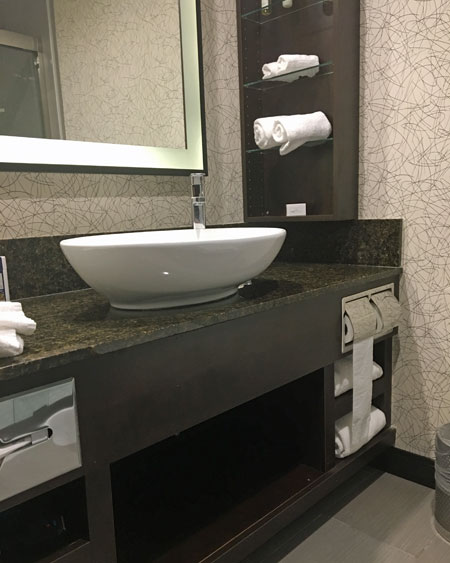 And still there was a good amount of space near the entry and bathroom for a luggage stand and access to the closet. The bathroom had a spacious stall shower and lots of shelves and counter space where my daughter and I could spread out our toiletries and makeup. And who doesn't love a pretty vessel sink? I hate water splashing all over the counter, so I'm a big fan!
Boutique Features at The Hills Hotel in Southern California
The Hills Hotel is part of Choice Hotels' Acsend Collection. Each Ascend hotel uniquely reflects its local community, with staff committed to sharing their insider knowledge of the places, moments and experiences that makes each destination special. And The Hills Hotel hit the mark.
I loved the outdoor areas of the hotel that screamed "Southern California" to me, with colorful flowers and palm trees all around. There were plenty of places to gather and hang out. Staff at the desk and restaurant were helpful and courteous and were able to offer tips about visiting the area.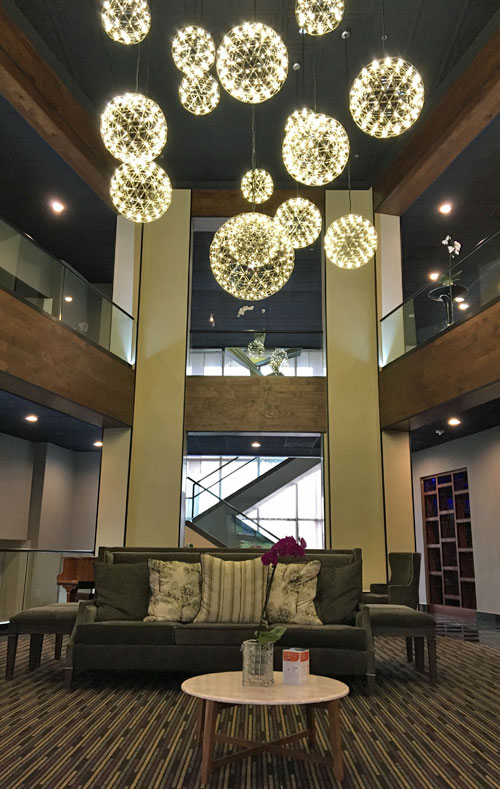 Additional hotel features include:
The Hills Cafe restaurant on-site is open for breakfast, lunch, dinner and room service.
Lounge open nightly with full-service bar, TVs, and sometimes live entertainment.
Free wi-fi in rooms and all hotel areas.
Fitness center with three treadmills and an exercise bike.
Free, plentiful parking.
Free laundry! As someone who often does laundry while traveling, I can tell you it was so nice not to have to feed quarters into the washer and dryer!
Great Gathering Spaces at the Hills Hotel
The beautiful pool and hot tub area features lots of cozy seating, plenty of covered areas to provide shade, and relaxing cabana-type seating areas that I loved! At first it was a little disappointing that the pool was adjacent to – and had a view of – the parking lot. But it really wasn't an issue. Parking lot traffic was low and didn't bother us at all.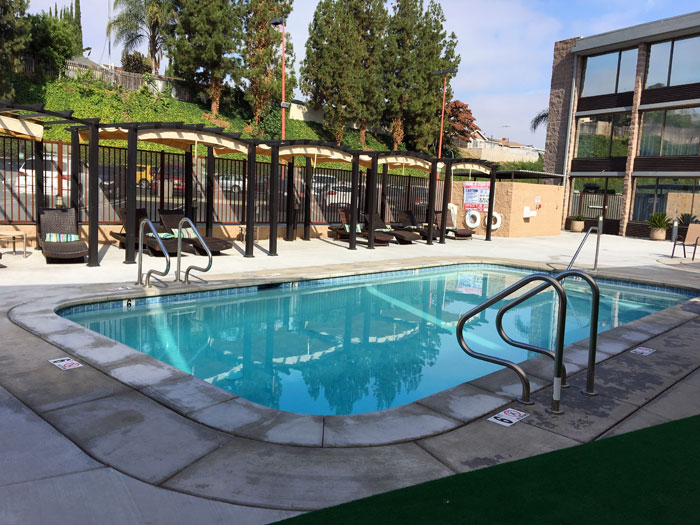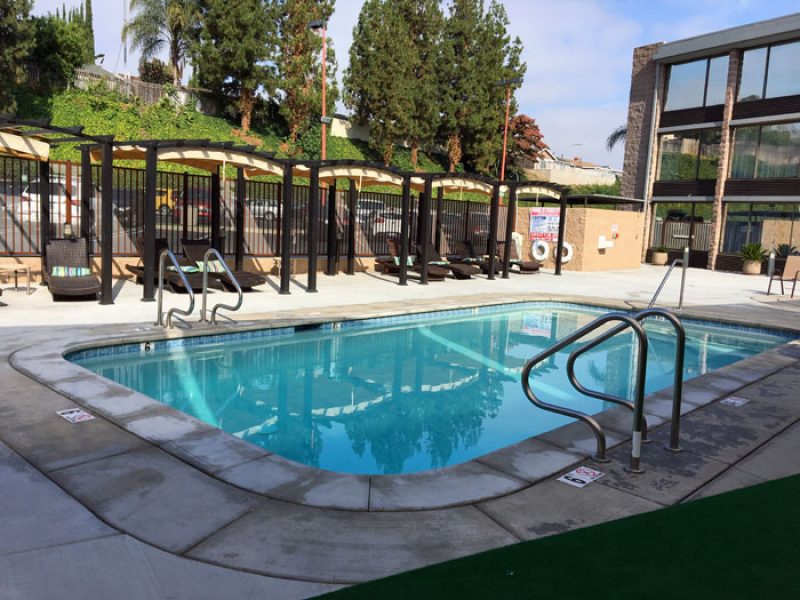 The Hills Hotel is great for families vacationing, couples getting away, or business folks looking for a little relaxation between meetings. But after seeing the ballroom and party areas, as well as the general gathering areas, I know this hotel would be amazing for a wedding or a multi-family vacation, too. There are so many great spots for larger groups to sit, chat, party, and enjoy.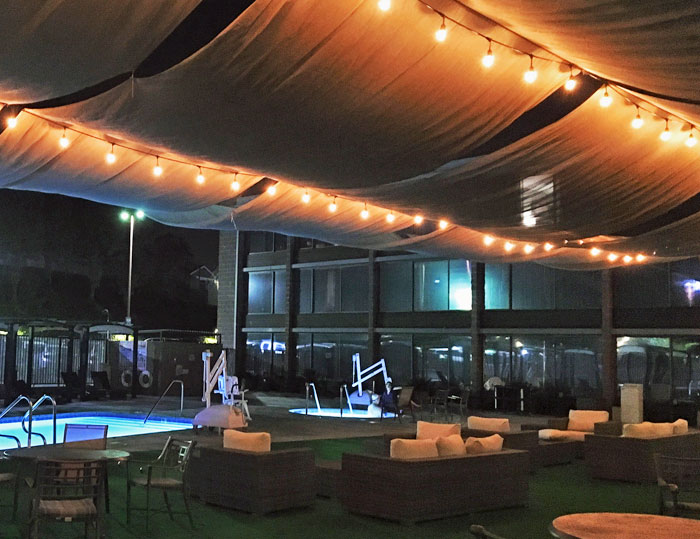 If you're planning a vacation that involves seeing some different sites around southern California, The Hills Hotel fits the bill and is easy on the wallet.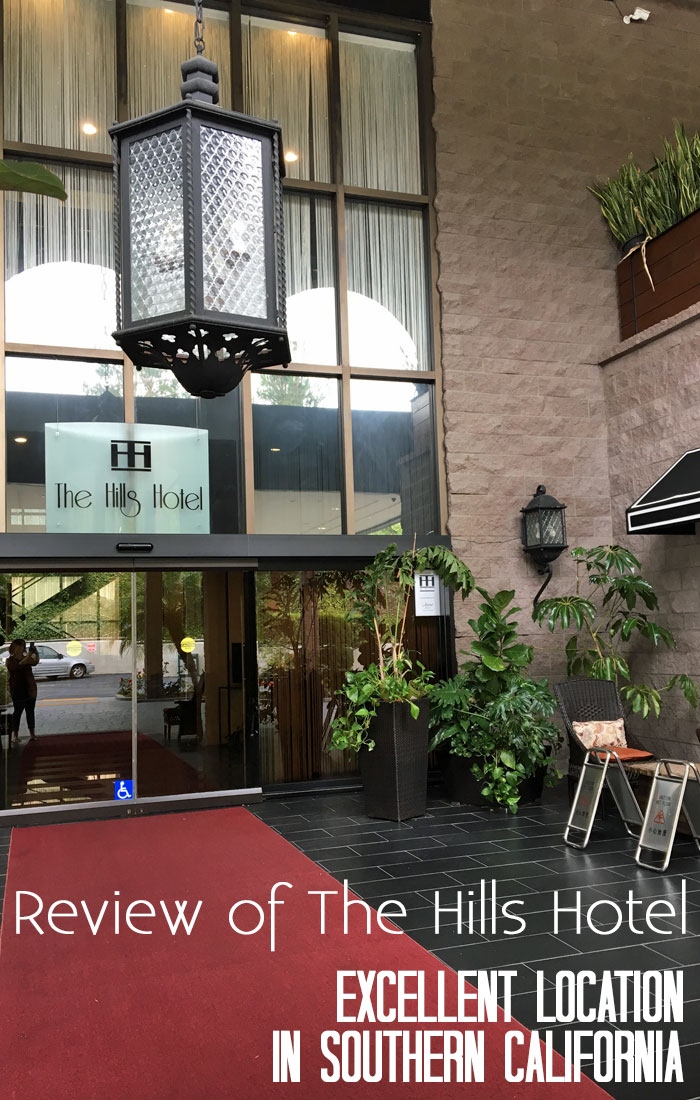 Disclosure: I received a reduced rate for my stay at The Hills Hotel to facilitate this review. All opinions are my own.