If you're looking for ski rentals in Breckenridge, Keystone, or Copper Mountain, look no further than Ski Butlers ski rental delivery service. Ski Butlers offers the safest, smoothest, and most convenient way to rent your ski and snowboard equipment.
There's no need to spend time waiting in line at a crowded, noisy rental shop for sub-par equipment. Ski Butlers will come to you! Their experienced technicians deliver your ski and board rentals and fit you with high quality equipment in the comfort of your vacation home, resort, hotel, or wherever you are staying.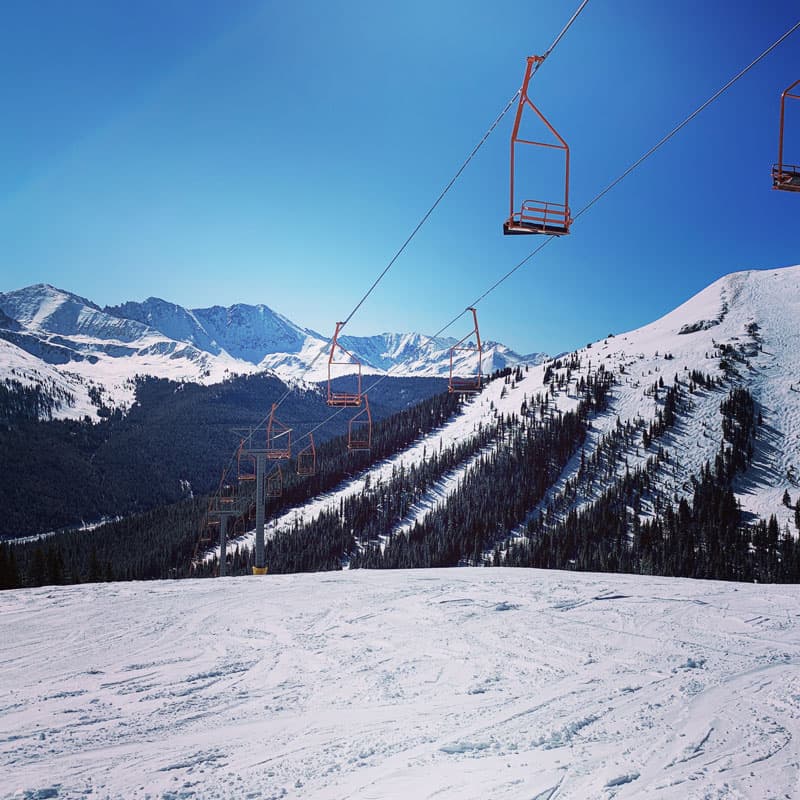 FAQs About Breckenridge Ski Rental Delivery
My family has been using Ski Butlers for 10 years and we'd never consider renting any other way. During our most recent visit to Breckenridge, Ski Butlers provided us with discounted rentals to facilitate this review. All opinions are my own and I am thrilled to provide answers to all your questions about ski rental delivery in Breckenridge!
How does ski rental delivery work?
Once you have booked your ski vacation lodging, simply go online to make your reservation at SkiButlers.com. Enter your vacation dates, location, and desired ski or snowboard package. Packages can include skis, poles, boots, snowboards, helmets, goggles, and more. But you don't have to rent everything, you can pick and choose ala carte if you're traveling with your own boots or helmet, for example. Provide your payment information and set up a delivery time window that works for you.
When you arrive at your destination, YAY, you're on vacation! No need to stress about getting to the mountain to pick up your ski rentals. Just settle in, unpack, and relax. Ski Butlers is on the way, arriving at the preset time.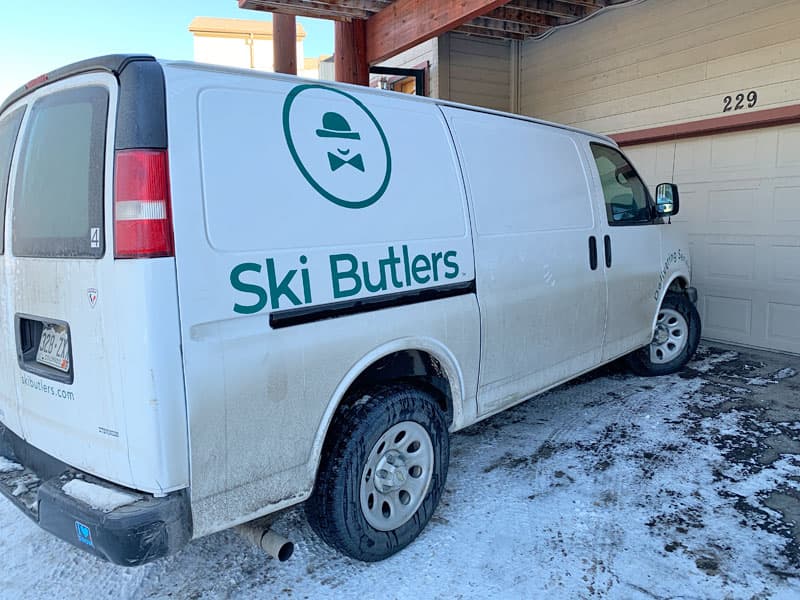 How far in advance do I need to reserve ski rentals and what is the cancellation policy?
You can reserve your ski rentals up to a couple days before your vacation, but it's best to make your reservation as early as possible, especially if you are skiing during peak holiday times.
They do not charge your credit card until after your delivery arrives. If you need to cancel for any reason, Ski Butlers is extremely flexible. There is no penalty or charge for canceling 24 hours or more before your scheduled delivery time. If you have to cancel within 24 hours of your scheduled delivery, the credit card will be charged 25% of the order total. If you are sick and unable to travel, there is no charge.
Is ski delivery safe, clean, and socially distant?
In my experience, Ski Butlers has always had courteous, professional customer service to go with their high level of convenience – and this year they've made safety a top priority.
We felt 100% safe during our ski rental delivery. Ski Butlers team members wear face masks and delivery vehicles are sanitized before and after each delivery. Team members also disinfect the shop and equipment each morning, afternoon and evening.
You have the option for no- or limited-touch boot fittings, which can be discussed with your ski technicians before they arrive at your accommodations.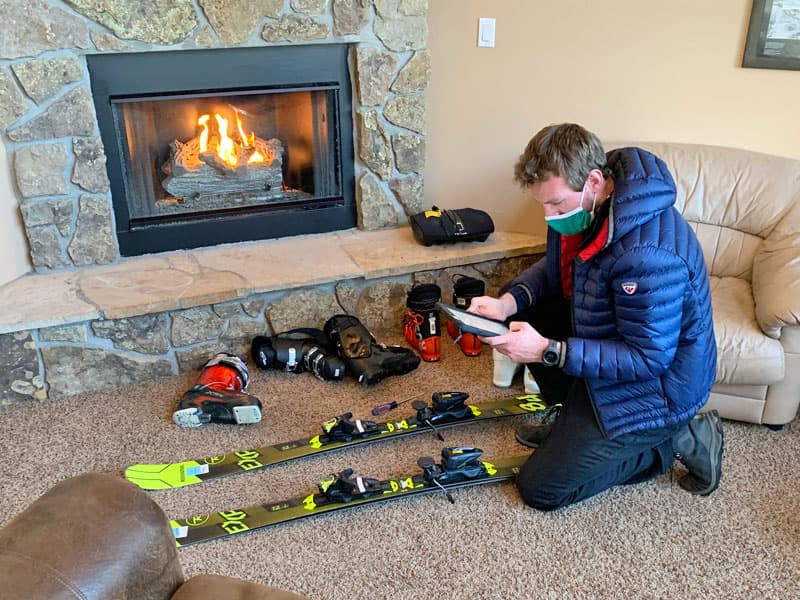 What happens the day of your ski rental delivery?
After you make your reservation online or by phone, you will receive a confirmation email. Then, on the day of delivery, you'll receive a text or call when the team member is on their way to your accommodations. This is the time to discuss, request or confirm any special delivery or safety needs.
Does everyone need to be present when Ski Butlers arrives?
The person who provided the credit card needs to be present to sign off that everything was delivered as intended. If you are renting boots, you need to be present to try them on when the Ski Butlers team member arrives. If you have your own boots and are just getting skis or snowboards, you do not need to be present – just your boots.
For example, I have my own ski boots that I bring with me because they fit me perfectly and I love them. Same for my husband and son. But my daughter needs to rent ski boots.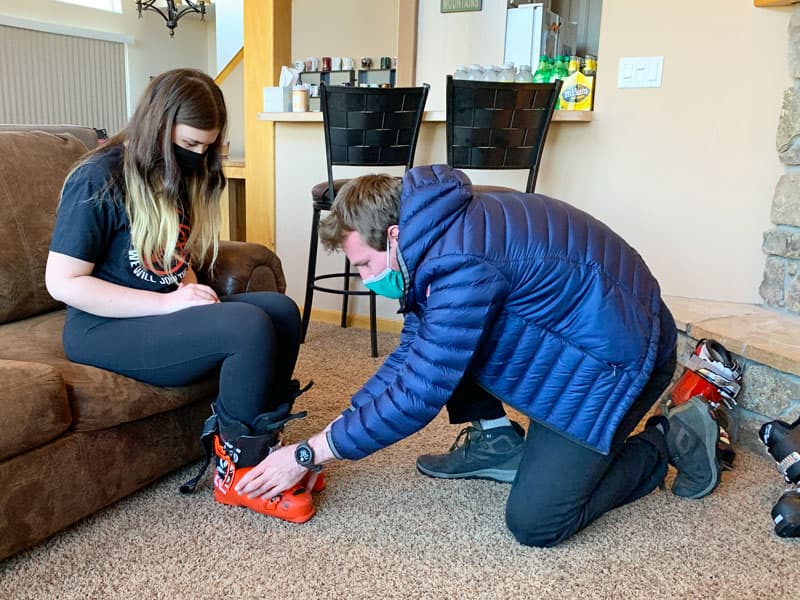 When Johnny from Ski Butlers arrived with our ski rentals in Breckenridge, my daughter was fitted with her boots in the comfort of our Airbnb living room. Once Johnny made sure her boots fit properly, she went back up to her bedroom.
Johnny then adjusted our ski bindings to fit each of our boots while my husband and son were both working in another room.
Does Ski Butlers bring different size boots to my delivery?
Yes! While you provide the boot size when ordering online, they bring boots in two different sizes just to be sure you get the most comfortable fit. The ski technicians are experienced boot fitters and Ski Butlers uses quality gear that's carefully maintained.
But if for some reason the boots they bring are just not right, they will get other options for you from the shop and deliver them in a timely manner.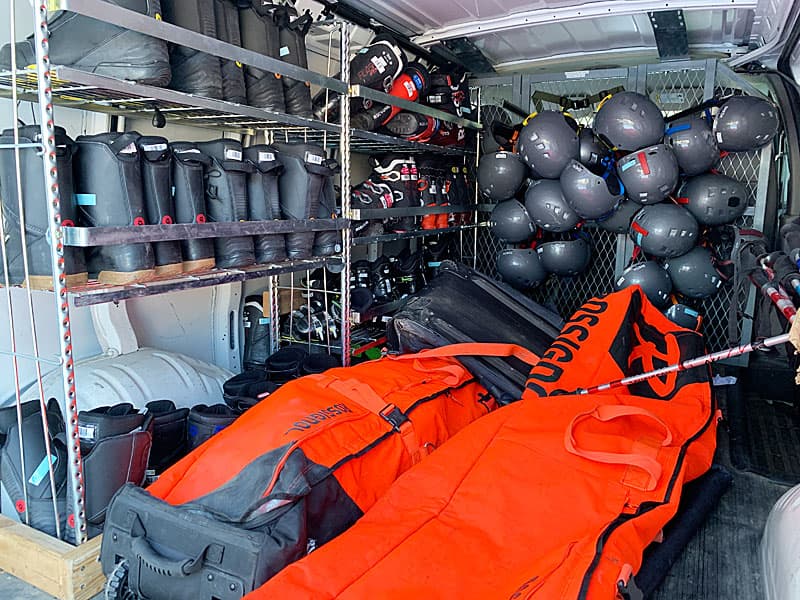 I'm an aggressive skier. Can I get my bindings set higher?
You bet! Ski technicians set the DIN on ski bindings based on the height, weight, ability, age, and aggressive tendencies of the skier to ensure the skis safely pop off in the event of a wipeout without popping off just because you're skiing fast. But if you want the DIN set higher (or lower), just ask and ye shall receive. Ski Butlers ski techs carry a waiver. Just sign it and choose your DIN setting. This releases Ski Butlers from any liability.
How much does ski rental delivery cost?
Ski rental delivery is reasonably priced and varies depending on the package you choose. A basic performance package that includes boots, skis and poles will cost around $65/day, and there is a minimum of two days for rental. There are discounts for longer rental periods and larger groups.
Prices include skis or snowboard, boots, poles and their full delivery, support and pickup services. There are no additional fees or delivery charges, though helmets, goggles, high performance options, and insurance are available for an additional charge.
Ski rental delivery is one thing you should absolutely budget for to make your vacation hassle-free.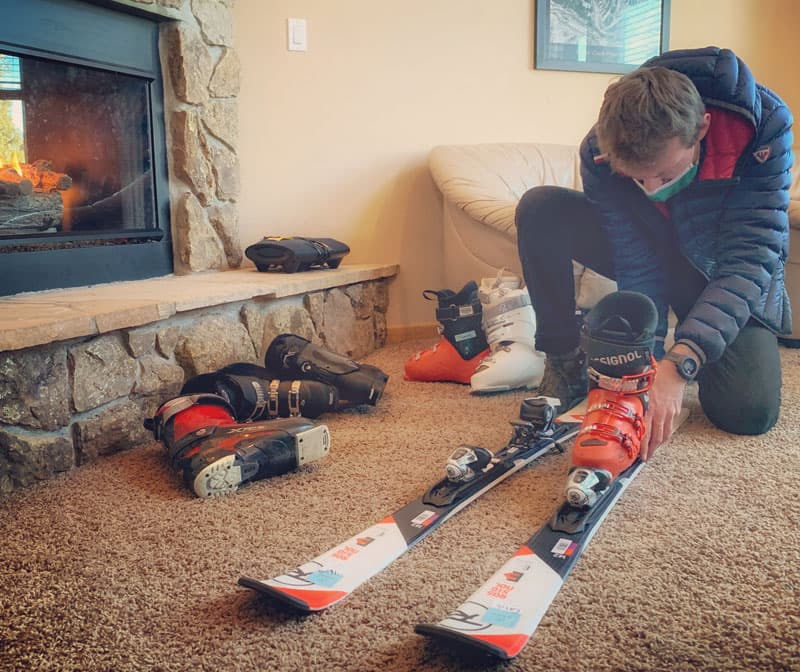 Should I tip?
Tipping is a personal choice, but I like to tip the first day when receiving our gear. The Ski Butlers technicians work hard and always provide great service. We usually spend some time chatting, learning about their favorite places to eat and drink, and getting insight about the mountain. They're experienced skiers and snowboarders and we've learned quite a few tips and tricks – like how to avoid crowds and where to find the powder stashes days after a storm! – from our Ski Butlers techs.
What if something doesn't feel right once I start skiing?
No worries! One of my favorite features of the Ski Butlers service is that they will meet you on the mountain to swap out any gear that doesn't feel right. Or they will come back to your lodging. Just call, let them know what you need, and they'll be there.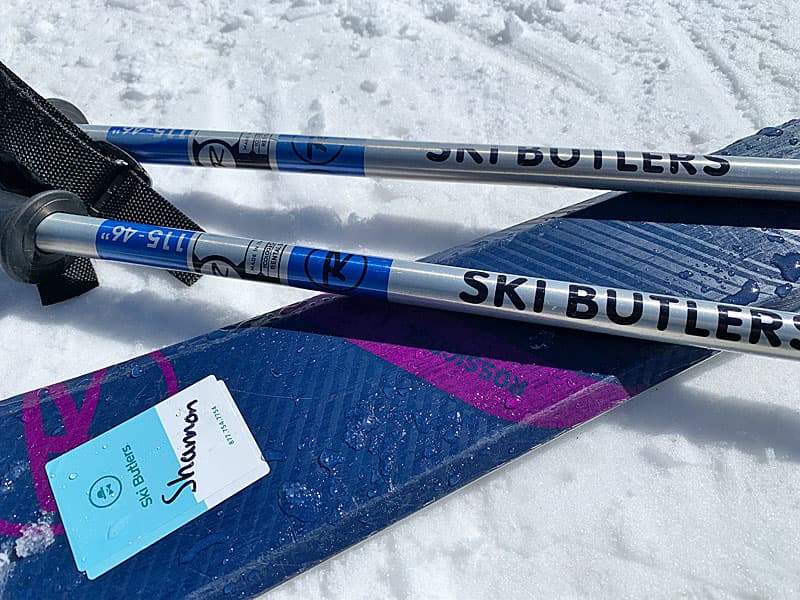 This perk is especially useful if you get an incredible dump of powder and want to switch to powder skis! You can even switch between skiing and snowboarding if you want to try both.
What is the pickup process when vacation is over?
Ski Butlers picks up all your equipment in the late afternoon of your final day of skiing. You can leave your equipment at your lodging, or they can even meet you at the mountain if that's more convenient. You don't have to be present for pickup.
Ski Butlers ski rental delivery service is available at 50 resorts worldwide, including Vail, Steamboat, Tahoe, Sun Valley, Big Sky, Park City, Jackson Hole, Whistler, locations in France and Italy, and more. Check them out for your next ski vacation.