Everyone wants to know how to save money skiing. Many people wonder where to splurge and where to be frugal when planning a ski vacation. Should you choose ski-in / ski-out lodging, an Airbnb, a resort village, or a hotel? Rent skis, or buy your own? Buy a season pass or are ticket packages more economical?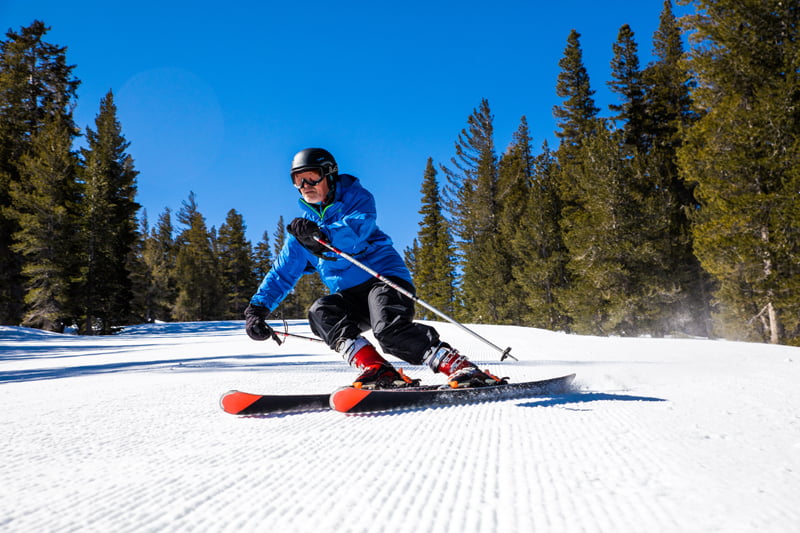 I've vacationed at many ski resorts in America and stayed in luxurious ski houses, rental condos, hotels, and cheap motels. I can reveal from experience how to save money skiing and which luxuries are worth the extra money.
Ski Vacation Lodging
Lodging will probably be the most expensive – and most important – part of your ski vacation, so here are tips to help you make the best choice.
Is Ski-in/Ski-out Lodging Worth It?
In a word – Yes! Staying on the mountain eliminates many of the hassles that can make family ski trips difficult.
For example, when staying in ski-in and ski-out lodging, you don't have to drive to the ski area. This eliminates risks of weather, traffic and safety. You'll save money on costly parking and you won't have the long walk from the parking lot to the ski lift carrying your gear.
Parents will especially appreciate the convenience of having happy children. Even more importantly, you can sleep later, walk right up to the lift for first chair, and enjoy first tracks on untracked powder or on the fresh, groomed trails while everyone else is still getting coffee at the convenience store.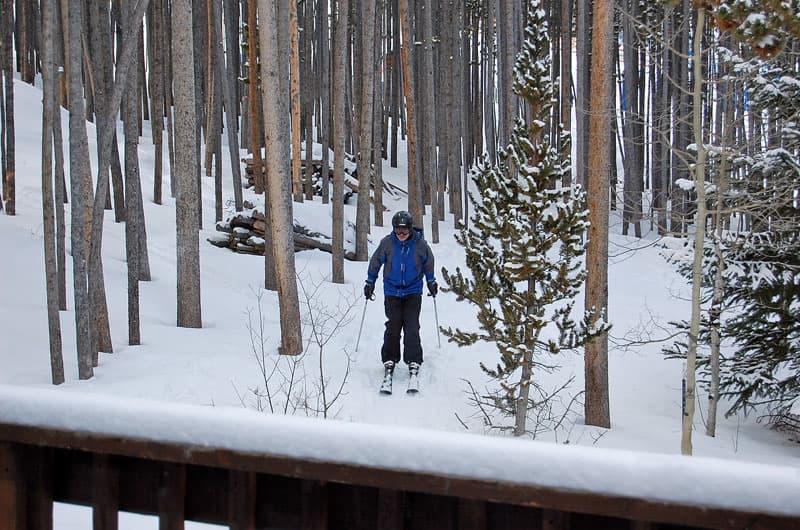 If children skiing or snowboarding need to stop for a break or if someone in your party needs to call it a day sooner than others, staying on the mountain makes it easy to drop off while the rest of the group continues skiing. And at the end of the day, just ski home. It doesn't get any easier.
How does slopeside lodging save you money? You will save by not having to rent a car, eating back at your place instead of paying hefty meal prices on the mountain, and sharing the cost with additional families or family members.
What Types of Slopeside Lodging Are Available?
Depending on where you vacation, ski-in, ski-out lodging can include luxury rental homes, resort village condos, and resort hotels.
You've likely seen the large, gorgeous homes that line the ski slopes on some mountains like Copper and Deer Valley. They typically sleep larger groups and offer a first-class experience, with gourmet kitchens, theaters, game rooms and more. My family once rented a home on Copper Mountain that had an elevator so we didn't get winded carrying our groceries up two flights of stairs from the garage to the kitchen.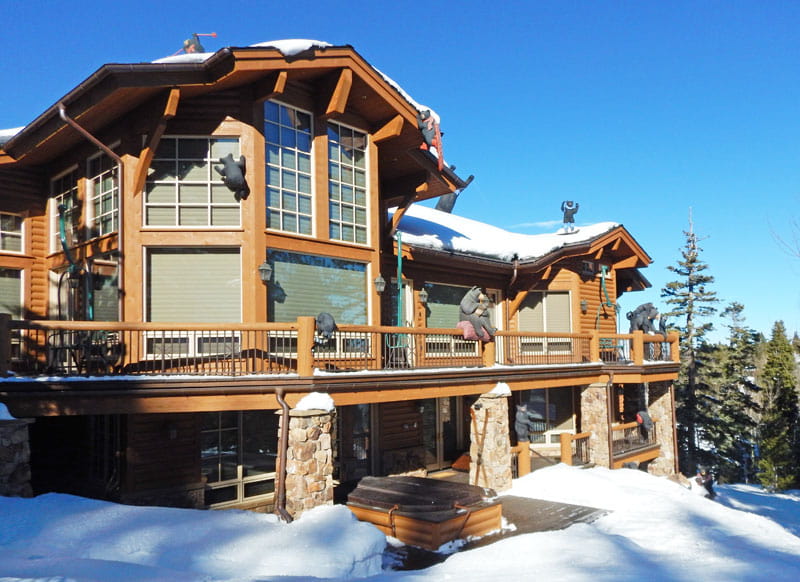 If you're planning a group trip with several families, the shared cost of a luxury ski home can get closer per person to the cost of a ski-in, ski-out condo. If you don't mind splurging for the family once in a while, it's well worth it and your family will talk about the experience for years to come.
But if you are vacationing with just your family, a ski-in, ski-out condo might be more suited to your needs. Or if you're a hard-core skier who plans to be on the snow from lift open to close, a luxury home is a high price to pay for a bed. If you want to maximize your time on the slopes, a ski-in, ski-out condo is the way to go.
Your chosen resort might have a village with condos and offer a package deal that includes lift tickets and rentals. You can also find slopeside hotels in some areas. These are a better choice than a regular hotel because they usually offer amenities such as ski and boot storage and in-room kitchens. For example, the Steamboat Grand in Steamboat Springs, Colo., is just a short walk from the lifts and offers a storage facility to keep your skis and boots so you don't have to carry them to and from your room.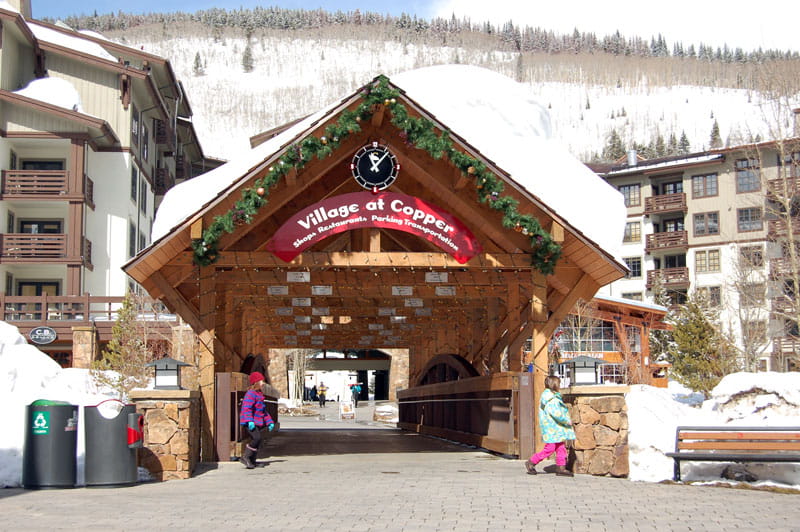 Other Ski Lodging Options
If you have a car and decide slopeside is not for you, check out Airbnb and VRBO for home and condo rentals within a 15-minute drive of the mountain. You're likely to find many affordable options.
I can't recommend a standard hotel for a ski vacation unless you are just a couple, or small group of friends and you really need to save money. After a day on the slopes, storing your wet gear in a hotel room and having to eat every meal at a restaurant is not ideal.
Should You Rent a Car on Your Ski Vacation?
The big name car rental companies do not guarantee 4WD or AWD vehicles will be available when you arrive at the airport. How about snow tires? Nope. And they do not provide chains. You do not want to be stuck on I-80 salivating over the record snowfalls in Lake Tahoe for lack of chains.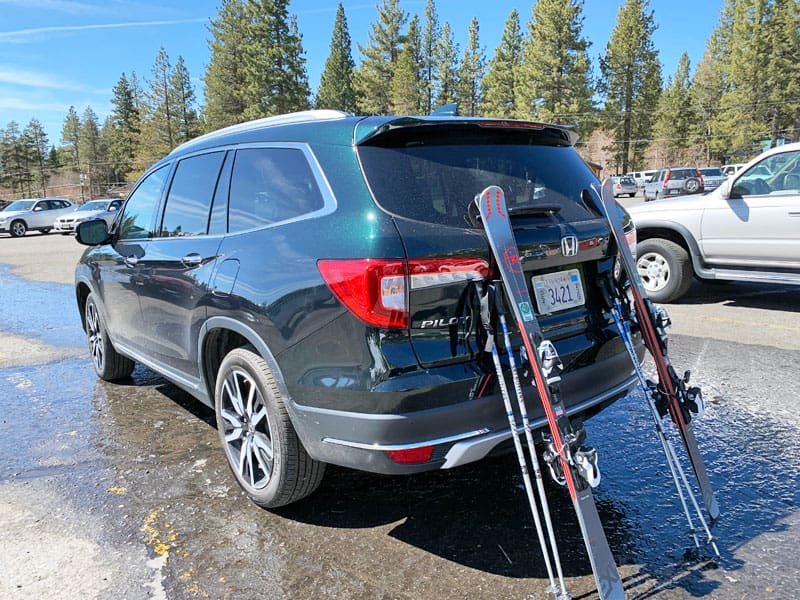 A few luxury car rental services offer vehicles that are ready to drive in the snow. A Mercedes SUV, for example, with AWD, ski rack, snow tires and chains is offered for $300.00/day via Turo. Is it worth it? Adding $900.00 to the cost of a three-day ski weekend seems quite high.
A variety of airport shuttles offer door to door service to your house, condo or hotel and they are prepared for wintry driving. Plus, many ski areas and hotels such as at Breckenridge, Park City/Canyons and Smugglers Notch run free shuttles around the ski resort and into town so it's easy to get by without a car.
Bottom line: Renting a car is one expense you can skip if you want to save money skiing.
Skis, Boots and Helmets
If you have to take a plane to your ski vacation, I advise against bringing your own skis. It's extra money to check them, and carrying skis through an airport is not fun. If you own your own boots though, I would recommend bringing them along. Once you have your own boots that fit just right, why take the chance of renting?
But if you need the whole package, it's easy to rent at the resort or utilize a ski delivery service.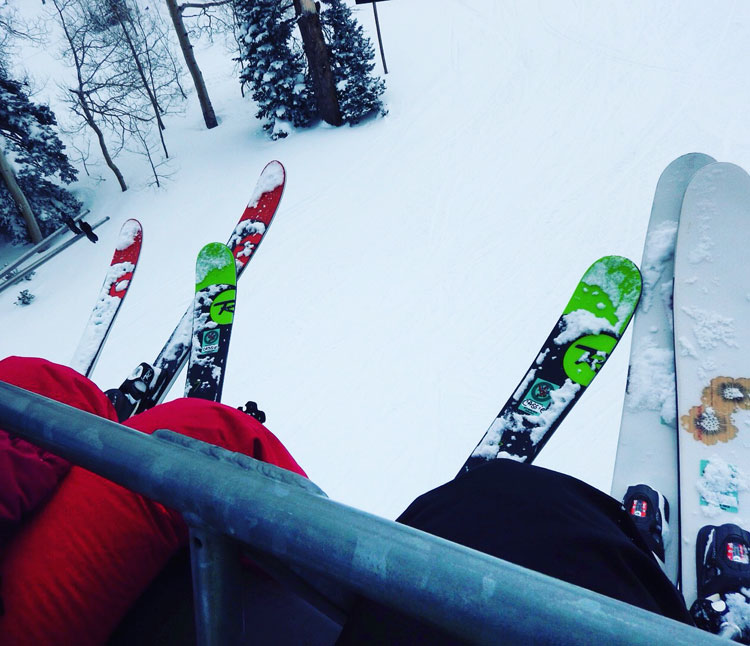 Rental shops typically offer low-end skis as their standard rental ski. I'd forgotten just how low-end until last year when I rented the standard package on a sunny day of spring skiing in Lake Tahoe. They were as stiff as wet noodles and didn't hold an edge well. I felt uncomfortable and wary of skiing terrain I normally would ski with ease.
By contrast, demo skis are often the finest, hottest, latest skis available from the biggest name brands and can cost as little as $10-$25.00 per day more than the standard rental skis. Get the upgrade – it's definitely worth it.
If you're considering buying new skis, rent several different pairs of demo skis to see what types of skis work best for you. The rental shop will often let you swap your skis out during your rental period, depending on availability.
For an even easier experience, I recommend a ski delivery service. These companies take the sizes and measurements of everyone in the party in advance and deliver the skis (or snowboards), boots, poles, and helmets directly to your vacation rental location.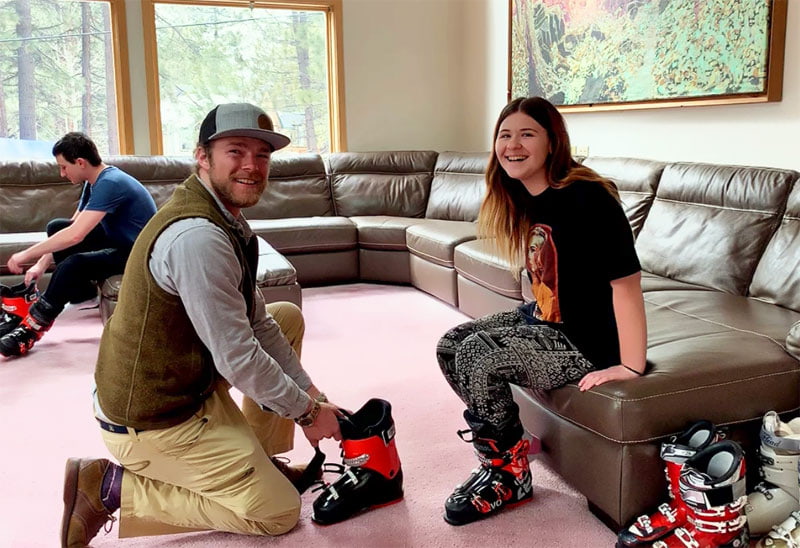 A professional ski tech makes sure everything fits. If there's a problem while on the mountain, their ski tech can meet you at the bottom for a fix or for new ski equipment. Want to demo different pairs of skis before buying? Just swap out your skis every night. Looks like a powder day? Switch to the latest powder skis.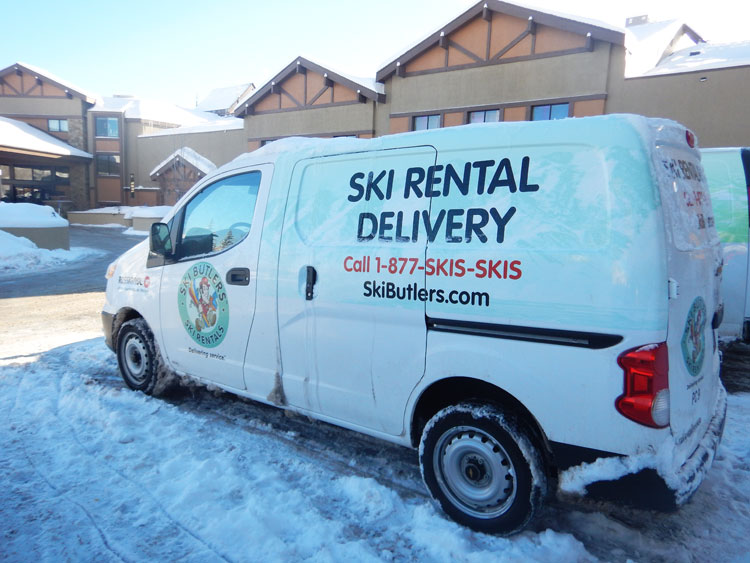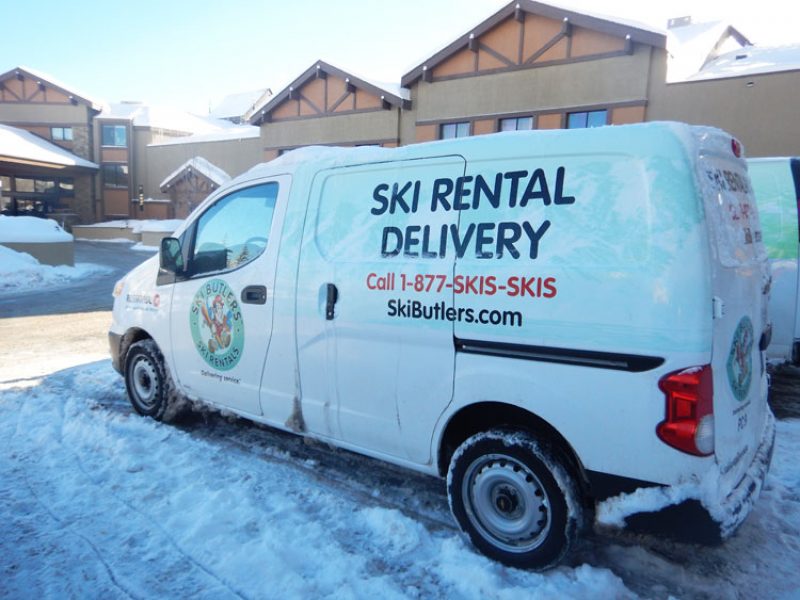 Pricing is about $50.00 per day with skis, boots and poles. Definitely worth it. Some of the ski delivery companies that have been in business for a while are Ski Butlers, Black Tie, and D2D by Christie. And it's only about $10.00 per day more to upgrade to their premium demo skis or premium ski boots.
For more information, read How Does Ski Rental Delivery Work?
Lift Tickets or Season Pass?
You can also save money skiing by being smart about where you ski and what lift ticket option you purchase.
Some ski resorts present a luxury image and their pricing reflects that image, but so does their level of service and amenities. A day lift ticket at Beaver Creek in Colorado is $199, while nearby Copper Mountain charges $119 – $189. Deer Valley in Utah ranges from $199 – $229. Nearby Alta charges $104 – $141. But when I sat down on the padded chairlift at Deer Valley, it felt like I'd sunk into the most comfortable couch ever made. Lunch tasted better than most fine dining restaurants. And the restrooms! Just wow.
But is it worth it? The same snow that falls on Deer Valley falls on the other Salt Lake City area ski resorts and the same snow that falls on Beaver Creek falls on the other Colorado ski resorts. The terrain at one skis about the same as at most of the others.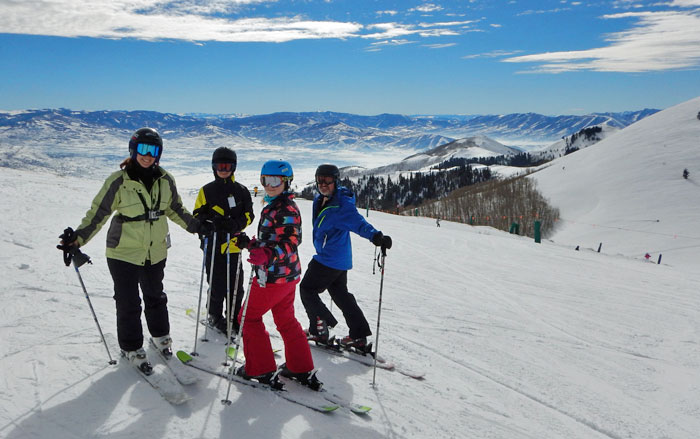 If skiing is just one part of your ski vacation and your family and friends enjoy a refined ski experience then, yes, it's worth it. If it's all about the skiing then you can save money choosing a resort with a less expensive lift ticket price.
To save even more on lift tickets, be sure to purchase ahead of time online and look for multi-day packages. And don't discount the season pass. If you plan to ski more than 5-6 days, a season pass will often be cheaper than any other lift ticket option.
Skiing can be an expensive hobby, but there are ways you can save money skiing. You can maximize your enjoyment by knowing where to save and where to splurge.