On July 20, 2019, Marvel Studios President Kevin Feige took the stage at San Diego Comic Con to lay out plans for Marvel Phase 4. We now know a lot about the movies and TV shows in the Marvel Cinematic Universe that will be coming out in the next two years.
Marvel announced a total of 10 movies and TV shows to be released in 2020 and 2021. On November 18, 2019, five more movie dates were announced. Here's the full schedule and everything we know about Marvel Phase 4!
Read this post for the correct order to watch the Marvel movies through 2019.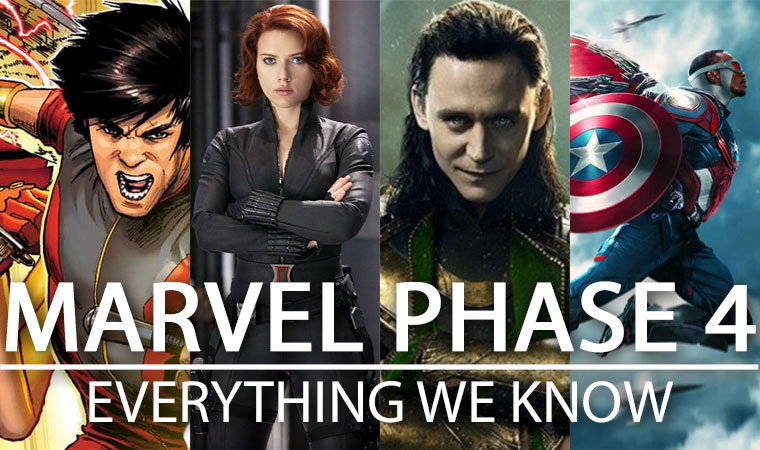 Black Widow: May 1, 2020
Starring: Scarlett Johansson, David Harbour, Florence Pugh, O-T Fagbenle, and Rachel Weisz.
This movie will explore Natasha's past (because… Endgame), and will take place after the events of Captain America: Civil War. The villain in this movie will be Taskmaster, a character in the comics who is able to master any physical skill just by watching someone perform it.
Pugh will be playing Yelena Belova, who becomes the second Black Widow in the comics. Pugh described the movie script as bold, raw, and sad.
Harbour will be playing a character named Alexei who is the Russian hero known as Red Guardian. He's also the ex-husband of Natasha. Harbour says his character is basically the Russian version of Captain America. And isn't it funny that Harbour had a major story line with a character named Alexei in Stranger Things 3?
Falcon and the Winter Soldier: Streaming on Disney+ Fall 2020
Starring: Anthony Mackie, Sebastian Stan and Daniel Bruhl as villain Baron Zemo, who we first saw in Captain America: Civil War.
We don't have many details on the plot for this series. Rumors say that the show will focus on Sam Wilson (Falcon) becoming Captain America and the government not liking it. The series will consist of just six episodes streaming on Disney+.
I am thinking that the Disney+ Marvel Phase 4 shows will be more like "mini movies" to fill in the blanks and set up future movies and story lines. They have been described as "limited series," so I don't expect them to go on for more than one or two seasons. But I'm sure Disney will continue to pump out new and exciting series!
Related: How to watch the Marvel Netflix Shows.
The Eternals: November 6, 2020
Starring: Angelina Jolie, Richard Madden, Kumail Nanjiani, Lauren Ridloff, Brian Tyree Henry, Salma Hayek, Lia McHugh, and Don Lee.
The Eternals are a race of immortal aliens sent to earth by the Celestials to protect mankind from the Deviants. We've seen the Celestials teased in both Guardians of the Galaxy movies.
Again, there isn't a lot of information about the plot of the movie, but current theories suggest this will be a full origin story for both the Eternals and the Deviants.
There are some big names in this movie! Besides Jolie, we've got Game of Thrones' Madden, and The Walking Dead's Ridloff – who will be Marvel's first deaf superhero!
Shang-Chi and the Legend of the Ten Rings: February 12, 2021
Starring: Simu Liu, Tony Leung, and Awkafina.
Shang-Chi, Master of Kung-Fu, is set to fight the Ten Rings terrorist network and villain Mandarin, who was alluded to in a couple Iron Man movies.
In the original Iron Man, Obadiah Stane hires a group of international terrorists known as the Ten Rings to assassinate Tony Stark. In Iron Man 3, we see Mandarin, the Ten Rings leader. However, "Mandarin" actually turned out to be an actor hired to impersonate the villain. So we have yet to see the real Mandarin in an MCU movie.
In the comics, Mandarin has 10 alien rings that can create magical spells. It'll be exciting to see where they take his story in this movie!
WandaVision: Streaming on Disney+ Spring 2021
Starring: Elizabeth Olsen and Paul Bettany.
Feige confirmed that this series takes place after the events of Avengers: Endgame, but the teaser trailer shown at Comic Con seemed to indicate a 1950s setting for the show.
Lots of questions here! Why and how are they in the 50s? How is Vision even alive? Multiverse? Or maybe alternate reality? After all, Wanda can alter reality in the comics.
Olsen herself said that WandaVision will reveal why she's called "Scarlet Witch" and explain about the origin and nature of her powers.
My bet is on multiverse for an explanation, especially considering that Scarlet Witch will have a role in the next Marvel movie on our list…
Doctor Strange in the Multiverse of Madness: May 7, 2021
Starring: Benedict Cumberbatch and Elizabeth Olsen.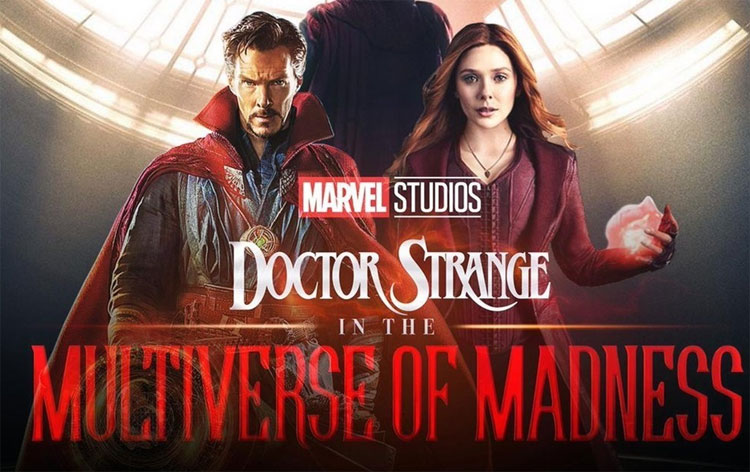 I'm pretty excited about this movie, since it will be the first scary MCU film. The term "horror" was even thrown around on Twitter, but I doubt it will be true horror since the MCU will want to keep it PG-13.
Director Scott Derrickson had the following to say at Comic Con: "When I came and talked to [Marvel Studios President Kevin Feige] about doing a sequel, I said, 'I don't want to do just another sequel. If I'm going to do it, it needs to go into the territory that drew me into the Doctor Strange comics in the first place' – which is how they dipped into the gothic and the horror and the horrific. And we're going to make the first scary MCU movie."
I'm ALL IN for something that pushes the envelope in the MCU.
We don't know much about villains or plot, but we do know that this movie will directly tie into the events of the WandaVision series.
Loki: Streaming on Disney+ Spring 2021
Starring: Tom Hiddleston.
This series will follow Loki's whereabouts after disappearing with the Tesseract in Avengers: Endgame. But remember that this scene in Endgame happened in the past – during the time of the first Avengers movie! That means the events Loki experienced after the first Avengers movie will not exist in this series.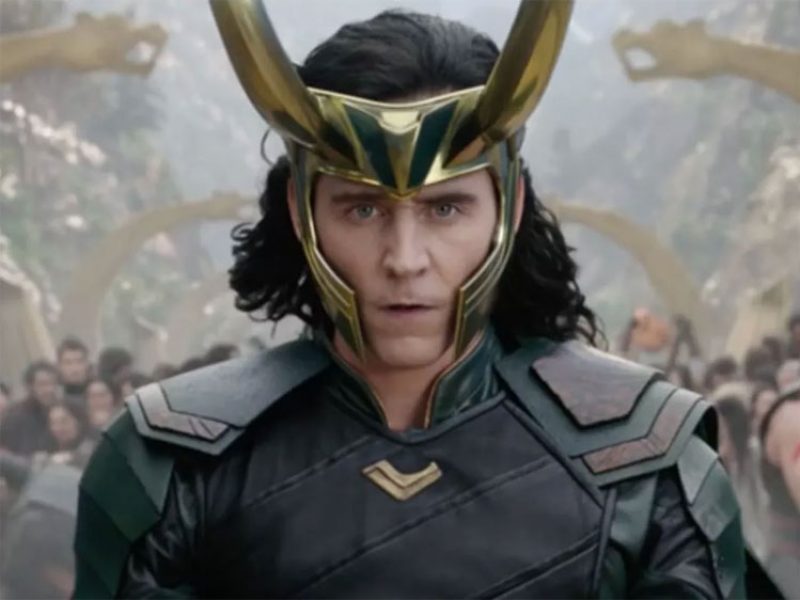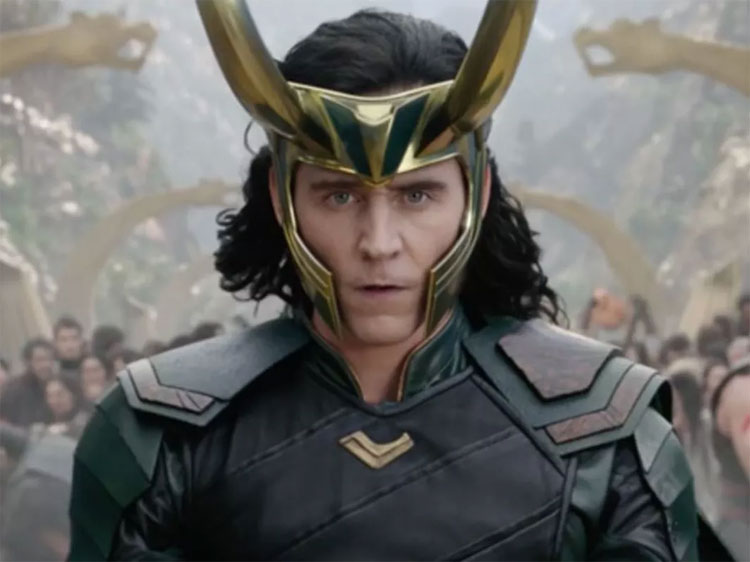 With Loki in control of the Space Stone, he'll be able to travel anywhere in the universe. But I'm betting the multiverse will come into play in this series, too.
At the point in time that this series will take place, Loki is still firmly a villain. I'm looking forward to some dedicated character development and all new adventures!
What If… ?: Streaming on Disney+ Summer 2021
Starring: Tons of MCU stars will voice their roles in this animated series, such as Sebastian Stan, Josh Brolin, Mark Ruffalo, Tom Hiddleston, Samuel L. Jackson, Chris Hemsworth, Chadwick Boseman, Karen Gillan, Paul Rudd, and more.
Marvel's first animated series will explore "what if" pivotal Marvel plots took a different turn. Jeffrey Wright will play "The Watcher," a being who observes all things and acts as the narrator for the series.
I absolutely love the idea of this show! What Marvel fan hasn't wondered "what if?"
Hawkeye: Streaming on Disney+ Fall 2021
Starring: Jeremy Renner.
Details are scarce, but we know this series will focus on "young Avenger" Kate Bishop as she prepares to take on the Hawkeye role.
We know that Marvel is using several of these movies and TV series to usher in a new generation of Avengers. Renner posted a teaser of the series logo on Twitter, with Kate Bishop front and center.
Happy Friday everyone !!! pic.twitter.com/qSjZzjKPBA

— Jeremy Renner (@Renner4Real) July 27, 2019
Thor: Love & Thunder: November 5, 2021
Starring: Chris Hemsworth, Natalie Portman, Tessa Thompson.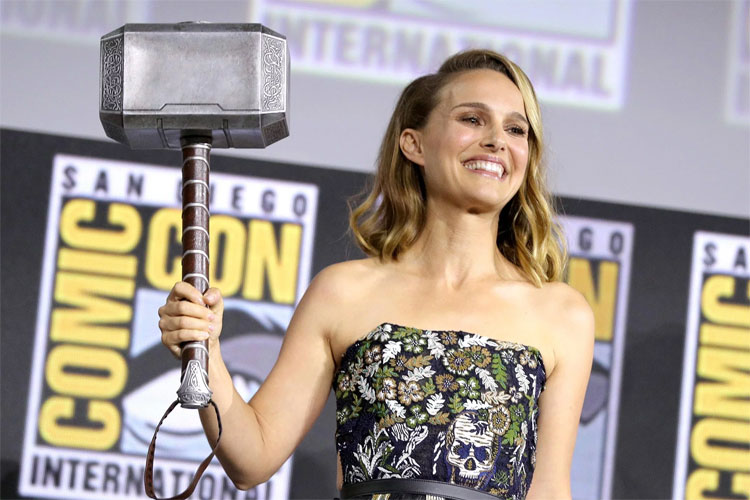 It looks like Thor 4 will be based on Jason Aaron's Thor comic story line. In this version, Thor becomes unworthy to wield his hammer and a mysterious female Thor steps up. Feige announced that "Lady Thor" will be none other than Jane Foster, played by Natalie Portman. I'm a big fan of Portman so I Can. Not. Wait.
Thompson teased that Valkyrie will be "searching for her queen." It looks like we can expect an LGBTQ story line in this movie – another first for Marvel.
Could we see Valkyrie and Lady Thor get together? That could be the "love and thunder" the title refers to. I'm expecting that Hemsworth will have a much smaller part in this movie.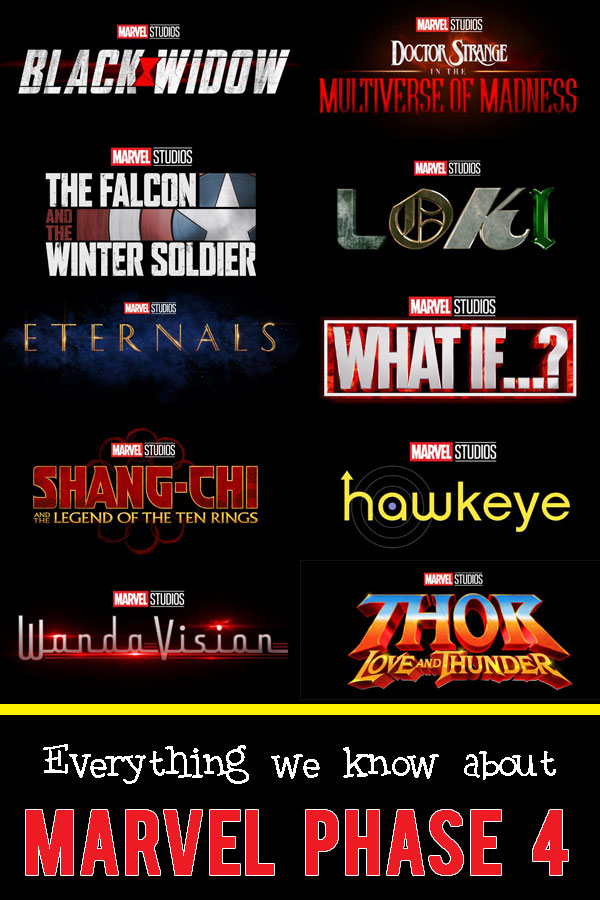 More Marvel Phase 4 News and Rumors
Feige ran out of time in the panel, so he didn't get into great detail about some of the other big questions we all have about Marvel Phase 4. What about Guardians of the Galaxy Vol 3? Black Panther 2?
Yes and yes! Both of those films are in development, but we have no time frame or details. I heard some rumors on Twitter that the GOTG3 movie might be titled "Asgardians of the Galaxy Vol. 3." This would be consistent with the comics and also tie in Thor's involvement with the Guardians. I would love it! I even heard rumors that Drake and Keanu Reeves are being considered for this film.
Feige also confirmed that Captain Marvel 2, and a Blade TV show (starring the awesome Mahershala Ali from Luke Cage) are both in development. A third Ant-Man film is apparently also in the works.
And we got word that the Fantastic Four and X-Men films will be made. No details yet, but they will be coming! There are even rumors that Chris Evans could be involved! If you recall, Evans starred as Johnny, the Human Torch, in the original Fantastic Four. Wouldn't it be great to see him again, courtesy of the multiverse, since he is done playing Captain America!?
There was also mention of Kamala Kahn & Nova movies being in development.
A couple months after Comic Con, Marvel announced five new dates secured for MCU movie releases:
October 7, 2022
February 17, 2023
May 5, 2023
July 28, 2023
November 3, 2023
That's a busy 2023 for Marvel and perhaps will wrap up Phase 4. Stay tuned for updates as we get them.
Subscribe to my newsletter for breaking news and more Marvel information!