The Duquesne Incline is a fun, inexpensive way to spend a couple hours in Pittsburgh. Restored in 1963, the Incline features original hoisting gear and cable cars that transport people to the top of Mount Washington and date back to the late 1800s.
My family boarded the beautiful wooden cable car and began our trip up the incline. I admit to feeling nervous about being hoisted up the steep hill by the original gear that moved coal centuries ago.
I don't have a fear of heights, but it was a tiny bit unsettling the way the cable car just stuck out and hung off the side of the mountain! And while we were ooh-ing and aah-ing over the incredible view, we shared the car with a businessman on his way home from work – it was just part of his daily commute.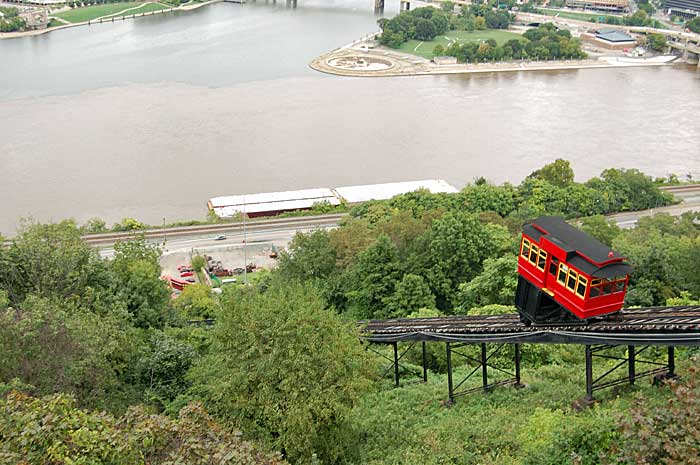 At the top we were greeted with an amazing panoramic view of the city from an observation deck. My son was excited to see Heinz Field (where the Steelers play football) and PNC Park (where the Pirates play baseball). I loved seeing all the bridges that connect Pittsburgh and how those three rivers come together.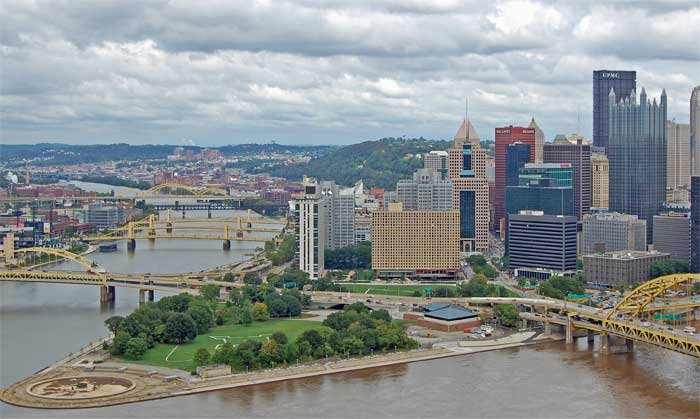 When you've had your fill of the view, you'll find the Incline station overflowing with beautiful artwork offering a pictorial history of Pittsburgh. You can see how the city has changed over the years through industrial development and natural disasters.
There's also the opportunity to take a tour of the machine room to see the inner workings of the original hoisting equipment. The gift shop has unique maps, posters, artwork, and souvenirs.
Where to Eat at the Duquesne Incline
If you wander outside the station, you find yourself on Grandview Ave. There's not much to do there, but if you're ready for a bite to eat, I suggest the Grandview Saloon.
I had this amazing concoction: The Grandview Prime Salad. The traditional house salad is topped with an 8 ounce U.S.D.A. Prime Center Cut New York Strip Steak, and french fries with cheese on top of that. Heaven.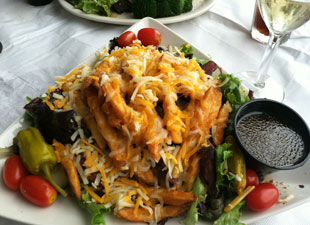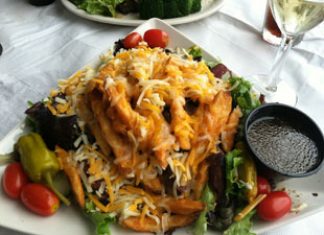 (Update: It seems this version is no longer on the menu, but their Pittsburgh Chicken Salad is the same thing with chicken instead of steak.)
While the food was fantastic, the view was even better. There is an outdoor terrace right above the Incline or an indoor dining room with a wall of windows offering that same panoramic view of Pittsburgh.
Whether you're in Pittsburgh for a few days or a few hours, the Duquesne Incline is a great pit-stop on any road trip.