You've got a lot of options for your ski vacation if you live in the Northeast. If you live in the Big Apple, you may be wondering if it's worth driving to Jay Peak from New York City.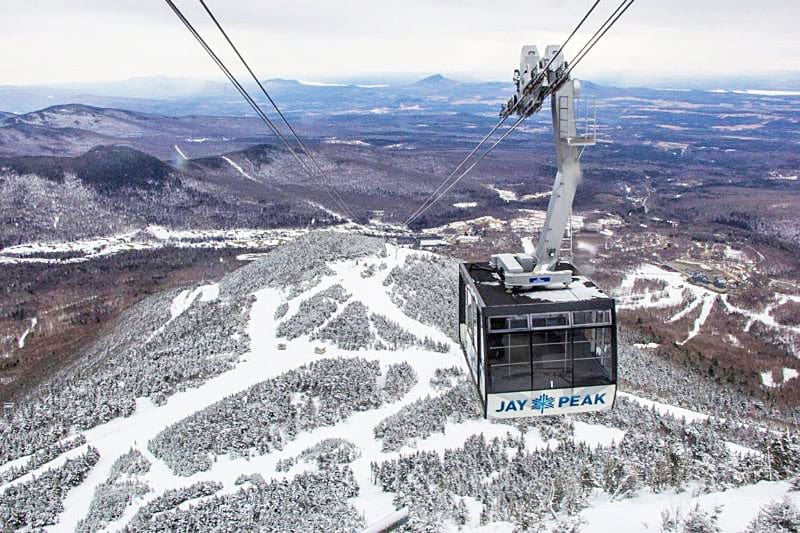 Jay Peak in Jay, VT is so far north, you actually go all the way to Canada and turn right at the border. Miss the turn and you may be asked to show your passport to the Quebec customs officer.
Jay is popular with Canadians, as evidenced by the many Ontario license plates I saw in the parking garage. And in an ingenious stroke of marketing savvy, Jay accepts Canadian cash at par ($1 CN = $1 US, regardless of the exchange rate) for lift tickets, season passes and many other products with proof of Canadian residency.
But if you're not from Canada, you're going to drive at least six to seven hours from the NY metro area. You'll pass Hunter, Windham, Whiteface, Killington, Sugarbush and Smuggler's Notch. Is it worth driving to Jay Peak from New York City? Read on to find out why I say YES, yes it is.
The Jay Cloud
Jay Peak receives an average of 350+ inches of snow every year, the highest in the East and more than many Colorado ski resorts. Among other northeastern resorts, Whiteface Mountain in Lake Placid averages 195 inches, Sugarbush, VT, averages 262 inches and Sunday River, ME, averages 155 inches annually.
This means when booking a long ski weekend or skiing vacation at Jay Peak, you're more likely to experience one (or more!) of those phenomenal powder days that become the stuff of family lore.
I could only fit two days to ski Jay Peak into a recent trip and the snow gods gifted us with two days of epic powder. A check of the On The Snow app showed other northeastern ski areas received either much less snow, wintry mix, or even rain.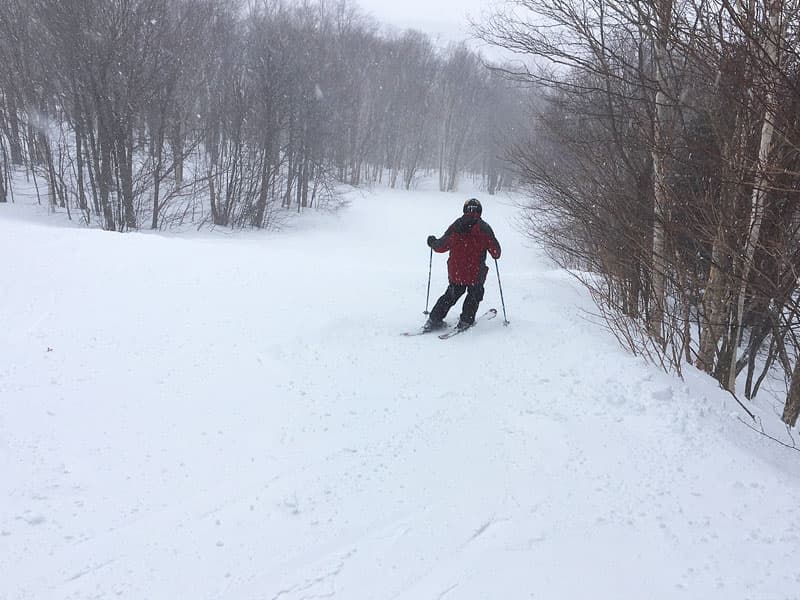 Jay Peak seems insulated from the erratic, northeastern winter weather because it sits within its own microclimate. Its orientation is perpendicular to the northwesterly winds that bring the moist, cold air to the mountain and form clouds that can bring snow for days at a time. They call it the "Jay Cloud."
Jay's far north location also helps keep temperatures consistently lower than other resorts. It's common for seemingly innocuous clouds to pass through and drop a few inches of snow every other day when virtually nothing even shows up on the radar at other areas. Trust the mythical Jay Cloud to deliver the goods.
Terrain That Skis Like the West
Not only does the snowfall at Jay Peak rival that of western ski resorts, but so does the terrain. When it comes to steeps, chutes, glades and overall challenge, Jay Peak stands alone among eastern ski resorts that can truly strike fear into a seasoned skier or snowboarder.
Jay's YouTube-famous Face Chutes, Tuckerman's Chute and other lines off the aerial tram offer serious pitch with narrow lines in the trees. Be sure the conditions are right and your binding's DIN settings are properly set. Mistakes cannot happen here.
I've skied Paradise at Mad River Glen and Castlerock Peak at Sugarbush, and I'm a fan, but Jay Peak demands even more from an expert skier.
Jay Peak may be even more famous for its glades. In the West, glades are simply the trees alongside the trails, and western resorts receive enough natural snowfall that it's typically relatively safe to ski in the trees.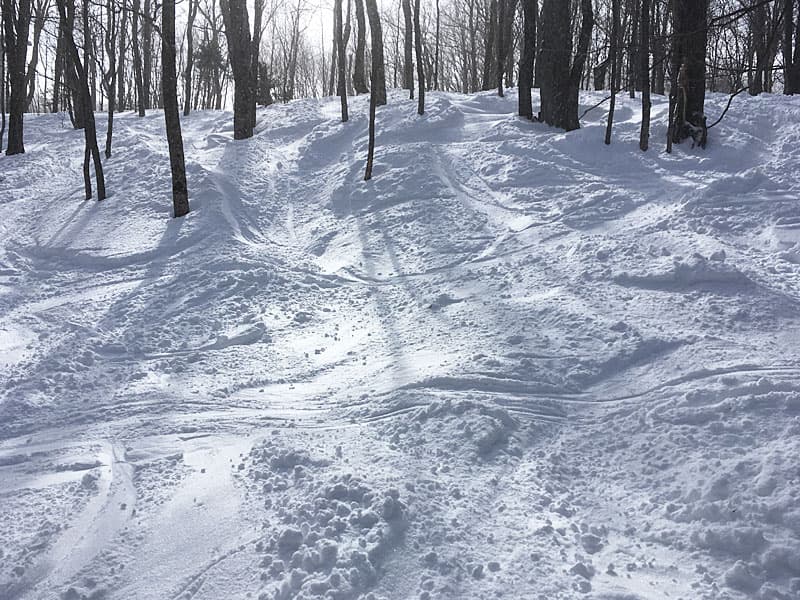 But eastern ski resorts don't always receive enough natural snowfall to open their gladed areas for skiing. In fact, most did not even begin to suggest the possibility of tree skiing on their trail maps until the 1990s. Many eastern skiers carving up the hardpack look longingly at the glades that western skiers take for granted.
But Jay Peak gets enough natural snowfall for its 100+ acres of gladed areas to typically be open and skiable. Covering a large part of the trail map, these glades come in a wide variety of green, blue and black areas so nearly everyone can get in on the tree skiing fun.
The Jay Peak magazine available at area ski shops and in resort hotel rooms devotes two entire pages to describing each gladed area, detailing how one area differs from another.
I spent hours skiing Timbuktu woods over and over again, hugging the ski area boundary where the untracked powder was hiding. It turns out that locals routinely ski past the boundary and come out at a parking area on the access road where they've stashed a car for the ride back.
Vibe That Feels Like the West
Eastern skiers are accustomed to bright, orange "SLOW" signs, ropes blocking closed trails, ropes blocking closed glades, netting protecting against falling off the trail, crossed poles over rocks and bare patches, and other signs alerting skiers to be careful at all times.
People who live in the American West, by contrast, are more accustomed to personal responsibility, to weighing the risks and rewards. Western ski resorts often open trails and areas that would be closed or simply off limits in the East.
On a ski trip to Alpine Meadows, Lake Tahoe, for example, I stopped at a small, orange sign that read, "Cliffs". Peering over the edge, I saw what was actually a cliff and slowly backed away. This just wouldn't fly in the East – except possibly at Jay Peak.
Its published Woods Skiing Policy states the woods are not opened, closed or marked. In effect, skiers may go anywhere they like within the ski area boundaries.
Where to Stay at Jay Peak
The remote location that grants Jay Peak its legendary snow has also protected it from the rampant over-development of real estate typified by resorts like Mount Snow, VT.
Jay Peak operates the Stateside Hotel with 85 ski-in/ski-out condos, the Hotel Jay with 176 ski-in/ski-out rooms and suites, and the Tram Haus Lodge with 57 ski-in/ski-out hotel suites, plus a range of condos and townhomes on a free shuttle route.
A variety of charming, Vermont inns and private rental homes sit within 20 minutes of the mountain. But as word continues to get out about Jay Peak and skier visits continue to increase, the demand for more real estate construction must also increase. As Vail Resorts and other large resort operators consider purchasing Jay Peak at the time of this writing, more rental units are likely in the near future.
During our stay at Hotel Jay, I scored first tracks in the untracked powder at 8:30 a.m. while people who stayed off the mountain were still brushing snow off their cars. There's nothing like a pow day to appreciate the value of ski-in/ski-out lodging accommodations.
For families and for off-season fun, the Hotel Jay features an on-site, indoor water park. It's not just a pool with a slide, but a full-scale, Great Wolf Lodge-style water park with a surf rider, lazy river and more.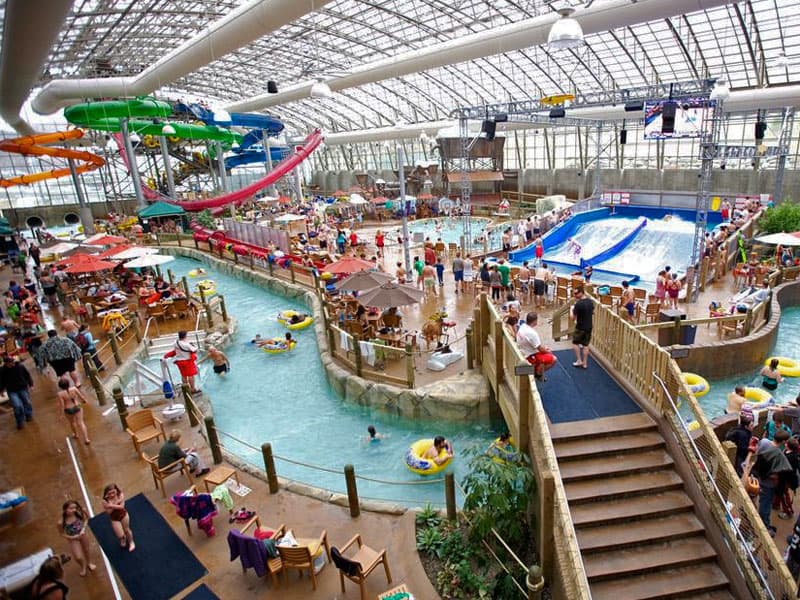 Its fitness center offers commercial-quality equipment in a large area that feels like a Gold's Gym rather than a hotel afterthought. Add an arcade, climbing wall, and an actual movie theater and there's something to keep even the most non-stop groms happy and busy.
Plus, there's an ice rink next door. Ski and stay packages, water park and stay packages or both are available for major savings versus the window pricing.
Is it worth driving to Jay Peak from New York City? Yes. While we "Ski the East" skiers take pride in our determination to ski no matter what the conditions, it may be time to learn to simply go with snow.
The snow lives at Jay Peak, Vermont.