On Friday, February 14th, my family embarked on a cross-country road trip. This has been a dream of mine for many years, and so far, it's even better than I expected. I'll be writing about all of my adventures in detail, but this post will give you an overview of our adventures thusfar and help me keep track of the days!
From our home in New Jersey, we drove through Pennsylvania, West Virginia, and Ohio. My goal was to get through the eastern and mid-western states quickly in order to spend more time exploring the southwest where we've never been before, and, frankly, where the weather would be better! On our first day, our only point of interest was the Wheeling Suspension Bridge in Wheeling, W.V., the oldest operating suspension bridge in the world.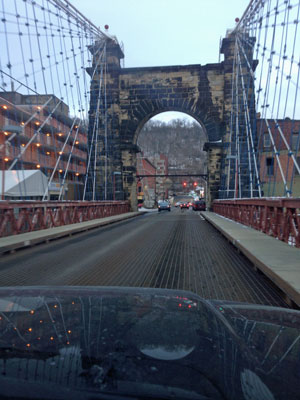 I made itineraries for both of my kids, complete with puzzles, photos, coloring pages, and brief histories of major points of interest on the trip. These were a big hit – especially when I almost forgot about the Wheeling Suspension Bridge and my son reminded me after reading his itinerary.
But still, electronics are the major way to pass the time on a trip like this and my daughter ate through 75% of our data plan on the first day. Yikes. I quickly learned to download movies and TV shows over a wi-fi connection so she could watch them in the car instead of streaming.
Day two we spent with family in Ohio. When the kids were rested and happy from playtime with their cousins, we embarked on our longest driving day. Day three took us from Ohio to Tulsa, Okla., with a couple stops.
The first was in Vandalia, Ill., to see a quirky roadside attraction called the Kaskaskia Dragon. I love these oddities and am happy to veer off the interstate to explore them whenever time allows. This fire-breathing dragon really has no significance other than being fun to see. You stop at the liquor store across the street and buy tokens for a dollar to activate the fire-breathing.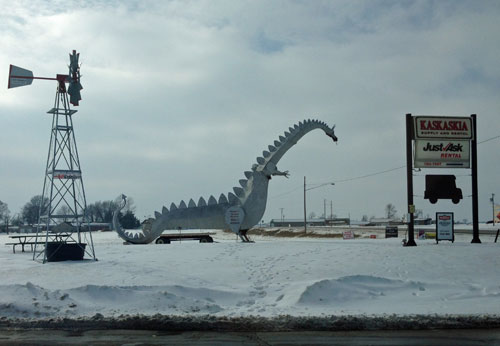 Next we stopped at the Gateway Arch in St. Louis, Mo., which took longer than we had anticipated. There was a long line to get through some ridiculous security. There was one metal detector and xray machine and every person had to take off coats, put belongings in a bin to be xrayed, etc.  Just like the airport, but at least you got to keep your shoes on. A bit of overkill if you ask me. And the people staffing the security were not very helpful and pretty grumpy – not a good combination when families with young kids are waiting outside in 25 degree weather for 20 mins.  
So we saw the Arch, which is very cool, but decided it's much better to see in the summer when the grounds are festive, there are picnics and music, and the riverboats are coming and going.
Favorite Stops on Our Cross-Country Road Trip
On day four we drove from Tulsa to Amarillo, Texas, which so far has been the highlight of our trip. We had dinner at the Big Texan Steak Ranch and I really can't wait to tell you all about this place.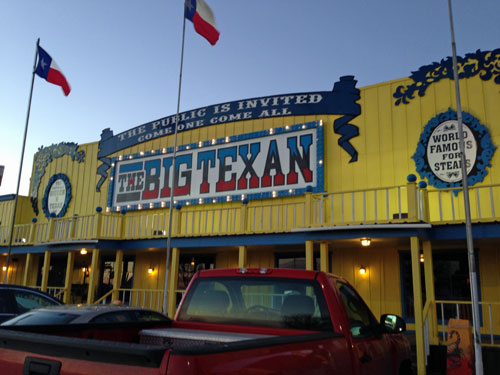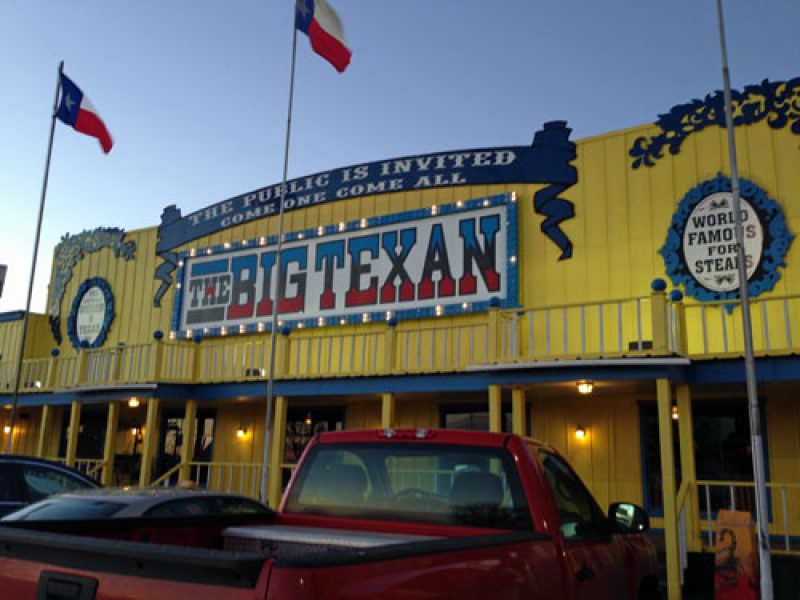 They challenge you to eat a 72 oz steak, along with roll, salad, appetizer and potato, in under 60 minutes. If you don't succeed, you pay $72 for the meal. Three guys attempted the challenge while we were there. They put them up on a stage in the center of the dining room with a countdown clock on the wall behind them and everyone cheered them on.
This guy was successful in completing the challenge – and he ate everything, his plate was clean. I looked over once and saw him put an end chunk of steak in his mouth (you know, that grizzly part?) that was probably 2 ounces in size. I think part of the strategy is to just swallow the food whole.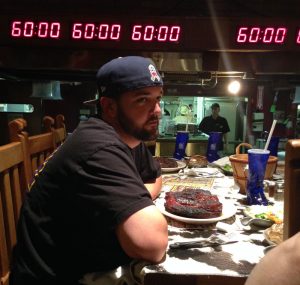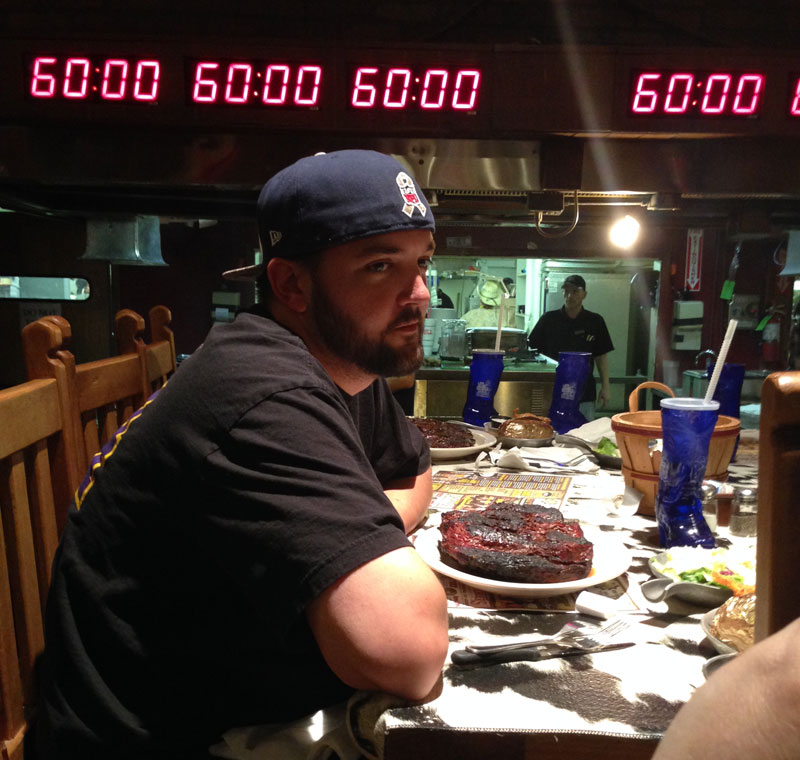 The next morning (day five) we explored Jack Sisemore's RV Museum. I spent some time talking with Jack – a man that lives RVs. His business is selling and renting RVs and campers, and he's spent over 20 years collecting old memorabilia that is in any way related to road tripping. His museum is an impressive collection of RVs, motorcycles, campers and more from the Glory Days of road tripping on Route 66. My kids loved this place and even remarked, "I didn't think looking at RVs could be so much fun!"
From there we walked down historic Route 66 a bit in Amarillo. There are some antique shops there, but Cowboy Gelato is what caught our eye. We were going to grab a quick snack and get back in the car, but the atmosphere, menu selections, and "Wall of Shame" compelled us to stay for a scrumptious lunch and gelato.
The Wall of Shame displays photos of those who "shamefully" ate 9 scoops of gelato in under 5 minutes. But their latest challenge is to simply eat 4 scoops in 5 minutes. The catch? It must be four scoops of Cowboy's "Four Horseman" flavor, made with cayenne, habanero, ghost, and scorpion peppers – and some blood orange for sweetness. I tried a sample and – whoa – I don't see how anyone could take in four scoops of it. I love spicy and it was delicious, but my mouth burned for 5 minutes from a tiny taste on the end of a spoon.
We drove on that day to the infamous Cadillac Ranch. You can't go wrong with this stop – it's just plain fun.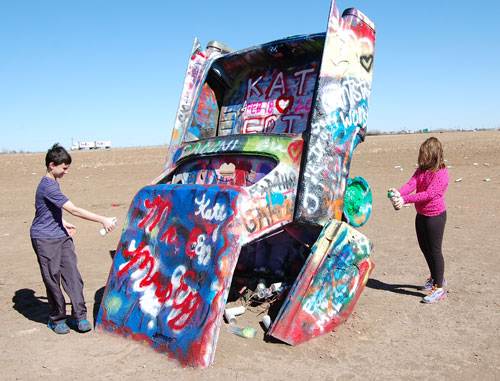 Still on day five, we drove up into the mountains to Taos, NM to visit family. We spent some relaxing time there, then woke up and explored the area, checking out the Rio Grande River Gorge and the Taos Pueblo. Taos is a very spiritual town and we could feel its strong vibe everywhere we went.
On day six, my plan was to drive out of Taos and visit Albuquerque. But the kids were asleep in the backseat and we had spent more time than planned in Taos, so we drove on. It's really hard for me to pass by places on the road. I want to see everything. But there are time constraints, so sadly, I had to bypass Albuquerque and drive on to our hotel in Gallup, NM.
And that brings us to today, day seven. I'm starting to lose track of where and when. I have to keep checking my phone to tell me what day it is and what time zone I'm in. And packing so much into each day makes time seem to pass so much slower – which is a good thing!
The rest of our cross-country road trip takes us to the Grand Canyon, Meteor Crater, Flagstaff, Ariz., the Hoover Dam, Las Vegas, and then to our final destination, Lake Tahoe!